The best all-in-one social media plugin for your WordPress website
Make the most out of your Social Channels with
WP Social Ninja
WPManageNinja brings to you the most efficient WordPress social tool that fetches social feeds, user reviews, and social chat widgets to your website. It's like a social swiss knife inside your WordPress admin panel.
WP Social Ninja is the most powerful social media plugin that can replace at least three separate tools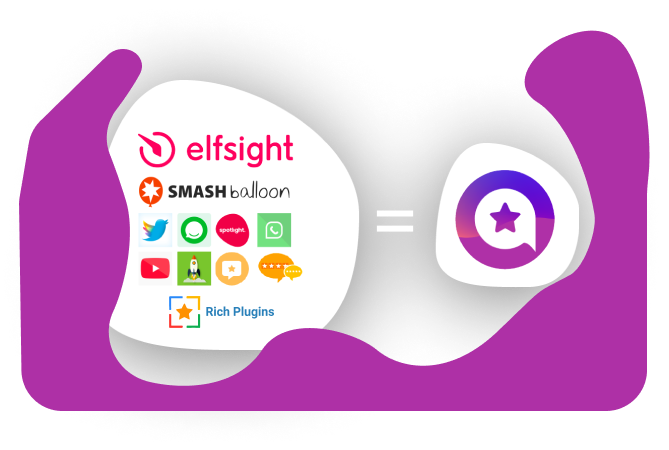 Stay connected with
26+ social channels

and utilize the true power of Social Networking
Why use multiple tools when one social plugin can manage your User Reviews, Social Feeds, and Social Chat?
Multiple social sites
Engage with a bigger audience
Why spend on multiple tools when your hassles can be handled with just one? WP Social Ninja is a solo warrior that manages User Reviews along with Social Feeds and Social Chat effortlessly.
Simple integration
Painless setup process
Maybe you are wondering about how to connect WP Social Ninja to your WordPress website. Unlike other social tools, we let you integrate three separate tools with the easiest steps.
Easy customization
Showcase with a dazzling look
WP Social Ninja is a user's delight. It has unique settings panels with a straightforward customization process that lets you decorate your website according to your preference.
Ask for assistance
Get support whenever you need
With 24/7 support from an experienced team, we ensure VIP after-sales service and always welcome feature requests that help us improve our products every day.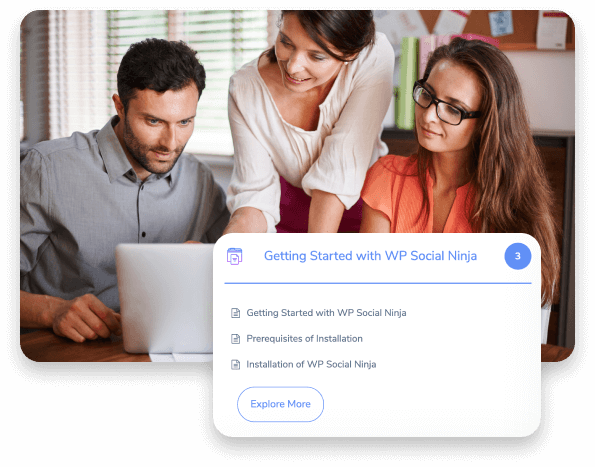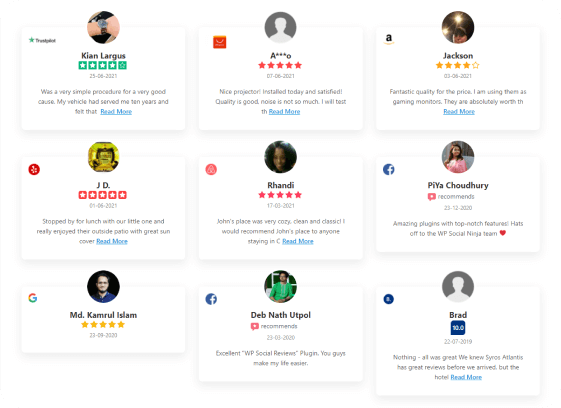 Social Reviews
WP Social Ninja fetches reviews from social channels like Google, Amazon, Facebook, etc. to embed them on your website. And this feature comes with some sturdy functionalities and an elegant outlook. Customize your reviews with numerous templates and layout types. You can also filter the online reviews and include/exclude any. Moreover, customize your social proofs that can complement your brand.
Social Feeds
Our social media feeds have the three most popular social platforms- Twitter, YouTube, and Instagram with many exciting features. Fetch social feeds on your website to show off the posts with beautiful layouts and versatile feed types. Filter your feeds to show/hide posts and customize each section. Furthermore, adjust the feed and header settings with the buttons on your site.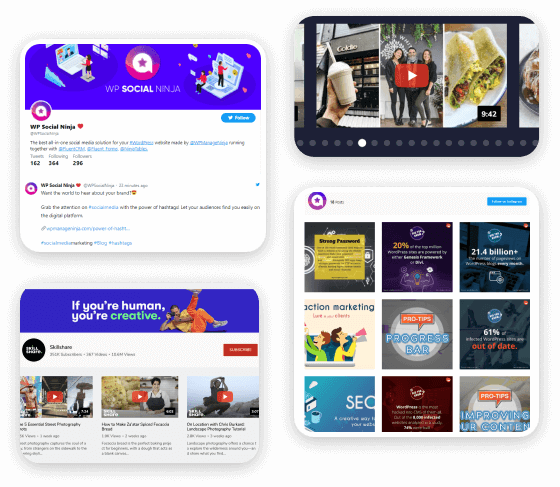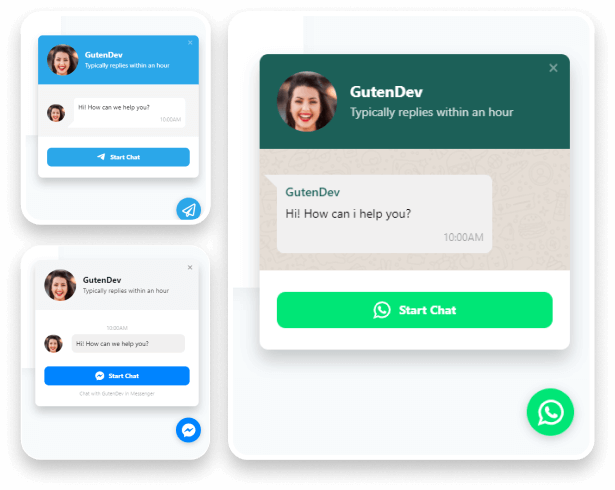 Social Chat
WP Social Ninja takes care of social media activities along with your communication channels. Social chat comes with the most used 14+ social apps; Messenger, WhatsApp, Telegram, and many more. A stylish chatbox with comprehensive features makes it easy to manage the chat service on your website. Also, customize from the settings panel to make your chat box look engaging.
The
social super-tool

that won't break your bank
Blogs & resources
Want to know how you can increase your website traffic?
Frequently Asked Question
Top questions you need to ask before buying WP Social Ninja