Explore the most influential multi-purpose social media plugin
Communication is key. And that's why you need a balanced WordPress social chat widget to know your customers better.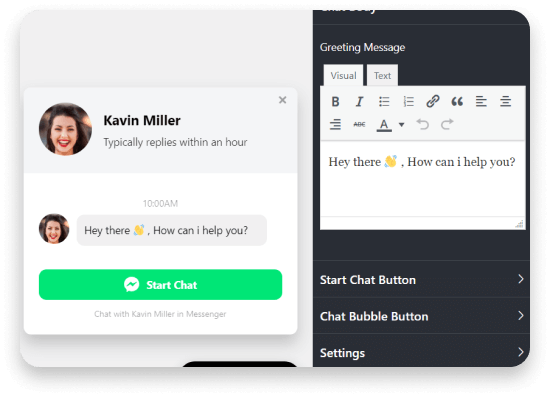 Multiple chat widgets
Communicate simultaneously from different platforms
WP Social Ninja is like a swiss knife for social chat. It lets you reach out to a larger community and uplift your conversion rate through multiple channels simultaneously.
Personalized chat widgets
Match your chat box to your brand
WP Social Ninja lets you customize your social chat widgets to suit your brand perfectly. And you'll have fun playing with the editor panel!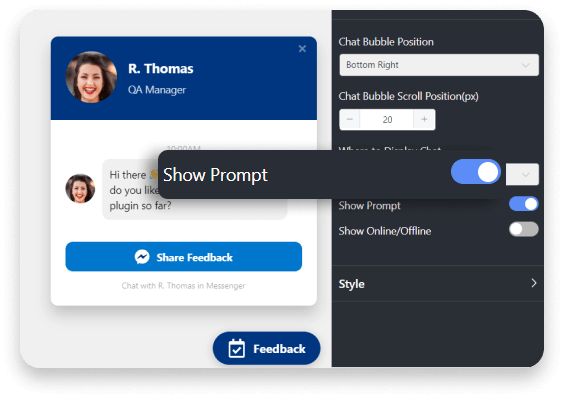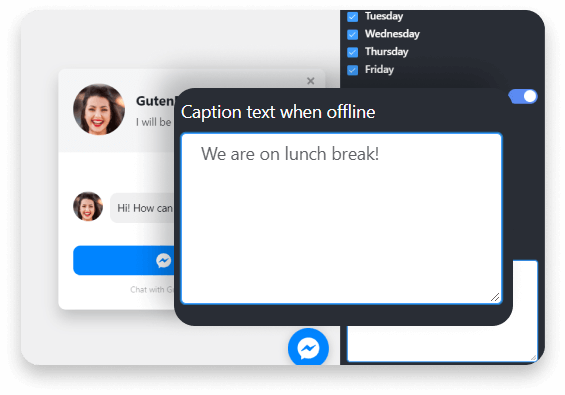 Show prompt
Pop up chat box anywhere
Remind your website visitors that you are just one click away. Enable your custom pop-up chat box to appear on any page of your website.
Schedule time
Set the time schedule when offline
Don't leave your customer wondering when your team is offline. Let your visitors know that you are offline now and when to catch up!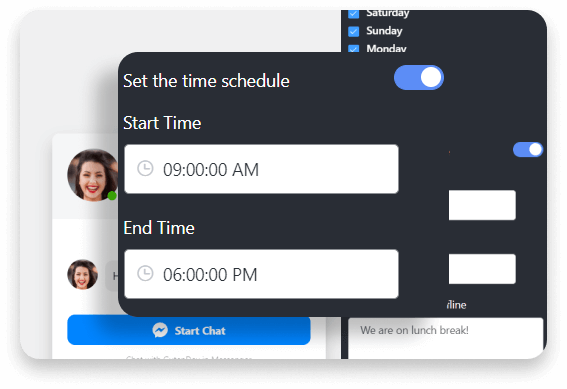 Engage with the website visitors through social chats in 3 simple steps
Give your WordPress website a kickstart with instant chat and convert visitors into customers in minutes!
Social Chat comparison table
Here is a list of features displaying the extra features you will get by upgrading from free to premium.
Platforms
Platform
Layout Types
Template Types
Bubble Icon
Bubble Text
Show Online/Offline
Free
Single platform
Limited
Limited
Limited
No
No
Pro
3 platforms
All Types
All Types
All Types
Yes
Yes
Invest wisely and be smart
WP Social Ninja offers you Social Chat Widgets and Social Reviews along with Social Feeds. An all-in-one solution for your website.
The
social super-tool

that won't break your bank
Testimonials
Gain trusts through social reviews to achieve your goal

Your most unhappy customers are your greatest source of learning.
– Bill Gates

Forget about your competitors, just focus on your customers.
– Jack Ma

Customer service is the new marketing.
– Derek Sivers
Social Chat FAQ
Top questions you need to ask before buying WP Social Ninja
Get in touch with your customers with social chat to skyrocket sales and enhance the brand reputation!
The best all-in-one social media plugin for your WordPress website
Subscribe for a LIFETIME DISCOUNT deal