Showcase your
social proofs

on your website
Explore the most diverse social reviews plugin
Word of mouth is everything today. And that's why you need a futuristic WordPress social reviews plugin to grow more.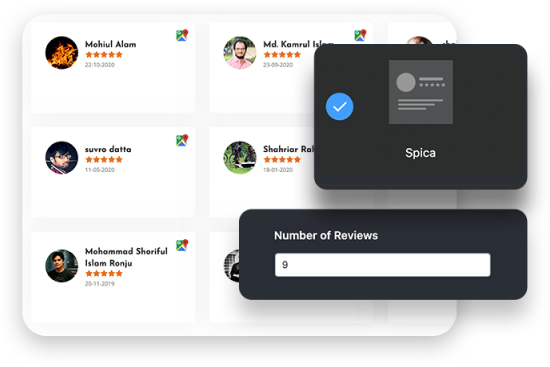 Number of Reviews
Take control of your displayed reviews
WP Social Ninja gives you the full command of your website. With this option, you can select the exact number of social media reviews that you want to exhibit.
Filters by Minimum Rating
Choose your display rating
Not every rating is a 5-star one! Customize the ratings with WP Social Ninja. And select the best ones that you would want to display to your users on your website.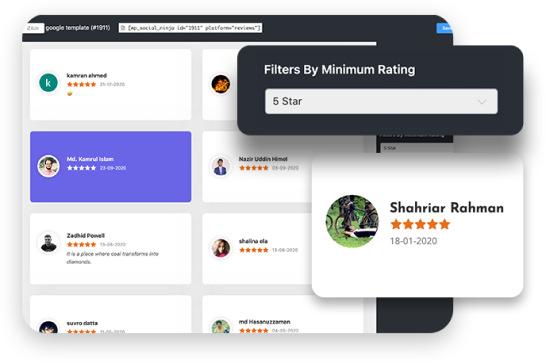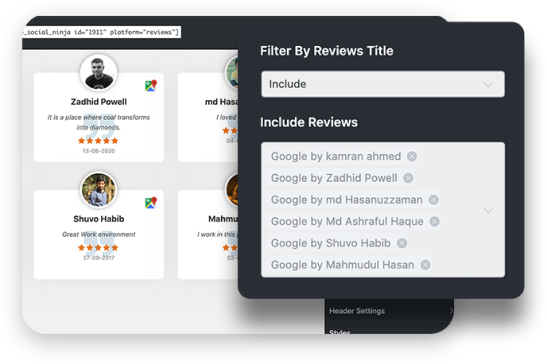 Filter by reviews title
Include or exclude specific reviews
From the thousand reviews you receive, your business needs only a few. Moreover, some reviews are not meant to be displayed. So adjust your reviews and include or exclude any!
Display Write a Review
Call to Action button for the website users
Let your users know about the individual social sites. WP Social Ninja has designed this CTA button to encourage the website visitors to give an instant review.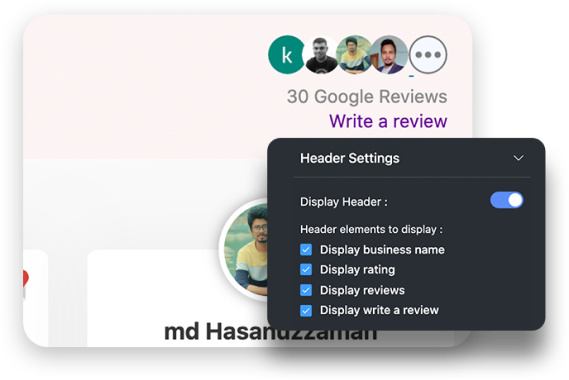 Import social reviews in 3 easy steps without any coding!
Give your WordPress website a kickstart with your valuable social proofs
Social Reviews comparison table
Here is a list of features displaying the extra features you will get by upgrading from free to the premium.
Platforms
Platform
Layout Types
Template Types
Filters By Minimum Rating
Filter by Reviews Title
Header Settings
Free
2 platforms
Limited
Limited
Limited
Limited
No
Pro
8 platforms
All Types
All Types
All Types
All Types
Yes
Invest wisely
WP Social Ninja offers you Social Reviews and Social Chat along with Social Feeds. An all-in-one solution for your website to take away your social media burden.
The
social super-tool

that won't break your bank
Testimonials
Gain trusts through social reviews to achieve your goal

It takes 20 years to build a reputation and five minutes to ruin it. If you think about that, you'll do things differently.
– Warren Buffett

We really listened to what our users wanted, both qualitatively listening to the words they say, and quantitatively looking at the behavior they take.
– Mark Zuckerberg

We all need people who will give us feedback. That's how we improve.
– Bill Gates
Social Reviews FAQ
Top questions you need to ask before buying WP Social Ninja
Turn your customer-generated content with WP Social Ninja into sales by collecting and adding social reviews
The best all-in-one social media plugin for your WordPress website
Subscribe for a LIFETIME DISCOUNT deal