Let your users know your presence through the
social feeds
Escalate your website by directly fetching social media feeds from multiple social sites, with more platforms coming up in the future!
Explore the most influential social media plugin
Your users need to see your true potential. And that's why a futuristic WordPress social feeds plugin is a must for your website.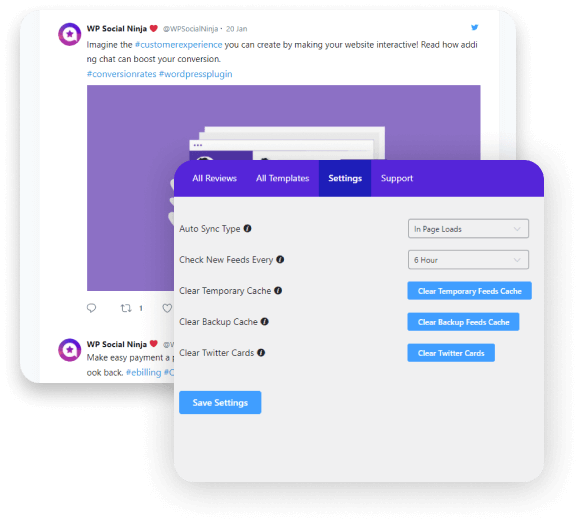 Auto-Sync
Update social feeds in real-time
Manually fetching social posts can be tedious. So WP Social Ninja lets your social feeds be updated in real-time and fetches the latest posts automatically on your website.
ShortCode Supported
Place your Shortcodes anywhere
With WP Social Ninja, never worry about efficiency. It is completely shortcode supported and allows you to put your feeds' posts anywhere, on any page, and edit accordingly.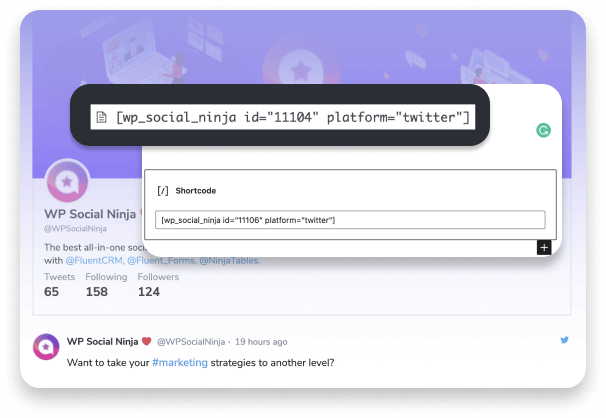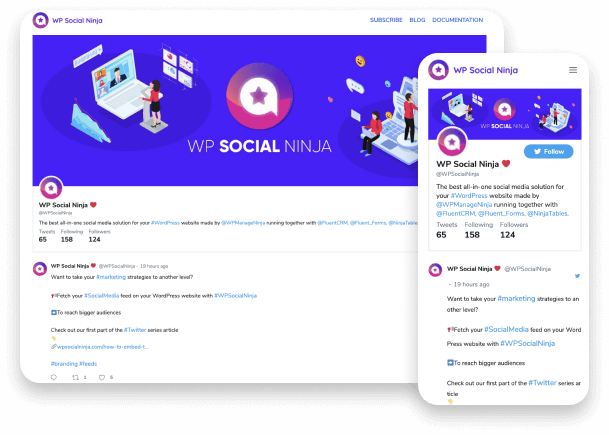 100% Responsive
Fully responsive on any device
WP Social Ninja makes your feeds look accurate on any device. The designs and layouts come in the exact shape way you wanted for your website.
HASHTAG OR SEARCHTERM
Take control of your site
WP Social Ninja lets you filter your social feeds with particular hashtags or keywords. With this feature, sort your posts precisely and display them automatically on your site.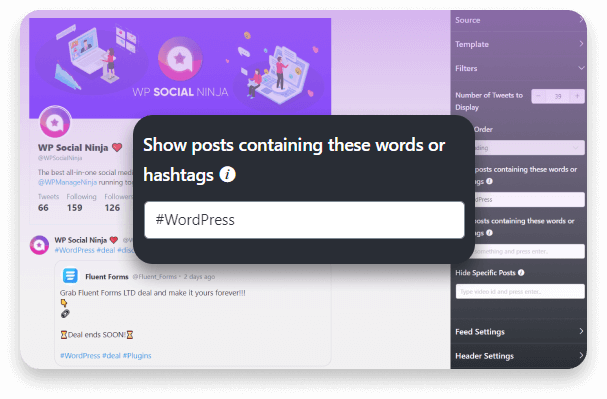 Fetch social feeds in 3 simple steps without any coding!
Give your WordPress website a kickstart with your valuable social proofs
Social Feeds comparison table
Here is a list of features displaying the extra features you will get by upgrading from free to the premium.
Platforms
Platform
Twitter Feed Types
Layout Types
Feed Settings
Instagram Posts Order
Follow Button
Instagram Header Settings
YouTube Header Settings
Twitter Header Settings
YouTube Settings
Free
3 platforms
Limited
Limited
Limited
Limited
Limited
Limited
Limited
No
No
Pro
4 platforms
All Types
All Types
All Features
All Types
All Features
All Features
All Features
Yes
Yes
Invest wisely and be smart
WP Social Ninja offers you Social Feeds and Social Reviews along with Social Chat. An all-in-one solution for your website.
The
social super-tool

that won't break your bank
Testimonials
Gain trusts through social reviews to achieve your goal

If you make customers unhappy in the physical world, they might each tell 6 friends. If you make customers unhappy on the Internet, they can each tell 6,000 friends.
– Jeff Bezos

The best advertising is done by satisfied customers.
-Kotler, Philip

Your awesome site isn't awesome. Getting your stories into the hands of people who need them is awesome.
– Ann Handley
Social Feeds FAQ
Top questions you need to ask before buying WP Social Ninja
Reinforce your social feeds with WP Social Ninja to get the best exposure for your brand
The best all-in-one social media plugin for your WordPress website
Subscribe for a LIFETIME DISCOUNT deal