FluentBooking: The Premier Choice for WordPress Booking Plugin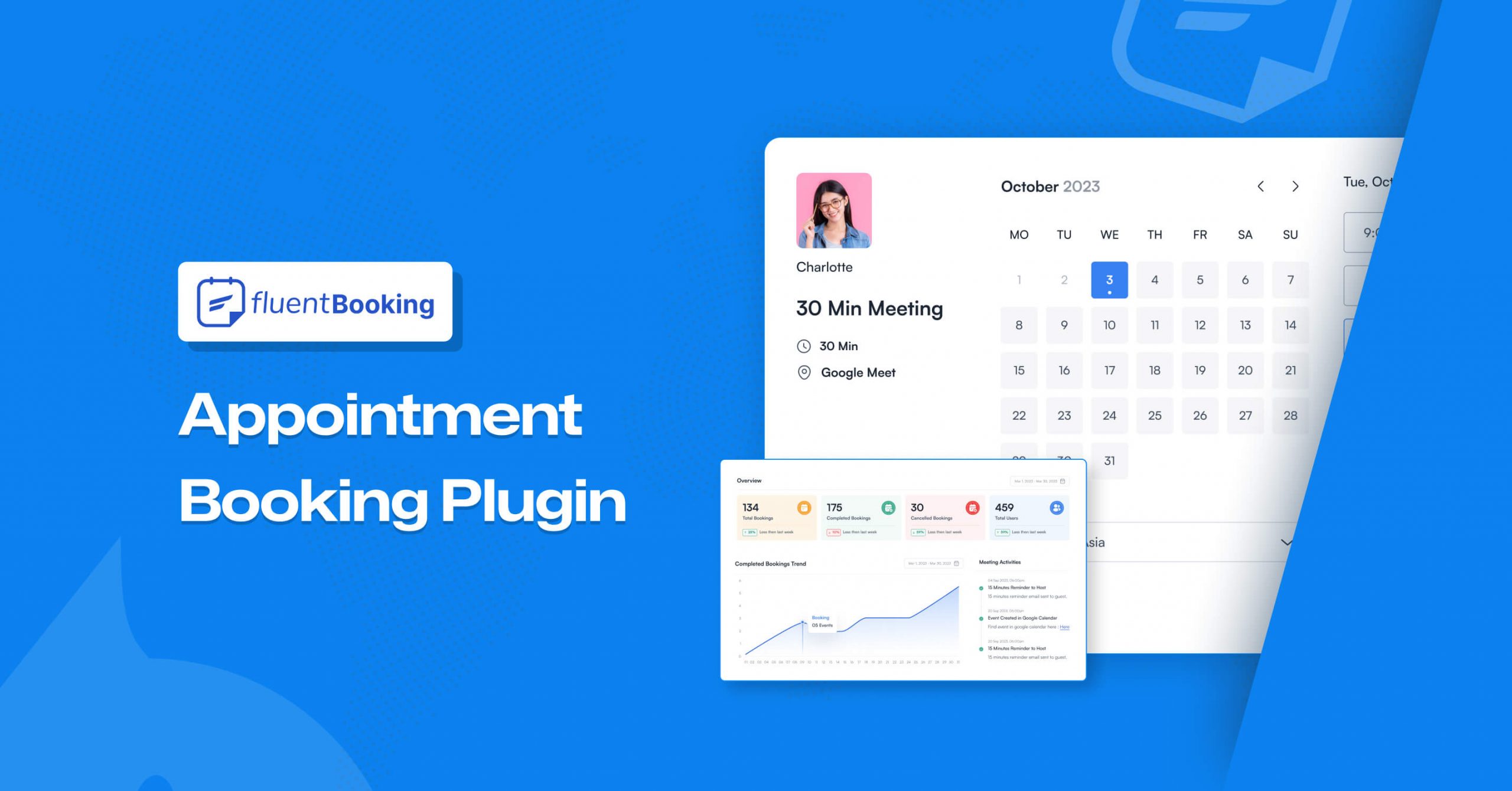 Do you know you're in a world where claiming a business offers the ultimate appointment booking solution means NOTHING without a quality user experience and growth potential?
The demand for online appointment booking is soaring, and that's where FluentBooking steps in – a game-changing appointment scheduling powerhouse for your WordPress website!
But wait, it gets even better. Have you ever dared to dream that you could effortlessly meet all your scheduling needs while witnessing your business thrive and flourish? Well, it's not just a dream; it's an exciting reality waiting for you, and it's all possible with the right WordPress appointment plugin.
This multipurpose booking tool delivers everything you need to stand out: from a sleek calendar to seamless email notifications, enabling your customers to handle their appointments with ease; and many more.
So, are you ready to unveil the best-kept secret of the WordPress booking world? FluentBooking is your key to seamless appointment management and business growth – and it's all just a click away!
What is FluentBooking?
FluentBooking is an amazing WordPress booking plugin, that can effortlessly manage your events and calendars on your WordPress website.
About speed and user experience? It's super user-friendly and speedy, and plays nice with other plugins, without all those unnecessary frills. With FluentBooking, you're in control. Customize date formats and time zones effortlessly, and set up recurring events with ease. Beautifully displayed on your website, your calendar makes booking appointments a breeze for your users.
But that's not all – the best WordPress booking plugin FluentBooking, syncs seamlessly with your Google Calendar, and you can amp up its functionality by integrating it with popular WordPress plugins like Fluent Forms and FluentCRM.
And many more that comes with unlimited meeting and hosts. In short, the ultimate booking plugin that's here to make your life easier!
What are the strengths of this WordPress booking plugin?
Now that you know about it, let's dig a bit deeper that will help you define the strength of FluenBooking or what it has in its store to offer you:
Unlimited hosts
Wondering how to manage multiple hosts? FluentBooking will let you bring all your members or team on board and a complete control to manage them.
This monitoring procedure makes it effortless and simplest to monitor and organize your appointments and all the activities.
Unlimited meetings
​​With its booking system, custom your meetings to your needs. Offer one-on-one appointments for personal services, consultations, or casual chats. Or organize group meetings for webinars, discussions, or marketing events, specifying the guest limit.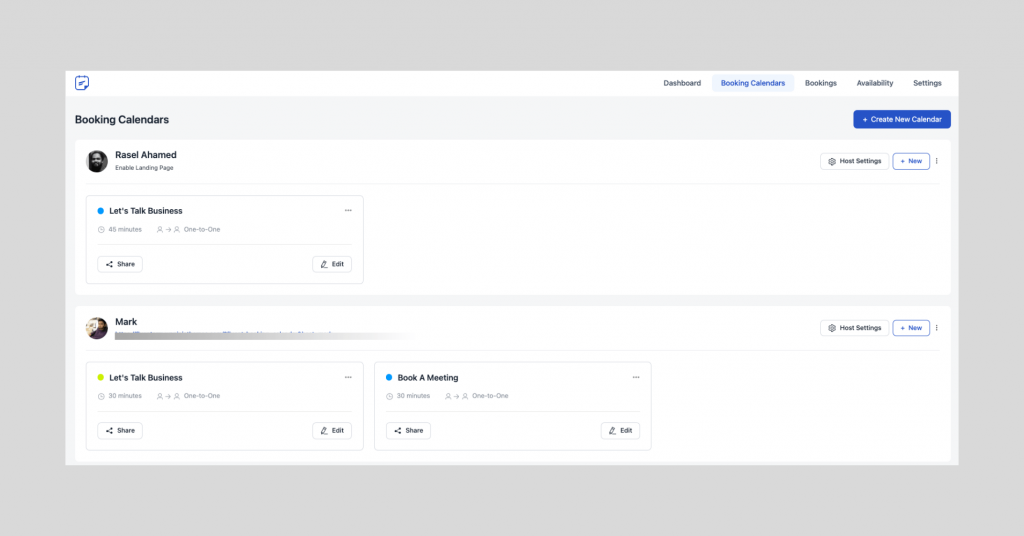 No more availability hassles – set your weekly schedule and use a user-friendly calendar. With FluentBooking, you can control meeting durations and even add buffer time between appointments.
2-Way Sync with Google Calendar
Stay in the loop with the Google Calendar Integration and bid farewell to scheduling conflicts through two-way synchronization! This real-time integration keeps you updated, ensuring all your bookings appear in your Google Calendar with essential details.
Whether you schedule on FluentBooking or elsewhere, our two-way sync prevents conflicts by keeping both booking calendars updated. This means FluentBooking checks both calendars repeatedly – helping avoid scheduling collisions.
FluentBooking uses Google's secure OAuth integration, prioritizing data protection so you can focus on meaningful communication, not data worries.
Unlimited email reminders
Worried about the email hassle? Well, you have an effortless appointment management here. Say goodbye to the hassles with automated, custom email notifications.
With the personalized email alerts of FluentBooking, you'll get unlimited reminders with personalization shortcodes, and customization options make appointment scheduling a breeze. Organize your calendar, boost productivity, and never miss an appointment again with the streamlined portal.
Enjoy efficient, stress-free appointment scheduling, and focus on what truly matters.
Attendee insights & time-zone management
Again, you can get the ease of automatic local time zone conversion and harness your meeting potential with data-driven insights.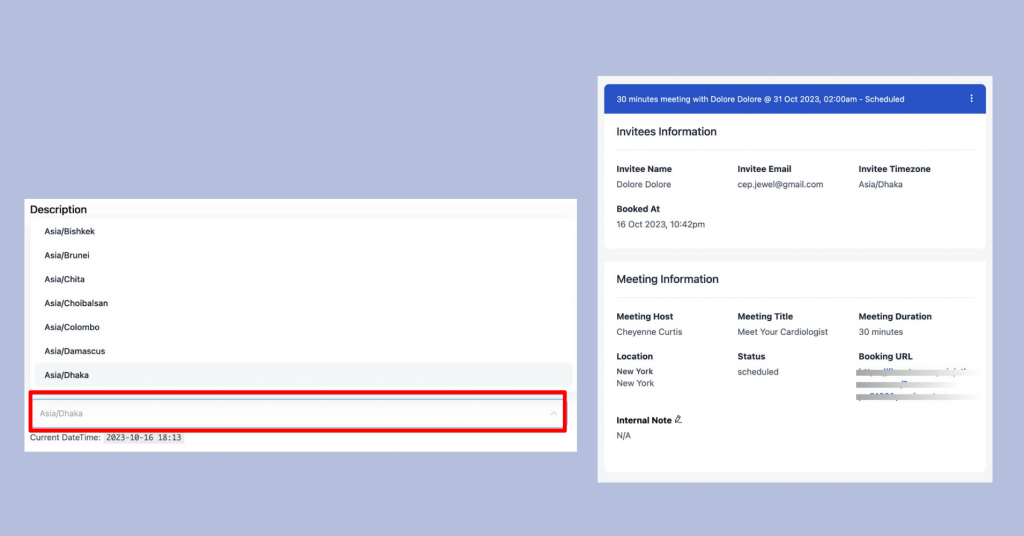 Besides that, gain access to crucial data, statistics, and attendee details, empowering your organization to make informed recruitment decisions, and driving you toward unprecedented success through enhanced efficiency and strategic approaches.
Integrations
Thinking that's all? No, you have more possibilities to unlock your productivity with FluentBooking. Gather data, simplify your processes, automate repetitive chores, and keep your information up-to-date!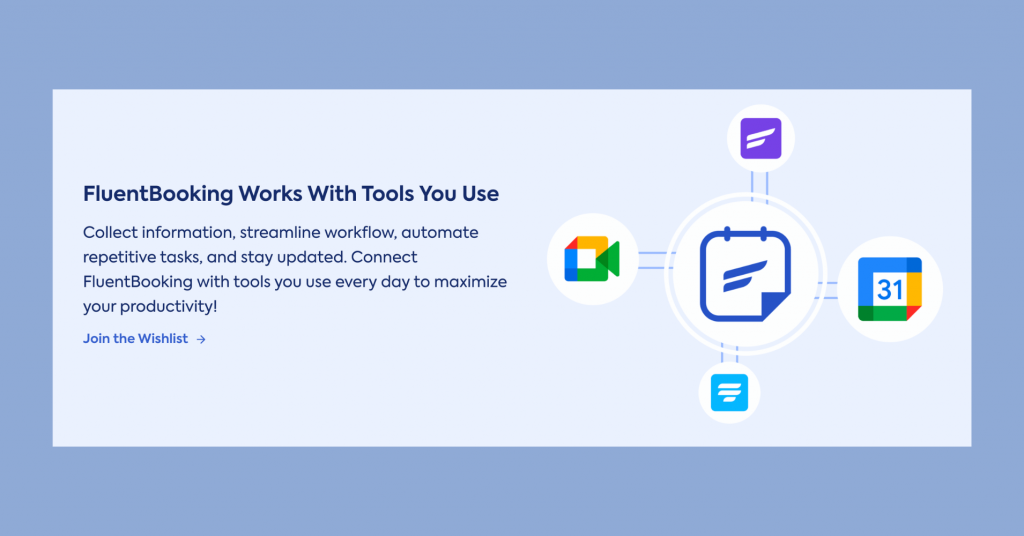 You can seamlessly link FluentBooking with your daily-use tools to supercharge your efficiency. Currently, FluentBooking boasts integrations with FluentCRM, Fluent Forms, Google Meet, Zoom, Webhook and Stripe. And we're continually expanding integration options to elevate your experience further (Twilio SMS integration coming soon).
A quick overview of the key advantages
So why choose FluentBooking? Let's take a swift peek at the main perks and benefits. In a nutshell, here's what you stand to gain from the best WordPress booking plugin!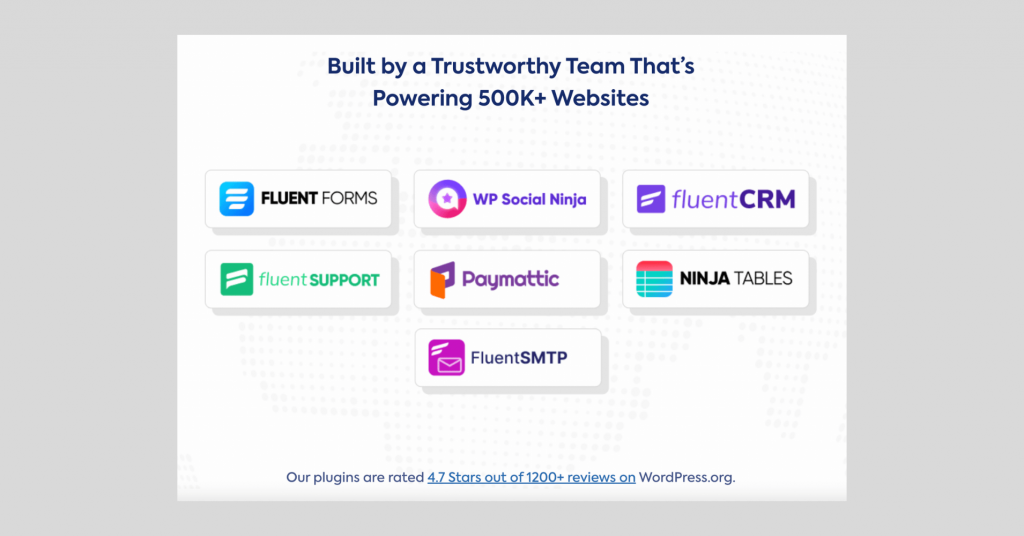 The beginner-friendly setup simplifies the process of creating appointment forms for those who have little to no coding experience
Automation is key here, as it takes care of administrative tasks and saves time
You can ensure that your calendar's availability is always up-to-date in real-time
Gathering attendee information is made easy with custom fields and syncing this collected data with CRM tools, streamlining your data management processes
Ensures that users can access and schedule appointments conveniently, regardless of their device type
Personalizes your service, allowing you to focus on delivering exceptional service while it handles logistics
Effortlessly arrange high-value meetings with prospects, reduce email back-and-forths, automate reminders, and integrate sales tools for more efficient deal closures
Enhance eLearning by managing student availability, advising, counseling, and supporting student growth for an improved educational experience and increased student success
Customer satisfaction and retention through personalized experiences and automated follow-ups, making customers feel valued and well-cared for
Simplify the recruitment process with seamless appointments and automatic schedule updates, attracting top talent and ensuring a positive candidate experience
Seamlessly integrates with your everyday tools, enabling information collection, task automation, and real-time updates within your existing workflow
Ensures you're a top priority with dedicated support engineers available 24/7 to address your needs and prevent any negative feedback
Our final review of FluentBooking
What else to expect from a booking tool that you can completely rely on? FluentBooking truly embodies the essence of convenience and flexibility, making it an indispensable addition to your WordPress website.
As a cherry on top, the pricing plans offer scalability, making FluentBooking accessible for businesses of all sizes.
So, hold on to your searches for efficient online appointment booking; FluentBooking stands out as a game-changer. It's time to say goodbye to appointment chaos and embrace the streamlined, efficient world of FluentBooking. Happy booking!