Instagram Threads: What's in There to Know?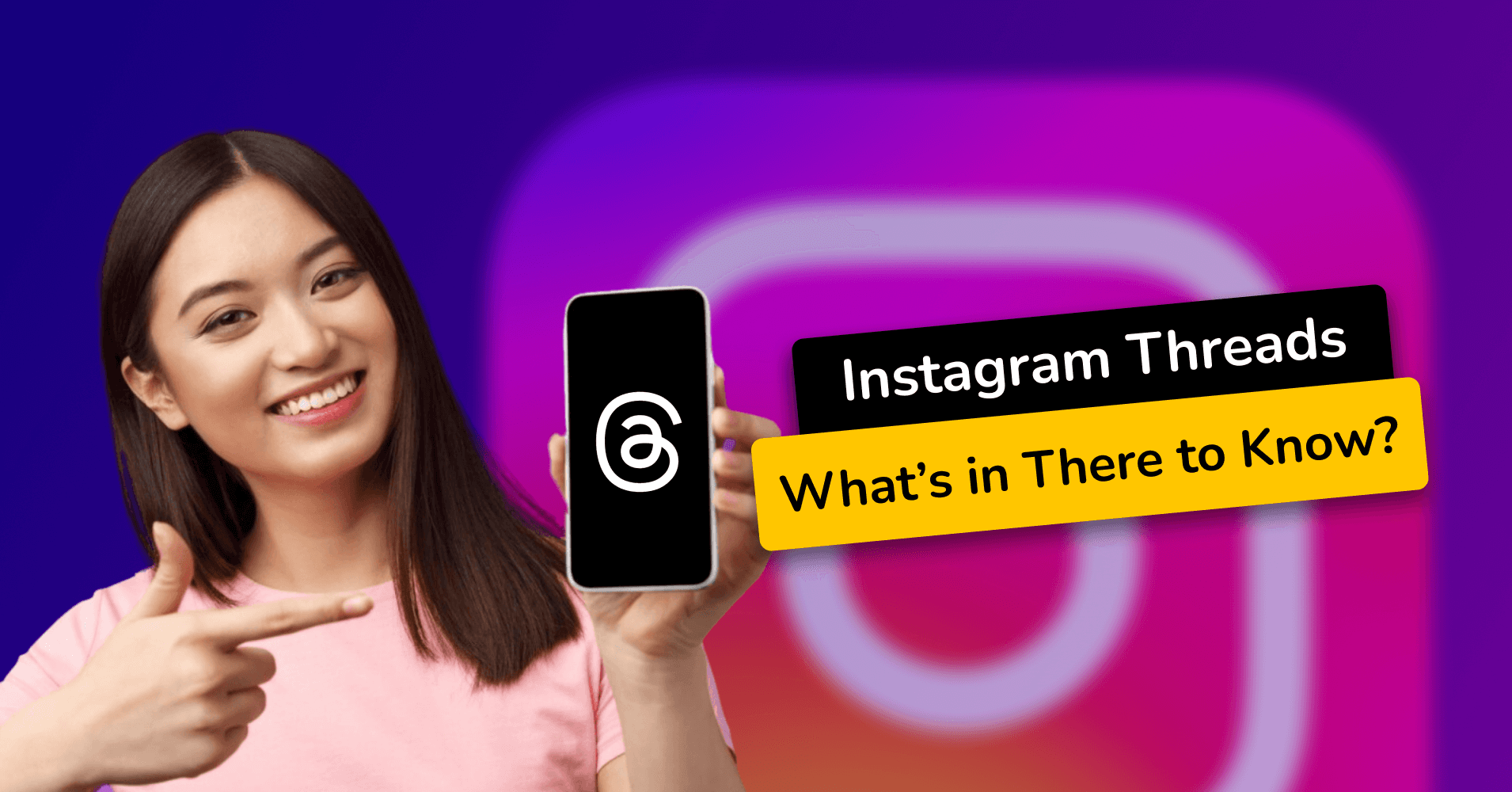 Meta has launched Threads, a new social media platform on 6th July 2023! And the virtual world is in uproar!
Many talks are flying around, some are saying this would shape the future of social networking and replace existing platforms like Instagram and Twitter! Some are saying this might open new doors for businesses and content creators!
Celebrities, influencers, businesses, and entertainment channels are rushing to be the early bird and trendsetters!
So what is Threads, what's in there, and how to operate this platform?
So many questions might be floating around your head, and you might want to know the answers! And here we are!
From here on we will try to paint a clear picture of Threads! We will tell you what is Thread and what this newborn platform has to offer and what the future might hold!
Let's start our journey!
What is Threads
Threads is a newly launched social media platform by Meta, the parent company of Facebook, Instagram, and WhatsApp.
"The vision for Threads is to create an option and friendly public space for conversation. We hope to take what Instagram does best and create a new experience around text, ideas, and discussing what's on your mind."

Mark Zuckerberg.
Threads by Instagram has a feed of text-based posts where you can create a literal conversational thread! With 500 character limit per 'Thread', you can add photos, links, or videos!
When you join Threads, your feed will show you content from the people you follow, and from people whom its algorithm thinks you might take interest in!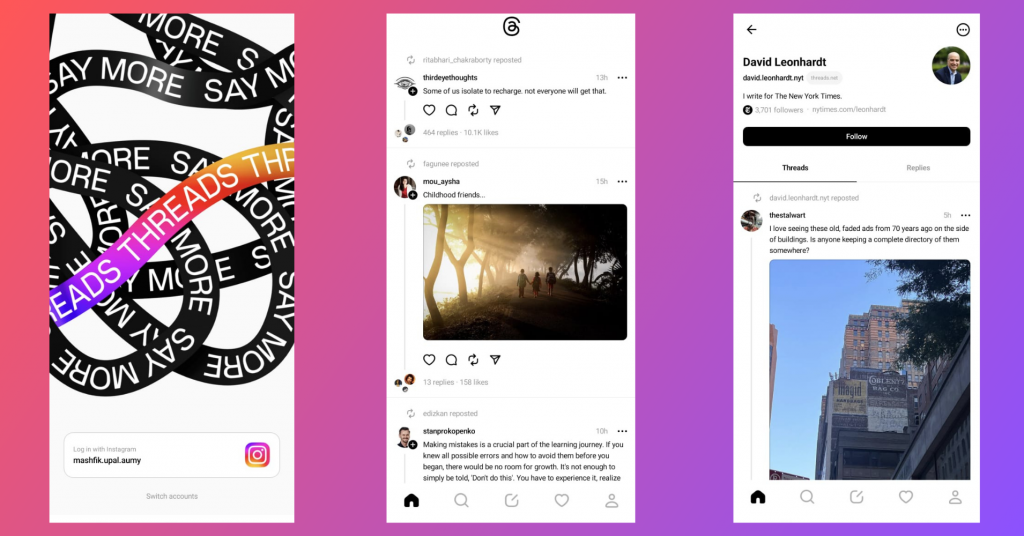 Actually, this is not the first time for Threads! Instagram Threads app was launched back in 2019 as a "Camera-first messaging app", and the aim was to share visual messages with close friends. 
But that version is no longer available, and here is the new Threads by Instagram!
How to get started
Like other platforms of Metaverse, it is super easy to get started with Threads. This section will present how you can sign up for Threads with these easy steps! Let's see!
Step 1: First, you have to download the app. You will find the Instagram Threads app in both Apple Store and Play Store. Right now, Threads is available in more than 100 countries and download is free!
Step 2: Now you have to create your account. Unlike other social media platforms, you don't have to start by putting loads of information! Threads is already linked to your Instagram account, just click on your username at the bottom!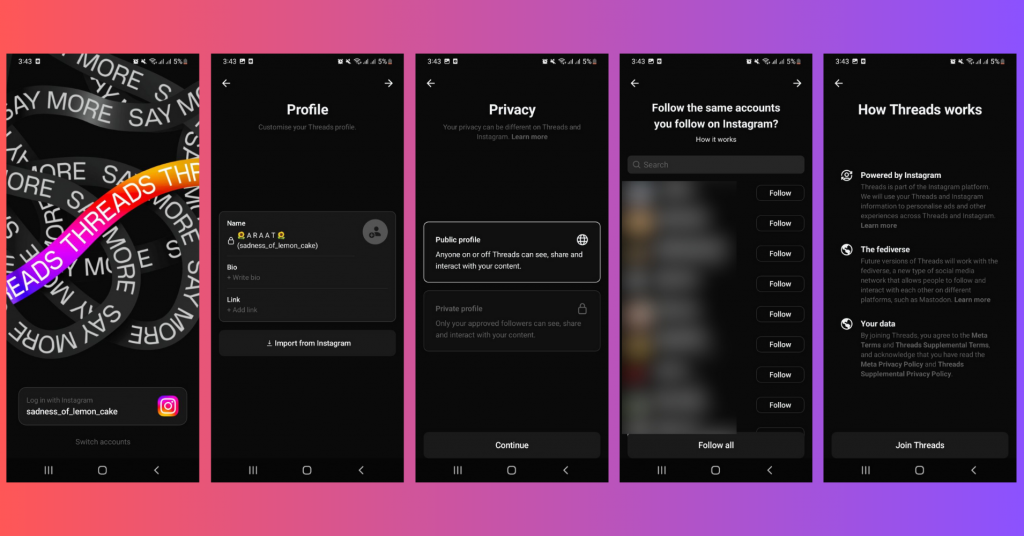 Step 3: Then you will see your profile section. You can either manually write up your bio, and other details or directly import them from Instagram!
Step 4: After that, you will see your privacy options. Two options are available:
Public Profile: Anyone from Threads can see, share or interact with your post.
Private Profile: Only your approved followers can interact with your post.
People under 16, and some countries under 18, will be defaulted to a Private Profile when they join.
Step 5: In this section, you can choose whom to follow. As Threads is linked to Instagram you can follow the same profiles you are following on Instagram!
You can either choose individuals to follow or click "Follow all" to import all followers from Instagram!
Step 6: And this is the final stage! You will see three pieces of information here:
Threads is powered by Instagram. Information from these platforms will be used to personalize ads.
Future versions will work with Fediverse. Fediverse will be a new type of social media that will allow people from different platforms to interact with each other!
And by joining Threads you Meta's terms and policies as well as Threads Supplemental Terms and Policies!
How to use
If you have used Instagram and Twitter, operating Threads will be no brainer for you! If not, it is still easy!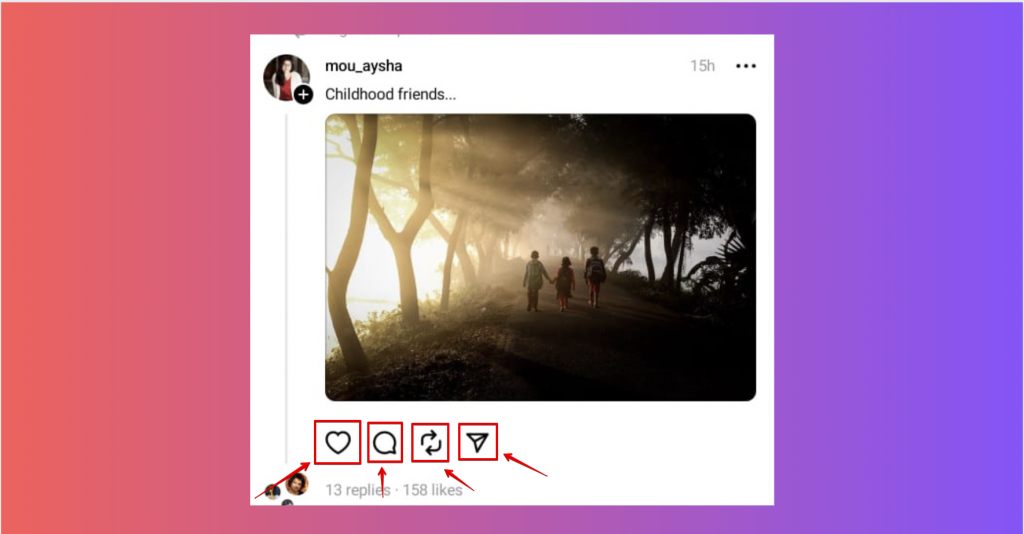 Under every thread, you will see four icons! Three of them are similar to Instagram.
Heart: Click here to like the post.
Quote Bubble: Tap here to directly reply to the thread.
Repost: Tapping here allows you to repost a thread to your timeline, or quote the thread with your own thoughts and words.
Paper Airplane: With this, you can share your thread or post to other platforms. Tap here and you will see options to add to your Instagram story or feed, copy the link, or share via other platforms!
See, it's easy! Just join and scroll!
How to leave
It's so easy to get started on Threads, but what about if you want to leave? Well, it's not that easy!
Let us explain! You can deactivate your account or take a break with ease! Go to your profile, click the double bar on the top right corner, go to 'Account', and choose what suits you!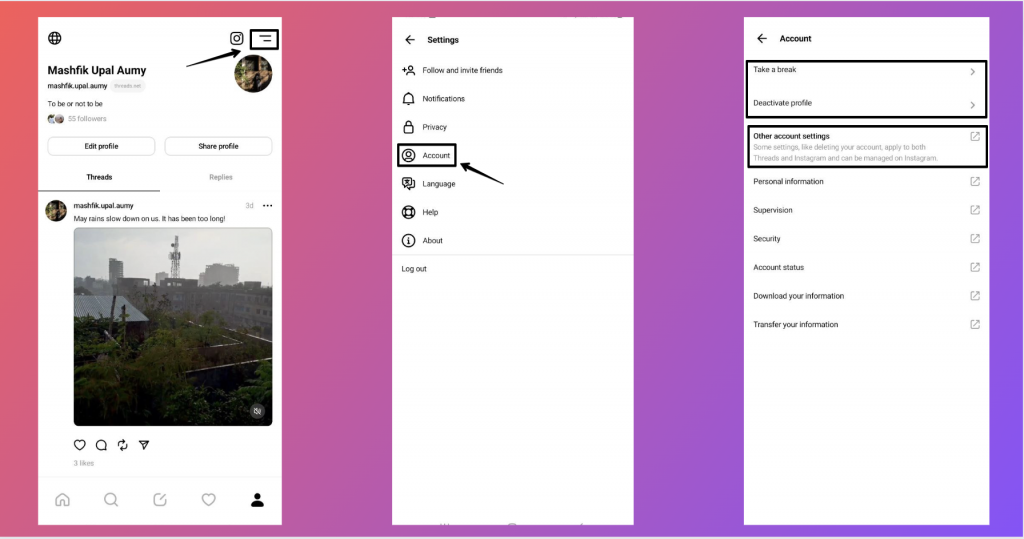 But that's not the case when you want to delete your account! If you want to delete your Threads account, you can, but your Instagram account will be deleted as well!
So, if you don't want to lose your Instagram account, think twice about whether you want a Threads account or not!
Threads features
Now that you know how to sign up and make your way through Instagram Threads, this section will tell you what to expect from this platform. What can you do with Threads, and what can it offer? Let's see!
Feed customization
There are certain things you can control on your Threads profile. You can control who can like, reply, mention, repost, and quote Threads!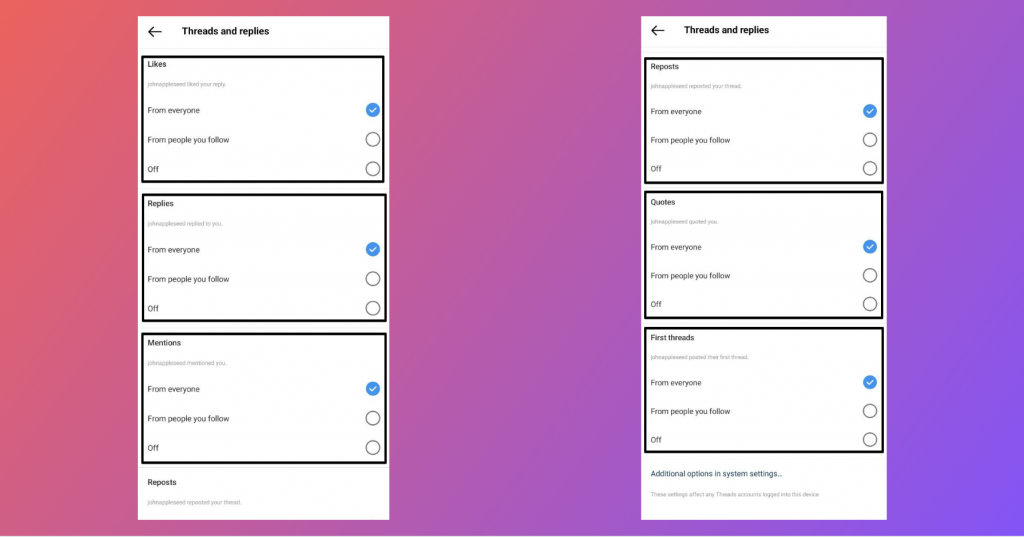 Threads allow you to unfollow, block or restrict the profiles you want. And the accounts you blocked on Instagram, will be blocked here as well!
You can add hidden words to filter out comments in your threads that contain these specific words! And Instagram and Threads for Instagram have similar community guidelines to follow!
Interoperable networks
According to Meta, Threads team is currently working on making it compatible with ActivityPub, the open social networking protocol established by W3C(World Wide Web Consortium)!
When that happens, Threads will be interoperable with platforms like Mastodon and WordPress that supports ActivityPub.
This feature will allow these interoperable app users to access Threads without having an account and vice-versa! This will usher in a new era where reaching mass people would be much easier!
Ads and promotion
Threads is yet to announce any ad campaign or promotional features! But the Instagram team announced that marketing features will be available in the near future.
It is confirmed yet, but many marketers believe features would be similar to Instagram! Giant names like Walmart, Nike, and Kroger are already on Threads!
Facts and Stats about Threads
Let's take a quick overview of Threads:
Threads gained more than 100 million users in less than a week from its release. It is now the fastest-growing social media ever! And it's highly possible your audiences are already here!
With 500 character limit, which is almost double that of Twitter, you can express more with the same flavor. So let yourself loose!
Threads for Instagram is like siblings! You can easily toggle and share between these platforms! 
Your verified Instagram account will be automatically verified here.
The accounts you blocked on Instagram will automatically be blocked here as well!
You can verify Threads users through Instagram. Just go to someone's Instagram profile and you will see a Threads link to their profile!
As there are no ads till now, enjoy scrolling as much as you want without any interruption!
How is it different from Twitter?
Though Threads looks a lot like Twitter, there are some certain differences!
The main difference can be said the character limit! While Twitter has 280 character limit, Threads have 500!
Threads has not yet introduced any paid promotion features like Twitter. And does not have features like long video, direct messages, and live audio rooms!
Bottom line
It seems like Threads is just the beta version of what is to come! Many features like direct messaging, trending topics, desktop versions, and editing options are yet to come.
But Meta executives have no sign to take their eye from Threads. They announce to build a platform that will change the social media experience.
Now it's our turn to wait and see what opportunities this platform opens!
Hope you have found our article useful. To get more informational articles, subscribe to our newsletter. Don't worry, we won't send you any spam! Stay with us.
FAQs
What is the Threads in Instagram?
Threads is a newly launched platform by Meta and made by the Instagram team! But Instagram and Meta are not the same apps! Threads offer short snippets of text, along with photos, videos, and links! It can be said that it is an extended version of Instagram!
Where do I find Instagram Threads?
Well, Threads is available both in Apple Store and Play Store! After downloading, you can easily create an account with your Instagram account!
What is a Thread in a posting?
Threads is a series of comments or replies on a particular topic, the idea is to create a structured conversation.
What is a Thread vs. post?
Where a post is a particular section of engagements, Threads can be said a series of posts on a topic that creates a tree-like structure on a topic.
Does Threads use hashtags?
Hashtags are widely popular on platforms like Twitter, Instagram, and Facebook. But Threads currently lacks this feature. So, no, Threads does not use any hashtags.