9 Best WordPress Chat Plugin to Elevate Social Engagement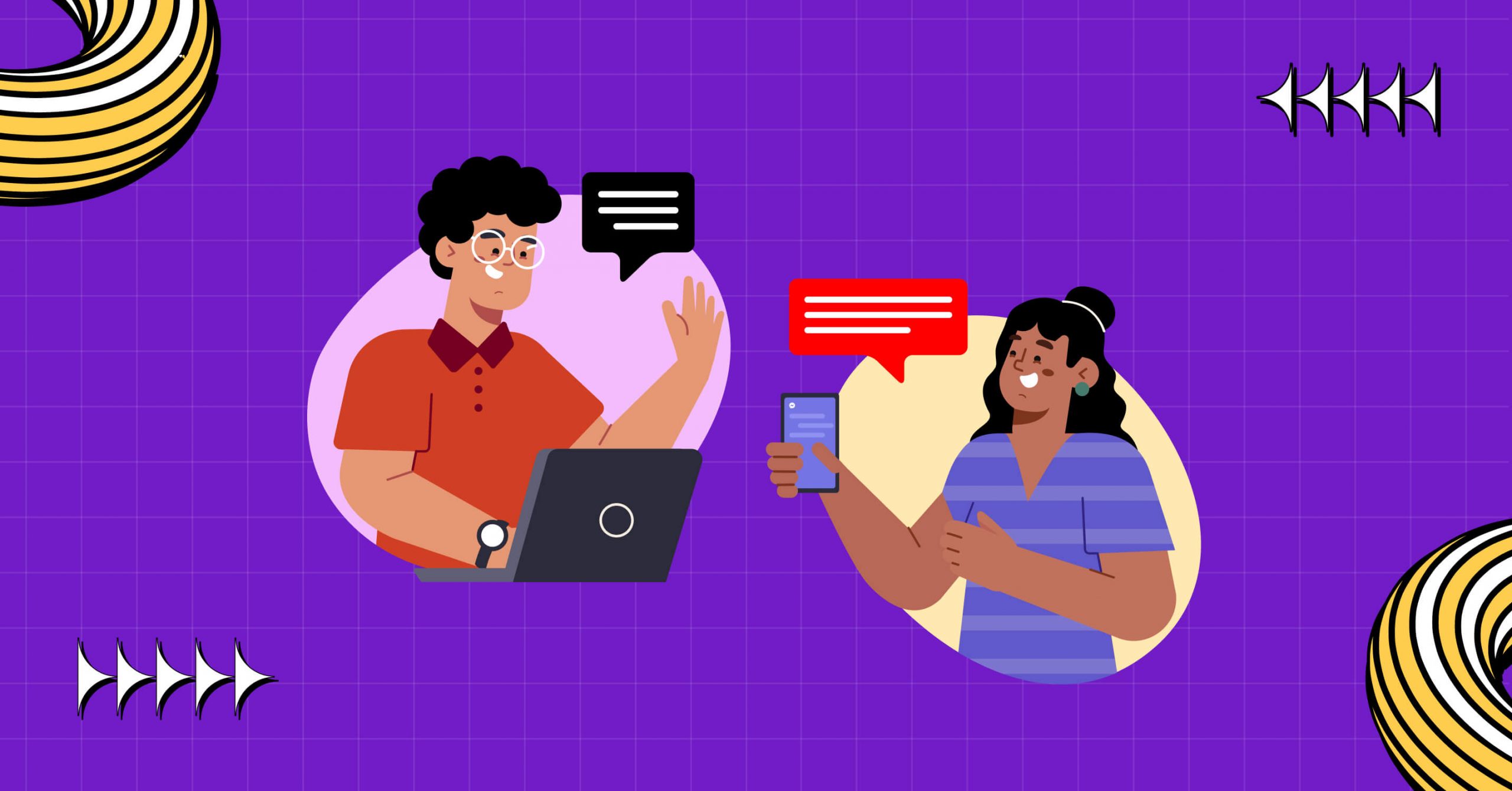 When John Jantsch said, "Listening is the new prospecting." we could not agree more! In this era, businesses are moving online and the market is saturated!
So, what can win a customer's heart? What can make them buy from you?
The answer lies in how well you are capable of listening to your buyers' queries and understanding their confusion in the pre-decision stage.
That's where the WordPress chat plugins come to the scene! Once integrated, chat plugins let your salespersons communicate with your potential customers more personally and enhance workflow!
You will find tons of chat plugins in the WordPress repository. It may overwhelm you and make it hard for you to choose the right one. But here we are!
This article will unveil everything you need to know about WordPress chat plugins and we have handpicked 9 top plugins to get you started.
Let's dive into the details!
What is a WordPress chat plugin?
WordPress chat plugin basically creates a chat system for your site, and lets you have instant conversations with your visitors like any other social media chat platform! The primary purpose is to provide fast and interactive customer service.
For example, WP Social Ninja provides 'Social Chat' features that let you connect with 15+ social media platforms and customize them as you wish. On your website, you can connect through popular platforms like Messenger, WhatsApp, Telegram, Skype, and many more.
Some plugins provide live chat for WordPress. Some can have chatbots and auto-responses. But all of them will let you track, manage, and respond to your visitors in a more interpersonal way.
Why you should use chat widgets?
The main reason your brand should use the WordPress chat plugin is to elevate the conversion rate. When your visitors want something, no matter what it is, talking to someone will surely make them feel good about your brand.
With a personal touch, the WordPress chat plugin (just put in one emoji or two!) makes it better for potential customer queries, better support for existing customers, feedback from enthusiasts, and you name it!
Let's look at some key benefits!
Fluent service
Your potential customer has already done his/her research, from reviews to features, and almost every aspect has been covered! But they might need a little bit of push, or a little bit of support because some 'if' might be on the mind!
In this stage, they might want an easier way to communicate and that's where the chat plugins come in!
Easy to use
WordPress is user-friendly, and so are the plugins! You don't need any coding or professional experience; just plug and play.
WordPress chat plugins are always ready to go. Simply download and activate with a few clicks. Then you can customize appearances, and change according to the needs of your business or whatever suits your niche.
Human touch
This is the prime benefit of WordPress chat plugins. They literally make your website come alive! Can you remember the last time you talked to an agent for a service inquiry?
How did it feel?
That made you pretty comfortable, welcoming, and homely, right? Sometimes, that's all a potential customer might need. A little bit of personal conversation can make them jump the gun!
Higher conversion rate
WordPress chat plugins work as a bridge between sellers and potential customers and help build actual relations based on mutual trust.
Chat plugins create a comfort zone for both parties that pushes buyers to choose your product or service. Chats will make you more trustworthy and, hence, increase your conversion rate.
Customer priority
Here's the hidden gem! If you want to establish a good reputation among your target audience, you need to pay more attention to their interests.
When it becomes easier to communicate with your niche, you can get more insights about their desires and pain points. That will help you to work on new updates or rethink your marketing strategy.
Your customers are getting what they need and you get to bloom your business. A huge win-win!
How do you use the WordPress chat plugin on your website
WordPress chat plugins are basically like any other plugins, you can find them on the WordPress repository. For example, you can install WP Social Ninja from the repository and then activate it for its features including chat widgets.
A comparison chart between the top 9 plugins
You will find loads of WordPress chat plugins; it may feel like finding a needle in a haystack! But to ease your hassle, we have thoroughly studied and sorted the top 9 plugins! Before we go for details let's see a comparison chart to have an overview!
Connect through 15+ chat widgets

Use multiple chat widgets simultaneously

Personalized chat widgets

Chatbox popup

Time scheduling when offline

Chat history

Widget customization

File sharing

Visitor details

Messenger, Instagram, and chatbot integration

Mobile friendly

Customizable chat widget

Mobile-friendly interphase

Live chat and chatbot integration

Automated lead generator

Offline message storage

Surveys and polls

Real-time visitor monitoring

Multiple agents from a single dashboard
Overview of the plugins
Now that we have sorted out the top WordPress chat plugins based on our research, it's time to elaborate. You might have questions about these plugins and why we have selected them!
This section will unpack some extended details of these plugins and which features have caught our attention. Let's have a look.
WP Social Ninja
WP Social Ninja is an all-in-one social media plugin that comes with top-tier chat widget features! This can be an excellent WordPress chat plugin with multiple handy features.
You can connect your website with Messenger, WhatsApp, Telegram, Instagram, Snapchat, WeChat, and almost all popular chatting platforms, you name it!
WP Social Ninja lets you connect through multiple platforms simultaneously and customize your chatbox that suit your business. This can give your website a professional outlook. Moreover, you can customize on which page of your site, your chat box should appear! And with preset caption texts, you can welcome your visitors when you or your team are offline!
Win your customers' hearts with exceptional features
Discover how WP Social Ninja can assist you design outstanding customer experiences.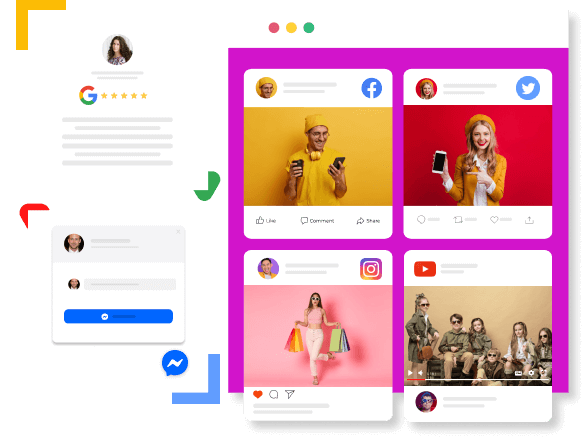 The most amazing part of this plugin is that Social Chat is one of its features. Other features include displaying social feeds, showing reviews from 10+ platforms, adding testimonials, shoppable Instagram feed, and many more. With a single subscription, you can get a full marketing package.
Key features:
Connect your website with the most popular social media chatting platforms
Create multiple chat widgets on different channels and use them simultaneously
Personalize chat box that suits the business
Customize chat box pop-up on any page of the website
Pre-scheduled caption features to welcome visitors when salespeople are offline
24/7 responsive support team
Pricing:
Free version: Available
Pro version: Starts from $44 per year (Discounted price)
LiveChat
LiveChat is an effective solution for adding live chat for WordPress websites as the name suggests. This WordPress chat plugin is easy to implement because of its compatibility with almost every WordPress site builder and theme.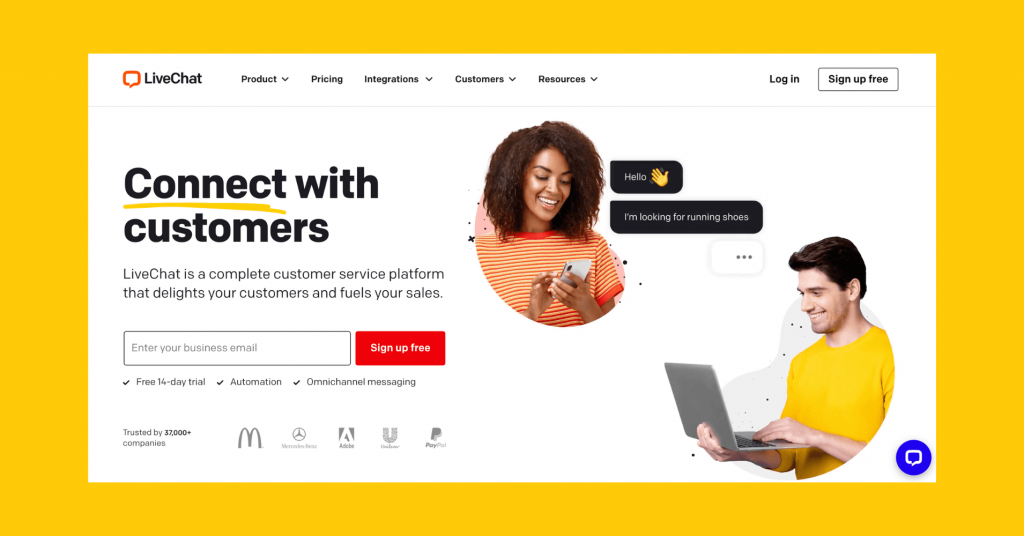 From the customer's view, this plugin welcomes them with a nice chat box at the bottom of the page. This box is never outsighted and can be accessed with a single click.
Key features:
Unlimited chats
Chat history
Link sharing availability
Connect with multiple websites
Widget customization
Pricing:
Paid version: Starts from $240 per year
Olark
Olark is a full-fledged live chat for WordPress providers known for its premium looks and versatile functionalities. With some advanced features, this WordPress chat plugin is still underrated.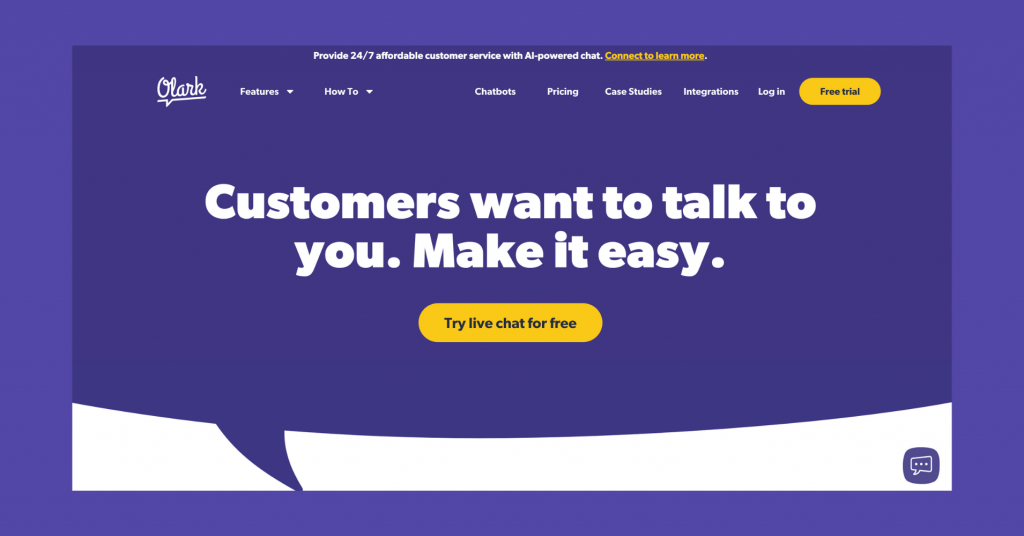 Olark can easily be integrated with your CRM and other marketing tools. Additionally, you can save the entire chat to archive and use them later as references to collect further insights on your visitors. These good-to-go features make this WordPress live chat plugin a formidable one.
Key features:
Chat routing
Automated greetings
Easy automation integration
Visitor details
File sharing
Pricing:
Pro version: Starts from $348 per year
Tidio
Tidio is a WordPress chat plugin that comes with an email marketing tool. This plugin is easy to install, mobile-friendly, and provides support for Facebook Messenger.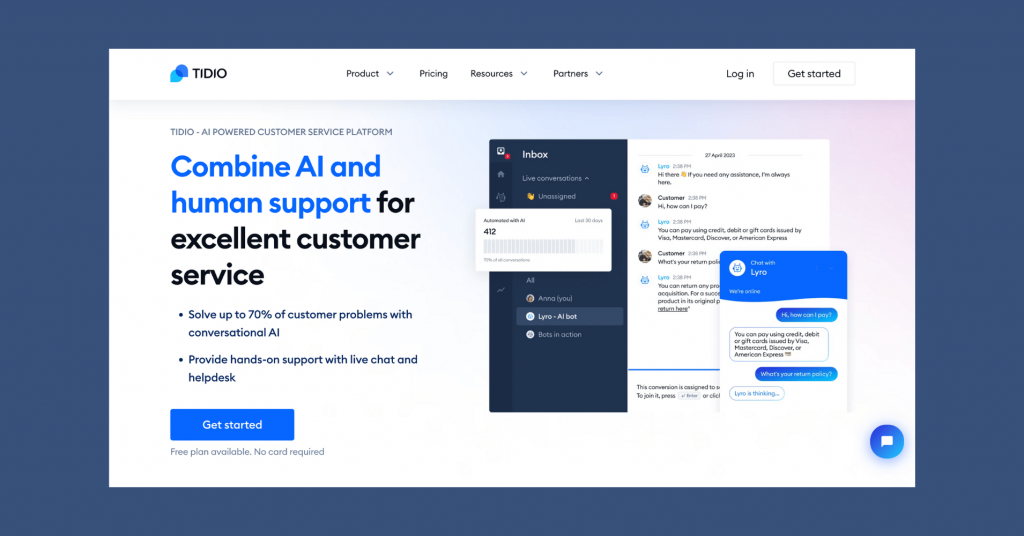 The visitor notification feature of this plugin has caught the user's attention. This feature notifies the agent when someone visits your site and promotes engagement. Tidio provides a drag-and-drop chat building and a template for common chatbot flows.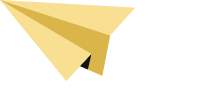 Subscribe to Our Newsletter
Get exclusive social media marketing tips and tutorials in your inbox!
Key features:
Customizable widget
Messenger, Instagram, and Chatbot integration
Visitor notification
Mobile friendly
Template
Pricing:
Free version: Available
Pro version: Starts from $300 per year
Zendesk Chat
Zendesk Chat formerly known as Zopim Live Chat is a popular WordPress chat plugin. Thanks to its loads of beautiful, customizable layouts and themes, it is one of the most stylish plugins in the WordPress repository.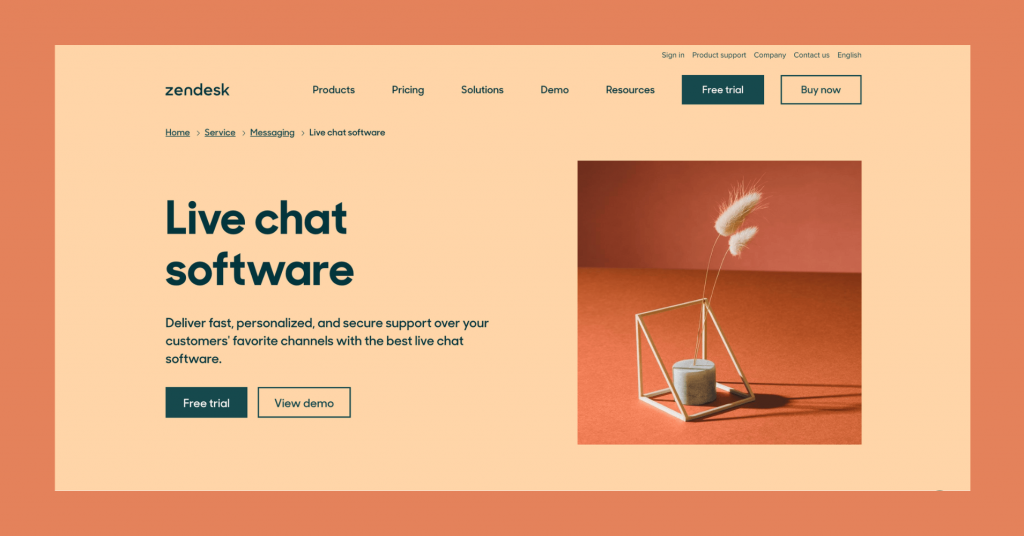 You can respond to visitors' messages by accessing the external Zendesk dashboard and through mobile apps as well when you are on the move! The dashboard provides metrics that allow you to track chat performance and history. This WordPress live chat plugin offers the smart trigger feature that lets a chat box automatically launch on specific conditions.
Key features:
Smart trigger
Zendesk AI chatbot
Reports and analytics
Mobile-friendly interphase
Customizable chat widget
Pricing:
Paid version: Starts from $228 per year
HubSpot
HubSpot WordPress plugin can be a great choice if you are accustomed to their ecosystem. They provide Live Chat, CRM, and other CMS (Content Management System) functions. This WordPress chatbot plugin is a multipurpose tool for marketing.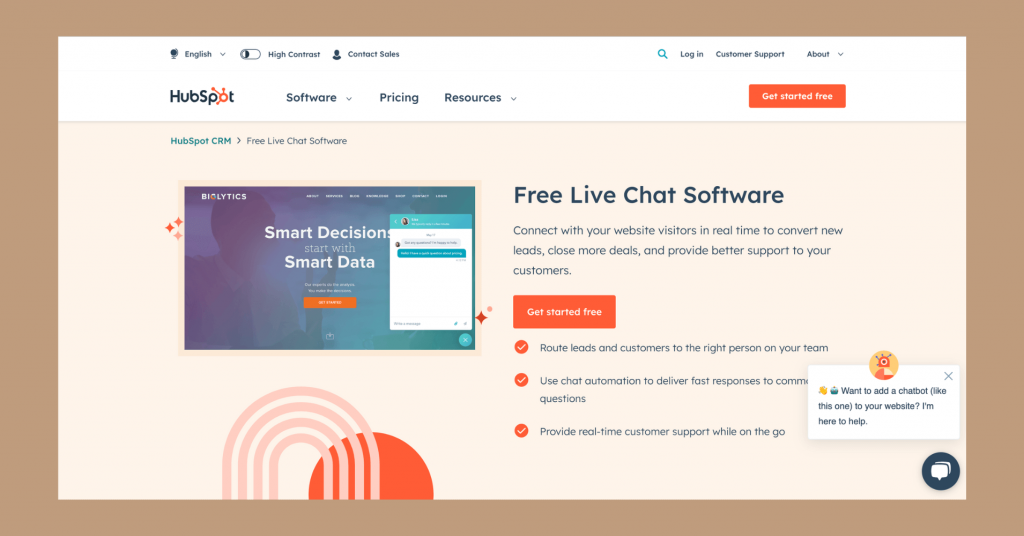 Live chat, help ticketing, automated bot, and many other features are already available in its free version. This plugin is reliable, but you may find it a bit complex if it is your first time with HubSpot. But if you have used any of their product, things are easier.
Key features:
Popups
Live chat
Automated bot
Lead management
Pricing:
Free version: Available
Paid version: Starts from $216 per year
3CX
3CX Live Chat is a free WordPress chat plugin that works independently but can be integrated with 3CX Communication Suit which provides voice communication and can serve as a WordPress video chat plugin as well!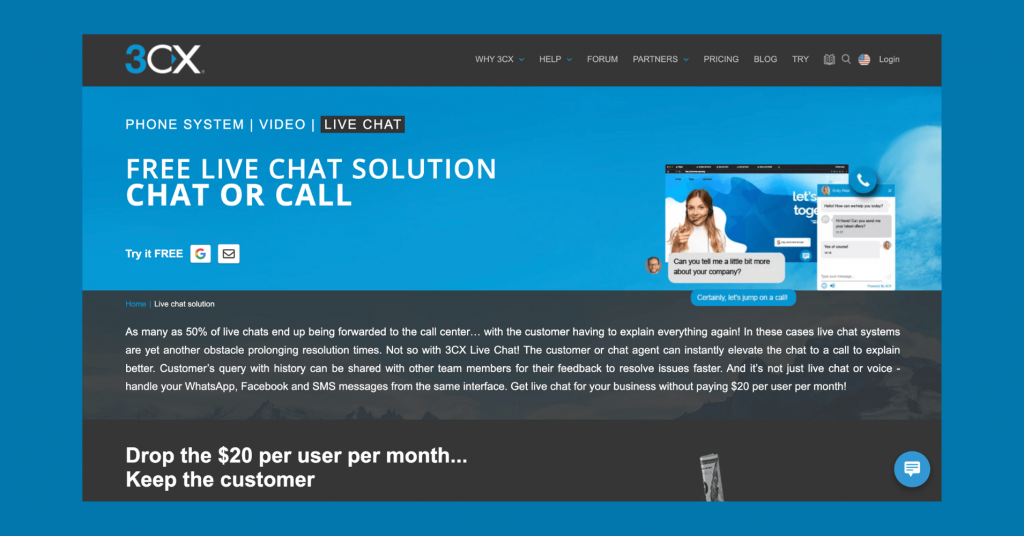 This plugin has several agents and customers can be cross-routed as par necessity and you can segment departments to guide your traffic to the right agent. You can create offline messages and customize your chatbox.
Key features:
Offline message storage
Surveys and polls
Unlimited agents
Automatic popup
Pricing: Free.
Tawk.to
Tawk.to is a completely free WordPress chat plugin. You can manage multiple websites and agents through a single dashboard. A free app is available as well, and agents can monitor visitors through apps and computers. 
Tawk.to apps can be accessed from mobile phones and any browsers. Additionally, a customizable chatbox that can appear on any page you want makes it a simple and easy-to-use plugin.
Key features:
Real-time visitor monitoring
Multiple agents from a single dashboard
Pricing: Free.
Smartsupp
Smartsupp is a freemium WordPress chat plugin that can combine live chat features with a chatbot and advanced reporting features.
This plugin provides real-time monitoring that shows how visitors are moving around your site which can give you an idea of your more popular services. Their mobile is compatible with both Android and iOS and supports seven different languages.
Key features:
GDPR compliant
List of visitors
Messenger integration
Pricing:
Premium version: Starts from $540 per year
Conclusion
We have presented some top-notch chat plugins with their descriptions and top features so far. If you are still confused about which one to choose, remember one thing, your definition of best is surely different from others.
Win your customers' hearts with exceptional features
Discover how WP Social Ninja can assist you design outstanding customer experiences.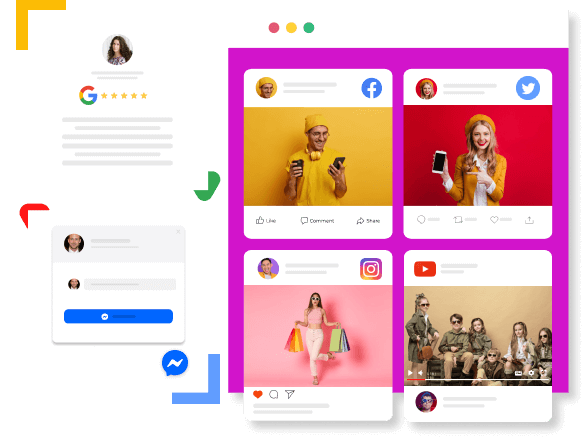 Most of the plugins offer free trials. A WordPress chat plugin can be the trump card that your business awaits. So, try them and decide which one suits your business most.
We wish you all the best.