5 Strategies to Use Social Media for Nonprofits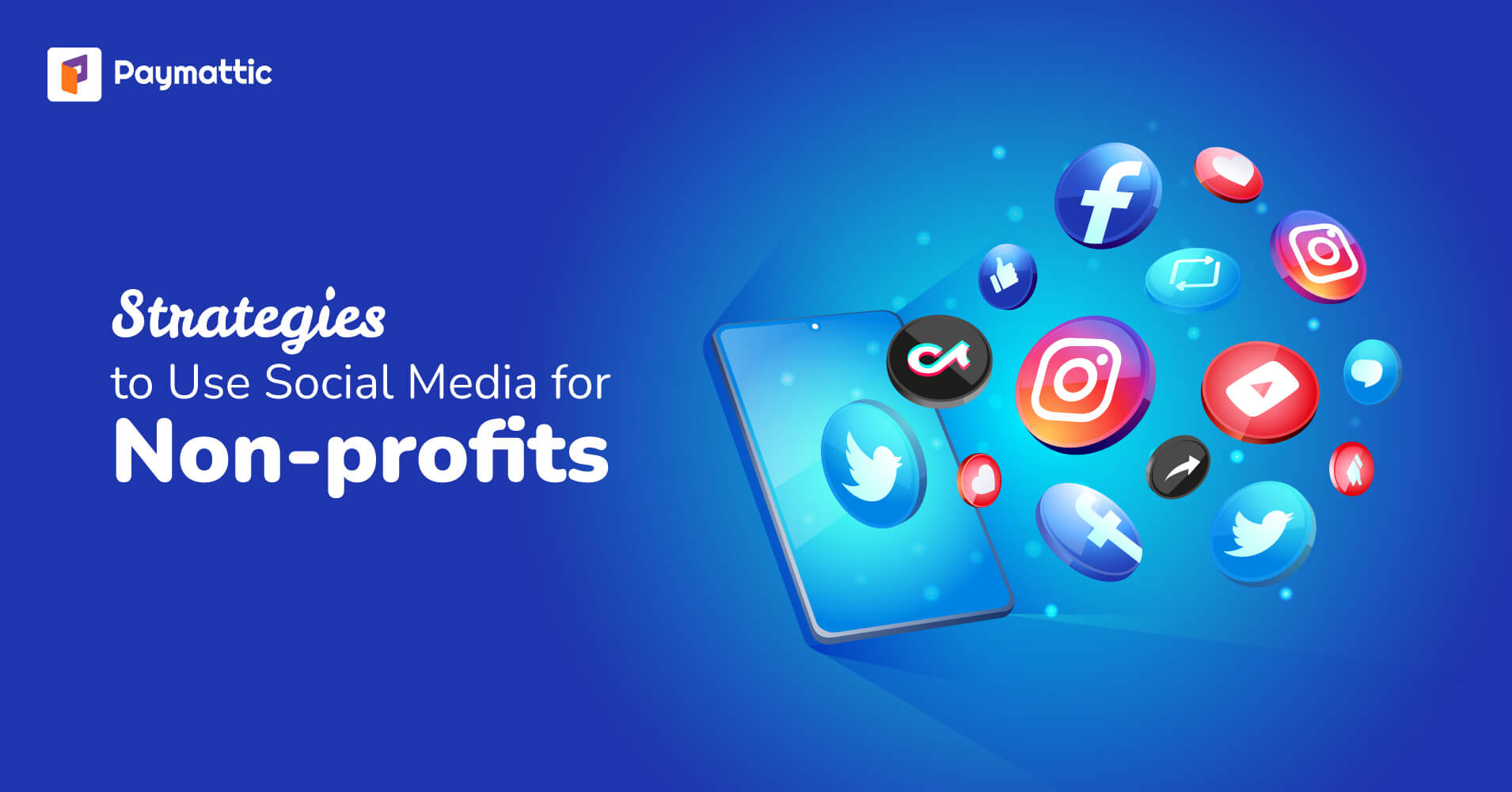 Are you getting overwhelmed collecting more support with your social media for nonprofits? On top of that, budget constraints, lack of time and resources may be setting you back from getting organic reach.
It's always tricky to keep pace with new social media trends and changes. However, you can break the hurdle with some neat social media strategies if you really want to grow your target audience, receive donations and garner support for your nonprofits.
Today, in this blog we will cover you on social media strategies for nonprofits to help your organization stand out of the crowd.
Why should you use social media for nonprofits?
People love to share the cause they really care about, especially on social media. It connects people and organizations. You cannot but hold scrolling the screen on your Facebook when you notice a cute kid with a hungry face. In such a way, social media connects people through engaging content with your nonprofits.
Nonprofit organizations are successful when other people support them. Fundraising for nonprofits, recruiting volunteers, generating awareness and arranging events for noble causes – all are activities that need people's engagement. As per data by Statista, currently over 3.6 billion people are using social media worldwide. So, social media is the perfect place to get involved with the people at your fingertip.
You can reach billions of users through Facebook, Twitter and Instagram to support your great organization. No other platforms give you such an opportunity to promote social media for nonprofits and achieve your goal.
Select the right social media platforms for nonprofits
Your Google search box throws you tons of results when you search for social media for nonprofits over the internet. With so many social media platforms and features, it might be daunting to understand where to focus for the best response.
The answer is simple. It depends on what type of content you like to share and where your targeted supporters are already active. Let's learn about the most widespread platforms to help you pick the right social media strategy.
Facebook
With roughly 2.93 billion active users worldwide, Facebook is a great platform for sharing fundraising events, videos, images and text content. The best part of Facebook is that people of all age groups use it. So, if your nonprofit is involved with people of a variety of age groups, Facebook is the most effective platform for you.
Twitter
With approximately 290.5 million users, Twitter is the best platform for quick, short and precise communication with the limited character status box. Twitter is very much responsive to hashtag communication. Besides, it is well-liked by public figures, influencers and politicians. If your nonprofit does lots of advocacy and activism, Twitter is the right platform for you.
Instagram
Instagram is a visual content-based platform perfect for short videos, photos and impactful communication. You can tap a donation sticker on your Instagram stories or videos to directly raise funds for your nonprofit.
LinkedIn
Though Linkedin was originally designed for professional networking, you can use it for your nonprofit organization. It can connect you with corporate donors and learn more about your donor's career and professional information for a long-term relationship.
TikTok
Tiktok is a video-based platform popular among teenagers. Users can create 15-60 seconds videos with custom background music. Nonprofits can raise awareness and funds by participating in campaigns and making videos. Some revolutionary nonprofit campaigns launched by Tiktok are #EduTok, #PetBff, #ForClimate and #DanceForChange.
5 Social media strategies for non-profits
Well! You know about the platforms. But it is not wise to jump into a platform and randomly start posting. Instead, start with a social media content strategy first. Let's dive into the strategies that can help you promote your nonprofits.
Set objectives and goals for nonprofits
First of all, you need to set objectives and define goals for your nonprofits. Keep in mind what do you want to accomplish with your social media content? Receiving online donations, raising awareness or recruiting volunteers – determine which objectives you should focus on?
A good trick while raising funds online is displaying a donation progress bar. Facebook displays a donation progress bar to inspire donors to hit the fundraising goal. You can also display the donation progress bar on your own website using the Paymattic WordPress fundraising plugin.
Determine target audience
Social media is loaded with a massive number of audiences. But their interest, mission, age group, engagement history and personas are entirely different. Try to find out which interest group resonates with your mission the best.
Try to figure out by answering what are the locations of your target audience? Which age group do they belong to? On which platforms are they most active? Most importantly, what do they have in common in terms of interests or values?
Build a social media content strategy
It's time to build your social media content strategy once you set your goal and target audience. To begin, choose which social media channels are most appropriate for your nonprofit campaign. Instead of spreading a thin presence on every social media, focus on one or two key platforms.
For instance, if you are primarily targeting Generation Z, you should focus on TikTok and Instagram. If your target audience belongs to a diverse age group, however, Facebook and Twitter are likely to be more effective.
Plan and schedule social media content
After creating content tailored to your target audience and content strategy, schedule it with an organized plan. We suggest you maintain a digital content calendar outlining what you are going to post and when. Consider the seasonal impacts (e.g. festivals, holidays, national observances) while planning your social media content calendar.
Try to keep up consistency with every social media post you share. It is evident that quality content with regular frequency builds a better audience. We recommend you post at least one high-quality content every week, followed by gaps of silence.
Analyze insights and measure results
Remember, you set a goal earlier. Analyze insights from social media data and check whether you are on the right track. It reflects the effectiveness of your social media strategy.
If you want to know whether your content is working, you have to measure the results. You can use native social media platforms to analyze these data. Some such native social media platforms are –
Fundraising social media post: Best practices
So, when it comes to social media posts it's very important to know how and what type of content you should share. Follow these best practices outlined below to create better and more engaging content.
Make fundraising-related visual content
Create educational content that provides value
Engage the target audience with call-to-actions
Partnering with fundraising influencers
Showcase real-world impact by nonprofits
Stick to those best practices and share authentic information about your cause. Remember, authenticity is the root to build trust and loyalty among your audience.
Some social media fundraising campaigns
Some revolutionary social media fundraising campaigns created big impacts in the non-profit industry. Let's know about them below-
Truth initiative
The public service campaign #ThisIsQuitting encourages people to commit to quitting vaping. First, they text to take the pledge and receive education and support. Then they film themselves destroying their vape pens on TikTok. Tens of thousands of people participated in the campaign.
Vaping is a youth-oriented activity. This campaign was successful because it used TikTok platform to engage the younger audience.
Children's cancer foundation
The children's cancer foundation Instagram account is used to recognize volunteers and children, educate them about cancer, and introduce its staff and programs. It manages to do all of these things in a cheerful manner.
They used highly visual content with rich graphics to bring a celebratory and energetic tone. This campaign went viral because it used a visual-based platform Instagram to share its visual content.
#CHECKYOURSELFIE movement
#CHECKYOURSELFIE is a social media campaign that aims to increase awareness about early detection and the need to perform a monthly breast self-check.
Supporters are encouraged to share a photo of themselves with three fingers on their breasts, emphasizing the significance of early diagnosis and self-examination in the prevention and treatment of breast cancer. They use a hashtag to connect the posts and promote the posts of their fans on social media.
WP Social Ninja plugin for social feeds
Your organization's website works as a supplementary tool to grow your social media. Users like to visit your website to know more about your projects and goals whenever they are impressed by your content.
To better engage with your audience you can use WP Social Ninja plugin to fetch user reviews and social feeds directly into your website. It also improves the social evidence of your organization.
Final notes
Great! These strategies can be the game-changer for your nonprofit. Follow the best practices and start creating your content. You are going to be a pro in managing social media for nonprofits. Waiting to see your content creeping up on my personal feed!
If you find this article interesting let us know your feedback in the comment section. Follow us on Facebook and Twitter for more helpful social media tips and tricks.