Fluent Support: The Best Support Ticketing Tool for WordPress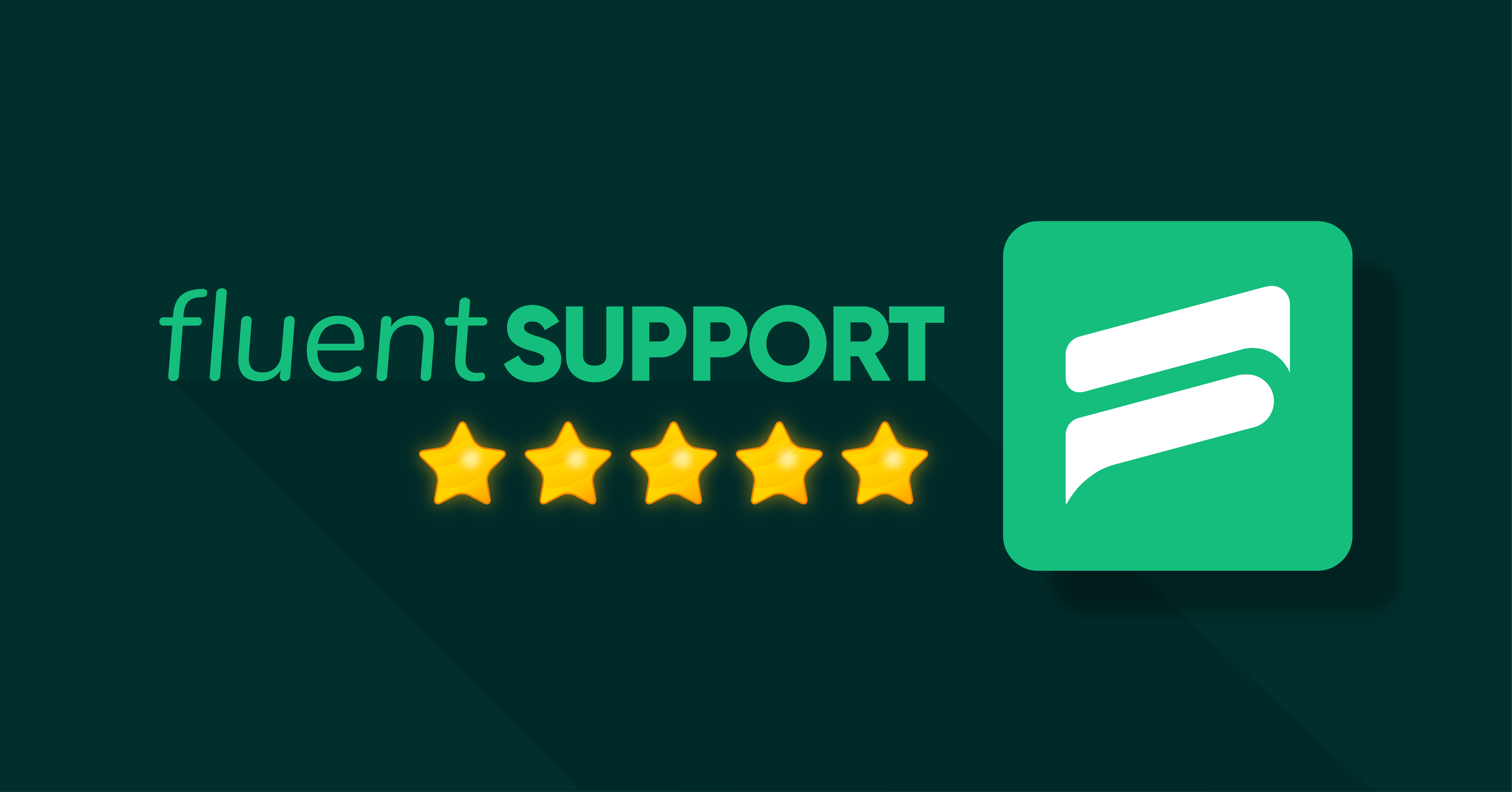 Isn't it amazing to have a support dashboard with every ins and outs about the support team and their activities? Moreover, without asking tons of questions to the whole team, any support member can access the information and resume the service from where it was paused.
Don't believe us? At first, we didn't either!
To run a successful business, you need a thousand things. Especially if it's an online business, balancing the users and managing the whole support team is not easy. But after the revolutionary social media tool WP Social Ninja, the Ninja family has cooked another delicious dish!
This plugin is an all-in-one solution for WordPress users to offer super-fast user support, tracks support agents' performance, provides users' details, automated replies, and accurate analytics.
Presenting Fluent Support– the tool where you can rely on just like you do with your team.
What is Fluent Support
When we cook something, the preparation takes a lot of time. Picking up the right ingredients, cleaning, cutting, choosing the spices, and using the right amount can take up more effort and time than the actual cooking part.
Well, what if there is a helping hand so you can solely focus on the taste and create a new dish? This way you don't get distracted by anything. Just like Fluent Support saves your time and helps you concentrate more on the support tickets.
Fluent Support is the ultimate solution for online businesses, digital agencies, SMEs, entrepreneurs, service providers, and support agents to have a transparent image of support management.
Before Fluent Support, there were other solutions, but none was as fast as this. With tons of robust features, Fluent Support is a delight for the whole team.
Let's see some functionalities so you can make a decision why you shouldn't miss Fluent Support:
Ensures speed and reduce loading time
Tired of waiting a long time for the page to load?
Fluent Support is built as a single-page application with VueJS & REST API. So with the fastest loading speed, you won't experience any delay while navigating different pages. Smoothest, isn't it?
Understands the users need
Would you ever like to wait for an uncertain period?
Your customers should be your first priority, and they shouldn't wait for too long to get a reply from your side. Fluent Support is a game-changer here! Product and priority-based agent tickets give you the exact overview of where to start and what to work on. Thanks to the devs!
Efficient management features
Don't you think communication and collaboration bring the best output?
Fluent Support dashboard comes up with unlimited features, but some can be real lifesavers for support agents. Internal notes save plenty of time and don't force a process repeatedly. Practical, right?
Track your customers like never before
What if you know your customer a little better to provide the best?
With tons of custom fields, Fluent Support helps learn more about the users. Along with default custom fields, you can also use checkbox, radio choice, WooCommerce orders, and other custom fields to collect additional data. Another cool feature for sure!
Fluent Support in a glimpse
A support team with a pile of support tickets can create massive mismanagement. So an organizer tool like Fluent Support gives clear statistics about how many tickets are solved and closed and how many of them are waiting. Moreover, the status helps to understand the top prioritized tickets and figure out the progress.
Fluent Support features in a nutshell:
Automated workflow based on the submitted tickets
Your users are the reasons you are here, so you need to give them reasons to stay. With Fluent Support based on the user's activities trigger actions. Furthermore, set in advance automated workflow from the support queries. So you can easily design a structure to automate your teamwork.
Collect the accurate information to enable efficient support
Along with the personal details like name, email you can also store some advanced information on your database. So the assigned support agent knows every critical information such as purchase history, LMS progress, or CRM integrations.
More features:
Unlimited support agents
Unlimited tickets
Customize email notification
Product-based agents
Custom fields
Advanced filtering
Reply via Slack and Telegram
Create a ticket with an email
Reply templates
Guest ticket without login
Sorting tickets
Bulk ticket reply
On-the-go response
Priority management
See activity logs
Performance report
Internal notes
So without further ado, let's get inside Fluent Support magical dashboard and explore more.
Integrations
Promising to provide the fastest speed, Fluent Support integrates with lots of our favorite tools. With popular e-commerce, membership, CRM, and LMS apps integration, Fluent Support respond to customers faster with Telegram, Slack, and Discord.
Dashboard
The moment you enter the dashboard, you can see an overview of the day. Without even spending a minute, you get a clear picture of the support tickets from here.
Moreover, the waiting ticket numbers are displayed with the exact average time and maximum waiting days.
Ticket
By clicking on the Tickets tab from the left corner of the dashboard, you get to see all the Ticket details.
From the Status, you can get all the information about Open, Active, New, Closed status. And the last one, the All button, contains the information all together.
In Fluent Support Inbox, users can create unlimited tags to sort the data. Moreover, the inbox can be shared so in case any support agent is offline, others can carry the conversation forward.
Next is Product. In this part, you can search based on a product and get all the updates from here. Similar to Product, you can also search the tickets by the support agent names from the Support Staff search bar. So it becomes easier to track down the tickets within a short time.
Fluent Support dashboard has a priority feature. So submitting a ticket, the admins and customers can set a priority from Normal to Medium to Critical. Moreover, you can also search by the Tags to find the tickets.
Next, there is Waiting for Reply. If you turn on the button, you can see the status and how many of the tickets are still waiting to reply.
Reports
If you click on the Reports, you can see the Personal Reports and Agent Reports. Personal Reports show Resolve Stats and Response Stats data. And if you check the Agent Reports, you get the idea about the Ticket Stats, Resolve Stats and Response Stats.
Below the Ticket Activity, there are also Individual Performance statistics where you can check all the Responses, Interactions, Open Tickets, Closed Tickets, and the Current Status.
Also, you can see an overview of the whole report from the upper right side of the dashboard.
So there you go!
For more details, you can check the user guidelines and start playing inside your Fluent Support dashboard.
Fluent Support Lifetime Deal
Before this plugin, we never imagined a support solution like this could ever exist! But the Ninjas are once again back with a top-notch WordPress solution. Fluent Support will definitely be a trendsetter and replace some market players with its unmatchable features and functionalities.
The team hasn't revealed the pricing yet, but we can guarantee that it would be a super saver offer in terms of features, integrations, and pricing. And the early adopters will get an exclusive Fluent Support Lifetime Deal with an insane discount. But it won't be for a long time, so we suggest you grab the deal before it flies away.
Last words
2021 is running away, and the WPManageNinja family will end the year with a blast as always by launching another wholesome tool; Fluent Support. The plugin has already created hype, and the beta testers have given excellent reviews!
But the best review we have got so far is from our in-house support team. They have been using it for more than six months; the team says, "We are more productive than ever!"
On the ending note, we assure you the wait will be over soon, and don't forget to sign up to get the quick updates when we launch Fluent Support.