8 Ways to Get Google 5-Star Reviews (Display & More)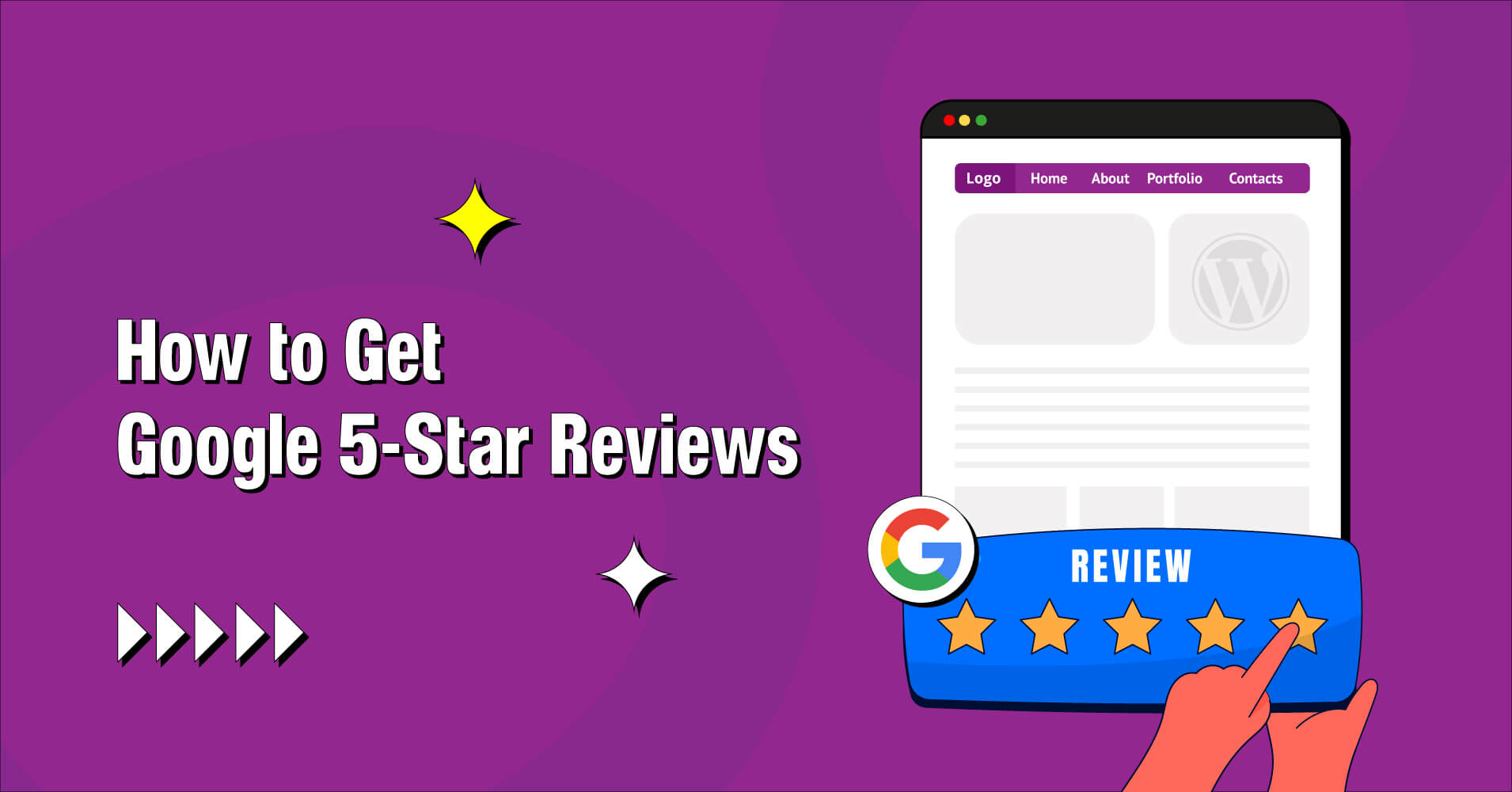 Google 5-star reviews have become an integral part of our decision-making process. Whether looking for a local restaurant, a reliable service provider, or even purchasing a product online, we often turn to Google to estimate the quality and importance of businesses by reading the Google 5-star reviews. But getting Google reviews on a regular basis is not an easy job.
That's why in this blog post, we'll explore some applicable strategies to achieve desired 5-star reviews on Google and showcase them seamlessly on your WordPress website.
Moreover, we'll guide you through combining the best Google reviews into your WordPress website using a user-friendly plugin like WP Social Ninja. Let's dip in and unlock the potential of Google 5-star reviews for your business!
What is Google's 5-Star review?
Google uses the 5-star rating system for the products and services featured on its site. The buyers can rate their experience on a scale of 1 to 5, with detailed satisfaction and feedback.
Here consumers write reviews on Google, and they can score their experience. This rating system allows users to quickly and simply review and compare businesses or services based on prior experiences.
The method allows future consumers to make informed choices. At the same time, it will help businesses to gain more visibility on Google searches as well as build credibility among prospective users.
How to get more Google 5-star reviews?
Now, we'll go over several tactics and best practices for acquiring 5-star Google reviews and improving your search presence. Simultaneously, we'll look at practical steps you can take to start creating your reputation. Let's get initiated now and unravel the secrets of getting those stellar social reviews!
Focus on your users
The first step is to ensure that your offerings meet or exceed customer anticipations. Most of the time, businesses get reviews from users when your product and service have quality and solve the user's problem. It's one of the easiest ways to get reviews. It only happens when your customer is delighted.
But sometimes, we find many customers who are fully satisfied, but, they don't give feedback due to several personal reasons. Just try to engage with them and provide quality service as if they give you the review willingly.
Provide better customer support
You can try multiple strategies to make your customer happy; delighting them is one of the core techniques. By consistently delivering excellent customer service, you increase the chance of satisfied customers willing to leave positive reviews.
Instruct your team to go the extra mile, be responsive to customer questions, and fix any issues promptly.
Ask customers to leave reviews
Your happy customers are the ones who you should ask to leave reviews. While requesting reviews be considerate about users' time. Take advantage of your post-purchase communication, such as email follow-ups or thank-you cards.
Provide direct links to your Google Business profile page or review the submission form to make it easier for customers. You can ask the reviews in different ways, for example:
In-person
Over text or phone call
Through social media
Via email
Through Thank you page
And many more ways
Attach the review link on your website
You can implement another great review strategy for your business to get positive feedback. Add a button asking for Google 5-star review on your website. So visitors can notice the button and can share their satisfactory experience instantly.
But make sure you have attached a review link well suited to your website with a proper design. At the same time use a great copy to encourage users to share their honest reviews and ratings.
To attach a review link on your website to get Google 5-star reviews, you can follow these steps:
Obtain your Google My Business (GMB) Place ID
Create the review link
Test the review link
Add the review link to your website
Update Google business profile listing
First impression matters, when a potential customer visits your business profile and doesn't find relevant business information, they might never come back. That's why you should update your business profile regularly. And try to input all the necessary information.
The Google algorithm finds elements like contact details, live location, business hours, business category, image, and other relevant information. The strategy will help to secure your place on Google Snippets and local searches. At the same time, it will improve the chances of getting more 5-star Google reviews on your review bucket.
Share Google 5-star reviews on social platforms
40% of customers use social media to find new businesses or brands. If you can share all of your best reviews on different social media platforms, the chances are high to get more reviews from your existing customers. For better understanding, we have attached here the 5-star review examples from our social accounts.
In our business profile, we always share feedback with 5-star Google Reviews on our social media channels. It helps us find new audiences with similar interests and encourage them to share positive experiences.
Respond to all the reviews
One in five customers wants to hear back from the business. By responding to all the positive and negative reviews, you can show the customer that you are committed to listening to their user experiences and fulfilling their expectations.
Google has disclosed that responding to reviews, good or bad, increases overall visibility and ranking. So try to respond to all the reviews and share your thoughts with them.
Simplify the review process
Clear instructions and streamlined procedures will make it simple for customers to post evaluations. Include a direct review link to your Google review page along with an amazing welcome message. You can share the link in all of your communication channels, including emails, websites, and social media pages.
Simple steps to display Google 5-star reviews on WordPress websites
You can use plugins or directly incorporate Google 5-star reviews on WordPress websites. If you choose a plugin like WP Social Ninja, you can easily display your Google business reviews on your website.
At the same time, you can fetch the reviews from other 9+ social review platforms. Moreover, you can show your social feeds like Facebook, Instagram, and YouTube and provide chat support with 15+ chat platforms. But for the embedding of Google 5-star reviews, here's a step-by-step guide for both methods:
Method 1: Using WP Social Ninja (The best social media plugin)
Install and activate WP Social Ninja
In your WordPress admin dashboard, go to Plugins > Add New
Search for a Google Reviews plugin such as WP Social Ninja
Install and activate the plugin
Configure the plugin
Once the plugin is activated, go to its settings or configuration page (usually found under Settings or Appearance)
Connect the plugin to your Google Business Profile by providing the necessary API credentials or authentication
Customize the display settings
Configure the plugin to display the Google 5-star reviews as per your preferences. It may include selecting the number of reviews to show, styling options, layout, and other dynamic styling options
Generate and place the review widget
After configuring the settings, the plugin should provide a shortcode to embed the Google 5-star reviews
Copy the shortcode and place it on your WordPress website's desired page to display the reviews
Method 2: Manual embedding using Google's embed code
Go to the Google Maps Place ID Finder
Get the Google review embed code
Copy the generated embed code
Once you've customized the options, copy the generated embed code
Paste the embed code into WordPress websites
In your WordPress admin dashboard, create a new page or edit an existing page where you want to display the best Google reviews
Switch to the Text or HTML editor mode
Paste the embed code into the editor where the reviews appear
Update or publish the page
On your WordPress website, you can quickly incorporate or show Google 5-star reviews by following a few easy steps. Use a plugin or manually insert the reviews using Google's embed code. Select the method to increase Google reviews that best suits your preferences and technical ability.
Special Note for the users: Some features and settings might not always be accessible because Google changes its services. For the most updated guidelines and recommendations, consult the official Google documentation.
Conclusion
Getting and displaying Google 5-star reviews is a beneficial strategy for businesses. If you are aiming to establish a strong online presence and create trust with potential customers. Following the above-mentioned simple steps, you can increase the possibility of receiving 5-star Google positive reviews and effectively display them for maximum output.
But remember one thing, consistency is vital for every business. Continuously monitor and manage your online reputation by encouraging new reviews, responding to feedback, and keeping your information up to date. So, take the necessary steps to leverage the power of the best Google reviews and watch your online presence flourish.