TikTok for Small Business: Boost Your Social Media Marketing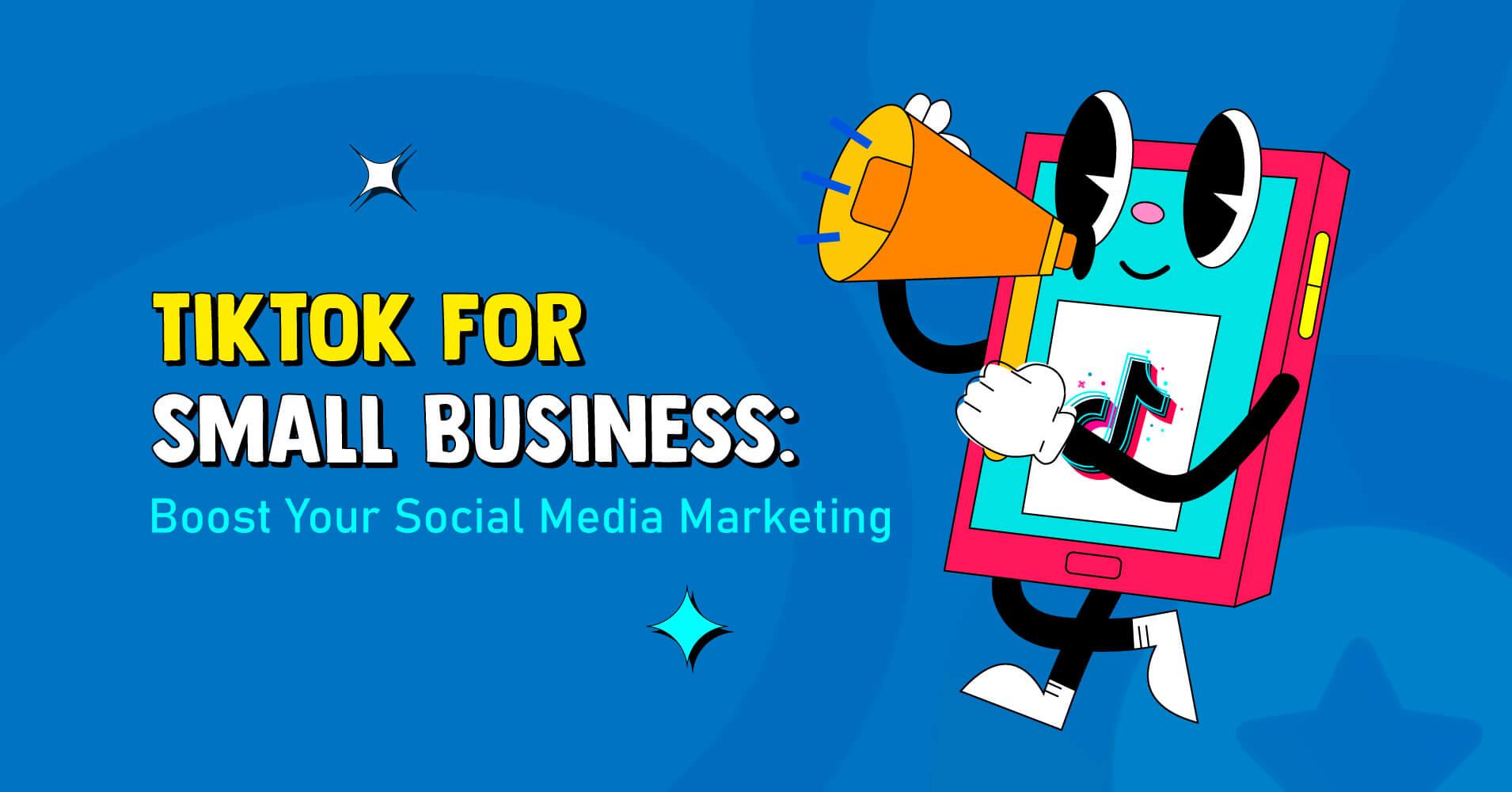 If you are running a small business or a local shop the first thing you want is to reach out to as many people as you can. Well, to make a profit and get recognition, you need to attract a whole bunch of people, and you will probably find people from different generations on social media!
If you're making a decent social selling strategy, I would like to say "Do not forget about TikTok!!"
What thoughts cross your mind when you hear, "TikTok"? Probably dynamic video contents, trendy musics, dance challenges, lip syncing, right?
But did you know this 'newborn' platform has 2.5 billion active monthly users? Not just that. TikTok has more than 3 billion installs and stats are just soaring up!
That is a huge audience, and you should be tempted to promote your business through TikTok. Do not resist your temptation!
If you are up for taking your social media marketing to TikTok and looking for insights, you are at the right place.
We will tell you why TikTok for small business is a good idea, and guess what? We have some well-cooked "TikTok marketing strategy" for your business.
Let us start!
Why TikTok should get priority on your social media marketing strategy
"TikTok is popular and will be the lead social media platform in the near future".
And this is not an exaggerated statement if we just look at the stats.
They made such a huge impact that other social media platforms launched similar features like YouTube shorts and Instagram reels!
Now the question is why should you prioritize TikTok?
Here is an interesting fact. TikTok home page also known as the "For You" section shows you the contents from people you are not following. TikTok algorithm picks content you might like and makes never-ending streams.
TikTok wants you to find people with similar interests and show you to the people who might have a mutual interest in the content you create. For example, if your run a gym clothing business, TikTok will try to show your content to the people it deems as fitness enthusiasts.
TikTok is extremely popular among teenagers and Gen Z. Almost 60% of the audience is Gen Z, and you don't wanna miss such a huge audience!
So, chances are higher for your content to appear in your potential customer's feeds. And with little effort behind your content, you can do wonders.
How TikTok can be beneficial for small business owners
Unlike established businesses, small businesses can not afford to spend much on marketing. But to grow your business you need to reach out to a wider audience. And TikTok offers quite a good opportunity.
Around 52% of TikTok users make purchases and 82% of users discover small brands before seeing them elsewhere.
Besides these stats, TikTok itself encourages business owners to connect and engage with audiences. TikTok has dedicated blog posts to guide small business owners to get a kickstart to meet their potential customers
Let's keep the stats and facilities aside!
People spend on average 95 minutes on TikTok per day! And streams of trends, hashtags, and soundtracks are always flowing. With the quirk of 'viral' moments, people do not seem to hold back!
To come up with a trend, there is this "#smallbusniness" community for business owners. Small business owners are hitting hard with their original ideas, and hashtags, and probably won't back off, and neither should you.
TikTok can offer quite a lot if you are prudent enough. TikTok for small business is a demand of time.
TikTok marketing strategy: know the game
Here on, we will dig deeper into TikTok. We will break down TikTok marketing into understanding the platform, what this platform has to offer, and how you can come up with a solid TikTok marketing strategy for your small business.
TikTok as a social media platform
TikTok is basically video sharing platform. You can make videos of dance covers, lip-syncs, time-lapse of your arts, crafts, tutorials and you name it! With the app-featured camera, you can make videos of 15 seconds span, and add up videos up to 60 seconds. Recent features allow you to upload longer videos not recorded by the apps.
TikTok offers built-in editing and customization tools, and grants access to the library of songs, tracks, and filters.
You can make duets with other users by replying to their videos or creating split screens.
TikTok outlook
When you open the app, you will find a menu bar at the bottom with these 5 shortcuts:
Home: Shows 'For You' and 'Following' feeds, you can toggle between them.
Discover: Shows you videos with trending hashtags.
Create Video: It looks like a plus(+) icon and allows you to create videos for 15 seconds, 60 seconds, and 3 minutes.
Inbox: It's like a notification bar for your videos aka TikTok's.
Profile: You can update your info and stuff and some parts of it can be made private.
That basically sums up the navigation of the app. Not so different from other social media platforms Outlook.
TikTok as a business platform
TikTok offers two types of accounts- Personal Account and Business Account. That's the game-changer! TikTok business profile comes with some additional features and services, and that's what makes it different from other social media platforms. The basic purpose of the 'business Account" is to reach out to the potential customer. Let us take a look over the "TikTok Business Account"
TikTok Business Account is basically a public profile that provides featured marketing tools for brands and businesses to assist in making social media marketing strategies. The goal is:
To make promotional content in a fun, engaging way
To grant access to advanced business tools like Business Creative Hub.
TikTok Business Account features
TikTok business account comes with some handy features that really help with social media marketing. Let's take a look.
Web Business Suite
Web business suite is basically the central location where you will find the additional features that come with a Business Account. The features include:
Analytics: You will find your account-related information here and download them.
Workspace: It's the place where you will find your "Promote" information. Promote is an advertising tool to gain more followers and reach out to a wider audience.
Activity and Support: You will get creative ideas and info to help you out for growing your business.
2. Commercial Music Library (CML)
You will get access to more than 1000000+ songs and tracks from promising and renowned artists which have been pre-cleared for commercial use.
You can set your own trends and make creative and authentic content without any hassle. You don't have to worry about getting a license on your own.
3. Business Creative Hub
From here, you can use Business Content Guide. This section provides you with tips and tricks about content strategy, shooting videos, and good practices like picking the time for posting your content.
You can also use Video Showcase which shows trending content from your region up to the last 30 days.
Tips for building a solid TikTok marketing strategy
TikTok for small business is the new normal. I think we are on the same page with this statement. Now how can you start your TikTok marketing for your small business?
There are thousands of ways you can come up with a TikTok marketing strategy. But you might face some difficulties to start. Let us help you with some effective strategies. Let's dive!
Make a TikTok Business Account
We have learned that TikTok Business Account has quite a lot to offer. To start with your TikTok marketing strategies, the first thing you need to get is a TikTok Business Account.
Actually, it's pretty easy to get a Business Account. If you already have a Personal Account, things are way more easier.
Step 1: Download and install the TikTok app from Playstore or Apple Store.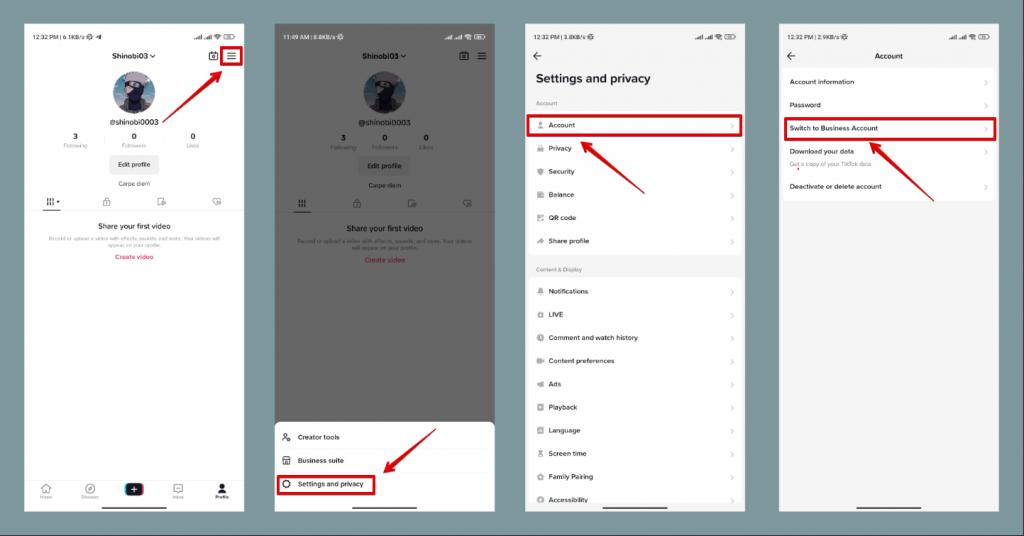 Step 2: Create a new Personal Account. You can use your email or start with your Google, Twitter, or Facebook account.
Step 3: Tap 'Profile' in the lower right corner. Then you will find 3 lines in the upper right corner. Tap there
Step 4: There you will see 2 options. Tap 'Settings and privacy'. Then tap 'Account'.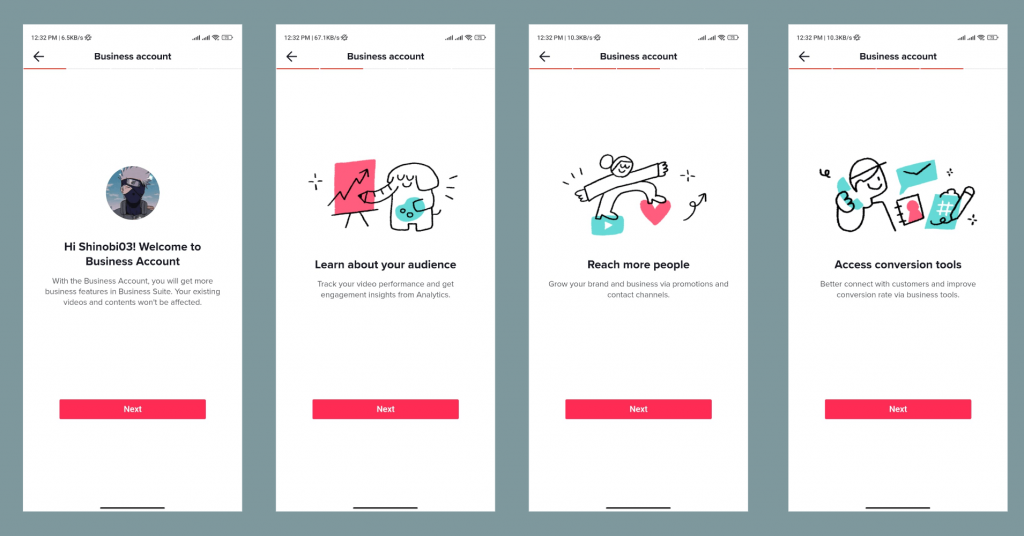 Step 5: You will find "Switch to Business Account" there.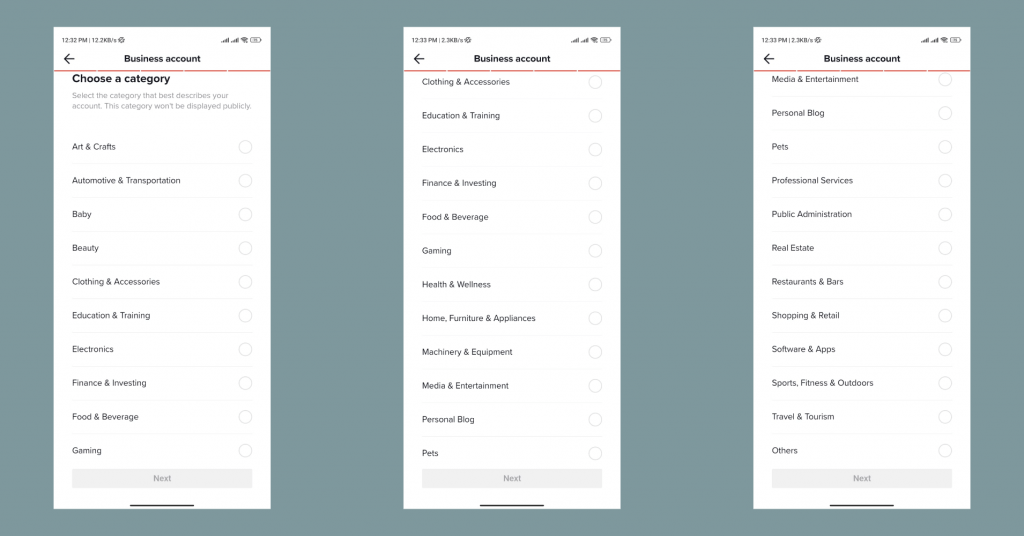 Step 6: You will get to choose your business type. Then add your mail. And you are all set.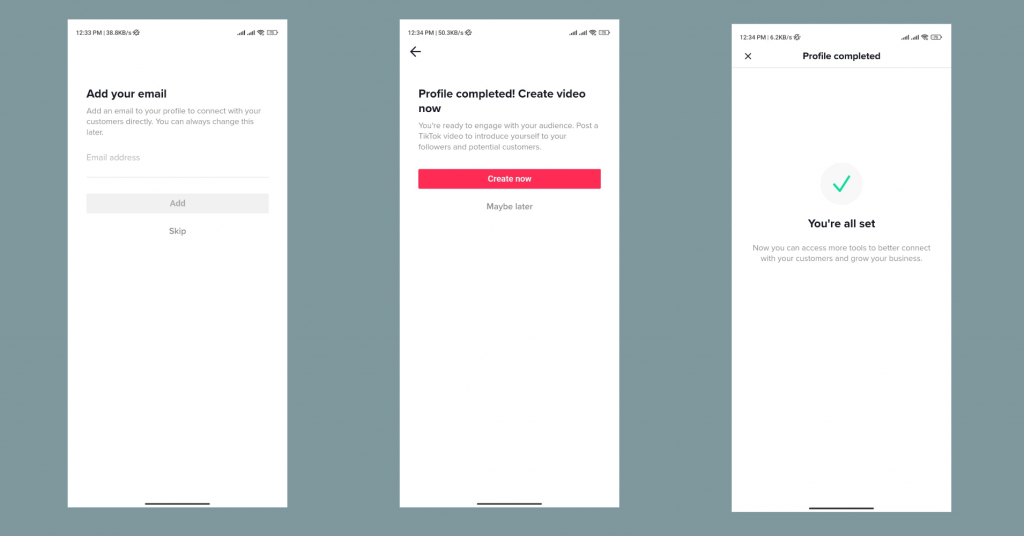 Learn and explore
To get the best out of TikTok, you need to be fluent in this platform. Spend time. Don't explore TikTok from a business perspective. Go through the 'For You' section, see some videos, and try to have some fun!
Play with the filters and editing tools. Explore the trend makers. Explore the hashtags. Learn what's going on and what may come.
Don't worry, your time will not be wasted. To bring out the maximum potential of this social media platform, you need to know what people are expecting and what you need to deliver. To learn the game, play the game.
Find your people
Though it may seem like almost everybody is on TikTok, you don't need to get to all of them. You should have a clear idea about your potential customer.
TikTok is popular among young guns and teenagers. They have their own communication language. Are your contents speaking their language? Or, are there some other folks you want to catch?
Try to get answers to the questions. Let the answers influence your content.
Sneak peek
Well, a little sneak peek will not hurt. To come up with an effective TikTok marketing strategy, you need some infos like are your competitors already on the platform, whether are they doing good, how people are accepting their approach, and what are the public demands.
It's not wrong to learn from mistakes, be it other peoples' mistakes! Or getting inspiration would be helpful in case your rivals are doing good.
Set goals
Now you need to know where you want to go. The most crucial part of social media marketing is to define what is success for your campaign.
Goals should not be vague, rather go for 'SMART' goals. 'SMART' goals are:
Specific: Where do you want to reach?
Measurable: How are you going to measure your progress?
Achievable: Is it possible to reach where you want to be?
Realistic: Do you have the resources and situation to reach your goal?
Timely: Can you achieve your goal within the pre-set deadline?
"I want to increase my social media engagement by 20% within 6 months" can be a SMART goal example.
Content calendar
Social media platforms are created for engaging with other people. Let's not forget the basics! To connect and engage you need consistency. You need to post regularly and timely.
Before you make your social media content calendar, you need to be clear about the timing of your content. You can post some content to grasp an idea about the time when you are getting more reactions. When you are clear about the time when your content reaches more people, go for a calendar.
For example, you can set a goal to post 3-5 times per week between 9 am to 11 am but during festive seasons you plan to post 5-7 times per week.
Optimize your TikTok profile
You would not like it if someone visits your profile, without understanding what you want to offer and leave. So you need an optimized TikTok profile. Technically your profile is your digital store, and you want your potential customer to stay.
To optimize your profile you need to be careful about your:
Profile photo: Make sure your profile photo is visually identical to your brand logo.
Precise bio: With 80 characters limit, make sure your bio says why you are here to offer. You might try using emojis if this suits your business.
Proper URL: Should your content directly lead to your e-commerce site or your other social media accounts? Choose wisely!
Appealing and relevant content
Here comes the most important part! The content itself! This segment can be the game changer of your whole social media strategy and you would not the like the outcomes of wrong moves!
But fret not, let us share some hacks for you!
To create high-quality content you should keep these tips in mind:
Wide visuals: TikTok offers a fullscreen video-sharing experience. Keep this information in mind, and maintain a 16:9 ratio. This will give a full-screen experience to the viewers and your content will be more engaging.
Be loud: Well while making TikTok content, don't back down from making noises! Sound is important for your content and you can add music or voice-over or both. And with a Business Account, you can access the Commercial Music Library. Add sound that fits your brand image and content.
Keep it short: While lengthy videos might seem more informative, remember people are here to have some fun! Make your video short, precise, and trendy. Short videos are more engaging and 10-15 seconds is the recommended length.
Tell a story: When you make your promotional content, try to deliver your agenda in a story-telling way. Directly address the viewers, include a voice-over if possible subtitles, and add informative texts.
Be trendy: Look out for trends! Hashtags, challenges, dance covers- try them. Let the trends influence your content!
Create with a creator: TikTok content creators know their way around the platform. To find a content creator for your product or brand, you can go through TikTok Creator Marketplace. You can filter your search by followers, location, and content subject!
Now about the content topic, as you are a small business owner, your content should be connecting. For social media marketing, authenticity is the key! If they trust you, they will buy from you. As a small business owner, it may seem quite tough to gain the trust of your potential customers, but we have some tips to help you:
Make content on behind the scenes of your business. Showing people how you work hard for better service, will build a bond over transparency. And a timelapse of you and your employees rushing will give an impression of your demand.
Make content on how you prepare packages for delivery. This will show your care for customers, and how you love your work.
Make some 'Tutorial' like content. And use voice-over or text to talk about the specialty of your products.
Interact more with your customers. With duet features try to make collab videos with your customers. This will produce user-generated content, and your brand promotion through customers will make you more authentic.
Always look out for trends. If you can create a trend or challenge with hashtags, you can go beyond your benchmark. Even if you can not start a trend, flow with the trends. Trendy content will reach out to a wider audience.
Go with TikTok for small business
As a small business, it is already tough to get recognition for your brand. Social media marketing will pull you up. And TikTok will be the best platform for your social media marketing.
TikTok is already quite popular and its popularity will go up and up. With proper strategy, your brand will get more recognition through TikTok if you are patient enough.
You have to adapt to this platform in your own way. Do not lose motivation. Keep exploring, find your way, and apply what you deem better. But remember one thing, make it fun.
Articles you may find useful:
Sources: TikTok, Wallaro, Sensor Tower, Piktochart.