The Best Time to Post on Social Media (2023)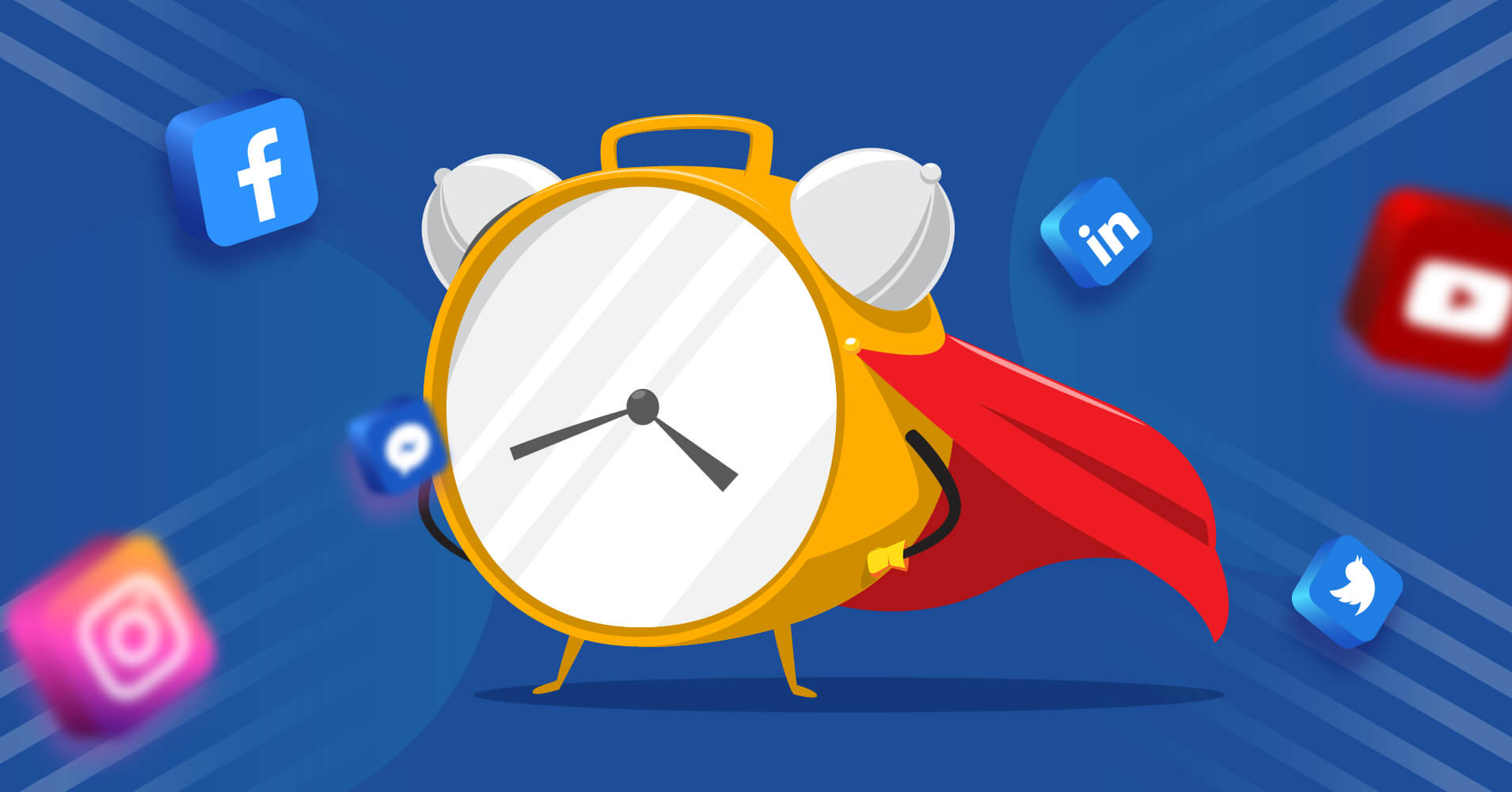 Being a social media manager, it's one of those crucial things to know when is the best time to interact with your audience. And to do that you must be aware of the facts about which thing you should consider, a proper study, what to do, and what not to!
So, things are not that complicated if you go on a proper way to make it. As we are talking about the best time to post on social media in 2023, let's go back to the pandemic period, when it impacted scheduling social media posts the way it impacted general life. And after the pandemic, the schedule changed again as well.
It's high time you should think once again about what your business needs more in 2023 through social media and know the best time to post on social media with the strategies and hacks you must include on your to-do list!
The best time to post on social media
It requires careful preparation and study to find the optimal times to publish on social media in order to reach your target audience. To get the most out of your content across all platforms, each platform requires deliberate methods.
When determining "the best moment to post on social media," a number of factors come into play. The demographics and behavior patterns of your target audience are pretty important. The service or product offered by your company, as well as the industry in which you work, have a significant influence. Because social media operates on a 24-hour clock, your target audience's time zones are becoming increasingly important.
But remember that there is no perfect solution to the issue of when is the best time to post on social media; only perfect research and preparation will get you there.
Why the best time to post differs for every social platform
As you're using different social media platforms to reach your audience, it's important to understand each one's platform, how they differ from one another, and how people use them differently, which is why the best social media posting times vary from each other.
Facebook
If you say Facebook, the most popular social media network, is used by practically everyone in almost every area of society for both personal and professional purposes. So it's all about who you should target and what they're trying to get.
YouTube
The second most popular social media network is YouTube. Every day, over a billion hours of video, are seen, resulting in billions of views. The majority of YouTube users are between the ages of 15 and 35.
Instagram
Instagram has grown in popularity as a tool to engage with brands, celebrities, opinion leaders, friends, and family. Also, it has a massive number of users. People prefer to use it anytime they want to.
Twitter
Again, Twitter is a great platform for marketers to reach and engage with their customers. People not only use it only for business purposes, also for their leisure. Just like Facebook, this platform is also audience-based.
LinkedIn
About LinkedIn, a platform that is used by almost all working communities and a group of professionals. This group uses it according to their working hours and break time.
So that's the overall basic conception of the most popular social media users, which you can consider the first step of your survey.
Now, let's move to the next part of why you should consider these studies and how you are going to do it to make it more clear!
Why you should consider "best time to post on social media" studies
Before you know how you do the calculations to know the best time of posting, don't you think you should go on a study that makes it easy to understand?
We've gathered information on this and organized it into three key categories that will prepare you for the next steps.
Let's have a look at what it explains.
Aggregated data vs. unique audience
While researching the best time to post on social media, you may get a variety of data where different resources show different statistics based on their variety of business, location, audience, etc.
But above all those aggregated data, what you should focus on is your audience. Your target audience is always unique to you.
And every group of audience differs from another. So it's difficult to say whether the average ideal time to post for various businesses applies to yours.
Outdated studies
Having enough study on your specific topic "The best time to post on social media," is important to get a clear concept. But what if you're researching the wrong way?
I mean, when you are researching a particular topic, you will get thousands of resources on the internet. But it's your job to find out which one you have to pick!
And yes, the same thing is for social media posting too! As social media usage has changed over the years, the information from older studies won't work much now.
So, before acting on the advice, make sure you double-check the principal information source.
Great starting point
So what if you have studied a lot and gathered huge information to get the perfect answer for the best time for social media posts, and still there's a lack of proper information?
Well, whatever took you this far, isn't for no use. If they provide reasonable explanations about the best time to post, you will have a wonderful starting point. For example, if you're creating a completely new social media profile and don't have any data to work with, little research can help.
Instead of selecting the best time, try to understand why such time could be best for posting. They are, after all, a starting point. The important part is to get a better understanding of your brand's unique audience and their social media usage behavior.
Let's go through this in more depth to see how you got your answer.
How to find your best time to post on social media
Your posting plan can help you stay organized and prepare content ahead of time for all of your upcoming social media marketing efforts. However, there is no perfect schedule that fits everyone.
Your social media posting schedule and frequency will be determined by a variety of factors, including your audience and industry.
Read through the five factors to determine your best time to post on social media.
Know your audience
To start with planning your social media posting, this is the crucial part you must think about first! You must include the answer to these questions before you plan :
Who do you want to reach out to?
At what times of the day do they go online?
When and where do they spend their time online?
Once you get the answers, you can easily make the plan yourself with the next steps!
Social media algorithm
You might know about the social media algorithm, the possibility that a user will want to see it determines which content appears first in their feed on social media.
As time goes on, you'll notice that the content becomes more relevant to your interests, which were a mix of various contents at the beginning. What causes this to happen?
Based on the type of material you connect with, social media networks quickly understand your likes and preferences. Understand how social media algorithms work for every social media platform.
Schedule your content
To maintain consistency in posting on your social media you should plan for it. The planning process may include a weekly, monthly, and yearly schedule based.
It might be as simple as making a to-do list to ensure that you complete all of your tasks on time without having to rush at the last minute. It serves as a guide to what you should post, as well as when you should post it.
Put together a calendar to keep everything organized. This isn't just the place where you plan and publish your blog posts. It's part of your social media content plan to make sure you've covered all you need to get out there.
Analyze the past
If you want to get the best from your social media marketing campaign, analyze the data you collected during your earlier activity.
Your social media marketing generates a lot of data, some of which are useful for making informed decisions and some of which might be useless. How will you find the useful one then?
Your past social media analysis can help here!
With this, you can target the correct audience, at the right time, and through the appropriate channel. Though social media analysis takes time, the advantages, on the other hand, are difficult to overlook.
Test & optimize
We've already discussed how important it is to know when your target audience is online. You must, however, conduct experiments.
Maybe your usual organic post reach is 5% or around 1 in 19 followers, but what if 6% of your audience is seeing your posts? Or what about 7%? Or 10%?Quarter after quarter, year after year, sticking to the same social media posting plan can hamper your progress.
This does not indicate that you must drastically alter your routine every week. To determine whether any of your studies are successful, you must first give a general overview. One experiment per month is a good starting point. Change one of your regular publishing days or times for a month and see which time slot works the best.
The best time to post on Facebook
One of the most widely used social media networks is Facebook. Facebook has 2.91 billion monthly active users, according to the most recent Facebook data.
You may reach your target audience by sharing your content at the right times on Facebook. In reality, there are specific hours or times when you can rapidly reach your audience through your post.
There is no single optimum time to post on Facebook, but there are distinct criteria for posting throughout the week and on weekends that can help you receive the most clicks.
Let's see what Sproutsocial says about the best time to post:
From Mondays to Fridays at 3 a.m. is the best time to post on Facebook, & on Tuesday at 10 a.m., also at noon. From Tuesday till Friday is considered to be the best days. Saturday is the worst day to post on Facebook
The best time to post on Instagram
Instagram has a large participating audience that engages people between the ages of 18 and 30 throughout the week.
According to social media statistics, almost 6 in 10 Instagram users log in at least once daily, which means that if you post your content at the right times on Instagram, you have a far better chance of growing your shares and followers!
There is no universal optimal time to post on Instagram, just as there is no universal best time to post on Facebook.
However, publishing on Instagram at the times listed below will undoubtedly help you achieve the best outcomes!
Mondays at 11 a.m. are the best time to post on Instagram, for Tuesday and Wednesday it's from 10 a.m. to 1 p.m. and 10 a.m. and 11 a.m. on Thursday. Same for Friday as well. If you want to choose the best days to post on Instagram, pick Tuesday and Wednesday. And Sundays are the worst time to post on Instagram.
The best time to post on YouTube
Unlike other social media platforms, the best time to post on YouTube is based on a particular formula.
When you post a video to social media platforms like Facebook, Twitter, or Instagram, it appears in your followers' feeds almost immediately.
For YouTube, the situation is not the same.
According to SocialPilot, the average optimal time to publish on YouTube is between 2 and 4 p.m. (EST) on weekdays and 9 to 11 a.m. (EST) on weekends.
The best time to post on Twitter
Twitter has about 330 million monthly active users worldwide. In fact, well-known social marketers recognize that one of the primary benefits of Twitter is the ability to collect information on their target audience.
So, if they can do it, why can't you?
You may undoubtedly see a positive influence on your tweets if you focus on tweeting at the right times and monitoring closely on Twitter.
According to Sproutsocial, Mondays, Tuesdays, and Wednesdays at 9 a.m. are the best times to post on Twitter.
Tuesday and Wednesday are the best days, and Sunday is the worst day to post on Twitter.
The best time to post on LinkedIn
LinkedIn, the largest professional network, is the first thing that comes to mind when we hear the name.
Apparently, you will receive the most involvement during working hours because it has the broadest business network, however, for a more creative approach.
As per Sprout Social, the best time to post on LinkedIn starts from 10 a.m. till noon on Tuesday. Wednesdays and Thursdays are the best days, and both Saturday and Sunday are the worst days to post on LinkedIn
Social media tools
Well, after studying the best time to post on social media, it's the real task now how are you going to do it!
And it is difficult to manage many social media accounts at the same time and upload new information on each of them on a regular basis. You'll need assistance with that. Social media tools do exactly that: they make it simple to manage your social media accounts and content.
And which tool are you going to use? You may get hundreds of social media tools for that.
Try WP Social Ninja, the all-in-one social media plugin which is helping you with engaging with a bigger audience that you have imagined for your business.
Then why use numerous tools when one can manage your Social Feeds, User Reviews, and Social Chat through this only one tool? Think again.
Final thoughts
Reviewing your social media interaction and social data on a regular basis will assist you in determining the optimum times to publish on Instagram, Facebook, and other social networks that your brand uses.
But the thing is, there is no ideal time to post on social media.
But, in some ways, this is a positive thing too. Who wants to follow only a fixed social media posting time?
You can use our suggestions as beginning points, but keep in mind that every brand is unique, and standards can vary depending on the social media platform and industry.
Source – Sprout social, Social Pilot, Hootsuite, Hubspot, Global Media Insight