23 Best WordPress Instagram Plugins for WordPress websites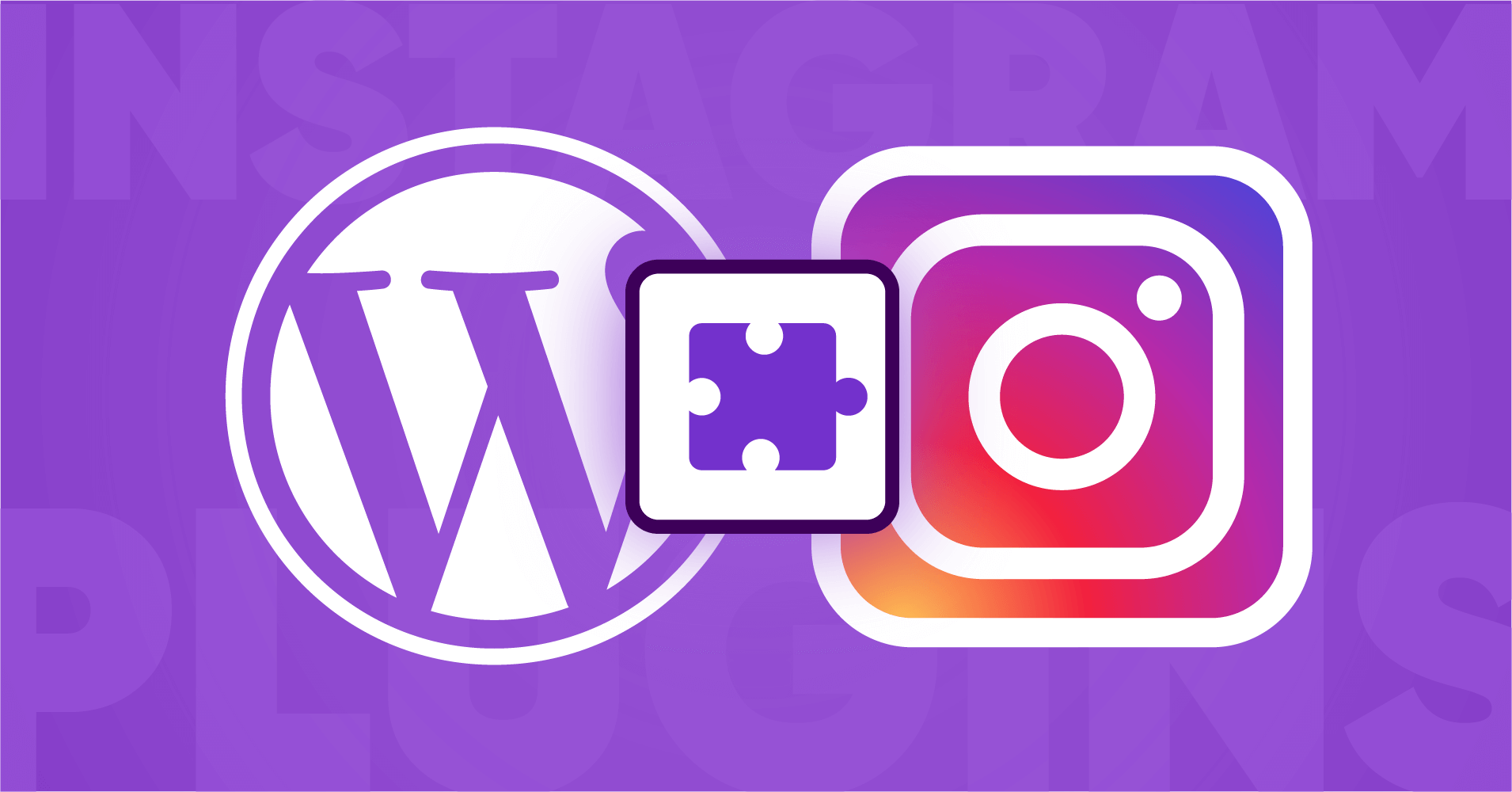 Almost everyone is using Instagram these days. There are 1.22 billion users who use Instagram each month. That's why using the best WordPress Instagram plugins for your website is essential for your business.
We will not wonder if businesses use this platform for advertising their products in the world's 7th most visited platform. If you utilize the content appropriately, Instagram can generate over 4X more interactions than Facebook alone.
Though various WordPress Instagram plugins are available in the market to display your Instagram presence on your WordPress websites, choosing the right platform is never easier for anyone.
This process is also mandatory because of the noticeable amount of time people spend on this specific app. A study indicates that, on average, people spend 53 minutes on Instagram daily.
If you want to increase your engagement on Instagram, this article is for you. Keep reading to reveal the 23 best WordPress Instagram plugins. So, let's begin with the article without any further delay.
23 best Instagram feed plugins for WordPress websites
Free and paid Instagram feed plugin provides different kinds of facilities to embed your Instagram feed on your WordPress websites. Usually, these plugins facilitate diversified customization, content moderation, and display option. You can enhance your website with more attractive visuals by selecting the right Instagram plugins.
Let's find the best Instagram plugins for your websites to help you create a great Instagram wall or feed and grow your business.
WP Social Ninja is a social media plugin. It's considered one of the best WordPress Instagram plugins. It offers multiple social feeds, social reviews, and social chat widgets for WordPress users. The best thing is that you can integrate most of the popular social media sites from its dashboard. Suppose you want to display your Instagram feed to market your product and services, then Social Ninja's Instagram feed would be one of the best options.
The Instagram widget makes it easier for your visitors to know more about your products and services. Moreover, the plugin has multiple other benefits, such as:
Instagram feed
Facebook feed
Twitter feed
YouTube feed
Google reviews
Facebook reviews
Airbnb reviews
Yelp reviews
Tripadvisor reviews
Amazon reviews
AliExpress reviews
Booking.com reviews
Trustpilot reviews
Fluent forms reviews
15+ chat widgets (Instagram, Messenger, WhatsApp, and many more)
Testimonial feature
Notification Popup
Advance customization
Average ratings: 5 out of 5 stars
Advantages:
Simple setup and easy customization
Display feed from multiple accounts
Multiple layouts
Real-time syncing
Manual syncing
Export/import reviews
Responsive query
Personalized chatbox
Advanced filter settings
Custom reviews
In-depth template style
Shortcode support
Third-party integration
Global languages translation facility
Top-notch support
Disadvantages:
Have to update to the pro version to get all major features
A limited number of reviews
Smash Ballon is another most manageable WordPress Instagram plugin to embed your Instagram feed. This plugin has a few similarities to WP Social Ninja in terms of its feed and layout options, but it also has some notable differences in user experiences.
So if you want to show your Instagram feed, it could be your business's option. Moreover, you can also find other alternatives to find the best possible option for your feed management.
Average ratings: 4.9 out of 5 stars
Advantage:
Display feed from multiple business accounts
Completely customizable
Shortcode supported
Beautiful header with customizing option
Simple to setup
Disadvantage:
The free version is not so good
Instagram feed critical issue
It doesn't work with elementor
It's not stable at all
Elfsight is fully customizable and responsive. This plugin has an easy solution to integrate your Instagram feed with your websites. With the help of the elfsight Instagram feed widget, you can easily show photos, videos, and other content.
Moreover, you can choose your post template option and set the parameters of columns and rows. Even it offers multiple benefits to run your social media feed smoothly.
Average ratings: 4.9 0ut of 5 stars
Advantage:
Flexible moderation option
Predefined templates
Flexible content grid
Adjustable size
Editable title
Disadvantage:
Limited customize option
Only 2 feed layout type
Limited feed language translation option
Limited post template option
The support system is slow
Need to show your social proof just using the best WordPress Instagram Plugins? You can easily do it with the help of WPZOOM. This social media feed plugin lets your Instagram feed widget display on your website anywhere you want. There are multiple benefits available to display your Instagram feed.
This Instagram feed widget has a customizable solution for displaying on your WordPress websites. You can even display your feed in a diversified way. Connecting multiple accounts is another crucial feature for your maximum social media presence.
Average ratings: 4.3 out of 5 stars
Advantage:
Connect multiple accounts
Different layout style
Load more button
Customize colors
Load more buttons
Premium support
Disadvantage:
Not proper responsive
The free version is limited
Slow down the site
Custom Avatar and Bio options are limited
Updates are messing up some versions of it
Social Feed Gallery allows you to display pictures from your Instagram account. The configuration process is very easy here; just connect and show your gallery in a diversified way. Moreover, the Instagram feed gallery allows you to highlight posts in your feed using the set patterns, the specific post IDs, or choosing a specific hashtag in the caption.
It also includes two extra layouts and offers many customization options like a load more button, the option of customer profile image description, and many more.
Average ratings: 4.4 out of 5 stars
Advantage:
Multiple user accounts
Images popup
Highlight
Customized feeds
Load more button
Data catching of Instagram feed
Disadvantage:
The Pro version is pricey
Very limited options available in the free version
Only 6 months of personalized support
SpotlightWP would be another way to spread the business. With the premium tool, you can take benefit of more filters for selecting which images to display on your WordPress website.
Moreover, to help you get your feeds looking how as you desire, Spotlight comes with an interactive live preview customizer.
Average ratings: 4.8 out of 5 stars
Advantage:
Easy to use
100% responsive
SEO friendly
Automatically updated galleries
Develop new connections
Fast and helpful support
Disadvantage:
From the review section, we get to know users find multiple errors in each update
The paid version starts at $39 annually
Improving customer engagement with your Instagram followers is the top priority. Using Social Slider Feed, you can increase engagement and display your social activities and proof on your website.
It will help your customer update with recent activities; on the other hand, it will also help you to grow your Instagram followers.
Average ratings: 4.1 0ut of 5 stars
Advantage:
No technical knowledge is required
Very responsive
Display your content your way
Simple to setup
Proper customization facility
Multiple layout options
Hashtag feed
Disadvantage:
Very limited information on the website
The site is relatively slow
The most helpful feature is paid version
If you have been using social media to create killer content and connect with your audience, then you already know how beneficial it is. But how can you share your social content outside of social media? Through your website, of course!
Using embed social, another best WordPress Instagram plugins, you can expand the reach of your Instagram content and increase the impression and social reach. With Embed Social, you don't need specific coding skills to embed Instagram widgets on your WordPress website.
Average ratings: 5 out of 5 stars
Advantage:
Advance customization and moderation
Respond to each customer review automatically
Streamline your online presence
Customization option
Notification features
Choose multiple color scheme
Disadvantage:
Very few reviews to get the proper idea about customer feedback
The only pro version will provide the diversified styling and customization option
Do you need the best WordPress plugins for your Instagram account or social media presence? Easy Social Feed lets you display your Instagram and Facebook feeds. Even you can Popup anything that you want. Using this tool, you can customize your Social feeds how you want using their live customizer.
They cannot limit displaying your Instagram number of feeds on your website. Moreover, their shortcode and widgets work independently, which means you can add the feed from multiple pages where ever you want.
Average ratings: 4.6 out of 5 stars
Advantage
Advanced popup option
Multiple-feeds
Responsive and mobile friendly
Display what you want
Highly customizable
Easy and first set up
Disadvantage
Major functions are paid
Expensive
Disrupted support system
The website is not detailed
Feed Them Social not only offers an Instagram feed but also offers Twitter, Facebook, and Pinterest. It's useful and flexible because if you install the plugin, you can easily share your other social feeds with your Instagram.
It is a favorably adaptable and customizable social media plugin showing content from mixed feeds.
Average ratings: 4.7 out of 5 stars
Advantage:
Easy to install and setup
Facebook page and album photos with the free version
Add as many social feeds as you need
Responsible social feeds
Customize front colors
Awesome support
Disadvantage:
Limited features
Reviews are mixed
Limited information on the website
The social gallery and widget is a simple and easy setup plugin for your Instagram feed. If you plan to display your social proof on your WordPress website, this plugin could be one of the options. You can add an Instagram feed as a gallery or widget to your WordPress website.
But, you will find the limitation because you can display upto 20 posts from your public Instagram account. It will assist you in customizing the size of your Instagram images.
Average ratings: 4.3 out of 5 stars
Advantage
Suitable for Instagram and easy to setup
Display thumbnail, small and medium size photos
Adjustable feeds to display
Responsive for mobile device
Disadvantage
Limitation on showing the number of feeds
Don't have a variety of customization options
The website is not well-detailed and informative
Very limited reviews
BlossomThemes Social Feeds plugin allows you to integrate and display your Instagram feed on your website. In each row, you can display a maximum of 25 photos, and in each row, you can display 10 photos. This plugin can generate a shortcode and widget to display your Instagram feed either inside your posts or on sidebars.
Overall, this plugin is easy to use. Once you integrate your Instagram feed, you can easily customize and show it on your website.
Average ratings: 3.7 out of 5 stars
Advantage:
Easy to use
Generate Instagram shortcode
Simple and efficient
Responsive and mobile friendly
Disadvantage:
Poor layout
Limited customer reviews to understand
Intagrate Lite can help you to post your Instagram images on your WordPress website. It provides a simple and user-friendly approach to solving the problem of getting your Instagram feed posted to your WordPress websites.
This plugin can automatically integrate your Instagram images with your WordPress blog.
Average ratings: 3.8 out of 5 stars
Advantage:
Support custom post type
Effective hashtag filtering option
Advanced support for Instagram's new multi-images and videos
Priority email support
Disadvantage:
The version lack some key features
The product's website is not up to the mark
Very limited feature
Reviews can't uncover user's issues
Enjoy Social Feed is another best WordPress plugin for website users who want to share their Instagram feed using hashtags and a public Instagram account. The diversified styling options make this product more diversified.
Even the product is responsive, touch-enabled, and customizable to structure your social feed more user-friendly. Moreover, for every specific photo, you can display it with different views and effects.
Average ratings: 4.2 out of 5 stars
Advantage:
Show Instagram feed for personal and business accounts
Hashtag-based Instagram feed to display the feed
Shortcode button on the editor and post page
Number of customization options
HTML 5 video support
Php 7 compatible
Disadvantage:
Very limited options available in the free version
The support is slow
Poor documentation
No dedicated website for the product
Visual Portfolio plugin is for sharing your product portfolio, social feed, or photo galleries. If you want to display your feed from different social media platforms, then you can use this plugin to show all your good work in different ways.
You can even choose a different predefined style to show your feed. So select any from the Items Style or add your own unique style to your gallery.
Average ratings: 4.8 out of 5 stars
Advantage:
Different layout types
Variety of visual effects
Easy to customize
Powerful lightbox
Video and audio support
Disadvantage:
The free version mostly works
Little light on customization
Large galleries are comparatively slow
Flow Flow is another social media plugin from where you can share your Instagram feed, Facebook feed, and Twitter feed. This plugin provides multiple features; you can easily display a mix of social feeds.
Moreover, embedding user-generated content from diversified sources is a great way to add social proof to your WordPress website.
Average ratings: 3.7 out of 5 stars
Advantage:
Cross-browser facility
Smart catching
Page speed optimized
Smart loading assets
Responsive layout
Available sharing button
Disadvantages:
Not quality support
Create problems on the website
Updates create problems sometimes
Photonic can create your gallery more noticeable. Anyone can make a huge change in their feed section using the different functionality. It includes support for different new sources and parameters to establish better content and take it to the next level.
Average ratings: 4.8 out of 5 stars
Advantage:
Support for multiple platforms
Classic layouts
Gutenberg support
Video support
Gallery wizard facility
Disadvantage:
Not dedicated website
Lack o detailed feature information
Not proper documentation
Do you want to use the drag-and-drop slider plugin that's easy to use? This plugin can create beautiful responsive images and video sliders for your WordPress websites. User responsiveness is the number one priority for the developer.
That's why they have tried to give their level best to ensure the quality of this plugin. That means your slideshows look great on all the platforms.
Average ratings: 4.7 out of 5 stars
Advantage:
SEO friendly and responsive
Easy to customize and extend
Customize with custom CSS
Drag and drop builder
Disadvantage:
The light version is too light
Weak support system
AccessPress is a free WordPress social media plugin for your social feed. This is another user-friendly plugin to display your social feed on your WordPress websites. It has three different layout styles, so using this, you can set your social feed in different styles to present in front of the customer base.
Here you just have to use a widget or shortcode to display your feed in your chosen location.

Average ratings: 3.1 out of 5 stars
Advantage:
Fetch feeds from any account using Instagram API
Display feeds using different moods
Shortcode and widget supported
User-friendly and very interactive
Awesome support

Disadvantage:
Very limited reviews to rely on this plugin
The website is not user friendly
Grid KIT Portfolio or Portfolio Gallery has the option to make unlimited WordPress layouts. You can display different categories from one single platform like Instagram feed, photo or video gallery, Image slider, product catalog, and many more.
This one of the best WordPress instagram plugins have been built for simple portfolio galleries but is powerful enough to use for multipurpose projects like listing product catalog items, showing logos, and many more.
Average ratings: 4.4 out of 5 stars
Advantage:
Build a multipurpose gallery layout
Responsive and mobile friendly
Popup add-on
Shortcode add-on
100+ effects
Pagination and lazy loading facility
Disadvantage:
Lack of support
The free version is very limited
Feature is limited
10WebSocial is an easy and simple plugin to display your photo gallery. It has the most advanced lightbox to display the feed more diversified way. Even it also provides the facility with 10 premium gallery views.
Moreover, you can set the predefined beautiful themes or create your own to display your gallery more attractive way.
Average ratings: 4.6 out of 5 stars
Advantage:
Responsive and mobile friendly
Four widgets
Watermark and protection
Export-import extension
Disadvantage:
Login issue
Not maintained well
No update with WordPress major release
Tagembed is also a social media feed from which you can embed your Instagram and other platforms. It's a user-friendly plugin and easy to set up, so if you want to display your Instagram feed, it could be a great option.
Users can use the widget and customize the overall look of their specific feed type. It also offers insights into analyzing the performance of social media feeds.
Average ratings: 4.1 out of 5 stars
Advantage:
Easy to use
Embed multiple feeds
Diversified feature
Real-time content update
Support shortcode
Fast support
Disadvantage:
Conflict with themes
Billing issues
With the help of a social feed plugin, you can make your website more social. Using this plugin, you can create an unlimited number of social streams, and each stream can have multiple social feeds to demonstrate to their social feeds.
It can make your social feed more appealing and interactive to display. With the easy setup process, you can easily integrate your Instagram, Facebook, and Twitter feed in minutes.
Average ratings: 3.3 out of 5 stars
Advantage:
Multiple networks
Pre-designed template
Beautiful typography
Responsive and retina ready
Disadvantage:
Very limited reviews to know the product
The website is not well-detailed and informative
Major benefits of Instagram feed plugin for WordPress websites
Instagram feeds on your websites mean a lot to providing an instant idea about your brand and business's latest updates. You can even benefit from a more varied way of showing your Instagram or social media feeds.
Here are the major benefits of the best WordPress Instagram plugins:
Generate sales
Spread brand awareness
Reduce bounce rate
Improve search engine ranking
Increase brand trust and loyalty
Easy customization
How to embed WP Social Ninja's Instagram feed?
With WP Social Ninja, displaying an Instagram feed on your WordPress website doesn't require any major technical skills. The configuration process doesn't take much time to connect Instagram feeds on your WordPress websites or display the various Instagram account content. To know the whole integration process, you can watch this video.
Moreover, we have described all the manual options in our documentation section and a blog post on how to embed an Instagram feed on a WordPress website to grow your social presence.
Final words
Showing an Instagram feed with the help of the best WordPress plugins is not the only strategy to maximize your outreach or brand improvements. Different social media platforms and their social feeds also increase brand growth. Here, we have only discussed the Instagram feed and shared the name of the Instagram plugin.
Though different plugins have different advantages, you have to decide which one will serve your maximum business need. Here we can see WP Social Ninja wins this race in this game, and you can consider this one before finalizing your decision.