How to Embed Instagram Feed on Website to Grow Your Business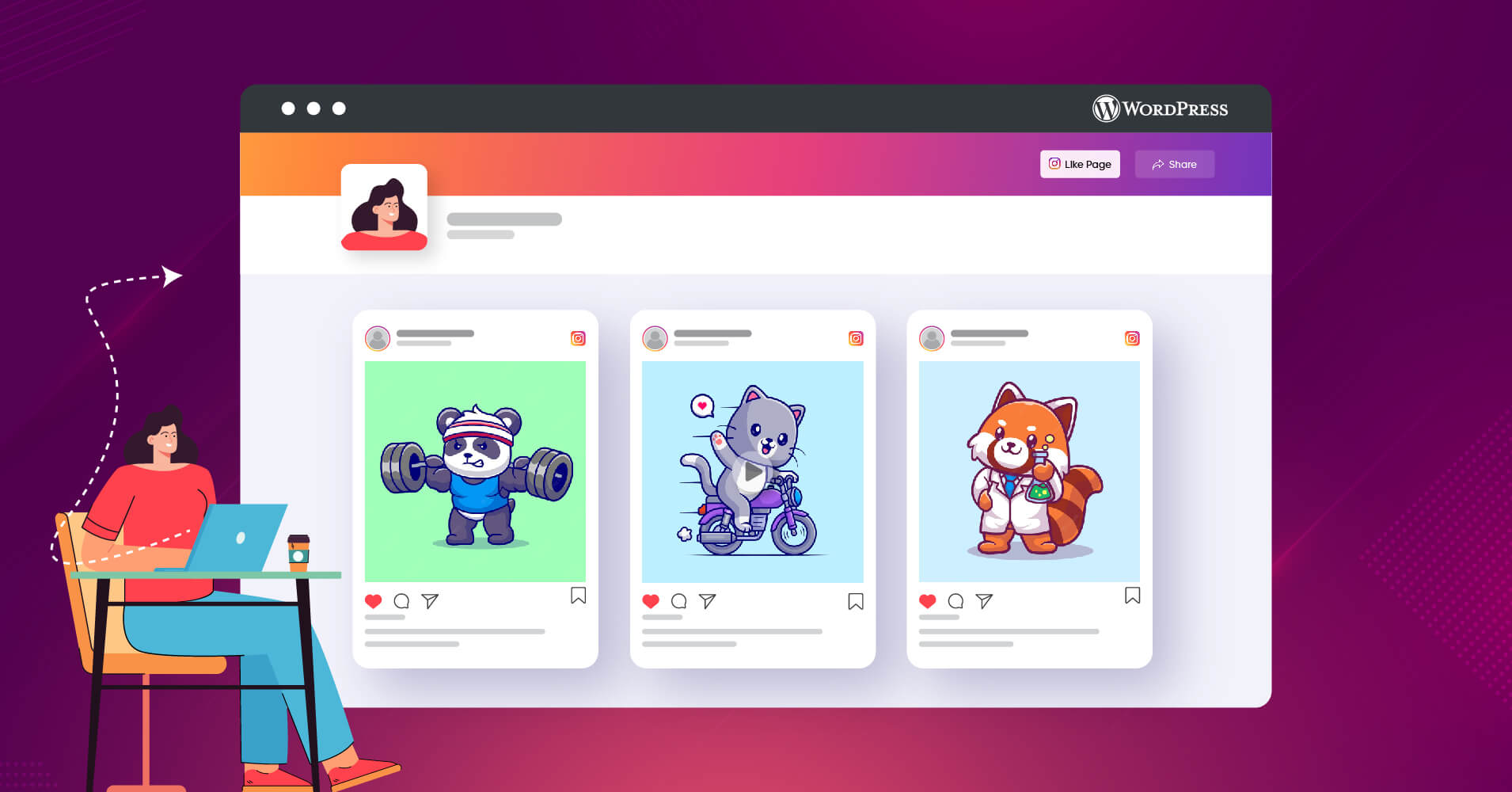 Why should you embed an Instagram feed on the website?
Instagram is among the most used and popular social media platforms all around the globe. Most people on social media use Instagram; It has roughly one billion, active monthly users. If you're an excellent market leader, you'd undoubtedly try discovering ways to leverage this booming audience.
One of the most effortless methods is embedding an Instagram feed on a WordPress website. You can easily connect with a more extensive audience and grow your website traffic and sales. 
This blog will explain the benefits of embedding Instagram feeds on your websites and the detailed configuration process.
Let's get started right away!
What is the Instagram feed?
Instagram feed is an area where you can share and attach to the things you pay attention to. When you unlock Instagram or refresh your feed, the photos and videos that we think you care about most will emerge on top of your feed.
The Instagram feed looks like a gallery of content from Instagram and is updated at predefined times, and it provides viewers with the latest content. Using Instagram feeds for marketing is an excellent and strategic marketing process that will take your business to the next altitude.
Benefits of adding an Instagram feed
Instagram is one of the multiple used and prominent social media platforms that offer multiple opportunities for business owners to advertise their products and services.
Over the years, as there was a transformation in marketing strategies, businesses embraced various strategies for better customer interaction. Embedding an Instagram feed on a website came as a perfect idea to achieve the desired results.
While embedding an Instagram feed on your website has several benefits, we will summarize only a few.
Increase sales and revenue
Instagram feed is the most crucial marketing means for businesses. Instagram can generate over 4 x better interactions on Instagram compared to Facebook.
So displaying your Instagram business feed on your websites can immensely boost your sales. Besides using your Instagram feed to develop customer awareness and leads, you can also use it to build your revenue.
Build brand's trust and loyalty
When you display a user-friendly Instagram feed for website, it indicates that you care about their demand and expectations. This process helps to build the brand's trust and loyalty to your product. Even, It encourages them to share their experiences with other users.
Moreover, It evolves a way to interact with your customer base. The more you can attach to your customer base, the more you can interact and build a relationship with the customer.
Improve the engagement of the visitors
Improve engagement on your business websites means a lot for a business because it can significantly impact overall sales. You can accelerate a great engagement rate by using a different interactive strategy for your user base. Among them, adding an Instagram feed on website is the best way to generate massive sales and engagement for your overall Business.
To improve the process, you can add different interactive images and videos with your costumes. It cloud be short, concise, and related to products or services. Sometimes, you may use some funny and trendy Instagram videos to generate more engagement.
Reduce the bounce rate
A high bounce rate indicates that your site and content can't fulfill your customer's expectations and requirements. But the main target of the Instagram feed is to reduce the bounce rate by delivering diversified content so that visitors can find their desired information when they visit your sites.
By embedding your Instagram feed on the website, you can reduce the bounce rate from your site. It will help them know your brand better, especially your product and service line.
Reduce the bounce rate indicates many things:
Visitors will find what they are looking for
Your on-page content fulfills the customer's needs
The on-site experience is clear
Your business pages load so fast
There is no website error
Boost search engine ranking
By displaying Instagram feeds on website, you can enhance your overall Search Engine Optimization (SEO) score. Basically, search engines select ranking such sites that have the most pleasing user experience, reliability, and informative content.
Therefore, you can strengthen these factors and improve your website's SEO ranking by attaching an Instagram feed.
How to embed Instagram feed on websites
Website developers and marketers wonder if it's worth it. They might have worked with their technical implementation in the past or had an unsatisfactory result trying to embed Instagram feeds on the websites manually.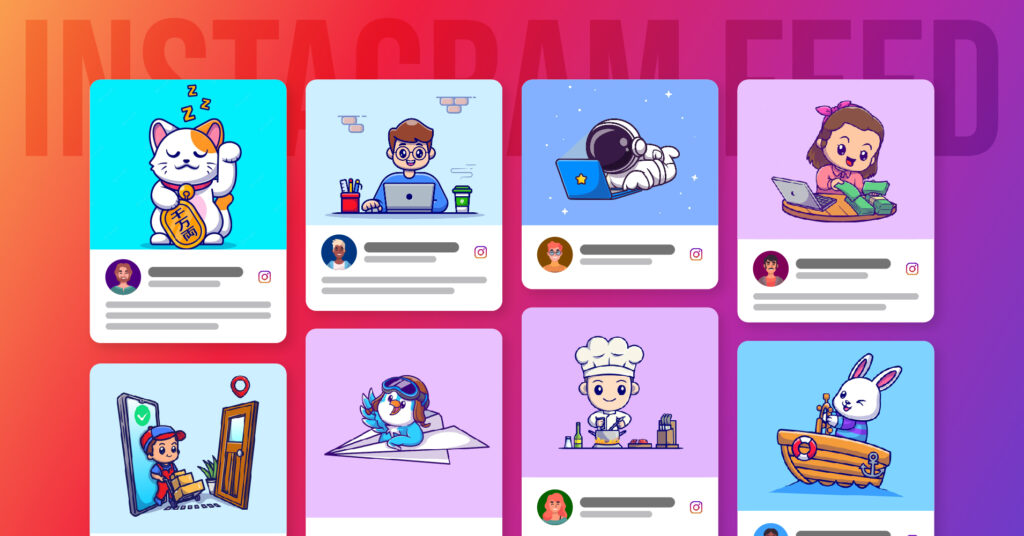 With WP Social Nina, showing an Instagram feed on the WordPress website doesn't require technical skills or even time from the development team. The setup doesn't take minutes, whether you're implanting an Instagram feed for website or showing user-generated content like images, videos, etc.
There are a few ways to embed Instagram feeds for website. Regardless, you can check out the YouTube video below to learn how to embed your Instagram feeds on websites (WordPress sites). Even we will describe all the manual processes.
Simple steps to add an Instagram feed for website
We can configure the Instagram feed in three different ways. Here is a quick step-by-step guide on how you can embed your Instagram feed for website.
Connect personal account
With the help of WP Social Ninja, you can connect your Personal Account to your WordPress websites. The process is very simple and easy here.
To do it, first, click on Connect Your Personal Account from the type of account.
Now click on Continue With Instagram and click the allow button to connect your personal account. Then your account will automatically connect with your WordPress website. For demonstration purposes, we have added an image here.
You have already connected your personal account with your website. If you want to connect multiple accounts, just press the Add More Account button and follow all the previous instructions.
Moreover, to create an excellent template to display on your front end, just go through with Add New Template and decorate with diversified layout types, templates, and more worthy features like this.
Now, you have successfully connected your personal account and displayed it on your front end.
Connect business account
With 70% of shoppers looking for an Instagram feed for the next purchase, it's time to connect your business account with your WordPress websites. It can build a relationship through interactive features.
You just have to click on Connect Your Business Account to connect your business account. Once you connect your Business Account, click on the Continue with Facebook button.
Now, click on the Continue as a Guten Dev (As your account name) button to connect with the Instagram business account.
Now click on the specific business account you would like to fetch with WP Social Ninja. Here, we selected the Guten Dev business Account and the_picturesque_art account and then clicked on the Next button to fulfill the overall process.
Again, you have to select the specific Business pages you want to use with WP Social Ninja. Here we selected all the pages; you can pick any specific one if you want.
WP Social Ninja may not work properly if you don't turn on the permission option. So keep all the permission on and hit the Done button. Very simple!
With that, you can just click on the OK button to go further.
The process is almost done here to connect a specific business account; you can even add all the accounts. Now continue the process; you need to select Connect Accounts button.
You're all done. The Instagram Business Account feed is now embedded on your WordPress website!
Manually connect an account
To connect to the Instagram account manually, you need the Instagram Access Token. The question is how to acquire the access token. The process is very simple; just follow the simple steps.
After inserting the Instagram Access Token, hit the Connect this Account button to configure Instagram. Remember, you can attach multiple Instagram accounts by clicking Add More Account.
That's it! A refined Instagram feed embed is now visible on your website. After embedding your feed with Instagram, it's time to move to another stage, where you customize the format of your Instagram feed for website.
Conclusion
Instagram is undoubtedly one of the prominent leaders of the pack regarding audience size. But you should not think that it's the only option.
Various platforms are available on the market, like Twitter, YouTube, and Facebook. Those also have more than a billion monthly users.
As a business owner, you must try to build a social presence on as many social media platforms as possible to grow faster. And to make the process faster you can check out our other blog posts related to Instagram and Instagram marketing.