Shoppable Instagram Posts Ideas | Make Your Product Stand Out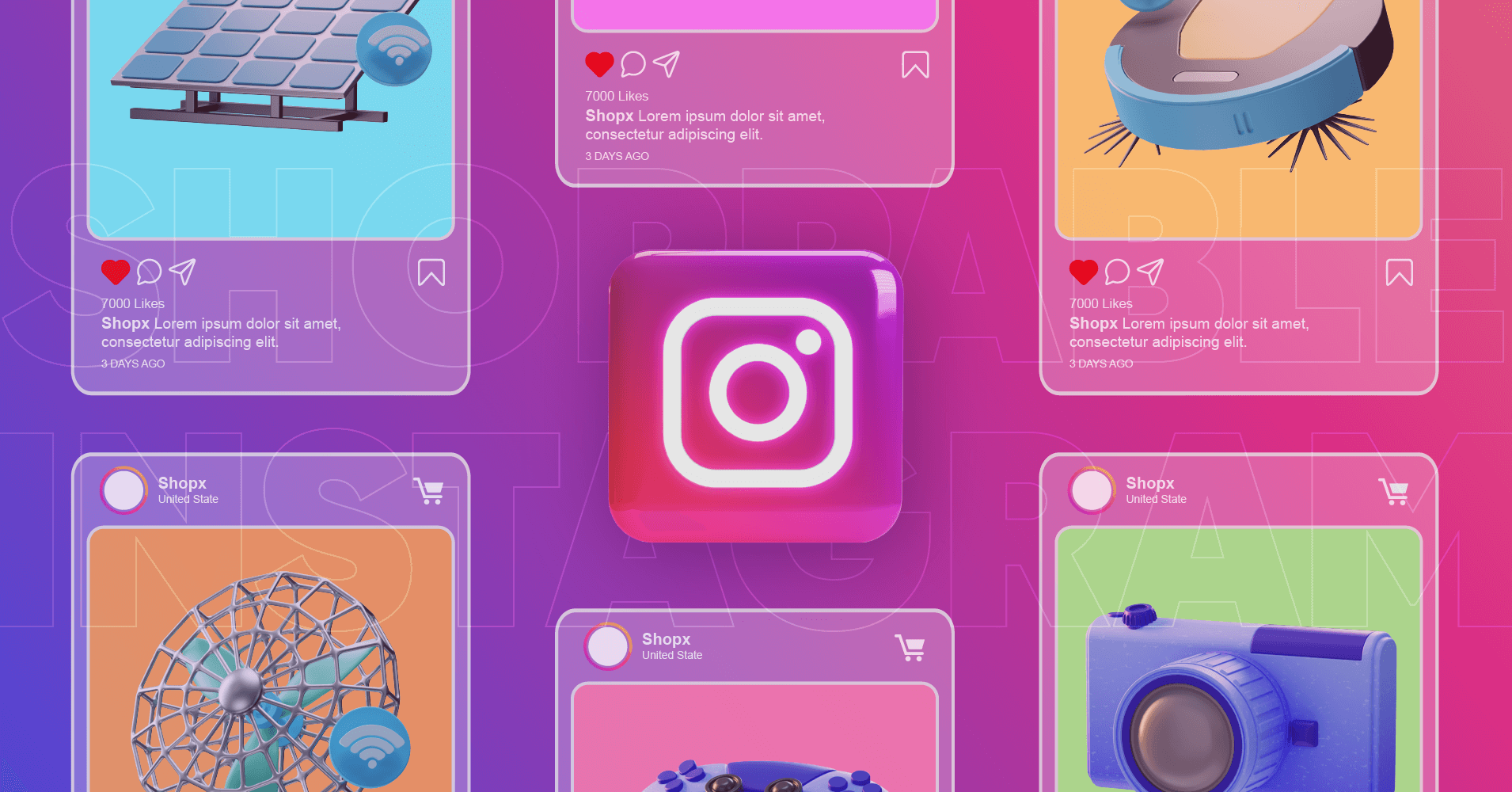 Shoppable Instagram posts have an enormous opportunity for any brand or business looking to sell products and services online. And the great news is it's effortless to get started!
Over 46 countries currently provide Instagram shopping facilities, including the USA, Canada, the UK, Australia, Germany, and many others. A Shoppable Instagram feed is a significant discovery for brands and companies that use Instagram to promote their products.
But, for a successful promotion, you must first design shoppable Instagram post ideas. Let's learn how to drive sales and make money with shoppable Instagram post ideas.
8 Best Shoppable Instagram posts ideas
Understanding shoppable Instagram posts is crucial because they represent different buying trends and the most efficient approach to increasing traffic and sales to WordPress websites.
Businesses of all types and sizes should first understand Instagram post ideas to utilize shoppable posts to increase sales on Instagram.
Create an IG shop catalogue
Instagram has an estimated 1.44 billion monthly users worldwide, and they nearly spent 53 minutes per day on this specific app. Creating and adding an IG shop catalogue would be the most incredible option for sellers to market their products and generate profit for the business.
In the past, businesses could only sell to users through a bio link or Swipe Up feature. Fortunately, Instagram released the shop and its catalogue facility to solve the issue. Now retailer can set up their storefront, and buyers can buy the product directly from Instagram's virtual store.
Benefits of Instagram shop:
Shorten buyer journey
Create selling opportunities for influencers
Easy to find the product
B2C marketing opportunities
Smooth customer experience
Highlight product line
Product highlights are customized sets of your stories on a row under the bio. You can add multiple stories to your highlight section. Your newest highlights will be displayed in the first section, and your bio will show your 5 most recent highlights and the rest of the product line you can scroll to see the next. Moreover, you can show as many highlights as you want and display them according to your business plan.
Highlights are the best option to grab the attention of multiple sources, display on your social sites and generate sales. Most importantly, you can capture the attention of people who missed your story the first time you posted on the Instagram Shoppable feeds. Moreover, you have the opportunity to edit the highlight and organize it again.
Provide helpful product information
Product information enhances the customer experience regardless of what sector you're in. Buyers always like more information about your product to answer any purchase complaints. The more conclusively you can answer their questions, their satisfaction increases.
But for many companies, the product information could be more organized and helpful for the users. Helpful product information is crucial for manufacturers and retailers. So always try adding all the essential product information to your Shoppable Instagram posts.
Get them swiping with the Carousel post
Did you know that Instagram carousel posts generate, on average, 1.4 times as much reach and 3.1 times as much engagement as ordinary posts?
You can share several images or videos using Instagram carousels. To view them all, users must swipe left. When one image isn't sufficient to convey your idea, this post is helpful because you can share up to 10 images. To produce more Instagram Carousel posts and generate more customer base, you can get ideas from this post:
Making a slideshow presentation is one of the concepts for a carousel post. Learn how different brands use carousel posts to show off other products from the same range:
Leverage in-feed carousels to save users from having to scroll through your entire Instagram Shop to see your products. These multi-image posts display a series of products in the same range.
Reminder new product line
Are you looking for new ways to discover the best ways to announce and remind you of the new product line? Are you using Instagram's new reminder posts?
In 2022, Instagram launched a new feature called Instagram reminder for their Instagram feed or Shoppable Instagram posts. It has multiple benefits. Suppose when you add a reminder to your post, users can opt to receive a notification about the event and promotion you have highlighted in the content.
Shortly before the designated time, Instagram automatically sends a series of notifications to users who turn on the reminder for the new product line.
They'll receive activity feed notifications 24 hours in advance, 15 minutes before the event, and at the start time. Users who have push notifications enabled will also receive reminders 15 minutes before and at the start time.
Include product tags
When forming a post, use the tagging feature to add the tag of a brand and then specify a product. When visitors come to your site and click on your product on your published product feeds, they will get the details about the product through the product detailed page from Instagram. Then they can purchase the product directly from the app or the detailed product page.
Product tag-adding procedure:
Create a post on the tag
Tap "Tag people"
Search and tag the brand first
Select Products from the bottom label
Tap the photo to start tagging products
Click share to publish the post
After adding the product tag to your Shoppable Instagram posts or product feeds, it represents the outcome. By the way, you should remember that this feature only works for a public account.
Produce fun Instagram Reels
The Reel is a feature in the Instagram app that makes product research and shopping easier. Shopping in Instagram Reels is a brand-new e-commerce tool that Instagram is introducing to its platform. Businesses and creators can now tag products while creating a Reel, making them shoppable, thanks to this most recent feature list.
Almost every app area, including Instagram wall posts, Instagram Stories, Instagram Live, IGTV, and Reels, now allows users to view and buy things directly.
Reels with product tags let businesses and creators can drive product discovery with entertaining and short forms of content. People viewing a Reel with product tags can tap 'View Products' to purchase, save, or discover more about the tagged product.
Generate Shoppable Instagram Stories
According to the survey, 62% of consumers became more curious about a brand after seeing it on instagram stories. Shoppable Instagram stories have fundamentally changed the way people use Instagram feed. Shopping stories have many advantages because they can generate great engagement for brands and products.
The engagement rate on Instagram stories is much higher than the usual Shoppable Instagram posts. People love to want this kind of content so try to use Instagram stories and make your business a sales machine.
It's important to note that not all Instagram stories are created equally. Just because you are currently using stories doesn't mean your audience is connected with your content. For your brand truly stand out, you need to create the content more creatively from the user intent.
Best shoppable Instagram story ideas:
Share user-generated content
Make a catalog collage
Create polls to engage the user
Use question stickers
Create a custom story background
Show some exclusive content
The brand with Shoppable Instagram feed
Creating and displaying a Shoppable Instagram feed is always a golden opportunity for business owners. Multiple platforms are available in the market to display Shoppable Instagram posts and sell the product from your WordPress websites.
Create a Shoppable Instagram posts gallery on the website and sell the products through it. A visual commerce platform helps turn social media visuals into shoppable posts and create a feed for users' ease.
With Instagram Shoppable feed, you can collect all the posts from your Instagram account into a feed, add shoppable tags to each post, provide product details and display it as Instagram Shop.
Not just account posts, you can also collect & share user-generated content related to your hashtags into a feed and get rights from users. You can even repurpose their content, add shoppable tags, and display the shoppable feed.
Conclusion
In this digital world, users are looking for effortless & best online experiences. The Shoppable Instagram posts help to do this by bringing the shop to the users rather than users trying to go to the shop.
Only an effective post strategy can help your brand influence the power of social media in increasing brand awareness, engagement, and, most importantly – conversion & sales. For better reach on Instagram, you can read our other blog posts:
19 Instagram Content Ideas for Business (Real Case-Studies)

14 Steps How to Get More Views on Instagram (Expert Opinions)
Now that you get the ideas try them yourself to see what potential it holds for your brand!