Instagram Carousel Templates Posts to 5X User Engagement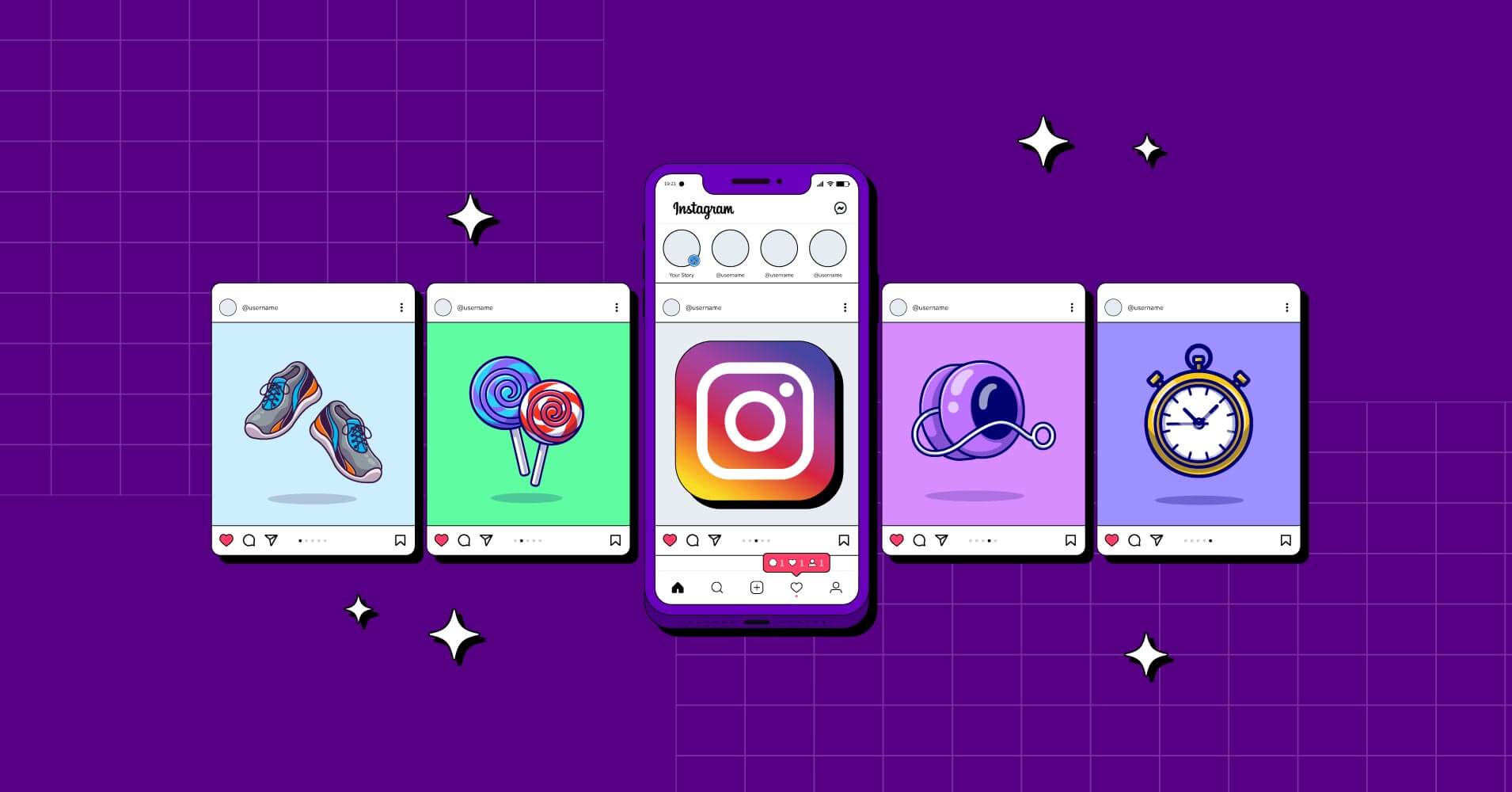 Instagram Carousel template posts are the most hyped and engaged formats for brands' social media marketing. The urge to swipe left and right is something really engaging and impossible to resist. It's a great social media post idea to improve, engage, pursue new customers, and boost sales.
Do you know?
In 2017, 3 to 4% of Instagram content consisted of carousel posts; however, the number increased to 19% in July 2020
Instagram carousels per post average engagement rate is 1.92%, whereas 1.74% for images and 1.45% for videos
The engagement rate per post goes over 2% when all 10 carousel slides are used
The data are a clear heads-up for the marketers to produce more Instagram carousel template posts and drive audience engagement for your social posts.
What is Instagram Carousel?
The Instagram carousel post type is an Instagram post consisting of multiple photos or videos. You can share the top 10 photos or images in a single post and swipe left to view.
Moreover, you can insert a caption, alt-image tag, or product tag on each of your carousel photos. Once you are set, users can like, comment, and share your Instagram carousel post too. While you post your carousel photos or videos, a small icon will show up right corner of your post.
This post type is a great way to be more creative with your Instagram content. Your brand can provide step-by-step information and add separate captions for each photo to represent the label better.
How do you create an Instagram carousel?
If you have decided to create an Instagram carousel post, think about your concept or the motive behind the post. Figure out why you need the carousel post instead of a single photo, reel, or Instagram video.
Next plan how would you like to display your images in your carousel template? You must have a concept about your post. It should tell a story, help others to understand your brand, share tips and tricks, talk about statistics, and build a network.
You also need quality images, but if you don't have any, you can use an AI generator for art like Picsart. You can also use Picsart to edit your photos quickly.
There are different ways to create and post on Instagram carousel templates. Let's check out two of the easiest ways to maximize your user engagement.
Instagram App
You can download and sign up to Instagram using your mobile or desktop, or simply just sign in if you already have an account
Open your Instagram app and click on the plus icon (+) from your home screen. Next, click on the double-layered squares to select your carousel post. Pick photos from your gallery. The photos will come in the exact order you select.
You can pick any image and use appropriate filters like Moon, Lark, or Juno to add a different vibe to your images. You can also change the Brightness, Contrast, Saturation, Temperature, Fade, Vignette, and other features to adjust your images.
Next, write a caption, add location, and add alt text for each image. Moreover, you can adjust the advanced settings and enable the like and view counts on the post, also you can turn off the commenting. Once you are done select the 'blue tick' icon to save the changes and voila you have successfully posted your Instagram carousel template.
Now that you've created your Instagram carousel post let's check out how to showcase these carousel posts on your WordPress websites.
WP Social Ninja
WP Social Ninja is an all-in-one social media tool that has the power to showcase your valuable social proof on your website with some path-breaking advanced settings. Along with all the fun and interesting filters from the editor settings panel, it is app to make Instagram carousel so you can also display your Instagram feed with the carousel layout type.
To do that, you need to install WP Social Ninja and configure your Instagram feed. Next, from the editor settings panel you can choose Carousel.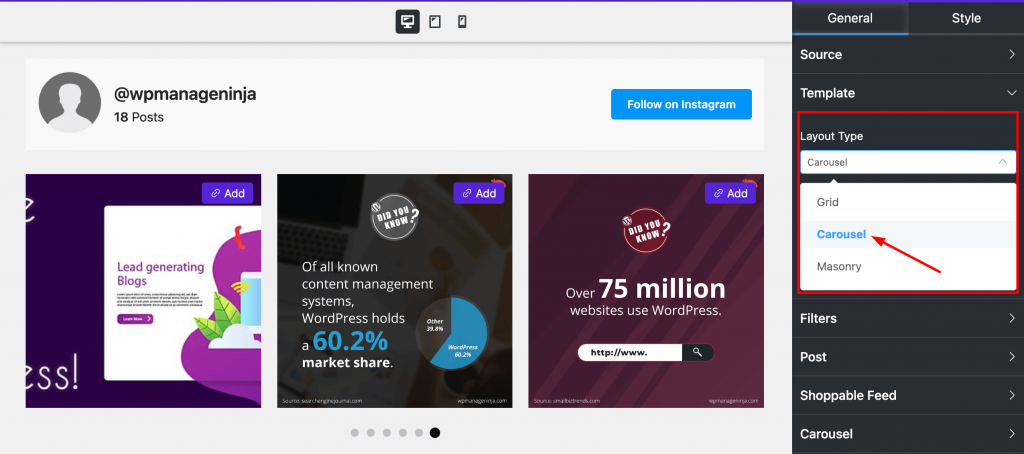 Once you select the Carousel template, dedicated settings will appear to decorate your carousel posts on your website.
Ninja developers have added many unique options to personalize your Instagram carousel templates. You can enable the Autoplay options, or you may turn it off if you don't want to move your screen!
Also, there are Autoplay Speed, Slides to Show, and Slides to Scroll. So you can fully take control to set your overall carousel performance.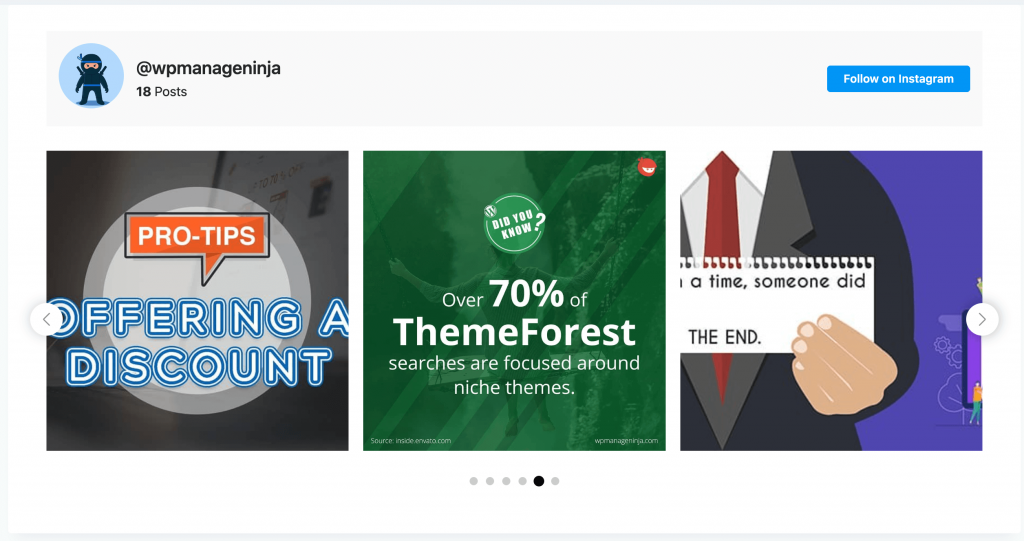 Lastly, you can also adjust the Navigation and pick any that you want for your site.
Final words
Are you looking for a creative visualization tactic to break the monotony? And want to establish a more powerful reach? Then you definitely should consider Instagram carousel posts for your social media branding.
Then showcase these posts with WP Social Ninja Instagram carousel templates to shoot more sales. Instagram carousel templates are not just about social posts, it also helps to build trust and long-term relationships with loyal customers. Don't miss out the Instagram carousel engagement!
Win your customers' hearts with exceptional features
Discover how WP Social Ninja can assist you design outstanding customer experiences.