19 Instagram Content Ideas for Business (Real Case-Studies)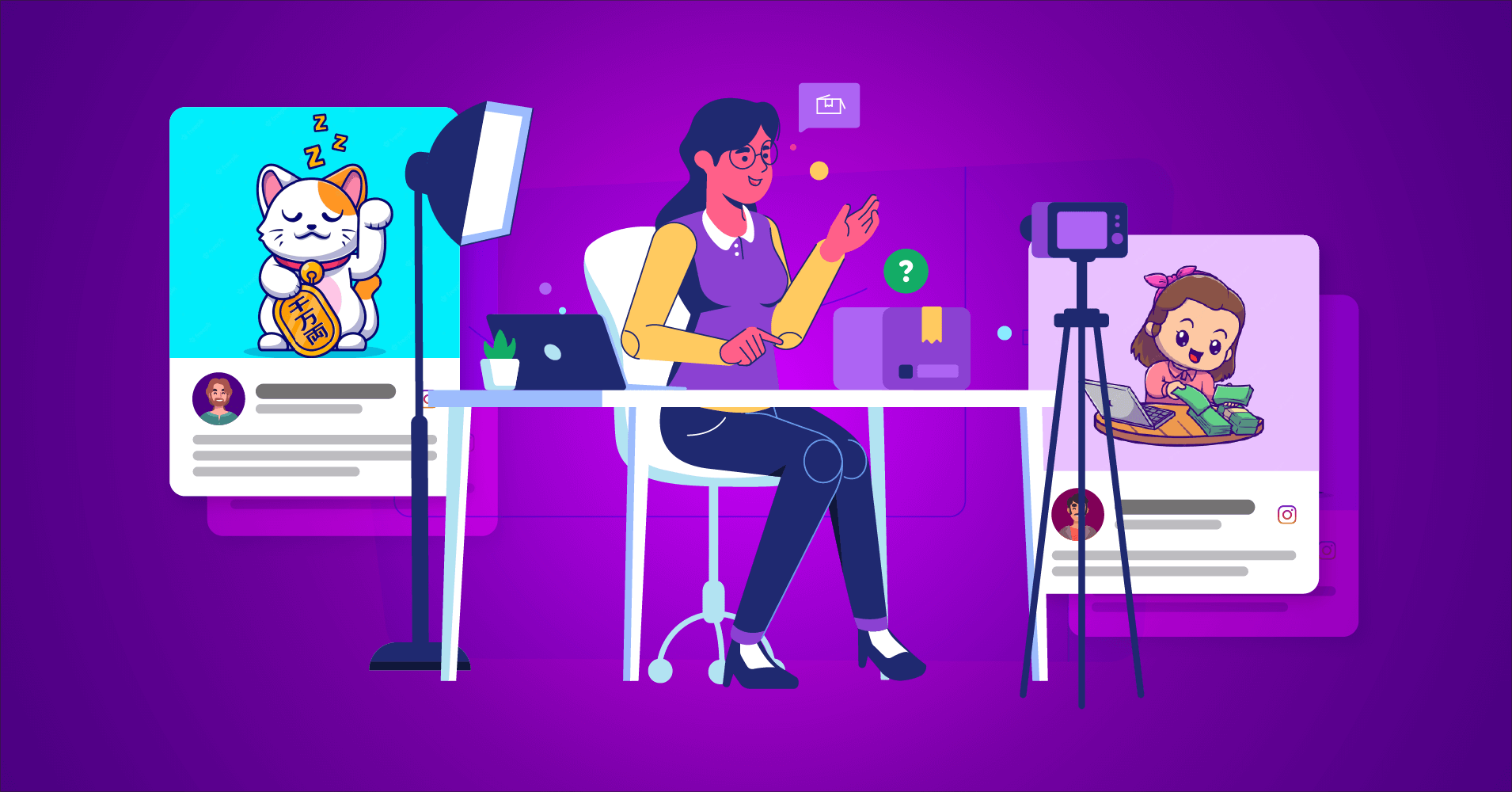 Instagram is no longer used for posting pictures only. It is a massive platform for SMEs to promote their brand, engage with customers, and boost sales.
59% of U.S adults use Instagram daily, so brands already know they have a fair chance to connect with the users and strengthen the relationship.
Instagram's best part is it is not only a still photography platform. This popular social site has plenty of post dimensions to offer the audiences. There are many options, whether a video, GIF, BTS shot, contest, giveaway, or repost of followers!
However, managing the brand's Instagram handle is not easy at all. It's constant pressure about what to post when to post, and regularly coming up with brand new ideas. For your sake, we have brainstormed Instagram content ideas for business and Instagram page ideas. The post ideas contain effective strategies that can create user engagement.
Shall we start?
19 Instagram content ideas for business
Check out these Instagram posting ideas for business with real case studies. Try this to get better output for your business.
Display product posts
Promoting your product is the easiest Instagram content idea for the business. Posting your product images and videos let your followers know all the feature and updates about your products. Moreover, adding a catchy caption could be more engaging in pitching the product in the most subtle way.
One tip for Instagram product promotion is you don't want to make your post look like an advertisement. Rather showcase how the product can add value to their life and bring ease to use.
Oreo has set an example of how you can intrigue your customers and display the different uses of cookies!
Convert customers with product tags
Instagram tag is a great feature for converting followers into potential customers. Sometimes when we post reviews on our handles or stories, we tag the brand so anyone can reach out to the brand directly. So anyone can get sufficient information like brand name, price, and social handle to decide.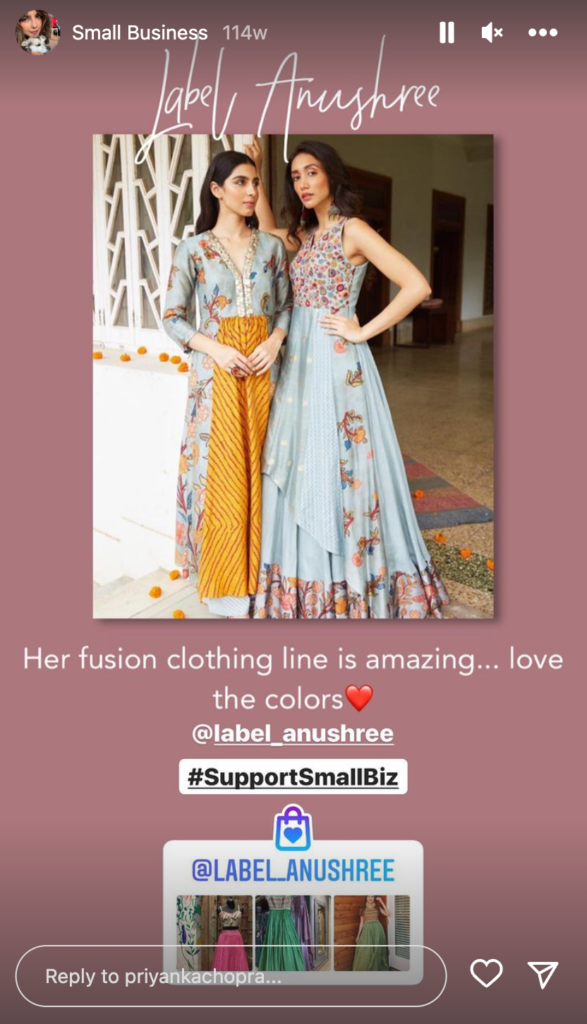 Product tags increase the chances of following the brand and making an instant decision whether to buy or not. So while posting something on Instagram, you might consider using tags and stickers on your posts or stories.
Instagram Reels
Reels are another engaging Instagram content idea for the business. You can create 15-second long Reels and add different audio, effects, and stickers. Short videos and reels are one of the smartest ways to stand out and catch your user's attention.
A lot of brands don't utilize video content in their social media marketing and miss out on a golden opportunity to display their product and service details to the users. Also, you can always mix and match and try different video types such as product details, how-tos, vlogs, storytelling videos, and Q&As.
Behind the scenes
Your followers would love to witness your brand behind the scene moments. Let your users know how the brand was created, who is behind it, and what is happening. It's a sweet way to make your customers feel valued and show genuine transparency.
It also creates trust and develops a relationship between two parties. And do you know what's relieving? Like your products and services, you don't need to spend so much time and effort creating a BTS post. That's why brands like to share their unfiltered and unpolished stories on their social platforms to stay relevant.
Repost user-generated content
User-generated content is probably the best content that instantly creates buzz among all the fans and followers. It is a smart way to show your users that you're engaging with your niche and care about their experiences.
Repost the UGC and all the other memes, testimonials, or videos and encourage them to produce more tagged and mentioned posts. It's a great way of word-of-mouth marketing as well.
However, make sure these posts are relevant and represent your brand properly.
Give your employees the spotlight
While you stumble upon killer Instagram content ideas for business, maybe you are not utilizing your employee's potential to the fullest. Well, IG content that talks about employees and focuses on their work conveys the human side of your brand. Moreover, it also has a sentimental emotional build-up that shows trust and connection as a brand.
A great example of how Unilever is highlighting its employees and sharing their stories on Instagram to connect more with the audience.
Special announcements
A product announcement is always intriguing for potential customers. And you can make it even more effective by adding product visuals to hook your audiences. It's a great Instagram content idea for the business to stay active on social media. Moreover, you can give them a reason to follow you on social to get all the latest updates.
Need some idea? Take a look at how Samsung is announcing its SolarCell Remote Technology on Instagram. Similarly, you can also share and release your brand updates on Instagram.
Contest/giveaway
Trying to figure out some innovative Instagram content ideas for business? Instagram contests and giveaways are undoubtedly a cool idea to get exposure from your community. Moreover, contests and giveaways can be used in many ways as solid social proof and user-generated content.
You can offer some gits and rewards to engage better with your target audiences. Make sure you give something relevant to your product. Anyone could ask for something that doesn't connect with your brand, but you need to stay focused to convert users from customers.
Take advantage of seasonal posts
Posting on holiday and grabbing users' attention is the most common practice with all brands. And brands also know their customers love to interact on holiday posts. Never hesitate to celebrate this occasion with your audience, whether it's a significant celebration or a non-significant day.
Always post trending and relevant holidays to interact with your audience. Encourage your audiences to post their celebration images in the comment section. It helps you create a platform for your users to initiate a conversation, and as a result, it generates conversion.
Above the post, you can see how Mcdonald's reminisces about childhood Halloween on its Instagram handle and creates word-of-mouth marketing! Note that always use trending hashtags, so it increases the chance of being seen by bigger audiences. 
Tag a friend
Usually, we see a lot of brands encourage followers to tag their friends on their posts. Sometimes they run contests and offer gifts for the maximum number of tags. It's a great Instagram post ideas for business to grow their follower base naturally. Moreover, it boosts word-of-mouth marketing and creates organic engagement with users.
However, tagging friends is a general practice we often do when we like something about the brand and want our friends to know about it too. So new users get to know about your product and might become potential customers as well.
Motivational quotes
Who doesn't love to read some positive, inspirational quotes? The Internet is full of hate comments and negativity. And to survive among this, you need some motivation for you and your followers!
These are some engaging Instagram content ideas for brands to connect more with their followers. We all like to spread positivity from personal accounts to brands' professional handles.
However, some important things to remember while posting motivational quotes. The visuals must be eye-catching and top quality to appeal to your visitor's attention.
Be active in the community
Community involvement is one of the effective Instagram content business ideas to build trust and loyalty. Many brands, for example, Toms support different issues, and you help them with each purchase.
It's a sweet gesture by brands for the local community, and it's not just a marketing strategy it's a brand awareness that needs little effort. Moreover, people will feel good using your products when you do good. Simple!
Cover an event
Brands often sponsor many events on different occasions. Instagram is undoubtedly a perfect place to display event images for your audiences. You can showcase before and after activities. You can also post event pictures of where you've attended.
weDevs posting their WordCamp Kathmandu sponsorship images on Instagram. So their audiences know about their brand credibility and relate better with their brand persona.
Collaborate with influencers
Influencer marketing is trending these days, and all the brands are doing it. So if you want to show some instant credibility and appeal to the user, influencer marketing can instantly help you.
If big influencers with millions of followers talk about your brand, chances are that your brand gets new users immediately! Moreover, if you partner with the brand, your potential buyers will know prominent trusted figures are vouching for you so that they can proceed as well. Isn't it awesome IG post ideas for business?
Cross-promotion with other brands
It's always a smart Instagram content idea for businesses to collaborate with other brands. Whether you're establishing a partnership or tagging the brands, it could empower your business and improve the brand value overnight.
You can announce brand collaborations on your Instagram handles and show the great relationship between the two labels.
Ask questions and provide answers
If you are still looking for cool Instagram content ideas for business Q&A would be another effective way to engage with your followers. When you answer your follower's questions, it encourages others to ask more and follow you for quick answers.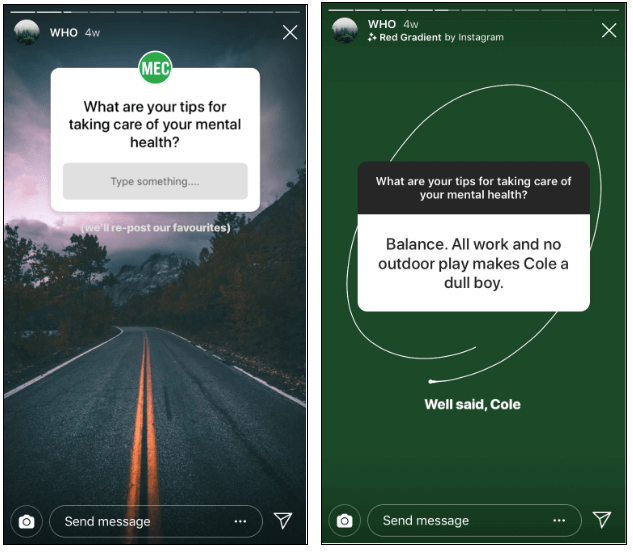 You can create text-based images with questions and let your users answer them in the comment section. Moreover, Instagram has its own Questions Sticker. So if your audiences want to ask something, they can shoot a question via this sticker.
Video tutorials
Video tutorials are probably the most demanding content type today. It immediately hooks attention and becomes valuable to your potential users. Even a short video has the power to teach different dimensions of the product, such as how to set up, use, and take advantage.
You can also ask your users to share their video tutorials and repost them for others to show how easily the product can be used! Moreover, product teasers and announcements videos are also engaging promotional content that might generate sales too!
Live streams
Real-time interaction is the most authentic way to connect with and talk to your users directly. So live videos are considered to be a popular form of Instagram content ideas for business.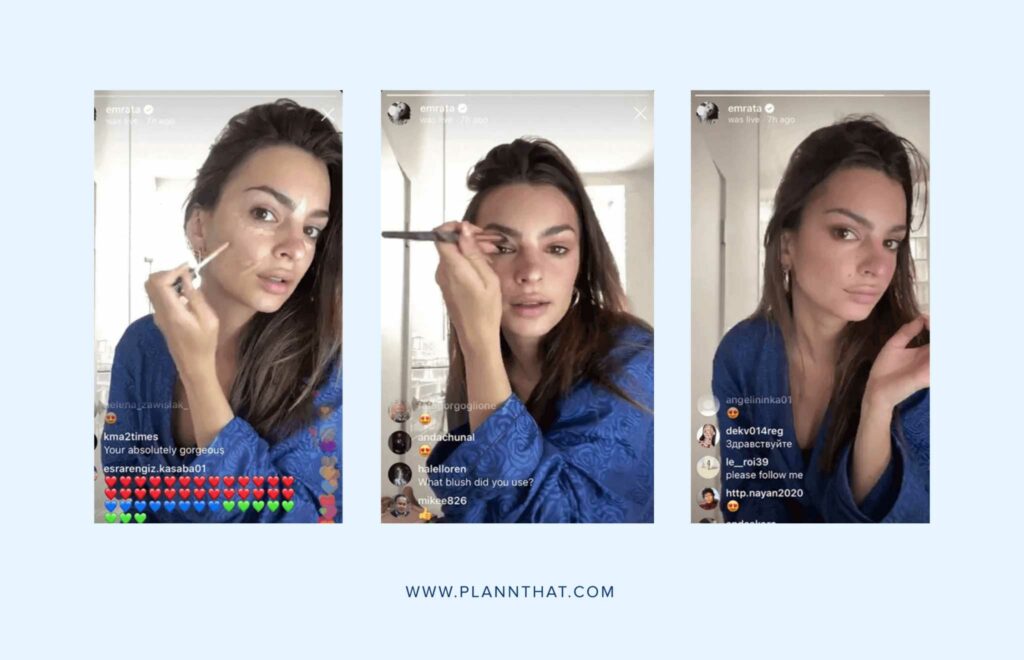 In your live streams, brands can answer users' queries, announce a new product, show the features, discuss the behind the scene, and ask for their feedback. And once the live is over, you can still post this on your account or stories. However, always announce when you will be live for your users to join so they don't miss the opportunity.
Try Carousel post
When brands can upload multiple images or videos into a single post, it's easy for users to see maximum content in one post.
Airbnb shared a woodhouse carousel post with an inside room video showing the different views. So anyone interested can get so many Instagram posting ideas for business from this post, such as different images, the activities, what they have offered, and an outside view.
To get regular tips & tricks and useful blogs, subscribe to our weekly newsletter.
Frequently Asked Question
Which content is most popular on Instagram?
Instagram photo post is the most popular form of content on Instagram. Most of us usually post images on Instagram that are easy to post and edit.
What type of content performs best on Instagram in 2023?
The best Instagram content types are Images, videos, carousel posts, stories, and live streams.
What posts do well on Instagram?
Instagram posts that do well are BTS posts, videos, shoppable posts, Q&A, offers & promotions, giveaways, fun posts, and seasonal posts.
What should I post on Instagram to get followers?
The most popular types of Instagram content are:
Product updates & announcements
Product related photos
Instagram Reels
User-generated content
Contests
Behind-the-scenes photos
Video tutorials
Influencer content 
Famous quotes
What content should I post on my Instagram story?
Product updates
Polls & Quizzes
Call-to-action button
Posts related to audiences' interests
If you liked this article, please check out our other resources and different Instagram case studies: