Facebook vs. Instagram: Which Should You Choose for Your Business?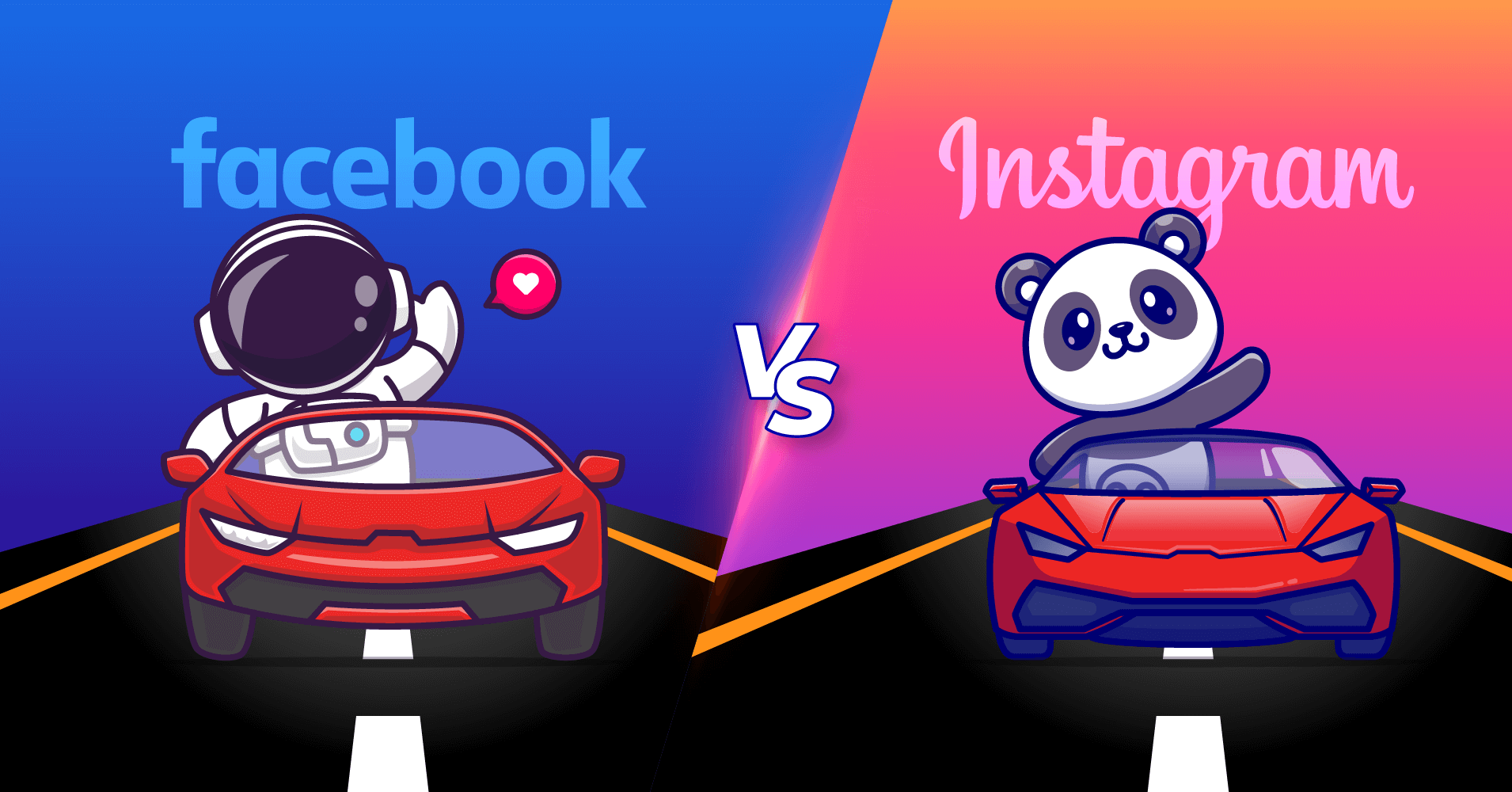 Being a business owner, have you ever felt the necessity of choosing the best social media platform between Facebook vs. Instagram?
Among all other social media channels, Facebook alone has 2.912 billion monthly active users; the number for Instagram is 1.452 billion. So undoubtedly, Facebook is the largest platform among all other social media channels;
At the same time, it seems a bit challenging to pick any of one from Facebook and Instagram for marketing your business; And that's normal because most marketers feel the same if asked to choose the best one.
Well, as almost everything has a solution, same as well, you will also get to reach a clear concept when you have a clear idea of everything about Facebook vs. Instagram, that will make you decide which would be the best pick for you. And in this article, we will cover this.
So, shall we get started?
Facebook vs. Instagram
When it comes to comparing the social media platforms Facebook vs. Instagram, Facebook will always be in the first place on the list.
Because the number of active users of this platform has been increasing over time, not only for recreational activities or connecting people online, for the last 15 years, the usage of this social channel is impacting the marketers who utilize it for their businesses.
And then you got introduced to another social media platform, Instagram; you can say that the newbie of social media after Facebook came to the market in 2010.
If you ask about what's the position of Instagram in the marketplace? Well, you should know that too, Instagram has owned a huge success on its active users based on its active users from the beginning of its journey till the date. Even, it can help your business marketing. If you run a small business then just using the basic Instagram marketing strategies you can change the whole game and generate huge sales.
So there's no way of thinking that any platform from Facebook or Instagram is less important. Both have their usefulness to impact your business.
Before you jump to the comparison, let's check out the similarities and differences between Facebook & Instagram;
Similarities between Facebook & Instagram
We will have a details discussion on Facebook Vs. Instagram. But as both social media platforms serve social media activities and benefit businesses, they have some common characteristics that we should look over once.
Here are the most common similarities between Facebook & Instagram.
Content format
The first thing you can see is the format of content from both platforms to find similarities. The most common thing between the two platforms is sharing content.
If you want to share photos or videos, you can do that on both Facebook and Instagram. Besides posting, both platforms allow you to add your location.
And lastly, in the content format, you can tag your friends in your posts on Instagram just like you do on Facebook. For more Instagram content ideas you can read real case studies and execute these ideas on your business plan.
Online interactions
Another similarity is the way of connecting with your networks. On both platforms, you can connect with your friends by either sending friend requests or follow requests. They also provide blocking someone if such a situation arises.
From family to friends, making friends through these two social media channels has been easier. Because you are free to send a friend or follow requests to anyone up to celebrities, when someone is joined to your network, you can interact with them and see their posts.
Additionally, you can decide to follow shops, brands, or different business pages, news channels, and entertainment. For better online interaction you can also utilize the short Instagram video because in recent days video interaction is much better than other kinds of platforms.
Shopping feature
The shopping feature is one of those promotional elements on social channels that has been a favourite marketing strategy for marketers who are actively selling their products online.
The Marketplace tab on the Facebook shop is where you can find it. For nearly everything you can imagine, as a user, you can make a list of your products. Everybody can find something in the marketplace, including various goods, vehicles, and even properties.
On Instagram, you can initially find the stories you follow under this category. There is a category that suggests stores based on your needs as well. Additionally, you can create a wishlist right on the platform and begin adding items to it!
And the shopping option on Instagram is named "Shop". When you go shopping from a page, the button is simply shown up on the homepage of that page. You can even explore the Shoppable Instagram option to market your product and display your Instagram Shoppable feed on your WordPress websites.
Differences between Facebook & Instagram
After getting to know the similarities, we have differences; And without evaluating the variances between the two, we will not fully understand them.
Let's begin, then!
Structure of posts
Instagram primarily only allows for visual content. On the other hand, Facebook includes text and visual content.
Have you ever imagined how it would be like adding a block of text to Instagram without a picture? This is not actually how Instagram works actually.
Clearly, this might be considered Instagram's primary distinction from Facebook. You can't publish texts on Instagram if you don't have a specific image for your product or service.
Online games
Social media games, this feature is specifically available on Facebook. Various online games are available on Facebook, where people can participate with their friends.
So this is another difference between Facebook & Instagram. We don't know about the future plan of Instagram if the online games will be added to one of its features, but right now, it's not available.
Image posting type
You got another point that you can't ignore – The type of posting image; the posting method is different from one another.
For your photos on Facebook, you can make albums. However, your photos aren't organized into albums on Instagram. It does not have the same feature of making an album feed as Facebook, but it has "Story Highlights," which only allows keeping the Instagram stories.
Facebook vs. Instagram: Comparisons
So far, we know the similarities and differences between Facebook and Instagram; it is time to go deeper into their audience data, user engagement rate, and other crucial factors you should consider before making a decision.
Well, let's see what it says;
Audience demographics
You might be following the branding tips, and applying them might also be challenging. But when you analyze the demographics, you will find things clear and easier to come up with a solution.
If you consider the user base of the two platforms, you can differentiate the platforms according to their age. About Instagram, a larger part of its users are younger, mostly under 30. The rest are teenagers.
You can see social media in many aspects, pop-ups in news feed so quickly, and the contents are fascinating. Also, it has become easy to make anything on-trend. This happens because of the young generation of social media users. Simply it leads to reaching a younger demographic for many companies.
But you have the older audience, the rest of the consumers except the youngers. You can't ignore that part because the maximum number from this kind of audience is like to have higher income, and it's an advantage for you if you want to reach an older aged community to promote any investment project of your business.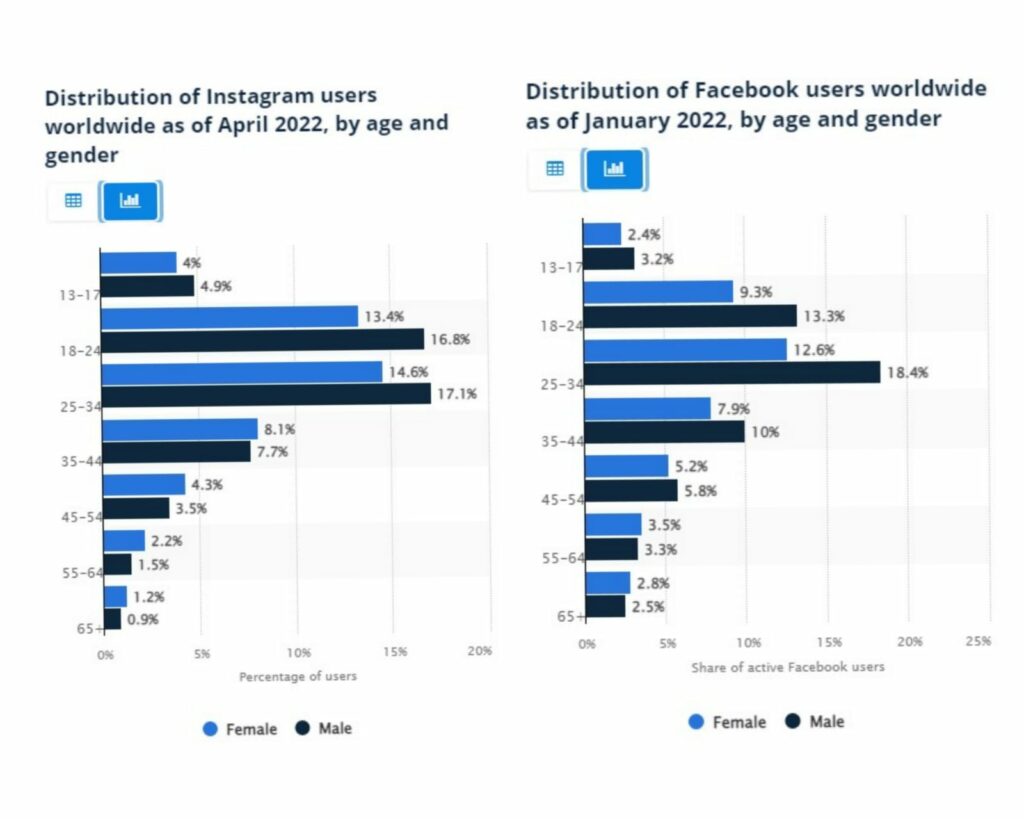 Therefore, when you choose a platform, keep in mind which criteria of audience you want to reach, what they expect you, and what is your business goal.
Pattern of content
Between Facebook and Instagram, we know how they individually work, how's there user engagement, and on. But there are still things that differ in both platforms based on the content structure or pattern they promote.
Let's consider a scenario; Imagine you have a product or service image for your business that you want to promote. Then you get to know the image you want to post. It won't bring the same output from those different purposes. But probably you are not sure the reason behind it.
Though you have the same content for posting on both social media platforms, you still need to notice how your posted contents work on Facebook vs. Instagram.
Most importantly, timing is important. User engagement varies from platform to platform according to the time of posting. You need to have a general idea of the best time for posting on either Facebook or Instagram.
One content that demands to be posted on Facebook may not hold the same impotence on the other platform- Instagram. Same for vice versa.
User engagement
This one is a big comparison to being considered between Facebook and Instagram is the engagement. Instagram owns here over Facebook.
A social media engagement study said that the average number of engagements for Facebook is 0.09%, whereas the number for Instagram is 1.60%. The data reveals a significant distinction between the two networks regarding marketing comparisons.
The equation behind user engagement is not perfect. The platform your users are most used to will be the major influence in everything. And, of course, the kind of content you'll be focusing on the most.
We can point out one distinction between Instagram and Facebook in this context. User engagement also depends on some tiny details;
Visualization
Consider using Instagram if your business is more centred on the visual element. 
Regarding the presentation of its content, Instagram is considered to be more appealing. Once you've opened the app, you may view the photographs or videos and tap on them to either like them or go on. Because of this, your audience is more likely to engage with your Instagram posts, whether it be IGTV, Instagram Reels, or Instagram Stories.
In contrast to Facebook, the presentation is comparable but still unique. You have no control over the kind of content you'll see when you open the app. The first post will always include various material types, whether it be news, video, or images.
Sales
If you want to target business owners, Facebook will be your best option for user engagement. That is a result of this social media platform's increased versatility. An impressive image or video and a well-written text can hold the attention of your viewers.
You can rely on the Facebook camp if you respond with "sales." It's because Facebook Ads can help you create a successful lead-generating strategy.
According to Databox, Facebook helps in generating sales from ads: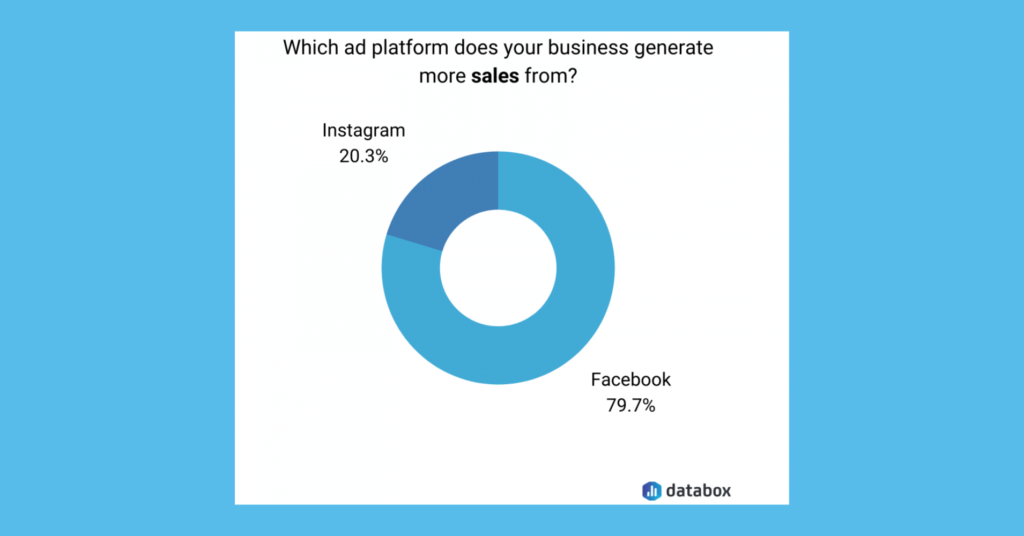 And about Instagram, if you want to concentrate on influencer marketing, for instance, Instagram is a better platform. You are free to use almost any kind of visual content on this social media platform.
Utilizing the Live option also enables your audience to be around you. Therefore, Instagram will replace other platforms as your preferred method of sharing personal information with your audience.
Functionality
When it's about comparing Facebook vs. Instagram, the comparison will be incomplete if you don't evaluate how each social network is used.
The distinctions go beyond the fact that Instagram is solely an image/video-based platform. Facebook, on the other hand, is primarily an informational platform.
Whether it's business hours, an address, or forthcoming events, you may get information about a firm through its Facebook Page. Facebook has typically tended to concentrate on text due to its attention to detail. Because of this, setting up a profile on Facebook requires more time than it does on Instagram.
On Instagram, things are more focused on moments. Usually, people prefer to see those pictures more than check on your business hours or who has been visited on your business profile. To interact, they utilize Instagram. That is why it successfully promotes you and builds your brand.
Instagram
Due to its exclusive concentration on visual material, it offers a different user experience than Facebook.
At a glance, what Instagram is functioning:
It provides you with various options for engaging with stories or posts.
Users mostly view photos or videos as posts or Instagram Stories.
Although both networks prioritize account privacy, it can be more difficult to follow your Instagram activities than on Facebook.
Facebook
Facebook is basically a platform with a larger fan base and numerous features that facilitate its users.
From messaging to gaming and video watching, there is a lot you can do. There are endless options available to Facebook users, with something to satisfy every interest.
From a Facebook post:
You can share and comment on posts much as on Instagram, but Facebook gives people the option to react to content uniquely rather than just clicking "like."
Which is the best: Facebook vs. Instagram?
To answer this question, honestly, there isn't a single correct response; it all relies on the specific details of your company.
As a marketer, you should have a clear concept that each platform has its unique components that increase its performance. And the decision will be fully based on the requirements of the business supporting the cause.
So, the conclusion of choosing the best platform will never be accurate if you ask. Both have their usefulness, and what is effective for one business on one platform may not be effective for another business on the same platform.
If your company uses both platforms, it can even obtain greater rewards. Because of this, you know both platforms and stay updated at all times will be crucial components of your marketing strategy.
Final thoughts
So, Facebook vs. Instagram; Which one will you choose for your business? Apart from all similarities, differentiations, and comparisons, you can see the debate will go on.
Neither Facebook can replace Instagram nor Instagram can replace Facebook. You must first determine your target, consider the kind of information you want to produce, and then find the right balance.
In the end, it doesn't matter whose social network is superior. How your business can use each one to connect with customers and expand its social media presence is a crucial question to consider.
And, we hope you found this article useful. You might go these a read too:
Also, don't forget to let us know which social media you are deciding to choose from Facebook and Instagram. Comment below and follow us on Twitter, Facebook & YouTube.