Skyrocket Your Small Business with Instagram Marketing in 2023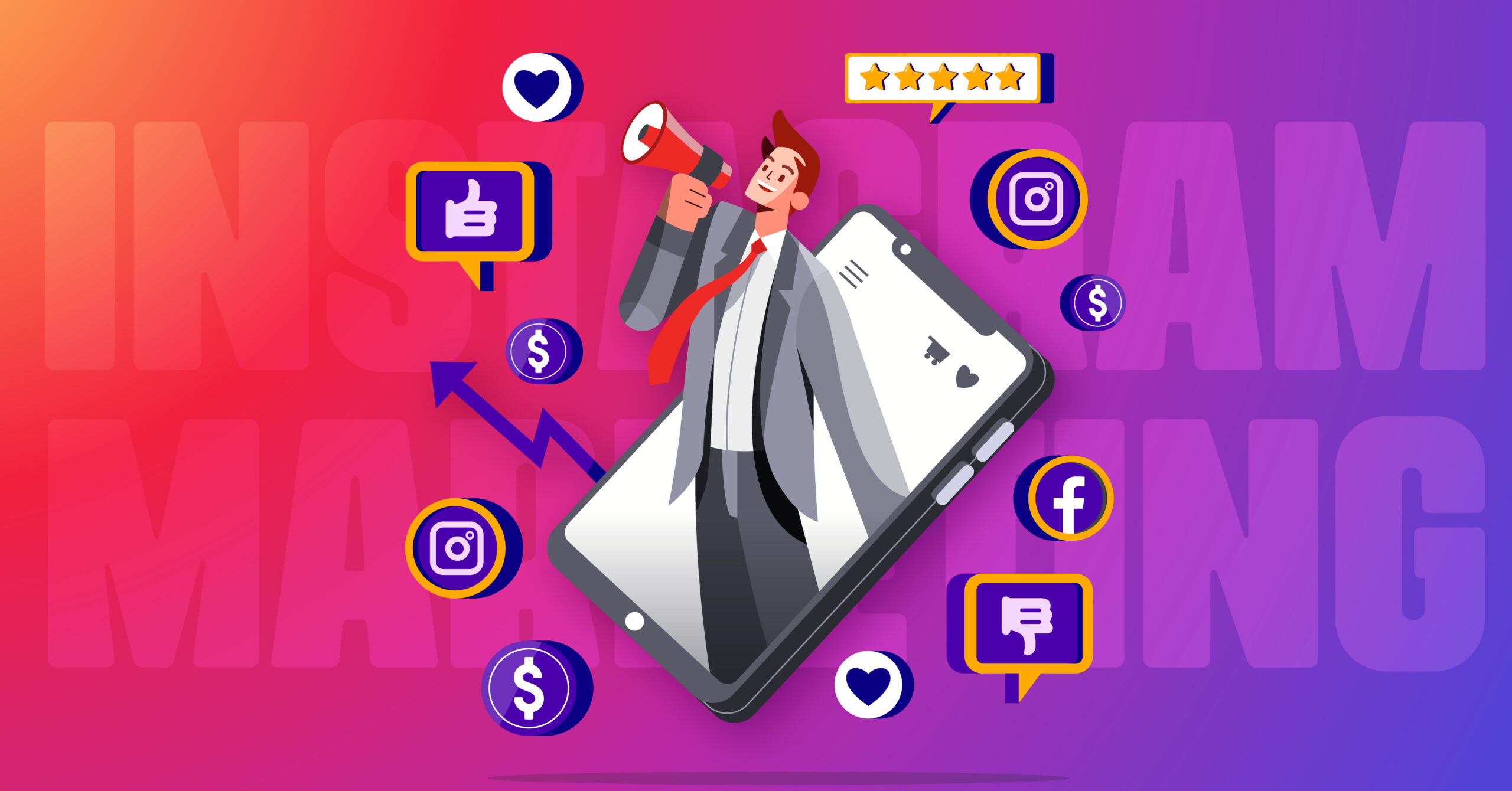 Have you noticed that traditional marketing has transformed into a digital marketing platform, especially on Instagram? That's why we all saw massive growth in Instagram marketing last year.
The study shows that Instagram is the 7th most visited website worldwide. Even this site gets 2.9 billion total visits per month to their business site. So overall, you may get a picture of how influential the Instagram market is.
But in all seriousness about data, growing your marketing strategy on Instagram can help you raise brand awareness and get more customers to your business.
So in this guide, we will share some strategies you can try out for Instagram marketing to maximize your reach, better exposure, and engagement.
What is Instagram marketing?
Instagram marketing is social media marketing where people love to share their brand for marketing purposes. This platform especially connects with target audiences, showcase Instagram wall, improve business growth and boost overall sale.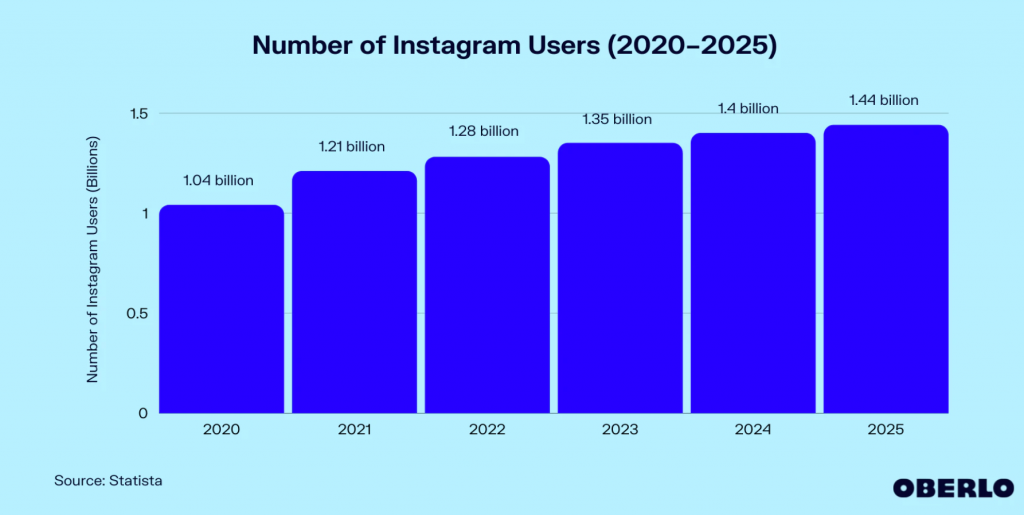 A recent survey of Instagram users' statistics indicates that the number of users is expected to reach 1.35 billion worldwide in 2023. By 2025, analysts anticipate there to be 1.44 billion Instagram users globally.
How effective is Instagram for small businesses
Nowadays, most businesses are online; even people love to buy something from an online-based trusted source where they can buy something easily. It's not impossible because they have already started their buying habits from online stores.
Instagram is the perfect match for small businesses, especially for those who don't have enough time and money to invest in their marketing. You don't need to be equipped with heavy equipment or any particular skill; add your products list and share it online.
Because it has an enormous customer base of over 1 billion active monthly users, this platform is the 2nd visited one after Facebook. So how to grow your business on Instagram? Simply access to the vast audience and connect with the brands for a considerable sales lead from Instagram.
Strategy for marketing plan
The Instagram marketing strategy for small businesses will help you build a strong marketing plan, whether you're just starting or already established. Many advanced strategies and features are available for proper marketing. Here we will discuss some exciting and compelling strategies which work for effective Instagram marketing.
Set your Instagram marketing goal
You should ask yourself why you would choose Instagram for your marketing purpose. Here, If you get a satisfactory answer, you are in the right place. Otherwise, it's just wasting your time and money. Perhaps you're on Instagram to make brand growth by posting trendy and informational visuals as the famous brand Semrush does.
So to be successful in your business and grow business on Instagram in the long run, you must define your marketing goal first. Even you should set all the parameters for your business from a marketing perspective.
Convert to an Instagram business profile
An Instagram business profile can provide you with a deeper insight into your audience, which will eventually help you set an effective strategy for the business. It could be your number of followers, audience demographic, best content type, and overall performance tracking.
To do it, tap the top right of your bio, tap settings, then switch to a professional account. Now select your category and input your business details. It's effortless but effective for business.
Optimize your Instagram profile
Instagram profile optimization is crucial for different issues like delivering helpful information and definitely for Search Engine Optimization (SEO). If your brand is new on the Instagram marketplace and needs a more customer base, this optimization process works very well.
There are simple and easy steps you can follow for your optimization process. You can add your full account details, pick a username related to your brand, set a business-relevant profile picture, and set a hooking bio to grab the attention. Moreover, you can set your business URL for shoppable Instagram feeds.
Target Instagram audience
Your followers and audience are the basis of your business growth. So be selective when you target your Instagram audience. Many customers are on the Instagram platform, but all the users are not your target customer.
So if you can't figure out your customer base, then your marketing campaign will not be reachable; as a result, you will not be able to reach your targeted sale. That's why you should not run for just numbers.
It would help if you focused on targeted customers who will convert into leads and regular customers, spread the word for your business, and appreciate your content and regular work.
Share quality content
An excellent quality content plan always boosts your customer engagement. That is why you need better Instagram content ideas for business. Before making a plan, you should ensure that your contents are helpful, informative, interactive, and entertaining. But always try to avoid posting too many product-related images.
For example, we have attached Semrush's Instagram feed to demonstrate how they share different kinds of content like images, videos, and other relevant posts.
Instagram Stories
Instagram stories are effortless to captivate customers and increase sales with short, fun, and immersive videos. The study exhibits that 500 million people use stories every day.
The number is vast, and we find that the engagement rate of Instagram stories is much higher than any other post. So, why not Instagram stories for your brand marketing?
To make your stories interesting and attention-grabbing, you must follow social trends. That means you have to figure out what kinds of content and stories people want from your site or brand.
So from the above data table, you may get an overall idea to make your stories more reachable and grow your business on Instagram.
Instagram Reels
Instagram reels are one of the newest features, which is the direct competitor of the viral sensation TikTok. Nowadays, people love to watch reels where they can get different kinds of short tutorials and informational content within a 30-second loop.
You will find various creative editing tools to help you create your reality, including Audio, AR Effects, Timer countdown, Speed, and Align.
Since Instagram Reel has already built a presence and has enormous viewers, you can take the platform and show your expertise in your business field. You may not succeed overnight, but you will get your desired success if you can put it in for the long run.
Content frequency and timing
Every platform has its content posting frequency and timing plan, so Instagram is nothing exceptional. You must maintain a proper content-sharing plan and timing to reach your desired customer base.
On Instagram, you can post between 3-7 times a week. It is the ideal number, and our social media team researched it, and they also recommended it. The above image also mentions the ideal timing for posting. But this decision is not final to get the ideal result, so try to play with the content.
Catchy captions for Instagram posts
A caption is a written description of an Instagram post to provide more context. If a picture can say thousands of words, then a proper caption can describe more about it by telling stories and other interesting facts. Here's a benchmark of a caption on Instagram:
Moreover, you can include here emojis, hashtags, and tags. These will help your customer get your post more striking and easy to find.
Instagram marketing tool
There are varieties of social media plugins available for WordPress websites to showcase their social media excellence, like Instagram, Facebook, and many more.
Using social media tools, you can display your social feed and reviews. As a result, your customer will get a clear message about your product or business. So if you need any Instagram marketing tools, you can pick WP Social Ninja without hesitation. So far is one of the best social media plugins.
Influencer marketing
In 2022, Influencer marketing is projected to inflate to a whopping $16.4 billion industry. In this segment, you can use the platform of a well-known public figure or celebrity and share your brand message with their words and activities. The best part of influencer marketing is gaining the attention of the audience base.
A renowned brand Nike represents the famous tennis player Roger Federer using multiple brands' products. As a result, Nike is reaching its customer base and Roger's nine million-plus follower base.
Five powerful Instagram tips for marketing
Instagram marketing is a little bit competitive but not impossible. Use these five tips to create a worthy approach for 2023 and beyond.
Pick the right hashtag
Launch an Instagram shop
Share your Instagram post on Facebook
Track and learn from your best Instagram post content
Check business account analytics with insights feature
You can even utilize other top online business tools to make your marketing strategy more precise and effective.
Final words
A new year is a fresh start to growing your sales, whether you have a small start-up or a giant one! Instagram marketing already has so many options for your customer service, branding, and engagement.
So if you have an Instagram Business Profile, you can unlock different powerful features that let you run advertising campaigns and track account analytics. And if you are a marketer, you must know some major Instagram updates to shape even better your brands.
We believe you now clearly understand how to grow your business on Instagram. Especially those small business owners who don't have a big budget to spend on Instagram marketing.
Trouble loading Instagram? Check out our blog to fix it: Instagram Feed Not Loading? Here are 12 Ways to Resolve It!