How to Share Instagram Profile on Other Social Media Platforms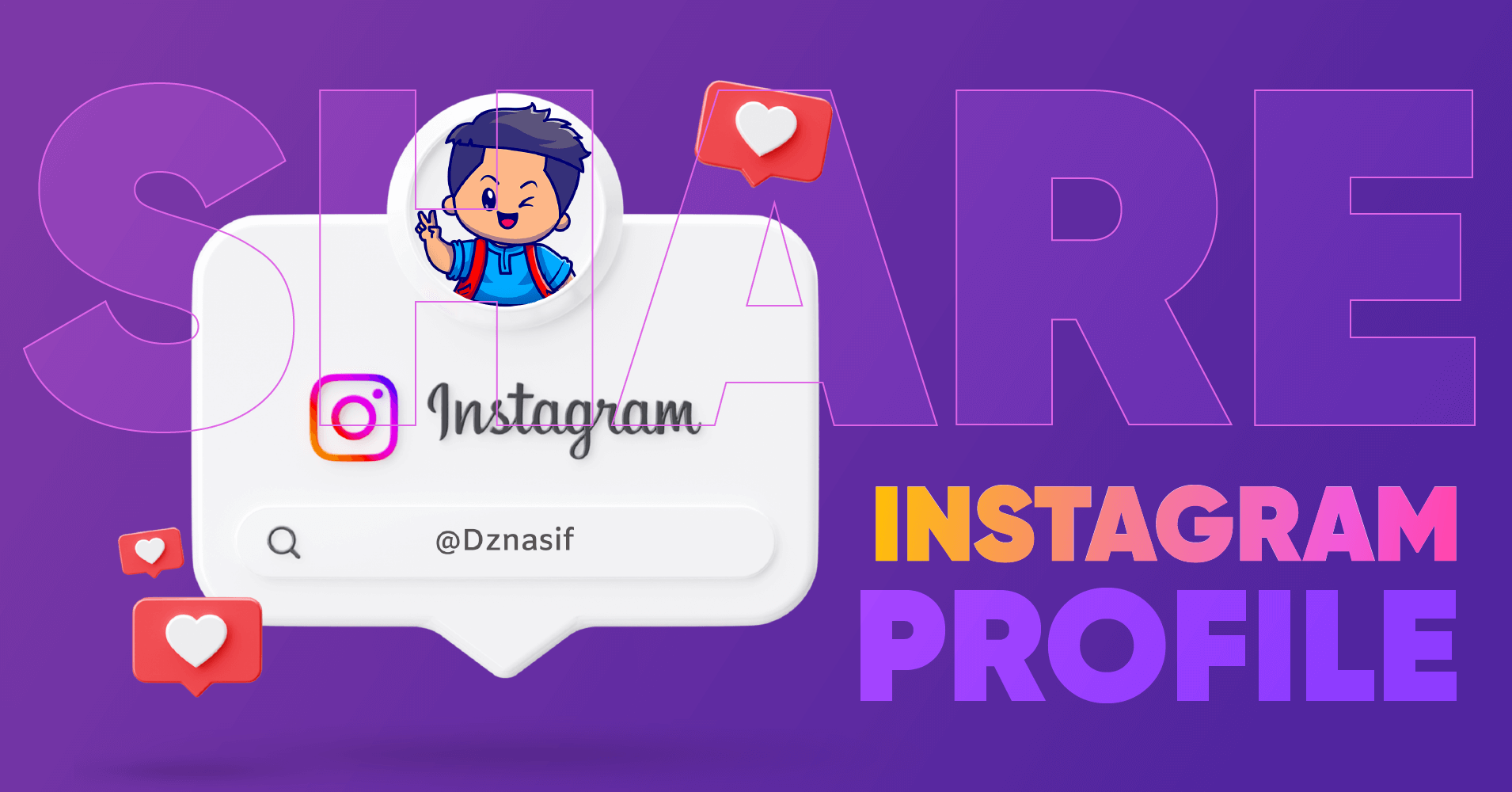 With millions of daily active users, Instagram is one of the most popular social media sites. And the best part is you can engage with your followers and friends on other social media platforms while sharing your Instagram profiles and posts.
Moreover, sharing your Instagram profile across various platforms can increase your follower count and sales. So make the most out of your Instagram profile and take advantage of your large following number of friends on different social platforms.
Sharing your profile with your friends and family is a pretty simple task. We have listed some dedicated solutions for sharing an Instagram profile or link on Twitter, Facebook, and WhatsApp.
Let's go!
How to share Instagram profile posts on Twitter
Imagine you uploaded an Image on your Instagram feed; everyone except your Twitter followers is watching. What will you do then?
Nothing to worry about; you can easily share your Instagram profile post with Twitter just using your Instagram app, and the process is quite simple. You need to share the link and tweet the Instagram post so the followers can click on the link and get into your Instagram profile post.
It can boost the recent Instagram post, increase the outreach of previous posts, and raise the follower base.
Simple process to share Instagram profile posts on Twitter
Step 1: Head to your profile and press the menu control button in the top right corner. Now go to open Settings > Account.
Step 2: Now move to Linked Accounts to Twitter to connect. From there, you can log in to your Twitter account to share your Instagram profile feed from the specific account.
Step 3: Now, you can tweet your Instagram profile posts like Images, videos, and Reels while uploading them on your Instagram feed by turning on the Twitter button before posting the content.
Just follow the above-mentioned guideline and Tweet the Instagram photo link. It can be a good idea if you want people to click on Instagram and easily follow you there.
How to add an Instagram profile post on Facebook
You can also share your Instagram content with other social media platforms like Facebook. It's a great way to hook visitors to your Instagram or Instagram marketplace profiles. This feature is only available to users using the app on an Android or iPhone.
Before you start, you will require an Instagram business account and an active Facebook account that maintains at least one Facebook page.
Share your Instagram profile post on Facebook
Step 1: To share your Instagram profile post on Facebook, first, you need to upload Images or videos on Instagram.
Step 2: Before sharing the Instagram post, you have to press the active button next to the Facebook button.
Step 3: For the photo section, now tap the right sign in the top right section, and for the video, you need to choose the share option in the bottom right.
Completing all the necessary tasks and refreshing the feed, your Instagram post will be displayed on your Facebook feed.
How to share Instagram profile on WhatsApp
There are 2 billion active WhatsApp users worldwide, and the number is continuously increasing. The huge number of WhatsApp users means it has great potential for reach.
To increase business growth, you can add different marketing strategies; among them, sharing an Instagram profile on WhatsApp can make a huge impact.
But before you get all excited, you should know how to share your Instagram profile on WhatsApp. However, we have only permission to share your public Instagram profile. If they keep it private, you can't share your Instagram profile with anyone else.
Get the process about how to share Instagram profile on WhatsApp
Step 1: Select the Instagram profile, and click on the three-dot button from the top right corner to get different options.
Step 2: Instagram will share multiple options like Report, Block, Restrict, and Share the profile. From all the options, just select the Copy Profile URL.
Step 3: Once you have copied your Instagram profile link, open the WhatsApp chat bar and paste the link there.
Step 4: You can paste the copied link here and send it to your WhatsApp contacts easily.
Now, you know how to share your Instagram profile on WhatsApp contacts and groups. Happy sharing!
How to share Instagram profile link from the app and browser
Have you been asked how to share an Instagram profile link but need to know how to do that? You don't need to be concerned. Here, we will share how to copy Instagram profile links and share Instagram profiles in different ways.
There are methods to locate, copy, and share Instagram profile links. These techniques work for both private and business profiles.
Let's get started.
Using profile URL
You can use the mobile app to share profile links to other platforms. The URL for your Instagram profile can be customized since all Instagram accounts use the same format. Here is how to go about it:
For more details, you can read the written steps:
Step 1: First of all, on your smartphone, launch the Instagram app.
Step 2: Click the profile icon on the screen's lower right corner.
Step 3: You may see your Instagram username in the top left corner of the new screen.
Step 4: Remember that every URL consists of a website address. In the example of Instagram, your profile URL will be https://www.instagram.com/your-username, which is the URL of the Instagram website. If your example is parthohore, your Instagram URL will be https://www.instagram.com/parthohore.
You're done; the app will allow you to share your profile link with other platforms.
From the browser
Your Instagram profile link is simple to locate if you have access to a computer. Following a few simple steps, you can copy the Instagram profile link and share it with others.
Step 1: Log into your Instagram account at www.instagram.com on a computer.
Step 2: Select Profile from the menu by clicking the profile image icon at the bottom.
Step 3: The link that appears in the URL bar can now be copied. That is the URL to your Instagram profile. You may paste it on sites like Facebook, Twitter, WhatsApp, and other platforms.
Using QR code
A built-in feature of Instagram lets you create a QR code for your profile. You must distribute this QR code to others so they can scan it and see your Instagram profile.
Step 1: Tap the profile image icon to access your profile page in the Instagram app.
Step 2: To access the QR Code menu, tap the three bars at the top of the screen.
Step 3: It will display your QR code. To share it with others, snap a screenshot or click the share icon.
You can change the QR code's background design by tapping the button at the top. Even by tapping on the screen, you can also change the style.
Bonus tips: How to share Instagram profile posts on Instagram Stories
You can share your Instagram feed or profile posts on your Instagram story section to remarket on products and services. However, Instagram Stories lasts 24 hours, and still, people get a huge conversion of attention by posting it.
So if you can create an impact within the time frame, it will return something extra. But the important note is that sharing Instagram profile posts to the Instagram story section isn't available to everyone.
Follow the simple steps to share Instagram profile posts in the story section:
Step 1: First, select the post you would like to share, then click the paper plane icon below the photo or video post.
Step 2: At the top of the list, you will find an entry marked "Add post to your story" just tapping on this, you can add your reel, video, or post to your Instagram story section.
Step 3: Before sharing the story, If you wish, then you can edit the background, scale, and move the sticker according to your demand.
Step 4: Now, your story is ready to share, so tap on the share button.
Remember, when you share someone's story, you can set and customize the audience base, which means you can specify who can see your story, see who originally posted, and view the original account from where it was first uploaded.
Wrap up
In summary, you can easily connect to more people and request them to follow you if you can successfully share your Instagram profile. It is one of the finest ways to be more interactive on Instagram and easily connect to an even more significant number of followers, friends, and family members.
To conclude, sharing your own or your business's Instagram Profile or feed on other social media platforms may help you grow your audience on both platforms if you're looking to expand on either Instagram or other social media platforms. But be careful; you don't need to share an unprofessional profile or feed on other business profiles.
You can learn more about Instagram in the following: