Major Instagram Updates You Might Have Missed to Check (2023)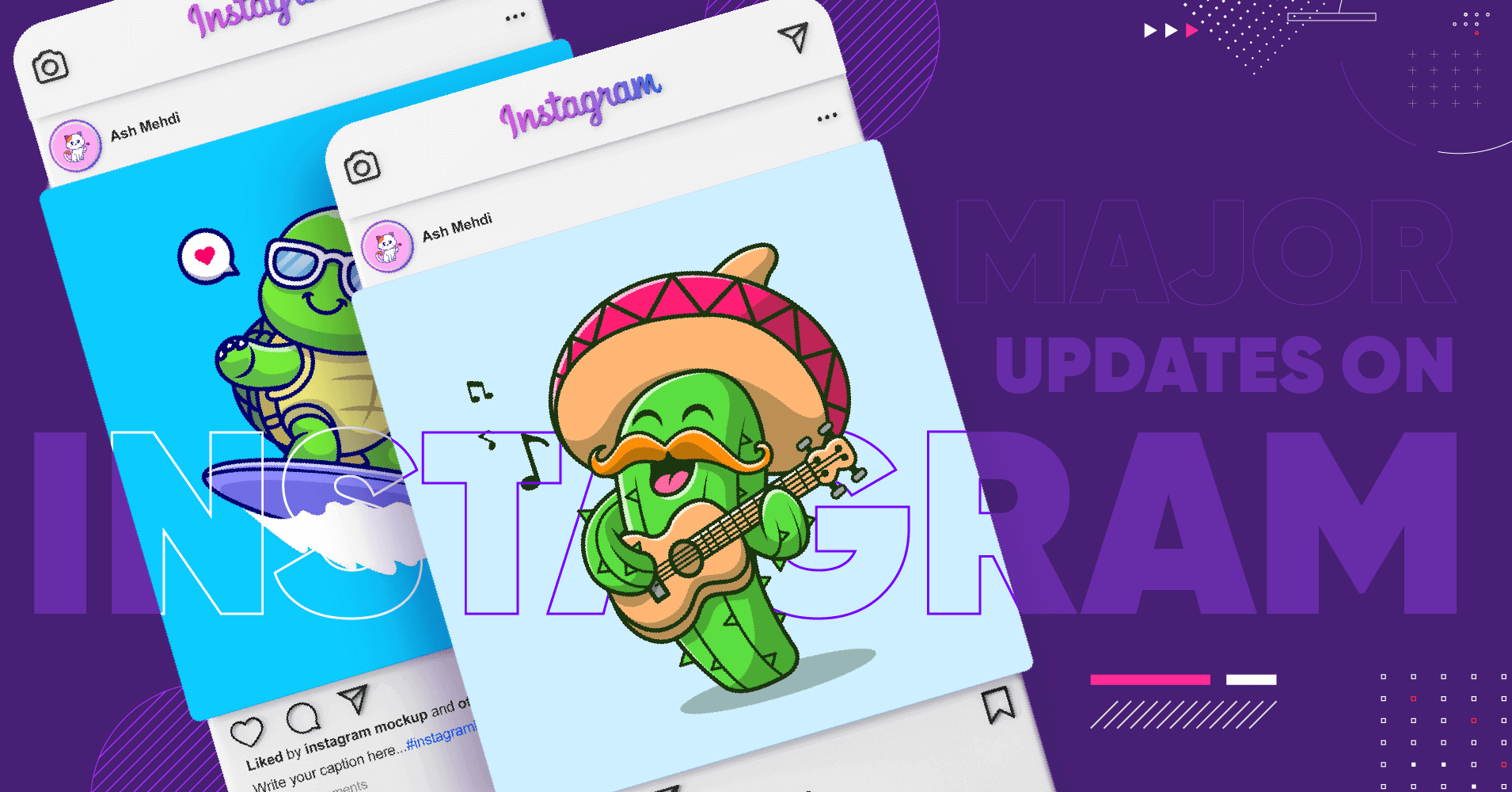 Instagram never stops surprising us. But have you checked what the latest Instagram updates brought us after you saw them in 2021?
If you're a marketer, you need to know about every update or change that a social media platform brings continuously. And when it's about such a big and popular platform, you must keep yourself up-to-date with all its upgrades.
We know sometimes it seems a bit difficult to get updated with the changes social media channels have to offer us constantly. But as a business owner, it's obvious to know well about whatever happens in this social media world every time!
Anyway, as you've got to know what this article's topic is, we've covered the major Instagram updates to help you acknowledge the biggest updates rolled out this year that you might have missed but are necessary for you to use in your marketing strategies.
So, without any further ado, let's check the latest Instagram updates 2022;
Instagram Reels
In case you missed noticing, one of the game-changing features is the Instagram Reel. With the Instagram Reel template, you can drop your own videos or photos into a timestamp template, also synced with trending audio, which is super easier than manually adjusting and guessing each clip's length. It's an interesting one you will find in this update.
There are two ways to access this feature. First, Reel templates are only available for Reels with multiple clips together within Instagram. So, if a video has been edited outside of Instagram, then, unfortunately, you're out of this feature.
If you see the "use template" sticker icon above the name of the creator Reel, that means your template option is available. Also, you'll find this on top of your camera icon and slide to the template tab in the video editor.
'Add yours' sticker on Reel
On Instagram's new features of reel update, it brought an interesting element "Add yours" sticker. This is a helpful one to have more engagement with your followers.
Now when you create a Reel video on your Story, you can add this sticker, where viewers can share their posts and videos within the Reel.
This sticker has allowed people to connect and share their content with each other. Also, you can get people interested in your posts and involve them more in your Reel Stories.
If you ask about something interesting yet creative feature of latest Instagram latest update, this one is perfect for keeping your followers more engaged with your Stories.
Dual camera
Now when you open your Instagram app to record a video on your stories, you can simultaneously use your phone's front and back camera to record a video of both perspectives.
And if you think this feature bears a striking resemblance to another social media app, then you're not mistaken.
Instagram announced they're testing a new feature called candid challenge, which is Instagram's own take on the be a real app that will send you random notifications on a two-minute countdown to snap a photo to share with your friends.
Instagram Re-post feature
Instagram is always giving us something new, and its algorithm gives some prediction that assures them.
Instagram's Repost feature is one of them. Instagram hasn't announced the new feature yet, but the Repost/reshare feature will soon be available in your Instagram feed.
According to the app researcher Alessandro Paluzzi, Instagram has started working on this feature since May 20, 2022. So, you can say you're getting a new update that will help accelerate your Instagram marketing strategy. Social media has confirmed this to TechCrunch.
Again, social media consultant Matt Navarra, who noticed it through a testing, shared a screenshot that shows the Repost button next to the posts and Reels option.
Instagram Reposts Tab on profiles?!

What's dis Adam? pic.twitter.com/WayWCJGBfx

— Matt Navarra (@MattNavarra) September 7, 2022
For now, Instagram doesn't have the reshare post option; we have to use a third-party app for this. But of course, once Instagram introduces us to the reshare post, there would be no need to install any third-party app to get this feature.
Instagram Stories of 60 seconds
Remember when you updated your Instagram Story that you could make more than 15 sec? It was frustrating when you wanted to upload more length but cut your video to several parts.
How would that feel if you could upload your stories more than 15 seconds without any cuts? Exactly this is what Instagram updates brought to us recently!
Now you can upload the playback of your video clips smoothly without any cuts you want to share with your audience, and you can also mention name, location, and any links when needed. And to do that, you won't need to add another 15sec video!
Posts collabs
In the next update, get introduced with another useful feature is joint post. Now when you want to tag a post with another influencer or your business partner, the post will show both on your and your collaborator's Instagram feed.
Besides collaborating posts, you can also do the same with your Reels!
However, when you need this feature; just simply create your regular post, and then click on Tag people, and then on Invite collaborator.
Instagram Posts & Stories Archives
In the latest Instagram update, it wanted to ensure user-friendliness as much as possible. To make that possible, its Archive option will allow you to access all your Posts and Stories.
Now when you want to see your past Stories, go to your profile and click on the three-dot you see in the top right corner of your profile. Then choose the archive option; it will take you to the page where your Stories will be displayed.
Also, to view them more friendly, you can preview them according to the date or type of the Story, whether it's an Image, Video, or Boomerang. If you want to permanently keep them on your phone, you can download them from here.
That was about Instagram Stories. But you have other things to do that you've shared before, posts or live. You are also able to access them from the archive option!
Pin post
Back in June, Instagram rolled out this pinning post feature. This avails you instantly highlight your most valuable content at the top of your profile.
And, with this grid pinning post feature, you can pin up to three posts!
You can use this feature to post your advertised new product release, best-performing content, or any tutorial video valuable to your target audience. This Instagram feature is best for you to introduce your brand to new followers or viewers and lets your best content shine.
So, if you're new to this, don't sleep on this feature to pick in a post! What you have to do is, simply choose a post you want to pin; tap on the three dots on the right corner of your post and select "pin" to highlight that post on your profile.
Map update
Instagram's map feature is one of the interesting new features. This one might have flown over your radar, but Instagram's new search Map update got a big makeover.
Instagram has a new Map feature that lets you see the most popular spots in your area and view local Stories people have posted.
You can also use Instagram's mapped bookmark locations you want to visit. Share them with your friends or include the locations in a guide that shows up on your profile on their location page.
Instagram subscription
Previously, content creators had to partner with brands or use affiliate links to make money on Instagram. But with the Instagram subscription, content creators can monetize content by putting some of it behind a paywall in the form of a monthly subscription.
Once a creator sets up the subscription feature, users can see a subscription button on the profile, where they can access exclusive content. It is a bit early to see how well this feature works for content creators.
But it does have the potential to be a game changer for monetizing content without Instagram taking a courier profit.
Take a break feature
How to take a break from Instagram? This feature is special for users who are severely active on Instagram and need to get off the app sometimes to do other things.
Amazing, isn't it? Instagram's "take a break" feature will encourage you to take your essential break from social media, which you can call the social break reminder!
Well, this is what might make you do most often for your addiction to Instagram. But the new Instagram update allows you to set a time how long you want to take a break rather than deactivating your account. And this one will encourage you to raise awareness about mental health and well-being.
"The wellbeing of young people is important to us, and we're focused on ensuring that the time spent on Instagram is intentional and people feel good about it."

– Natasha Jog, Public Policy manager, Instagram
Update on the messaging feature
Instagram has brought more amazing and smartest features to messaging, as it's crucial to improve networking through this platform.
You might be missing out on some of those features which could give a boost to your user engagement in your professional Instagram account. The new message update on Instagram are given below;
Active chat
When you're active on Instagram, in your inbox, you can see your friend lists who are also online at that time. This avails you quickly connect to your active friends, just like Facebook.
Quick sent
Scrolling Instagram feed and feeling share any post to your friend that moment? Under the post, the quick DM button will show you a popup screen that includes the avatar of your friends. Simply choose your friend's avatar, and the post will be directly sent to their inbox!
Reply while browsing
You're scrolling your news feed, and suddenly a message comes; It might give you a little interruption in browsing. Because replying to the text may make you leave your task. But now Instagram's new update on messaging feature doesn't make you leave where you are now; you can directly text them back even without entering your chat box.
Silent
When you send a message to someone, sometimes you might feel it's important to send the text without making any noise so that the notification doesn't disturb the receiver. This time you can do that with this @silent option.
Create poll
Planning to go somewhere or deciding something within your group? You can simply do that by creating a poll in your group chat.
Music sharing
Integration with Apple, Amazon stories, and Spotify is coming soon; you can now share the preview of the music you're listening to. You can send the 30sec of the music and directly send it to your friends or group.
Wrap up
As technologies are evolving daily, social media platforms are also coping with the trends and considering user-friendliness. From minor updates to bigger updates, just like other social media channels you're getting from, Instagram never disappoints you with its amazing features.
And there you have the most recent Instagram updates you might have missed if you're looking for how to check for Instagram updates. So, which feature will you be using most this year for your marketing plan before the next Instagram update comes? Let us know in the comment section. 
Also, don't forget to keep your eyes on our Twitter, Facebook, and YouTube to check out the latest blogs and posts! Even we have diversified topics related to Instagram and Instagram marketing so take a look and boost your business.