Double Your Sales with Shoppable Instagram Feed (Set Up & More)
Are you looking for effective ways to sell your products? If so, you need to check out the shoppable Instagram feed to maximize your profit!
Instagram is not anymore a social platform that only showcases eye-catching visuals, videos, memes, Reels, GIFs, and Stories. It has become an effective medium for driving site traffic and converting leads into sales.
But how?
Simply setting up a shoppable feed on your Instagram and websites helps you encourage your visitors to click on the products and shop directly in seconds. All brands need to do is leverage the user-generated content, insert the product details and display them to see the magic.
What is a shoppable Instagram feed?
Brands that sell physical products and services online consider shop Instagram feed the best potential marketplace for growth. It's the most cost-effective and fastest feature for brands to utilize social media and uplift sales.
Usually, Instagram offers a link in the bio option to redirect audiences to the dedicated sites. However, an Insta shop feed offers multiple posts to make your Intsta feed a store. You can add a direct link to the website, optimize cross-channel promotion and offer them to shop right away!
Moreover, IG shop lets you create your shoppable automation and globally set multiple hashtags to send the site visitors to the product page.
Well, here's a quick list of Instagram shop feed advantages that will definitely help you make the right decision:
The easiest way to entice audiences with UGC
Hook the user's attention through branding
Send audiences anywhere you want
Improve website traffic through relatable content
Quickly turn followers into loyal customers
Offer a seamless shopping experience
Double up eCommerce conversions
Don't believe us? Keep reading.
Why your business needs a shoppable Instagram feed?
If you own an online business or an eCommerce store, you need many branding strategies to stay ahead in the game and outshine your competitors. Online branding strategies are constantly evolving daily, as are social platforms with updated features.
Leveraging Instagram Shoppable feed on your website is the best way to prioritize your audiences and smartly utilize their content to influence shopping. Let's see.
Tells stories to grab attention
Telling stories to your consumers is a traditional common practice that has been working no matter which industry you are in. Humans naturally like to listen to stories and it's a captivating marketing strategy with a 100% success rate.
Audiences are sensitive today. They want to know the behind story, they want to see the journey, and if brands can connect with them, it usually goes for a long run.
Successful businesses are leveraging the power of storytelling. They know good products and services are not enough. Rather brands need images, videos, Reels, Stories, memes, Gifs, and more to engage with audiences.
And these appealing visuals are super powerful to convert your IG followers into potential customers. Offer a shoppable Instagram feed, and make your products sellable with your existing customer's stories.
Rules that you need to follow for IG storytelling:
Organize your product list
Showcase ideas that connect the product lists
Add narratives that emotionally connect with your customers
Provide better customer experiences
As a consumer, how would you feel if you had to experience a complex purchasing user experience? With the internet in our fingerprints, online shopping is the mega big thing today. Billions of customers are looking for an easy way out while they shop online.
That being said enters social media platforms and websites. Almost everyone is now demanding a seamless user experience with less fuss. And an Instagram shoppable feed is a great way of displaying UGC with the smallest product details.
Most of the brands are now available on Instagram marketing. They are constantly working with users and influencers for exclusive product promotions. Here enter the shoppable IG feed with a make-life-easy approach to grab your user's attention better.
Improved engagement rate
Instagram shoppable feed is a straightforward shopping option that instantly reduces bounce rate and increases engagement time. Many eCommerce sites have plenty of options that cause time and confuse consumers. Sometimes even if you have the intention, you still fail to locate your desired product.
However, enabling a shoppable feed let your users know about product description and direct links to the product page. These steps take less time and connect better with your potential audiences. All the buyer needs to do is check out the product, visit the site, and click on the buy button. Simple!
Track potential buyers
Isn't it cool if you could market your products to those interested ones? Who already wants to shop from you and you know your efforts will not be in vain.
Well, with a shop Instagram feed, you can track your audiences with hashtags. Brands can create their own hashtags, use them in the products and ask the consumers to do the same. So these optimized hashtags can be automated with Shoppable by Hashtags and tracked to reach out the potential.
Build brand value through UGC
Do you know that 79% of people say user-generated content influences their purchasing decisions? UGC is basically content created by the users and sharing their experiences about products and brands.
And a shoppable feed helps to display better your quality products with price and necessary details. On top of it, if the feed highlights shoppers' positive or negative reviews and overall experience, it definitely boosts the purchase decision.
By leveraging UGC, brands could show authenticity and gain trust to establish a solid brand value.
Utilize the power of Instagram
Instagram is the giant marketplace for SMEs, with 1.44 billion active monthly users. It is needless to say, influencers, along with users, are looking for products and services on Instagram. And that's why brands should make the most out of this dominant social site.
Whether a small business or a marketing leading brand, a shoppable Instagram offers a one-step-ahead feature for potential shoppers waiting for their favourite brands to engage better.
If your brand is already active on an Instagram wall, now it's high time to set up a shoppable Instagram feed and explore this amazing opportunity to grow even more!
Say hello to Shoppable Instagram Feed
How to configure a shoppable Instagram feed on my website
Want to know how to set up an Instagram shopping feed to boost your brand exposure? For demonstration purposes, we are using WP Social Ninja.
Step 1: First, click on your Instagram Template  → Shoppable Feed (right side of the Instagram Template). You have three options: Enable Shoppable Feed & Include Shoppable by Hashtags, and Display Shoppable Icon.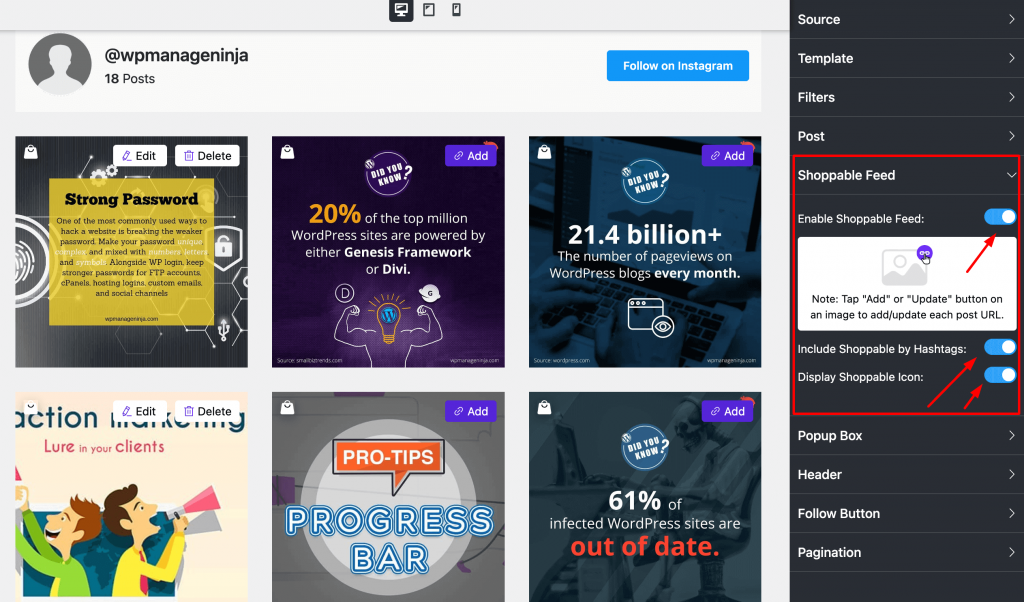 Step 2: Now click the Add button from the top of each image and insert all the information you want to display in your IG post. Once done, click the Apply button to preserve your settings.
For a better understanding, check out the detailed user guideline.
Shoppable by Hashtags
Enabling Shoppable by Hashtags lets you showcase your UGC with the power of hashtags, link to specific product pages and let WP Social Ninja track these hashtagged posts even in the future.
Go to Settings and click on the Add Shopping Hashtag button. Now create your hashtag automation.
For a better understanding, check out the detailed user guideline.
Final words
Social media digitalization has created a revolution in the marketing field. And the shoppable Instagram feed is one such social media feature that has been introduced as a blessing for eCommerce, brands, and influencers.
The Instagram shop is certainly bringing the shop to the user instead of users trying to go to the shops. As a result, you can convert followers directly from the platform and enhance the marketing strategy to grow more.
Check out our blog to make your product stand out: Shoppable Instagram Post Ideas.