WP Social Ninja 3.8.0: Say Hello to Shoppable Instagram Feed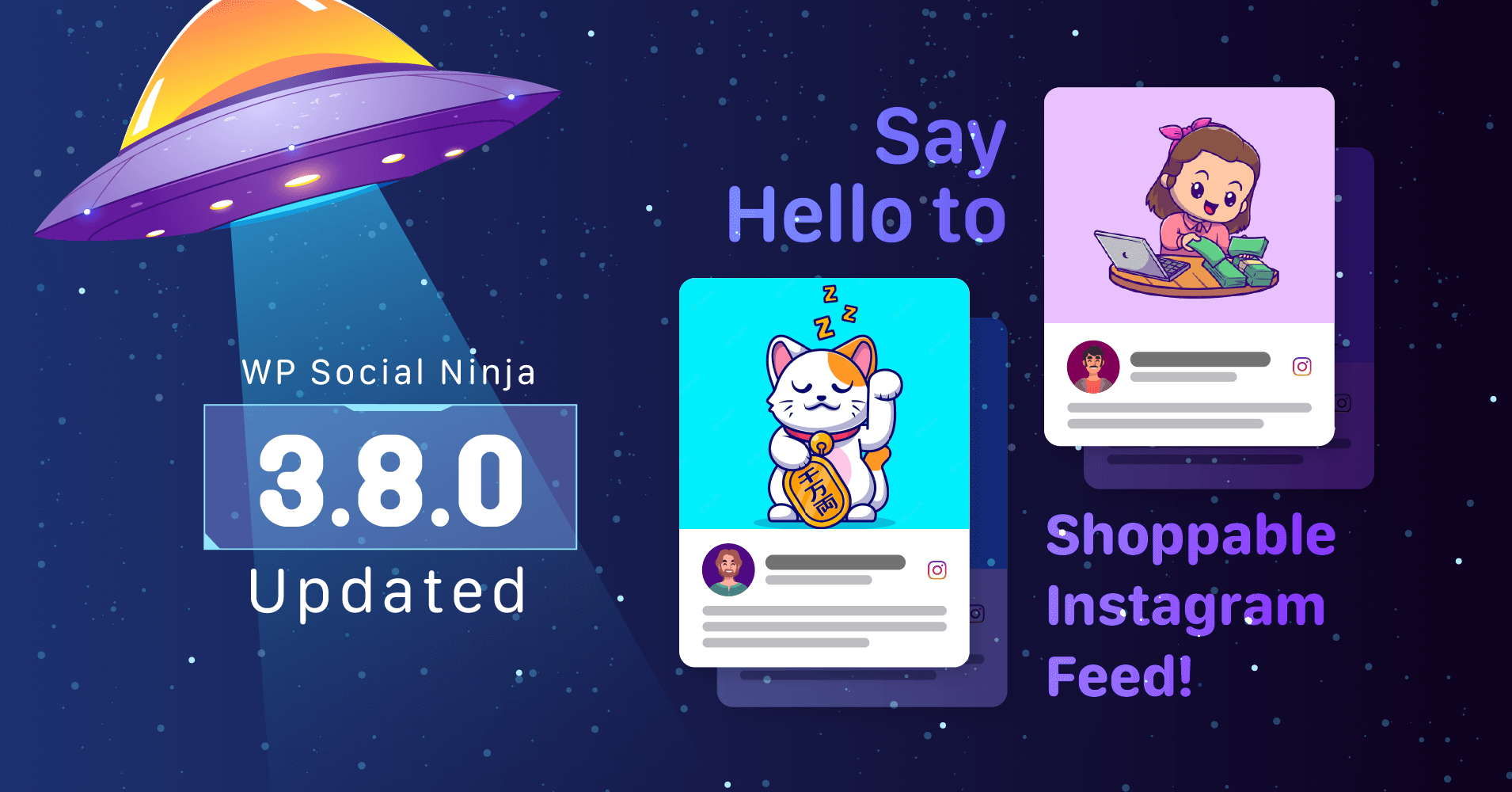 Showing Instagram posts and reviews is not worth it if you can't convert them into customers. Introducing Shoppable Instagram feed, now your visitors can shop through your Instagram shop feed even from your website!
We know your business could have different e-commerce sites besides keeping social media channels. We thought, why not get you something more special that boosts your sales 2x better?
The pro version of WP Social Ninja 3.8.0 introduces one of the most user-friendly features that make your website more professional and help you maximize your business profit through Instagram Shop in a cinch!
So, without any further ado, let's explore everything WP Social Ninja 3.8.0 has in store for us this time!
Shall we?
What's Inside 3.8.0?
As you all know, your favorite social media plugin WP Social Ninja never cuts corners when it comes to empowering any business website, then how could it resist you from expanding your business to new heights?
Here's what WP Social Ninja has to offer you in this update.
Have you seen how the Instagram shop works? This is just a demo for you if you want to know how the new feature will work on your website. With Shoppable Instagram Feed, your website will easily be able to convert visitors into buyers by directing them to the shop pages on sites like Amazon, AliExpress, eBay, or any other place you're selling your products.
What's more to ask for to make your e-commerce business better?
Thanks to WP Social Ninja 3.8.0 for upgrading your website to a competent e-commerce website!
Shoppable Feed
You may have a business website holding a selling point from e-commerce products. But you are active on your social media platforms too. Through Instagram Shoppable feed, you're just a step away to drive more traffic from social media to the website.
For this, you might feel the need for any other plugin that can help you with that! But why would you take the hassle when you get the same thing from the plugin that already exists on your WordPress?
Take a break and embrace the coolest feature of WP Social Ninja 3.8.0! Enhance the power of your social selling with the Shoppable Instagram feed that generates a shoppable Instagram gallery.
Just enable the Shoppable Feed, and you're ready to start!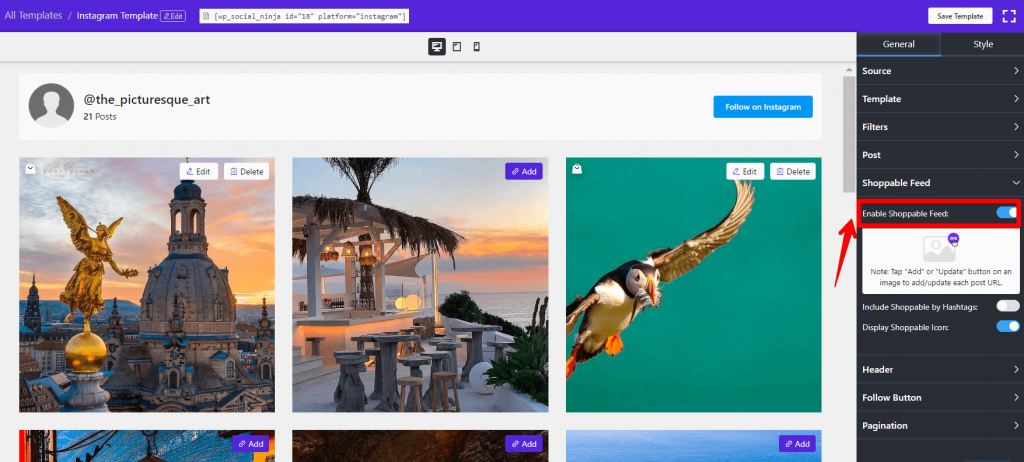 The user-friendliness of this update won't take to the long steps of settings or editing your dashboard, but it just needs a few clicks that you can accomplish from the template section!
Ask us what this quick process of setting up a template brings to your website? Well, you're not only doing it just at a go, it will make sure of a higher order rate from your customer.
In your Shoppable Feed, you can garnish your product gallery simply by adding an e-commerce product URL, any posts or pages from where you want your products to fetch, and any compelling CTA you want to set.
More call means more attention and more sale! Because by making your posts completely ready for adding to cart you're simplifying and making the buyer journey better.
Well, that was about the manual process of creating your Shoppable feed. But that's not the end; you have another method of doing this globally!
For better understanding, check the user guideline.
Shoppable by Hashtags
Want to take your visitor directly to a specific product page or any custom link with particular or multiple hashtags? Well, that's just a piece of cake for you now.
You can play this role with your posts containing the same hashtag. Once you set the hashtag globally (one or more), you're all set to do this for your Instagram shop page for good!
This is how your website is ready to put your products in a single place and take customers to shop your products. It will help you make your products easily discovered.
And just like this way, your template editor panel won't call you any further modifications. The upcoming posts will automatically appear with the shoppable functionality that includes the Hashtags you have mentioned in your setting.
When you're setting your feed with a trending hashtag, people find it more interesting when they visit your website. So, from now, boost your user engagement more using the Shoppable Instagram!
Again, customers look for a quick and easy experience. This feature serves this thing by providing a superior buying experience because you bring your shop straightway to your customer.
P.S. we believe you won't get lost and confused while using this feature from the WP Social Ninja dashboard. Still, if you need a guide, check the documentation.
Responsiveness
Worried about the responsiveness issue?
Leave this to us. Our plugin lets your posts fit on any device. So you don't need to take any headache on how it will be displayed on desktop, mobile, or tablet.
Plus, in this update, you'll have responsive settings for your Carousel template. Now whenever you make templates for any of your social media feed or reviews; if you choose Carousel template, you'll get a particular setting option!
For instance, you want your Shoppable Instagram feed in carousel preview to give your products feed a pro-grade outlook, you can do that by adjusting it from template setting panel.
Moreover, if you wish to set the number of how many products you want to display in one carousel show and adjust the speed of the slideshow, you can do with the Autoplay options under the Carousel.
Add YouTube banner
For displaying your YouTube feed and customizing the template, you could do that just by integrating your YouTube account. While integrating your account, you could fetch everything from your YouTube feed, including profile picture, banner image & posts automatically.
But due to YouTube API deprecation, the banner image is no more get uploaded like before.
So, we got you a solution in this update, where you can upload a custom banner from the WP Social Ninja dashboard.
Just go to your YouTube template setting, find the Upload Custom Banner, and upload your image. Problem solved!
Other improvements
Added Instagram Shoppable Feed module
Added Responsive slider option
Added YouTube feed custom banner upload option
Added Twitter item Box style option
Added filter hook for Facebook feed API data limit
Instagram, Facebook, and Twitter feed compatible with SiteGround cache
Twitter feed compatible with caching plugins
Improved Facebook and Instagram profile header in editor
Fixed web dev errors for chat widget
Fixed permalink issue on Facebook feed
In short
So, that's all about the WP Social Ninja 3.8.0, a major update for upgrading your e-commerce website one step ahead.
This Instagram Shoppable Feed isn't only an update for your WordPress website; the advantages are limitless.
From increasing conversion rate and user engagement to making a greater buying journey, the purpose of the whole update is to give your customer a better experience and power up your business website more efficiently.
So gear up your business now!
What's next?
We would love to hear this from you! We did bring your exciting surprise earlier; and will continue to do so in the upcoming days too. Still, if you got any queries or suggestions, you're welcome.
But don't forget to leave your review and valuable opinions on how you liked our new release. Use the comment area and stay connected with our Facebook community, Twitter, Facebook & YouTube. Good day!