5 Best WordPress Social Media Plugins in 2023 (+Bonus)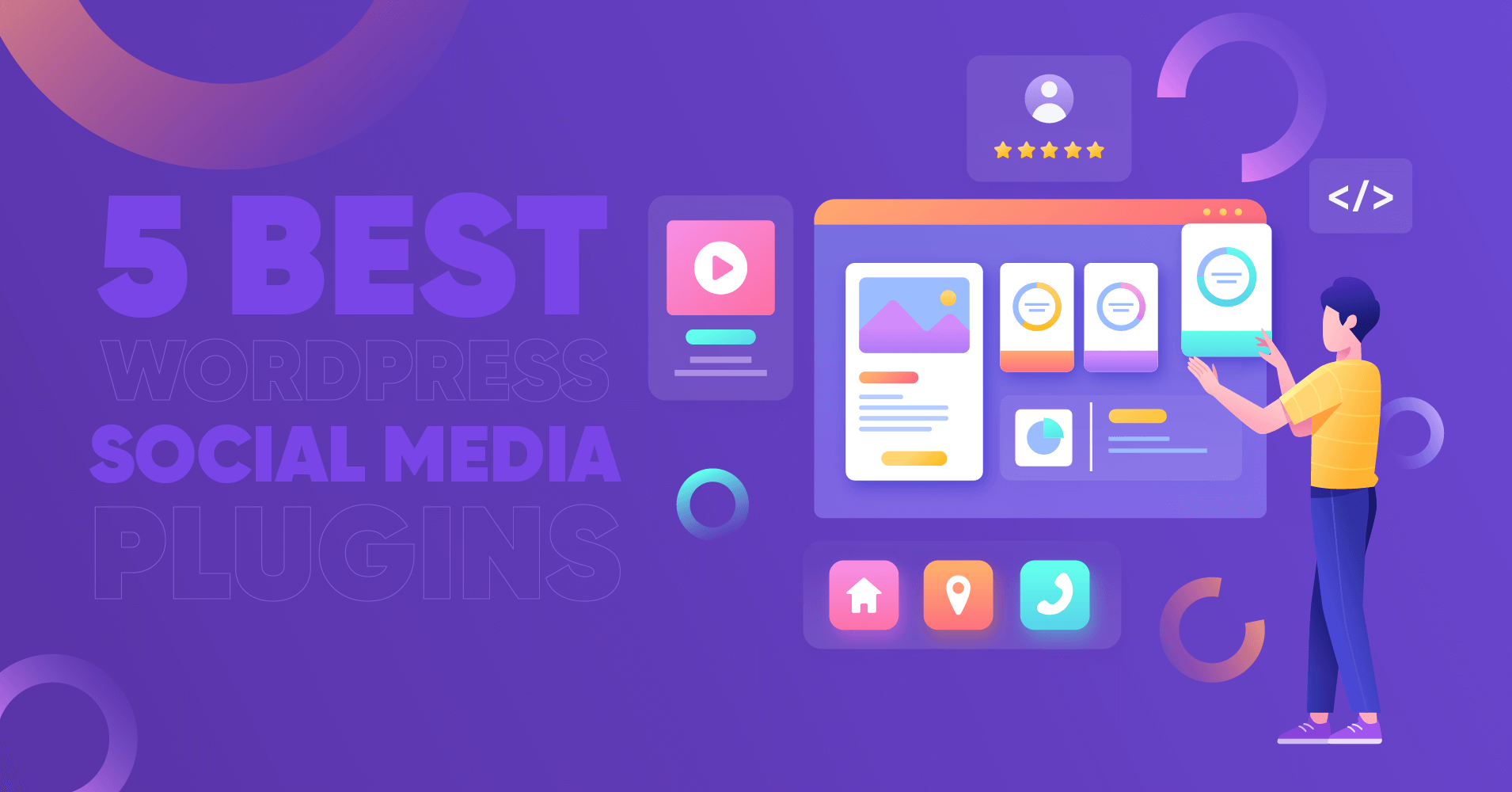 Are you utilizing social media for your business through a reliable WordPress social media plugin? If not, are you aware of the fact that you'll be losing out on the largest amount of audience, who could be your potential customers?
It's 2023, and social media's necessity has never been less if you compare it to the past years. Instead, you can say that the urge has become more apparent lately. And it's high time you think about how you plan your social media once again.
But what if you have set up everything already for your social media and still doesn't have the plugin that you should integrate into your social media accounts to get the best out of them?
No worries, here we will be introducing you to the best WordPress social media plugins in 2023 that you'll find helpful and get to know which would be the best pick for you.
What to look for in a social media plugin
Once you have decided that you need a social media marketing tool, it's not like you simply decide and buy anyone you get from the internet. There are so many social media plugins available for WordPress that can help you to choose the best plugin.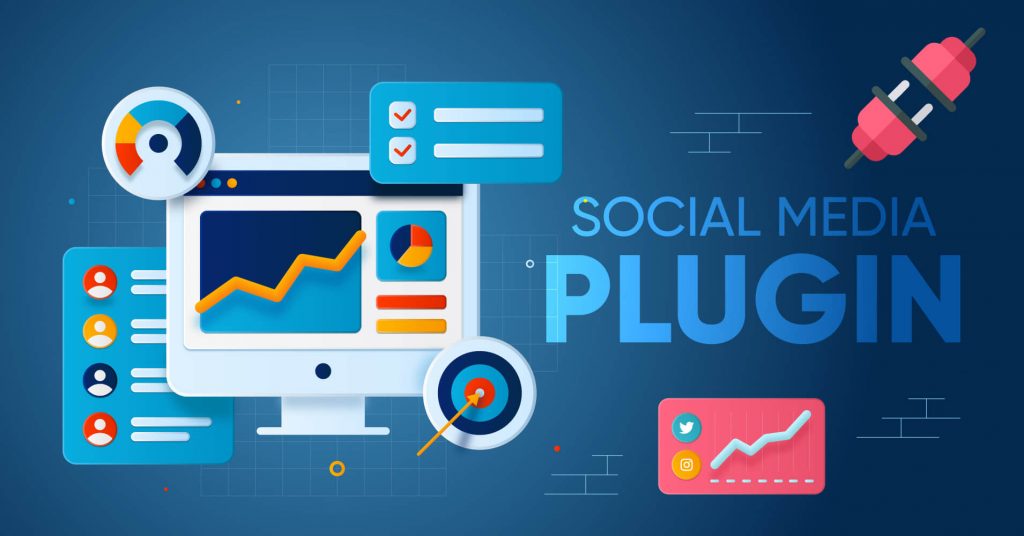 But how will you sort them to decide?
Consider your social media workflow in the context of your company. Do your social media postings require social sharing icons? Should your social media content be added to your website? Do you want to have complete control over the appearance of your content when it is shared?
When selecting a WordPress social media plugin, it's critical to understand your company's unique requirements.
As we will discuss the best plugins and everything about the plugins that help you in specific ways, you'll find it easy to choose them.
Features
Before you choose which WordPress social media plugin, you should keep a few things in your mind that you must look for in a social media plugin-
First of all, you need to think about the performance. Because basically, choosing a plugin for WordPress according to your need depends on how you want your social media tool works. And most of the cases, there's a chance that plugins with so many performances might affect your website in load time as they have to load additional code.
In this case, what you can do is look for a balance between the features and the performance of your WordPress site. Implementing a plugin can cause more harm than doing better if it slows down your website and gives a bad experience to the users.
Next, you need to think about which social media platform you want to prioritize to display on your WordPress website. Adding fewer options than adding too many gives a better user experience.
Then it would help if you decided which WordPress social media plugin you want to choose. When you research this, you'll see different features of the plugins, each of them offers different features from the other. You need to think about how you want to decorate your template and which plugin offers that feature.
We'll get you covered with the best plugin and other plugins known as the best social media plugins in the market for the features they offer.
Which is the best social media plugin for WordPress?
To know which is the best WordPress social media plugin, let's check the top-ranked plugins list;
However, as we expose you to the plugins that have been named the finest social media tools in 2023, you will recognize their important features. We hope you'll get a good idea of what each of them is about.
So, let's jump to the list!
WP Social Ninja
WP Social Ninja is an all-in-one social media tool that solutions for multiple purposes of your social media marketing. From collecting your social media feeds, and reviews, managing them, and placing them in the right place on your website, this tool does an excellent job if you ever planned for managing your WordPress website.
The best part of using this tool is you can integrate it with more than 29+ social media platforms which will help you to increase your sales and boost your social media engagement more.
At a glance at the features of WP Social Ninja makes is as the best WordPress social media plugin for WordPress.
Features
Social feeds: WP Social Ninja has pre-built templates for each social media platform by which you can embed your social feeds (Twitter, Facebook, Instagram & YouTube) on your WordPress website.
It fetches social feeds and displays them on your website with stylish layouts and various feed types. Show/hide posts and modify each section of your feeds with filters.
Social reviews: You'll get several tools to customize your social reviews to appear online with this tool. This feature also has excellent functionality and gives an impressive appearance to your templates. With various styles and layout choices to choose from, you can personalize your reviews.
Social chat: It manages your communication channels with your social media. Messenger, WhatsApp, Telegram, and more than 15+ other popular social apps are included in social chat. It's simple to handle the chat service on your website with a chatbox that comes with many functionalities.
Notification Popup: With its Notification Popup feature, you can grab users' attention and connect them with them straight away. It has unique custom options to represent the reviews and recommendations.
Testimonial: To display social proof, it allows you to customize your social reviews and create beautiful testimonials. Also, you will get options to customize your testimonials.
Export-Import: It facilitates exporting or importing business reviews through CSV files. The Export-Import custom reviews functionality in your website can let you easily export and import custom business reviews.
Manual-sync: Manually syncing option enables displaying the real-time reviews. By which you don't have to update your recent reviews manually.
In-depth template style: This WordPress social media plugin doesn't only limit you in creating & customizing the template, rather it lets you custom your CSS; that too without any help of external addons or writing a single code.
Shoppable Feed: A booster for e-commerce business; if you want to upgrade your website with shoppable functionality that connects your other e-commerce platforms, this feature is a bonus for you.
A little scenario of what customers say about WP Social Ninja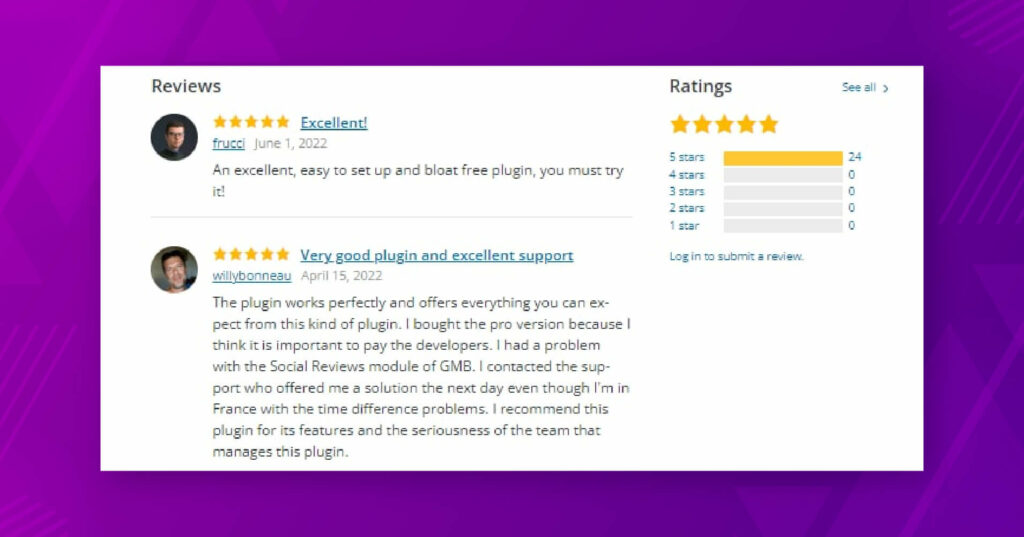 Smash Balloon
Smash Balloon is one of the best social media plugins. This social media tool combines some powerful plugins that allow you to bring all social media platforms and integrate them into your WordPress website.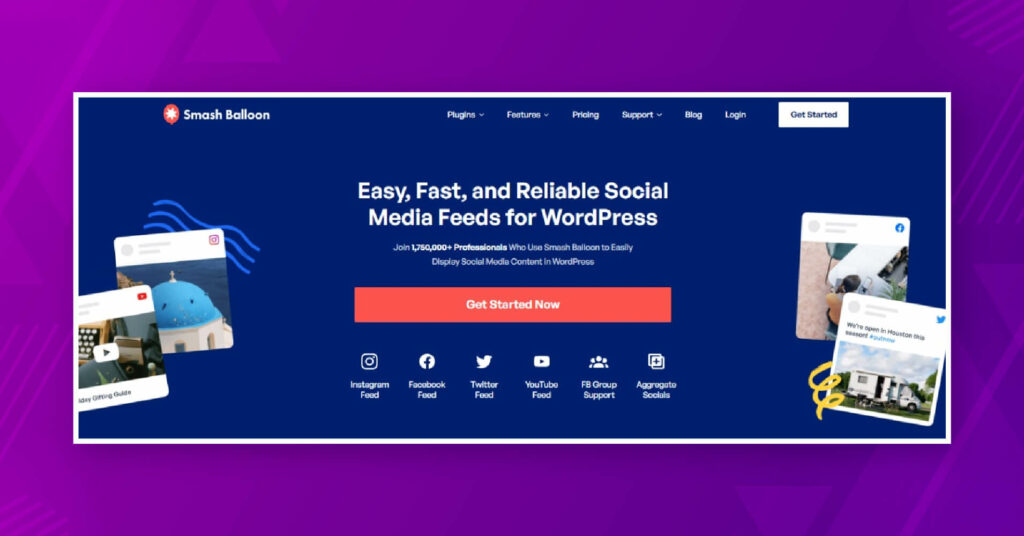 Features
Social wall: It combines all social feeds from your social media platforms and puts them on a single wall of your website.
Instagram feed: From linking stories, photos, and shop from Instagram; Overall, all you can do from an Instagram business profile, you can do that too from your website when you integrate your Instagram account
Tweeter feed: Provides embedding Twitter feeds, displays tweets that mentioned you, and many more.
Facebook & YouTube feed: As Instagram and Twitter feeds, embedding Facebook feeds, including photos, videos, and YouTube videos is possible. You will also get the option to broadcast Facebook videos from your website.
Custom design: Besides creating feeds, you have the control to customize the design of your feeds.
Check out Smash Balloon's social wall features to know more details.
Also check: Smash Balloon Alternative: WP Social Ninja vs. Smash Balloon Compared (2023)
Spotlight
If your business entirely depends on Instagram marketing, you can choose Spotlight. With its Instagram special features, you can run your business profile by integrating your Instagram account into your website.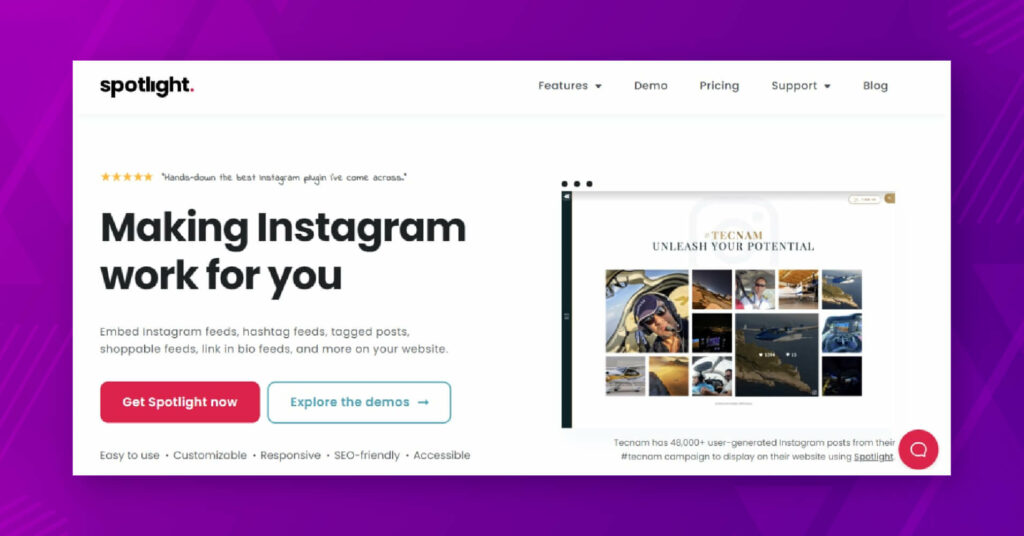 What features does Spotlight is specialized in? Let's see:
Features
Real-time gallery: Spotlight has a feature by which you don't need to update your Instagram gallery on your website manually. It will automatically update your website according to your Instagram feed.
User-generated content: You can launch a hashtag campaign where you can display your follower's posts to create user-generated content.
Social proof & Testimonials: You can also get to share testimonials and social proof of photos/videos created by your followers to your website.
Tagging: When you ask your followers to tag your account on their posts, it gives you a chance to make them featured on your website.
Customization: After providing so many features, a common thing to expect from a good tool is to customize the template. In that case, Spotlight is not deriving you from that.
If you're in search of making your Instagram marketing efficient and doing it in a different way, try Spotlight.
Give this a read: WP Social Ninja vs. Spotlight: Which Plugin Should You Choose?
FS Poster
FS Poster is one of the social media auto poster plugins for WordPress. This plugin lets you schedule and auto-post your content from WordPress to 18 social media networks and services. The plugin has a lot of other features that help you customize your messages and ease your social media marketing strategy.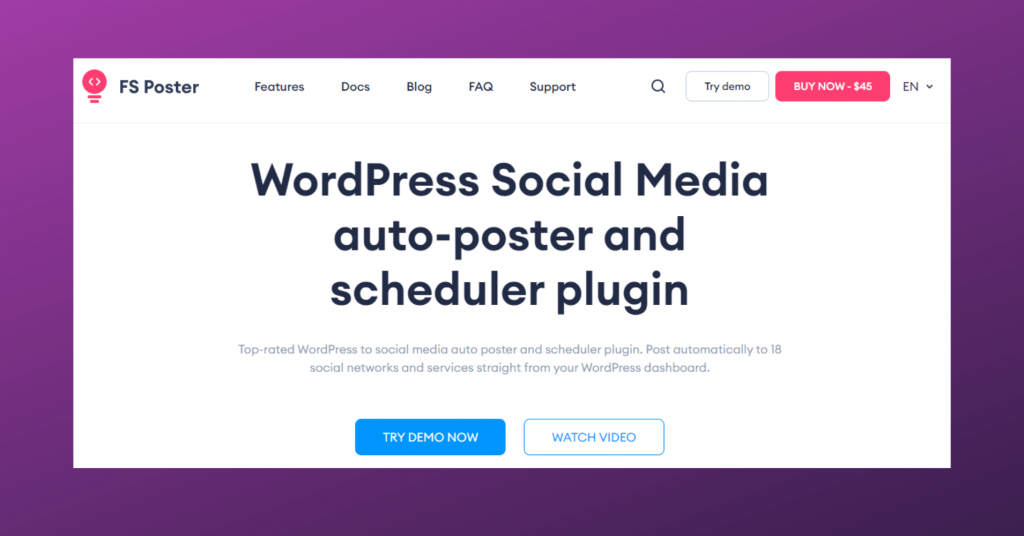 Features
Auto-post and schedule feature: The plugin will schedule and auto-share your WordPress posts on your social network accounts.
Posting interval: The plugin lets you control your posting intervals.
URL shorteners: You can shorten the URLs of your posts using services such as TinyURL or Bitly, as well as self-hosted URL shorteners.
Unlimited social media accounts: On each social network, you can add an infinite number of profiles, pages, groups, communities, and so on.
18+1 social media integration: You can publish your content simultaneously to a total of 18 social networks and services, in addition to websites built on WordPress.
Customize post URL and post messages: You can customize your post URL and your post messages in a few minutes with a plugin
Bulk scheduling: FS Poster lets you choose numerous WordPress articles and then use the bulk action to schedule the posts that you have chosen.
If you want to automate your social media marketing and spend little time on time-consuming tasks, you can start to use FS Poster.
TrustIndex
TrustIndex, is one of the favorite social media plugins of business owners. Its specializations made its place in the list of the top 5 best WordPress social media plugins to preview social media feeds. In the beginning, the plugin started by featuring only Facebook, but by the time it reached 66 review platforms.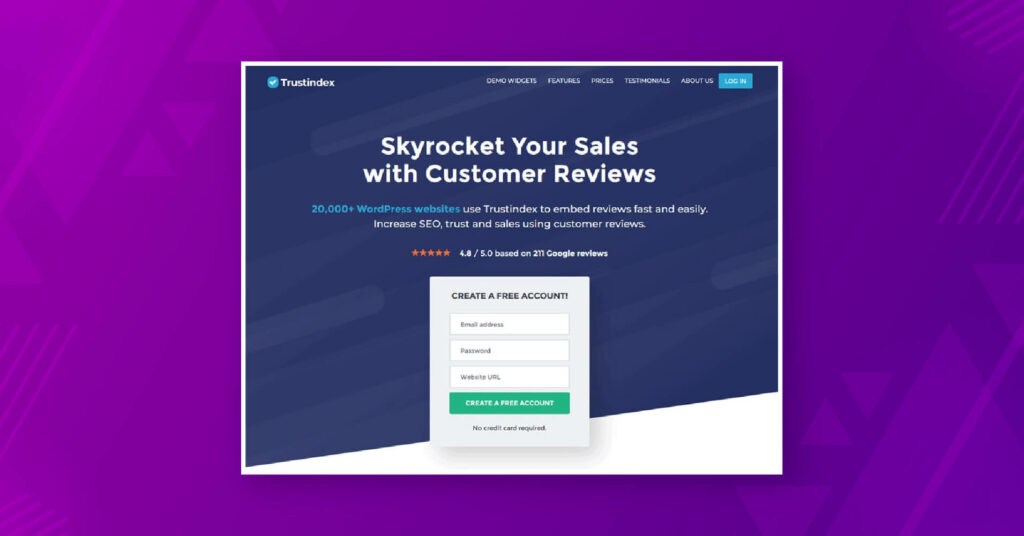 Features
Custom widget: When you create social feed widgets, it will allow you to custom the widgets, theme color, length of testimonials, and almost overall customization control of your widget.
Combine platforms: It has a multiple-platform combination system where you can display reviews from different social platforms and show them in a single widget.
Collect & manage reviews: TrusIndex has a review invitation system, which creates a database of reviews from different platforms. Also, you will have an email notification system that will get you notified whenever you get any feedback.
Use domain to organize reviews: With this feature, you can assign different domains for each category if you have multiple services on your website. This enables your widget to show the exact review and database you choose.
If you're looking for something that can both custom reviews and share from third-party networks at a time, you can try TrustIndex.
You also may like to read: TrustIndex Alternative: TrustIndex vs. WP Social Ninja (Compared)
Our suggestion
As you have seen, the plugin we have mentioned here each is individually good for their specialized features. And honestly, we cannot deny the usefulness of their features and services.
Beyond the observation, you'll also know why we have listed those five plugins.
Moreover, you'll get many more WordPress social media plugins in the market if you search. For example, though we have listed above the top 5 best social media plugins in 2023, still you'll get more in your search result.
However, what makes you decide on the best WordPress plugin for your social media depends on what you expect to get. WP Social Ninja is at the top of this list because it can perform everything the plugins above can do and more than them.
It just does not get any better for anyone who wants to take social media seriously as part of their marketing strategy, whether this is for individuals or businesses.
Our clients were never disappointed with any of our services until the date, and our happy customer feedback reflects that.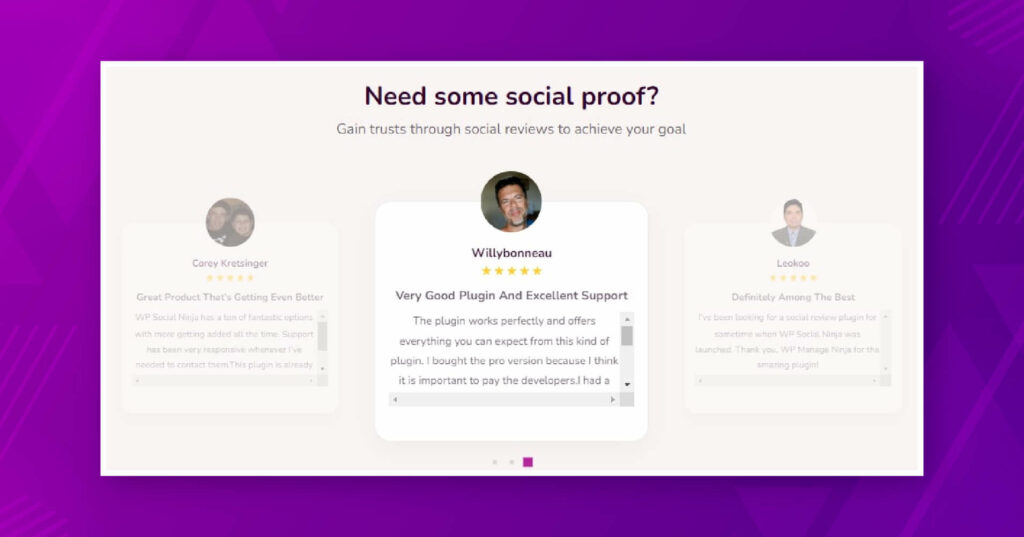 So apart from all of our suggestions, it's all upto you, what makes you satisfied. And still, it will be highly recommended; when it's about satisfaction, WP Social Ninja won't give you a chance to complain about anything you expect from an all-in-one social media tool.
WP Social Ninja
Try WP Social Ninja today and see for yourself!
Honorary mention
So far, we have covered this article with WordPress's top hand-picked social media plugins. People not only frequently use them for their social media marketing but also continuously give good feedback for them.
Anyway, throughout this article, as you have been a part of this read from the beginning, we would like to give an honorary mention to you with another amazing plugin named embedsocial.
Like other social media plugins, it also has some features that can make it one of the most useful ones. At a glance at what it offers:
Last words for WordPress social media plugin
Lastly, suppose you're looking for a premium solution for your WordPress website, simple to use and specialized in multiple features. In that case, you can simply rely on WP Social Ninja without any second thought!
Keeping in mind what you need in your social media tools for your brand and keeping you updated, WP Social Ninja always gives you a better experience and brings you something new. Check our new version of WP Social Ninja 3.8.0 to see what's new here.
We hope you've found this article useful. You'll like reading some of our other articles too:
If you use any other WordPress social media plugin and would like to share your experience, please use the comment area to let us know. Also, if you have any queries about our WP Social Ninja plugin, don't forget to write back to us!
You're invited to join our Facebook Community; feel free to follow us on Twitter and Facebook.