5 Best WordPress Notification Plugins in 2023 (Bonus)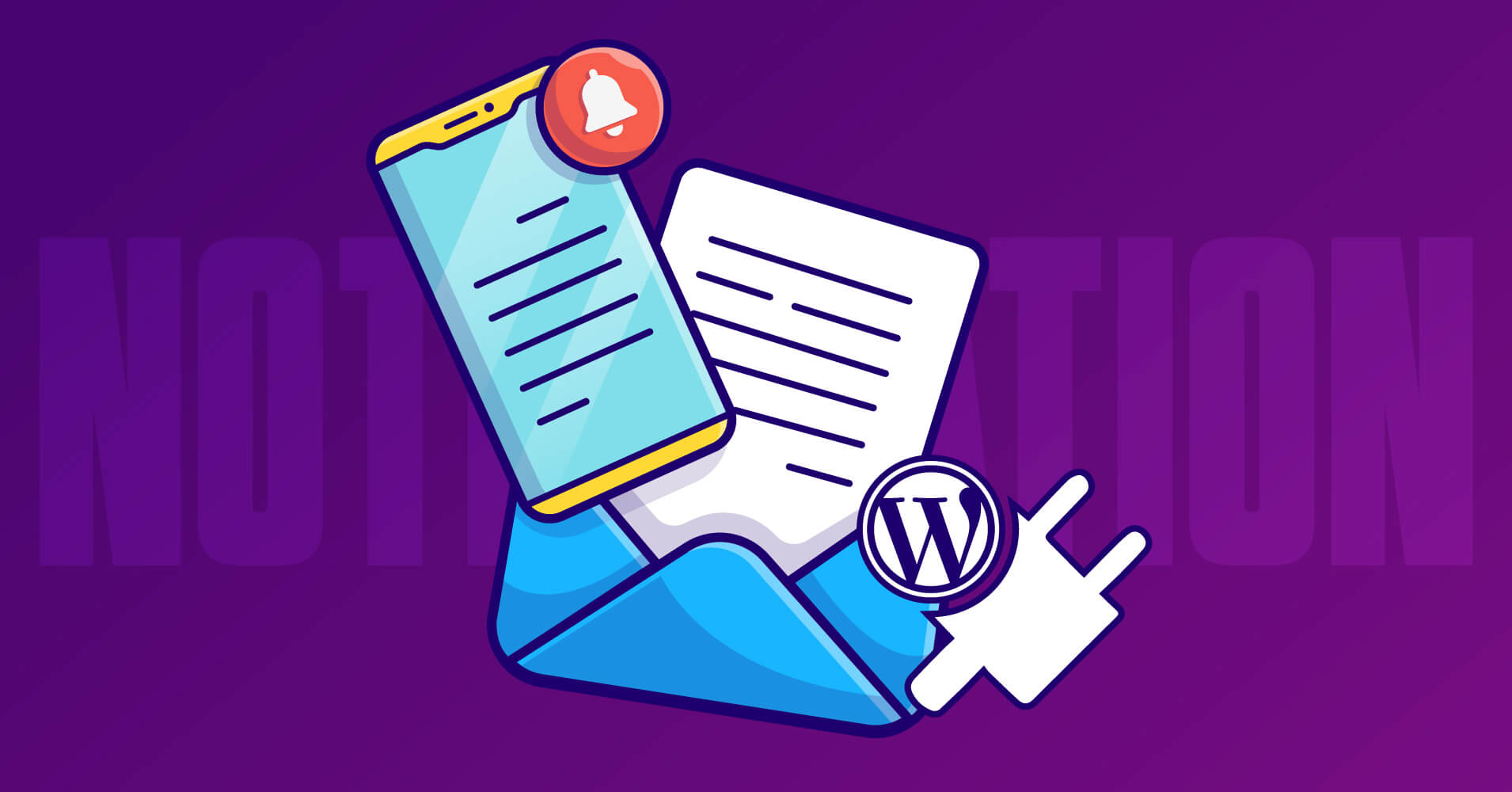 Are you looking for the best WordPress notification plugin for your website?
Today notifications are super powerful and hard to ignore. Think about social media notifications. We get it every now and then yet try to ignore it most of the time.
But when it comes to a WordPress website, you need strategies to make your visitor stay longer on your site. If you are a marketer, you must be looking for ways to-
Attract user attention
Highlight your brand
Boost engagement rate
Improve your sales
Many effective marketing strategies encourage your visitor to return to your site. For example, social media marketing, email campaign, deals, and campaigns are proven successful marketing. However, there are some new techniques to convert your website visitors, into potential customers.
We suggest you get a notification plugin for your website. It helps to improve your social proof, outshine your competitors, and create a word of mouth marketing. But keep in mind that if your notification bar is not set up properly, it can annoy your visitors.
In this article, we'll discuss details about the notification popup, and we'll share the top WordPress notification plugin for your website. Ready?
What is a notification plugin?
When you visit a website, haven't you noticed a notification popup on the corner of your website? Breaking news: the website is using a WordPress notification plugin. Well, when you choose a notification plugin, you must look for the best option with all the cool features and functionalities.
However, not all tools have the best features that you might need to get the highest results. The tools may look exquisite, but chances are you'll end up having limited options. So you need to get all the exclusive features that can leverage the best outcomes for your website.
The best WordPress notification plugin should come with:
Custom notification title
Notification position
Display reviews in popups
Include/exclude pages
Display by post type
Hide notifications on devices
Control the close button
Display date
Read all reviews button
Set interval
Display duration
However, while choosing a notification popup plugin, what if you get some other robust features? To know more, keep reading.
5 best WordPress notification plugins
While you look for a popup notification plugin, you should be extremely careful about a few things. Popup notifications can be disturbing, and if you don't control your popup, you could end up losing your potential customers.
But what do people dislike most about website popups?
So you need to pick a notification plugin that offers personalization features and can be fully controlled from the dashboard. Along with the features and functionalities, focus on the tool performance as well.
Too many plugins may increase your server load, slow down your website speed, and leaves a negative impact on your SEO rankings.
Moreover, some WordPress notification plugins don't come with basic features. These are unable to do advanced settings to hide the popups and don't offer dynamic elements to offer seamless user experiences.
WP Social Ninja
WP Social Ninja is known for its all-in-one social media activity. It's a social media tool for WordPress to take care of your social media reviews, feeds, and social chat widget.
However, this tool has a Notification Popup and testimonial feature to display your best social reviews to instantly hook your customer and uplift brand credibility.
Moreover, if you are running an online store, you need effective marketing strategies to stand out to your website visitors. Prompt notification is one of the most popular conversion optimization software to turn website visitors into customers.
WP Social Ninja has made it super easy to catch users' attention by exhibiting the best user reviews with five-star ratings.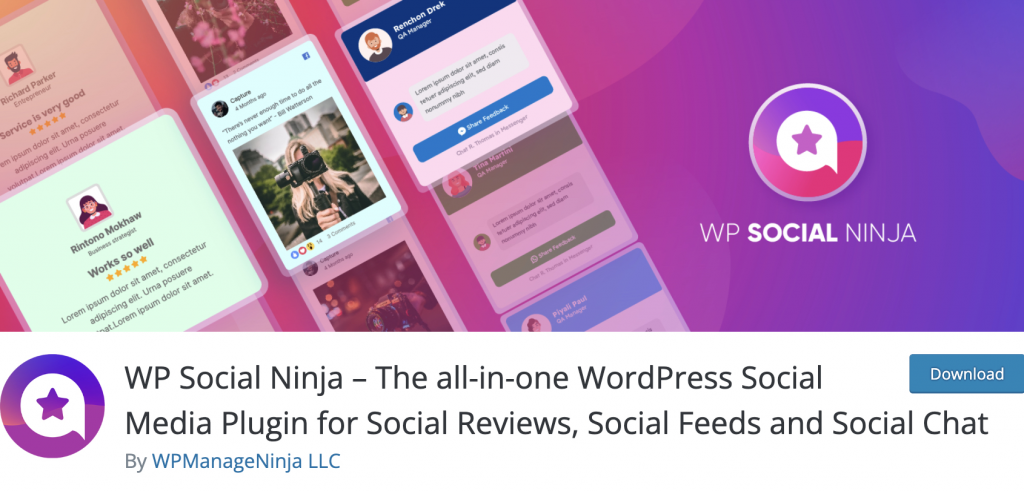 WP Social Ninja Notification Popup comes with an in-depth editor settings panel so you can customize the notification bar the way you want.
You can also do some tweaks and display the popups on particular pages. Include or exclude notification popups that require special attention. Moreover, you can display the notification by its post type.
Sometimes popups on mobile devices can grab a lot of space, so it can kill your outlook. To prevent that, hide notifications on desktop or mobile devices.
You can also easily change the notification title and give a customized name along with adjusting the notification positions. The custom feature lists go on, control the popup close button and dates, and enable or disable the "Read all reviews" button.
That's not all! Set the dynamic elements so the best reviews and ratings pop up; you can be in charge of the initial delay duration, the delay between, and how long the notifications will popup on your screen.
Other notable features of WP Social Ninja:
29+ other platforms
Display reviews from multiple platforms
Testimonials
Shoppable Instagram feed
Facebook events feed
Facebook albums feed
Multiple stunning templates and layouts
Detailed template editor settings panel
In-depth filter options
All-inclusive custom options
Translate option
Realtime synchronization
Supports all page builders
Use custom CSS
100% SEO friendly
24/7 customer support
Price: Notification popup is a freemium feature. So you need to buy a pro license which starts from $79 for single sites.
Notification X
Notification X is a complete notification plugin. It gives you sales, blog comment alerts, WordPress download counts, email signups, reviews, and many more. This plugin is gradually becoming the most efficient marketing plugin that helps you show off your social proof.
Displaying social proof on your WordPress website is a smart way to encourage action from your visitors. So it automatically improves your conversion and engagement rate. Moreover, attracts your site visitors to grab your product immediately.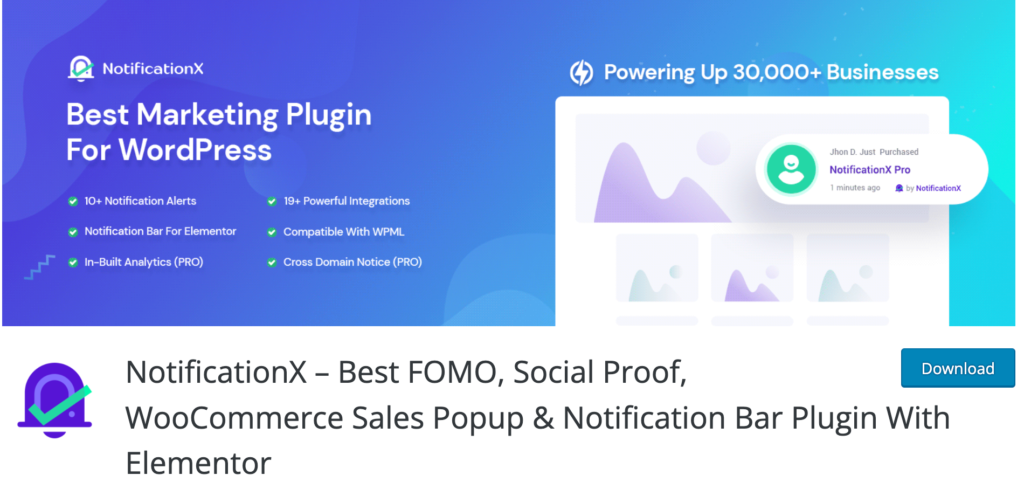 Along with generating FOMO marketing, you can motivate your users by exhibiting the best offers, deals, and announcements. Moreover, add a call to action button to highlight the features of your website.
Notification X is a great plugin with lots of exciting features. It allows you multiple designed templates and powerful integrations that help to stand out your popup notifications.
Other notable features of Notification X:
Generate the sales alert
Increase blog engagement
Display plugin or theme reviews
Display the total download count
Encourage an email subscription
Price: It's a freemium plugin. To get the best features, switch to the pro version, which starts from $39.
WP Notification Bar
WP Notification Bar is a custom alert notification plugin for WordPress. This plugin helps you improve your subscribers, sales, promotional offers, and followers. You can also display a message bar on your website header and footer.
You can showcase something slightly different. For instance, display specific posts and pages. Moreover, you can display a social media button, icons, text, post content, newsletter, countdown timer, or search form.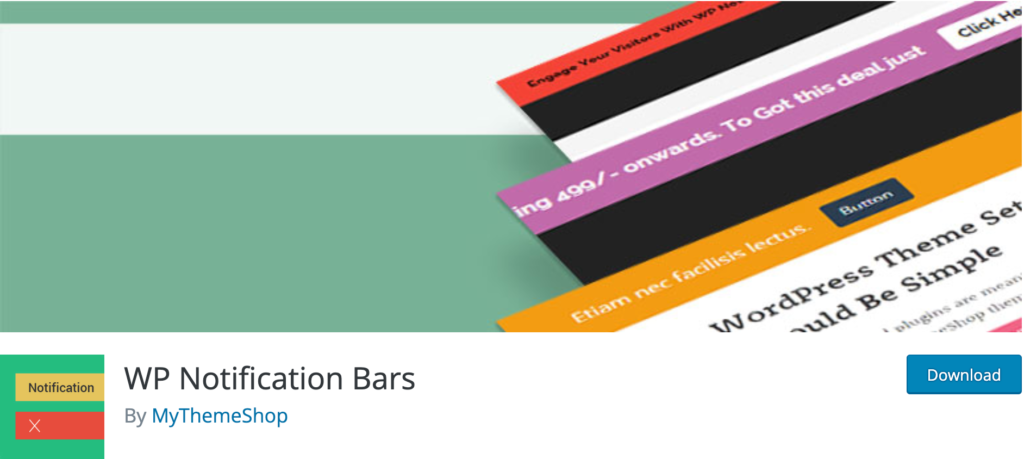 These notification bars are fully responsive and adjust the notification bar design the way your website demands. Furthermore, set your notification priority along with you can do A/B testing with your notification bars.
You can even divide the traffic into different notification bars and check which one works better. Monitor your visitor's activity on your website and where they are clicking by using WP Notification Bar.
Other notable features of WP Notification Bars:
Slide in the Notification Bar
Unlimited color choice options
Import/Export Notification Bar
Track the number of views and clicks
Import demo content
AB split test
SEO friendly
100% Responsive
Price: WP Notification Bar comes with both free and pro versions. You can download the free version from WordPress.org. And the premium version starts from $19.
Notification – Custom Notifications and Alerts for WordPress
When you have notifications plugin for WordPress, chances are high you will be sending a lot of notifications. And the best part is, with this tool, you can send as many notifications as you want to send.
Notification is a custom notification and alert plugin for WordPress. It has three main features; Trigger (user registration or post-publication), Carrier (the thing which can be sent in an email and push), and Merge Tag (dynamic content).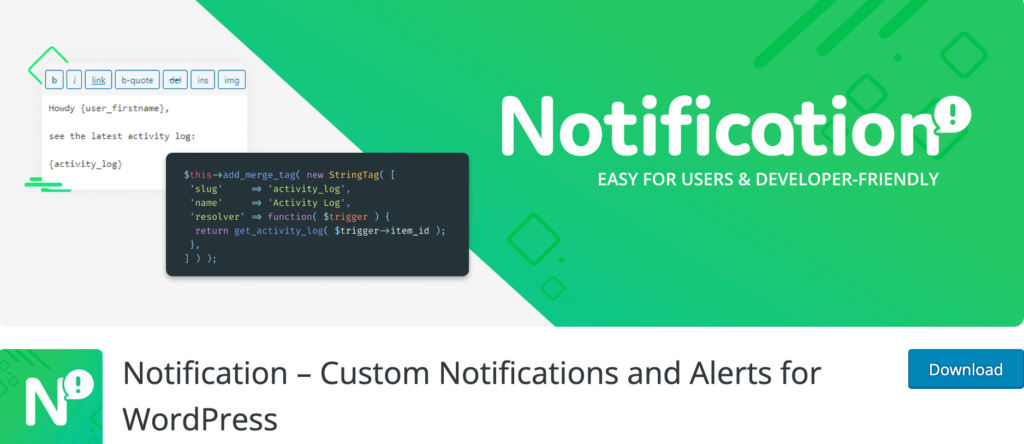 This plugin helps you notify your visitors and give announcements on your WordPress websites. Merger tags allow you to simply customize the messages. Moreover, you can adjust your multiple notifications from your WordPress admin panel quickly.
Notification lets you disable your WordPress emails, and you can even replace them with your custom emails. This tool is a powerful solution for developers with a super simple integration process. You can customize, modify, and improve the notification and create something new by following the client's requirements.
Other notable features of Notification:
Easy to integrate
Post Notification
Media added Notification
Mobile responsible
Updated post Notification
Post drafted Notification
Price: Notification is a free plugin.
Optinly
The best WordPress notifications plugin is incomplete if we miss out on Optinly. It is a user-friendly plugin with a simple configuration process. Optinly has some built-in features that let you create your notification bar in a few clicks.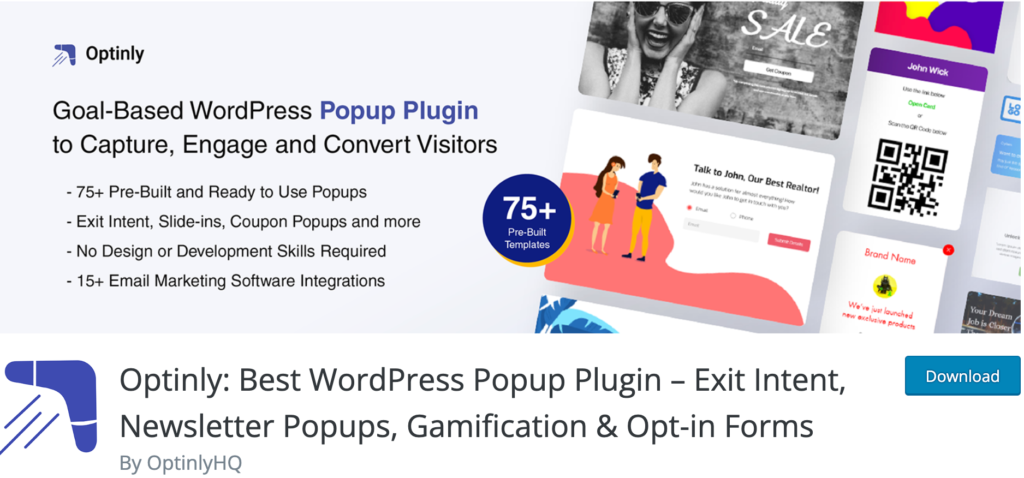 This tool has 75+ WordPress popup templates. These templates are fully responsive, easily customizable, and highly functional. Moreover, you can create popups, lightboxes, and expandable boxes for your WordPress websites.
Those who want to generate leads, sell products, improve conversion rates, and increase website traffic can leverage the best from this WordPress plugin.
Other notable features of Optinly:
6+ types of popups
Advance popup editor
Transition effects for popups
Multiple integration options
Price: Optinly is a freemium tool. You can get the pro plan starting from $9.
The best WordPress notification plugin in a glimpse
Notifications plugin for WordPress plays a highly crucial role in grabbing your website visitor's attention. It can build a bond among your audiences, uplift conversion rates, and rank you higher in search results.
You can select the 5 best WordPress notification plugins from the list based on their features, functionalities, and prices. To help you make a decision, here's a quick recap.
WP Social Ninja: A social media plugin that can help you display your best social media reviews on a notification popup with in-depth filter options.
Notification X: With multiple notification types and integrations, this tool lets you show your social proof on your website.
WP Notification Bar: You can create your alert bar with this plugin. And exhibit these bars on specific pages or posts with custom settings.
Notification: This notification tool lets you create a notification bar in the post, pages, or home pages and customizes the bars the way you want.
Optionly: It's a popup builder tool that creates popup campaigns without coding. With advanced features to generate leads.
Bonus mention: Trustpulse
We've already mentioned some handpicked WordPress notification plugins for your website. However, if you are still skeptical, we have a bonus name.
Trustpulse is a WordPress notification plugin that offers real-time social proof on your site. It helps your user understand what is happening on your website. Moreover, a notification WordPress plugin helps you leverage FOMO marketing and build a bond with the customers.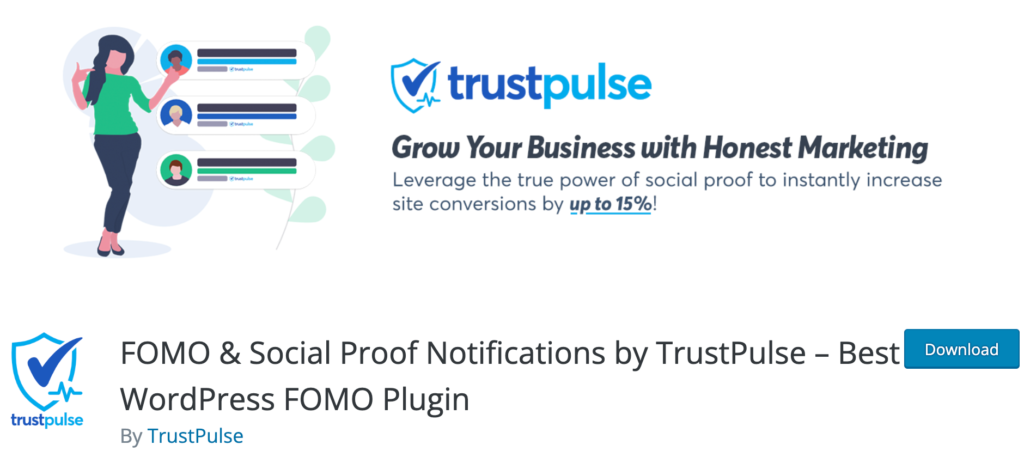 Trustpulse comes with some amazing features. It's a beginner-friendly tool that lets you adjust your colors, messages, and the images used in the notification. Moreover, it gives detailed insights that show which page has the highest conversion rates.
Not just that, it gives you the details of when an audience is visiting your site and how many products are sold. This is undoubtedly an impactful social proof that improves user engagement and boosts your sales.
Furthermore, you can track down some more notifications; for example, email lists details. It's a freemium plugin; however, grab the pro license for better features and functionalities.
Conclusion
If you are still unsure about the best notifications plugin for WordPress website, our vote goes to WP Social Ninja.
This handy tool is currently leading the market with its features. Along with Notification Popup, you'll get some other powerful functionalities like multiple social media platforms, social reviews, feeds, chat widgets, and testimonials.
So before you make a decision, think about which tool will speed up your website performance, reach out to your target market, and skyrocket your sales.