How to Add Notification Popup to Your Website with WP Social Ninja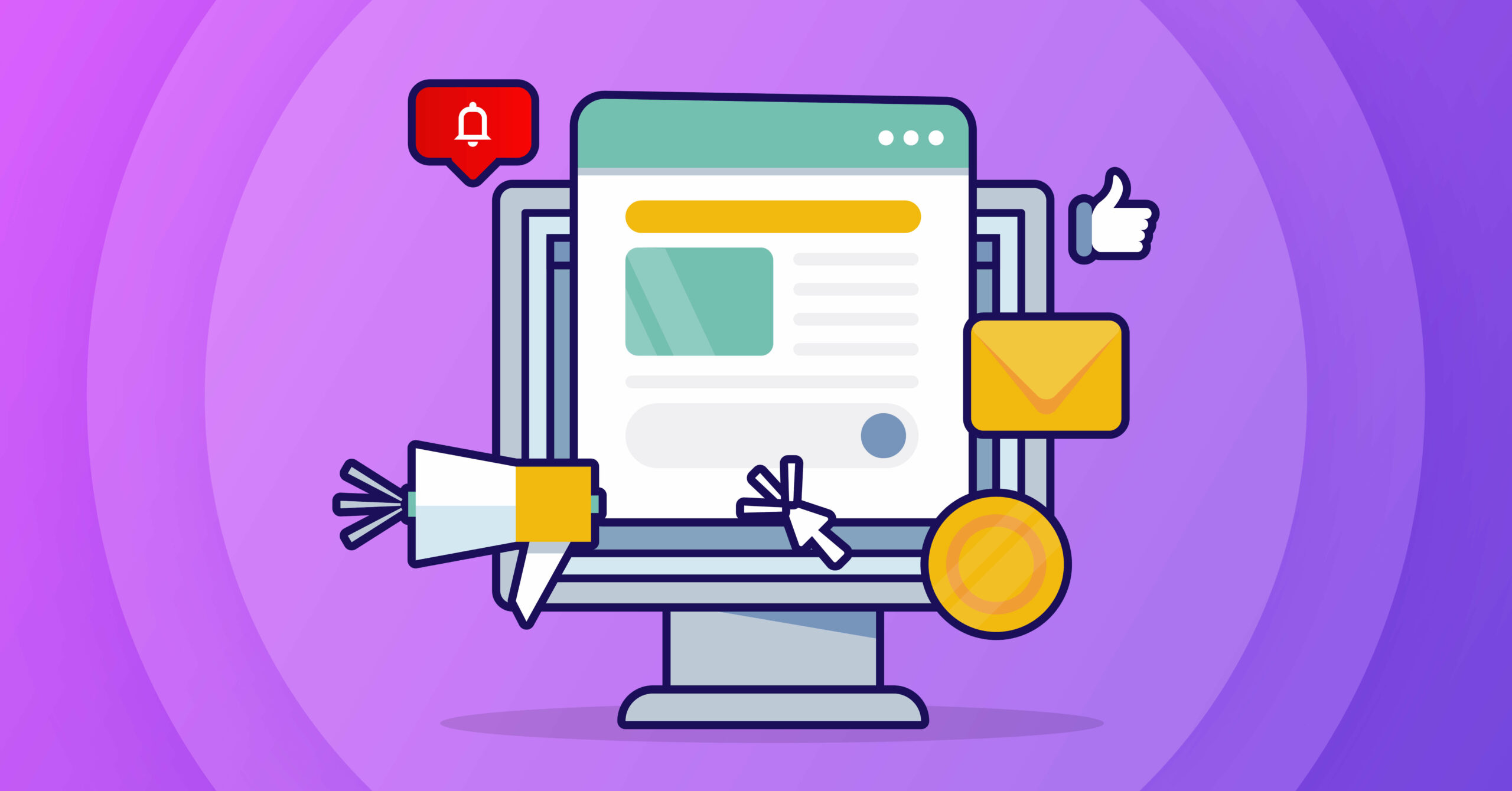 If you are running an online business, Notification Popup is no stranger today. It is one of the effective marketing strategies for growing your business. Notification Popup has many names and multiple features and functionalities. However, the primary function is to highlight the brand and draw the user's attention.
For instance, your Sushi restaurant has got some excellent reviews and recommendations. You've already embedded the social media reviews into your website, but you need your site to be more appealing. Notification Popups offers you to display the best testimonials with ratings. Moreover, you can customize the popup box and select the best way to engage with your website audiences instantly.
But before we dig deeper, let's check what Notification Popup is.
What is a Notification Popup?
Do you know popup improves 11% of conversion rate to engage with the website visitors?
A Notification Popup is the smartest way to push your audiences to accelerate sales without even asking them to buy! It is a magic box with a message that appears on your web page. The Notification Popup is specially designed to snatch your user's attention and connect with them instantly.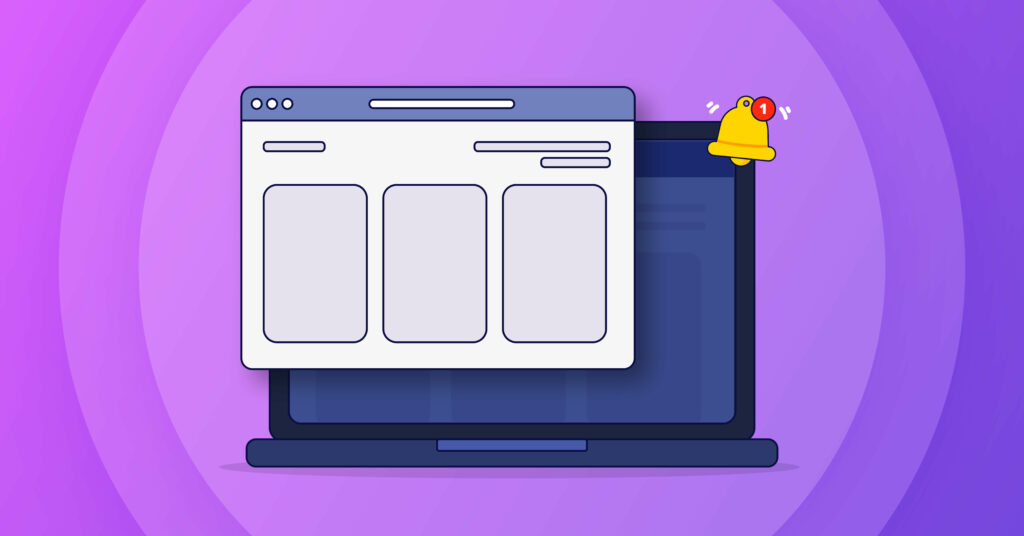 It offers exclusive custom options to represent the reviews and recommendations stylishly. Moreover, Notification Popup has some advanced features to display the best reviews and hide as many as you want!
Why do you need Notification Popup?
Integrating WP Social Ninja on your WordPress website opens many doors for your brand. Along with displaying reviews, feeds, and adding chat widgets, you have the luxury of Notification Popup.
This popup generates leads for your brand and helps you sell more. So why do you need Notification Popup?
Display social proof
Fetching social reviews from multiple social platforms and exhibiting them on your website is a pretty ideal social media marketing strategy for the brands. But that doesn't mean all your potential users will look for testimonials on your website.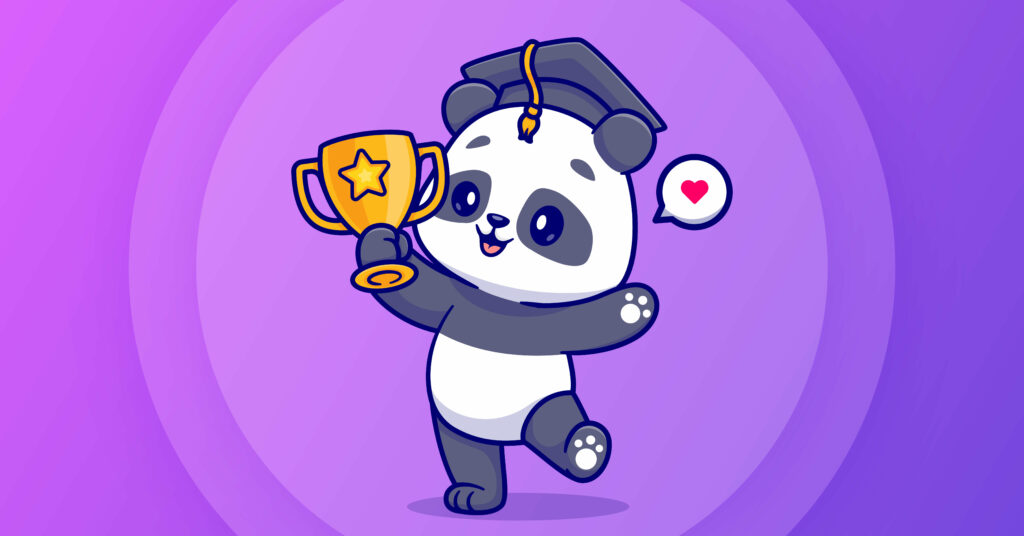 Some might even visit the website without even any buying intent. But these popups work like magic here! Your website visitor could get inspired by the popup reviews and eventually end up buying products.
Grab user attention
Online reviews and ratings are some of the most powerful sales tools today. Displaying user-generated content through popups to hook the website visitors can never go wrong. It's human psychology that always relies on word of mouth marketing.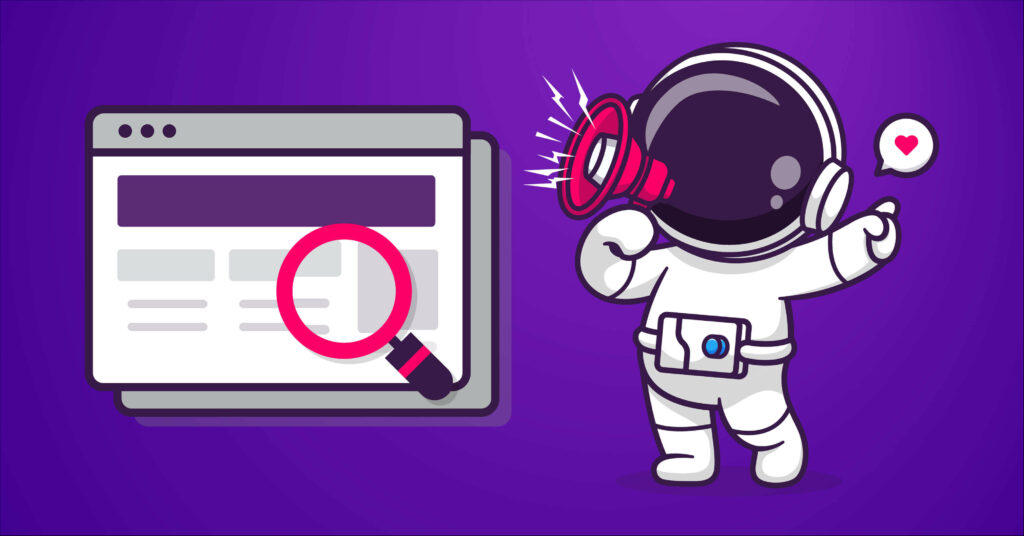 According to statistics, 78% of people trust online reviews as much as personal recommendations. So as a brand, if you need a solid social media marketing strategy to increase user engagement and level up your brand, user reviews' popup notifications can be a powerful breakthrough.
Highlight your brand
Do you ever wonder why your brand isn't getting the desired exposure despite top-quality products and uninterrupted services? You are probably missing out on a major objective to reach bigger audiences and stand out for your brand value. However, adding social reviews to your website builds trust, boosts customer engagement, and empowers your label.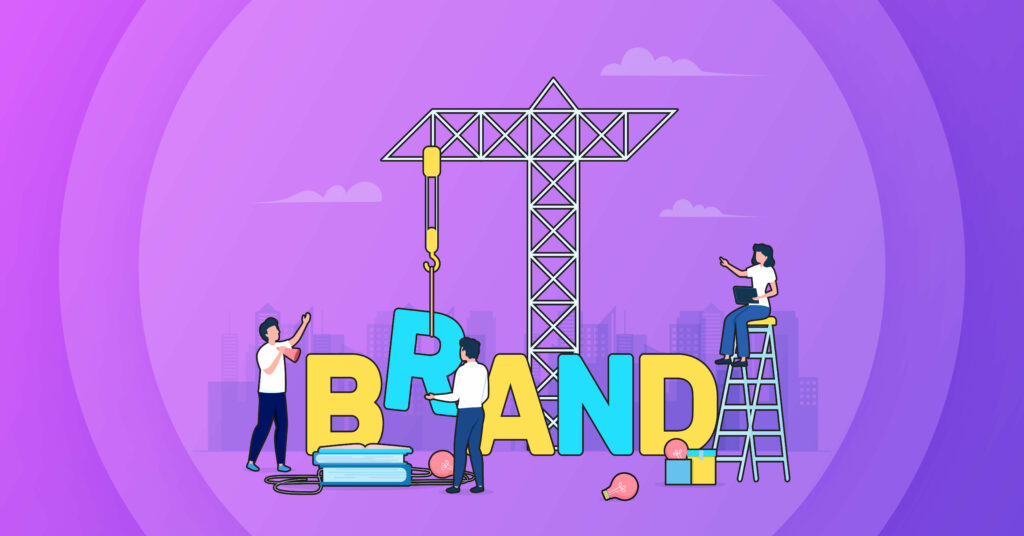 User reviews highlight the brand when your website visitors experience real-life stories while making a buying decision. Potential buyers can cross-check the reviews and ratings from different social portals. This outshines other competitors and gives exposure to your business.
How to add Notification Popup to your website?
So now you know why Notification Popup is important for your website to display the best reviews and get the best out of your social media reviews. Embedding WP Social Ninja gives you the liberty to exhibit social reviews with a website notification popup. Moreover, you can customize the full popup notification and decorate your popup box the way your brand demands. Let's see how to do that.
Notification Popup
First of all, to design a template, you need to go to the "Notification Popup" tab first.
Then, click on the Add New Stream to start designing your popup box.
Notification Settings
Let's take a look at the Notification Popup settings and how to adjust them on your website.
Custom Notification Title
WPSN also allows you to adjust the Custom Notification Title to lock your website visitors then and there.
So you can set a Custom Notification Title to enrich your brand value.
Notification Positions
Go to the "Notification" tab from the sidebar and configure "Notification Positions". You can set the notification popup box on the left or the right.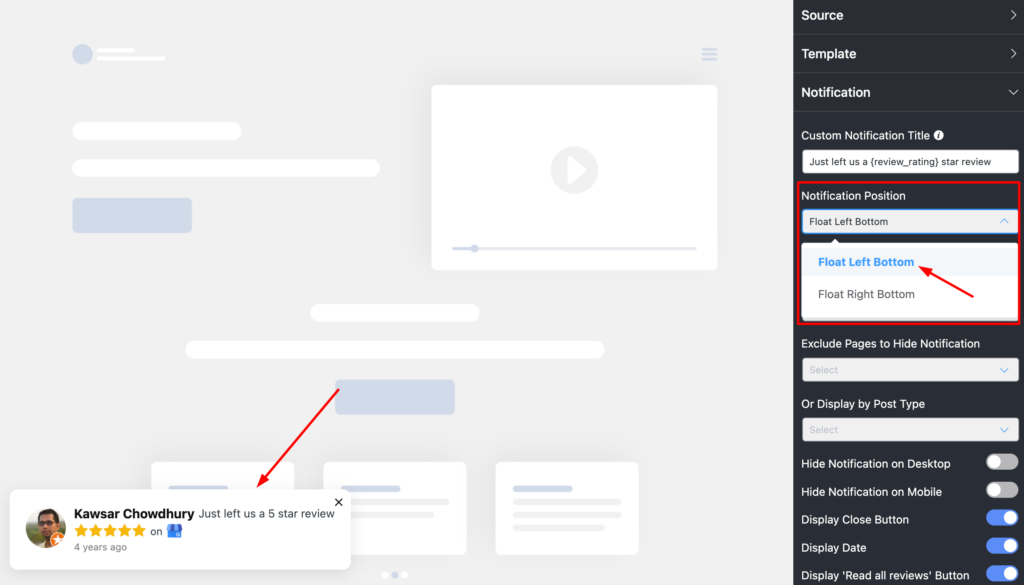 You can set the notification popup box from the left to the right position.
Display Reviews in Popup Box
Next, if you want your customers to see all the reviews when they click on the pop-up, enable the "Display Reviews in Popup Box" button.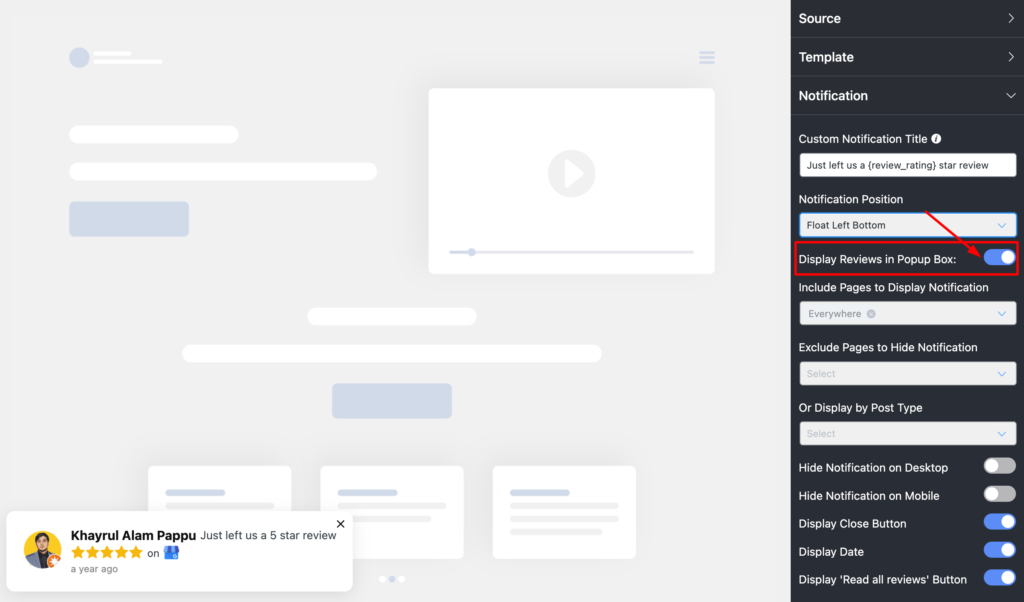 Turn it off if you don't want to display the reviews on the popup box.
Include/Exclude Pages to Display Notification
You can also select the pages from the dropdown of the "Include Pages to Display Notification" option.
Here, you can select specific pages to display reviews or select all pages to display the reviews on Notification Popup.
If you don't want to show reviews on a specific page, you can hide the specific pages.
To do that simply select the pages from the dropdown list of "Exclude Pages to Hide Notification" options.
Display by Post Types
Now that you've selected the pages, you can also show your reviews by different post types.
Once you click on the dropdown menu, you can pick the post types from the "Display by Post Types".
Hide Notifications on Desktop/Mobile
In the next part, you can take more control from your WP Social Ninja dashboard. Adjust online reviews either on desktop or mobile devices or both, then just enable the "Hide Notifications on Desktop" or "Hide Notifications on Mobile".
But if you want to show reviews either on desktop or mobile devices or both, then just disable the option.
Display Close Button
WP Social Ninja also has the privilege to stop your users from removing the popups on your webpage. You can enable the Display Close Button and give access to remove the popup.
However, if you disable the button, there will be no close sign.
Display Date
Next, you can control the dates on the popup box.
Whether you want to display the dates or hide them is entirely up to you.
Display 'Read all reviews' Button
We have one much-needed feature Display Read All reviews Button. It lets the users read all the reviews from your website. So when your notification popup on your display, you can click on a specific notification then the selected reviews will come up on your display.
Sometimes, users want to read More Reviews. To do that you can provide your review business URL in the "Read all reviews' Button URL input field and click on Read all reviews. It will redirect you to the business page from where your customer will get all the reviews in the same place.
Initial Delay
From now on, we have the Initial Delay option. So WPSN has the power to control the timing of your initial notification delay for the popup.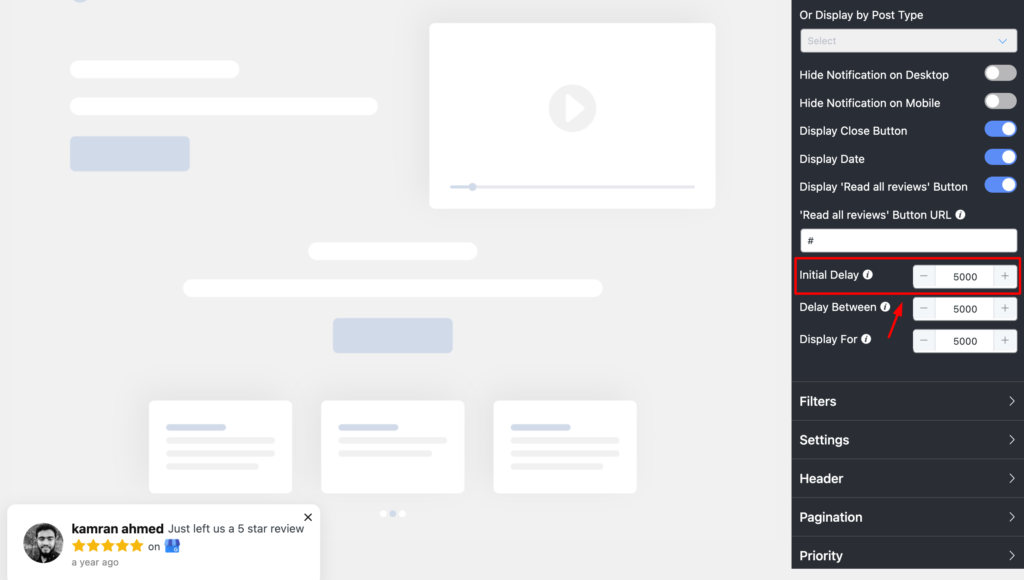 So without facing any trouble with the cookie consent popup overlapping, you can display your notification smoothly.
Delay Between
If you want to maintain a time gap between the two notifications? You can enable this feature from the Delay Between option.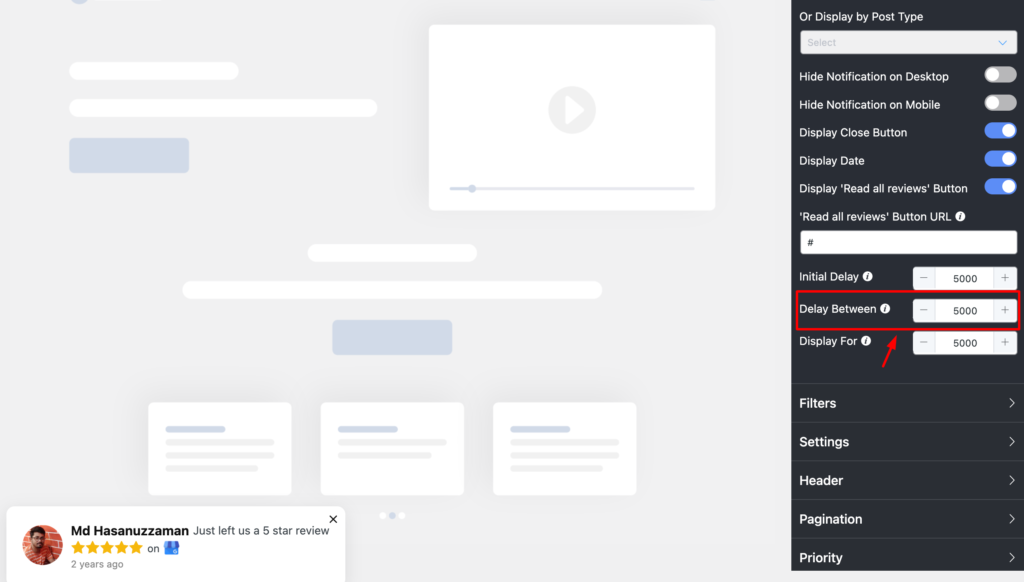 In this part, you can specify the time frame between these notifications. Set the notification delay time machine that suits your business plan.
Display For
Lastly, you can also set the time for how long the notification will display on your screen.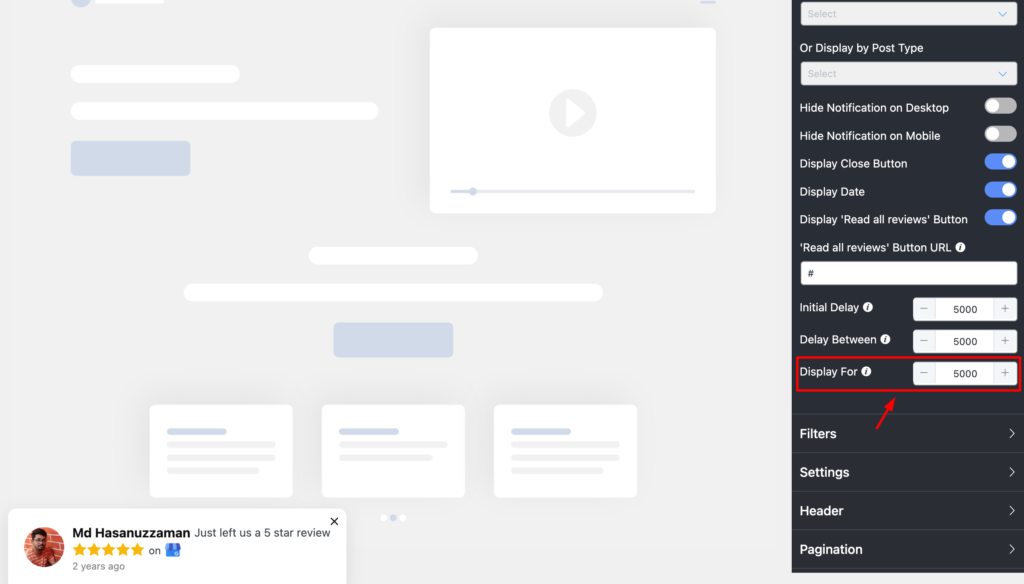 It helps your users read all the reviews on Notification Popup without any interruption.
Once you're done, click on the Save button to preserve all your settings.
Last words
Displaying user reviews on the Notification Popup has some direct long-term impact on your website visitors. The popup reviews directly hit your sales by increasing your user engagement. Moreover, these popups have the power to attract visitors and strengthen your brand reputation.
We hope you found this article helpful! For more awesome tips stick around and follow us on Twitter.