6 Best WordPress Review Plugins for Your Business (2023)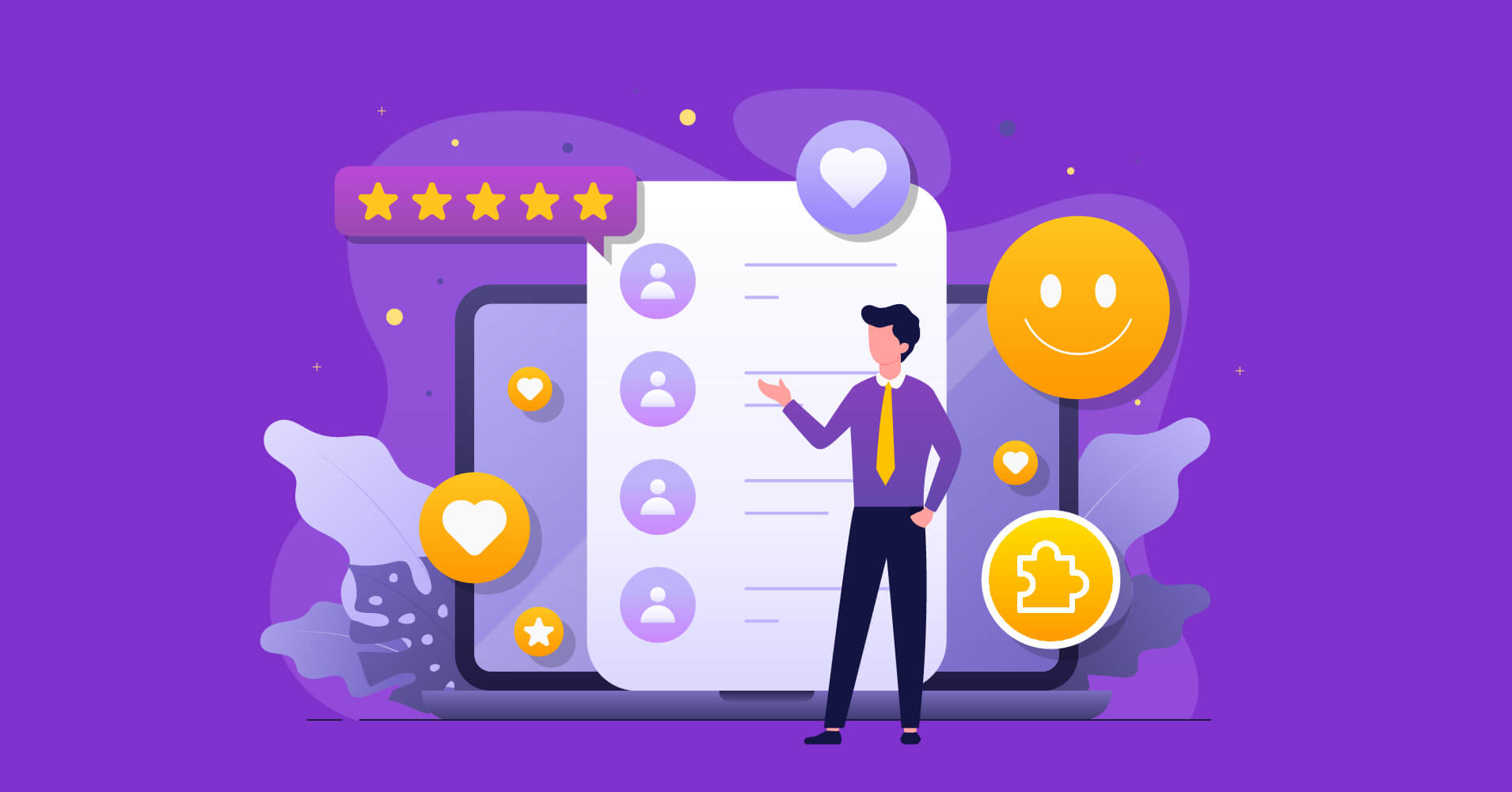 Are you looking for the best WordPress review plugins to pick the best one?
Here's some data you need to know before we go into detail-
8 in 9 users look for business reviews prior to shopping
9 out of 10 customers read social reviews before they make any purchase
79% of buyers say they have faith in online reviews as much as personal recommendations
Long back, people look for real-life experiences than imaginative narration. Whether it is a new movie or a famous restaurant, we all love to get insights to make the right decision. Thanks to the customer review plugins for WordPress that display your testimonials and encourage website visitors to shop from your brand!
In this article, we'll discuss the best WordPress review plugins to boost your business.
Why do you need a WordPress review plugin?
If you sell products or services, we suggest you showcase the user reviews to increase user engagement and give honest feedback to improve the product and service. Moreover, social proof empowers your brand and shows what others are saying about you.
Some WordPress business review plugins can add schema snippets to improve your search results. It helps to rank higher and shows details about your business in the SERP. Furthermore, reviews are a genuine forum for both users and brands for direct communication. Users can show gratitude or express their negative vibe.
Here are some more features that you must have before you get the best WordPress review plugin for your website-
Power to aggregate reviews from multiple popular social sites like Google or Amazon
In-depth review customization options to create a top-notch outlook for the website
Notification Popups on the website to show what your happy users are saying
Rating system presentations such as number ratings or icons with a number
Sorting feature for social media reviews to exhibit the best testimonials
Stylish layouts and pre-built templates to enhance the brand aura
Several options for a header with the call to action button
Filter reviews by category and hide reviews without text
Provide a contact form for collecting custom reviews
Schema snippets for search engine higher rankings
Custom text options to set your brand's tagline
Easy integration with popular page builders
Better user experience with no coding
Third-party integration
Mobile responsiveness
​​Best WordPress review plugins
While going through the testimonials on a website, we often stumble upon questions and queries we can relate to. Sometimes we just check for a particular question in the reviews, and bingo! We end up finding the exact answers.
Here's an analysis of the 5 best WordPress review plugins to grow your business-
WP Social Ninja
WP Social Ninja is an all-in-one solution for collecting, moderating, and placing social and custom reviews on your WordPress website. This tool comes with 10+ most popular social platforms, and you can publish all the reviews simultaneously.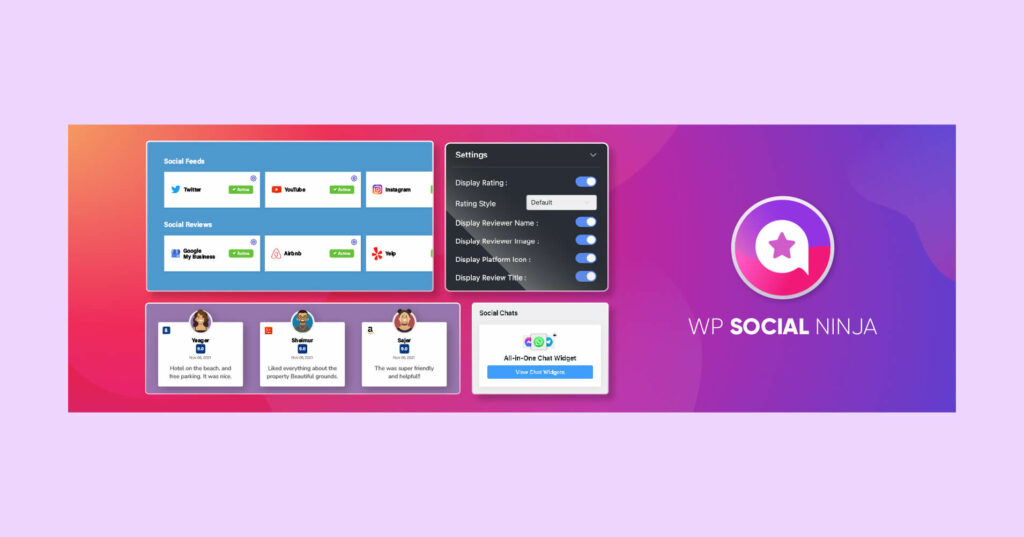 The best part is to embed these reviews on any page to increase sales. Once you fetch the reviews from the third-party platforms, style them the way your brand demands. WPSN comes with a powerful dashboard with detailed filtering options. So you have full control over how your user's reviews would look.
Slay your best 5-star reviews with the Notification Popup and hook the site visitors instantly. It has autogenerated shortcodes, so it takes seconds to create beautiful templates.
This tool is a great alternative to the Google review plugin for WordPress. You can fetch your valuable Google reviews and display them on your site to boost your business credibility. So if you are looking for a Google review plugin for WordPress the WP Social Ninja comes in the first place.
Why is WP Social Ninja one of the best WordPress review plugins?
WP Social Ninja has multiple prebuilt templates with layout variations, so you can select from different designs to decorate the reviews.
Along with social platforms, collect reviews from website visitors with Fluent Forms integration and flaunt them to build user engagement.
Sort out the reviews, showcase the best testimonials, and hide the unnecessary spammy reviews that you don't want to display.
Rank higher in search results with the Schema Snippets and provide important business details.
If you wish to have a robust social media presence, WP Social Ninja is the best choice! It comes with social feeds and chat widgets features as well.
Ultimate Blocks
The Review Block is a versatile and Gutenberg-friendly block offered by the Ultimate Blocks plugin. Whether you run an eCommerce, restaurant, software agency, or event management website, this block can help you design compelling review sections to showcase reviews, ratings, and testimonials.
The block is easy to use, coming with a built-in review schema. It helps you cover detailed information and generate high-quality snippets. With the block, you can showcase all the features of your products with individual ratings, attribute the reviewer's name, and add a summarized rating with a short brief.
Why is the Review Block one of the best WordPress review tools?
You can instantly create a review section on any part of your posts or pages with the Gutenberg block editor.
It comes with a CTA button by which you can direct users to the product page or anywhere you want.
The rating format is easily changeable, allowing you to set and update values manually.
You can seamlessly customize the button, start, and background color.
The built-in review schema will reach you remarkable SEO benefits.
WP Customer Reviews
WP Customer Reviews is a complete tool with easy-to-configure features. It comes with a clean dashboard for adjusting the user reviews. It comes with several options for review box display and has a setting for displaying a certain number of reviews.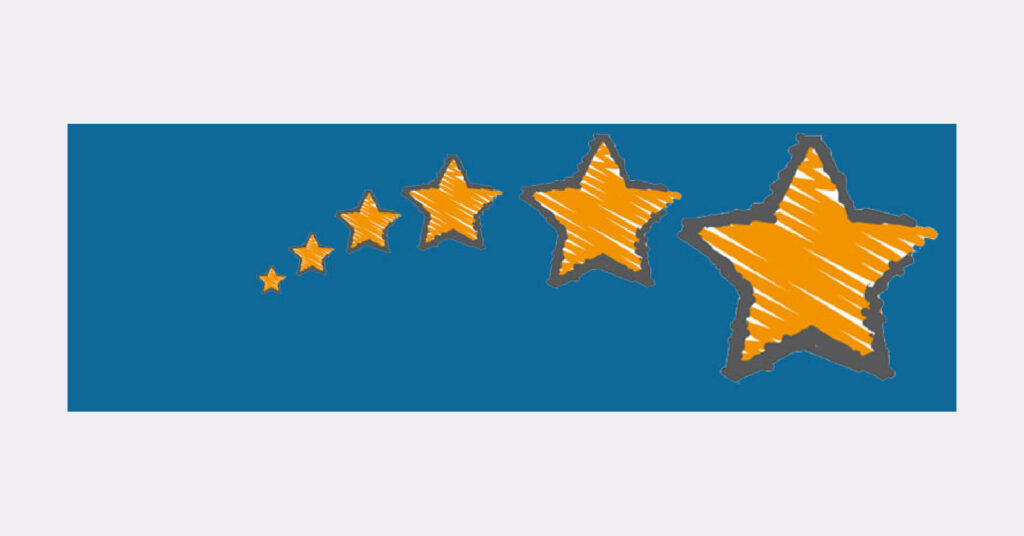 WP Customer Reviews allows you to create a particular page, fetch customer reviews for your business, and place them on the product page.
Why is WP Customer Reviews one of the best WordPress review plugins?
With an auto-update feature, WP Customer Reviews will let the users put shortcodes on specific sites along with sidebars. Moreover, take control to limit the displayed reviews on each of the pages.
From the settings options, users can select the fields for the customers to display the review or fill it up in the submitted review section.
WP Customer Reviews has an admin response. So from the dashboard, admins can take control of the social reviews, and they can edit the date and data. Moreover, rich snippets on search results and easy integration with more than one page are some top features.
We recommend WP Customer Reviews for startups who whats a simple review section.
Google Reviews Widget
Google Reviews Widget has a slightly different function than any other WordPress review plugin. This plugin is an excellent solution for the service-based business or restaurant that wants to show off the Google reviews of the whole business other than a particular product.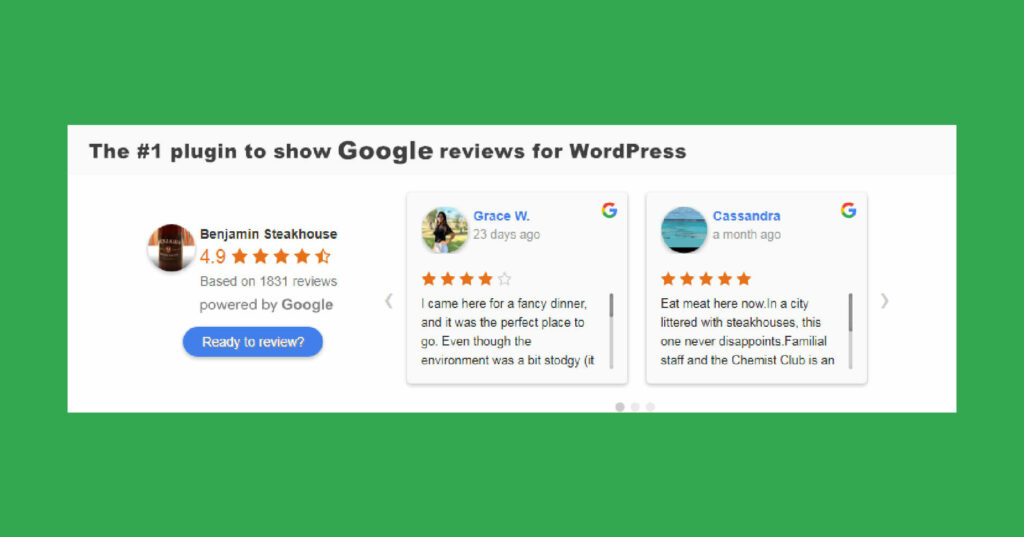 This tool fetches all your Google reviews for business and displays them on your website instead of letting the users write reviews on the website. It functions as a widget, and the reviews ratings can be displayed in your footer, header, or sidebar.
Why is Google Reviews Widget one of the best WordPress review plugins?
Google Reviews Widget lets you display reviews from other platforms like Facebook and Yelp.
Like other review tools, Google Reviews Widget is not only suitable for light websites; rather, it works fine on darker websites as well.
This tool offers several themes to customize the way your social reviews appear online. Moreover, it supports multiple languages, so you can integrate reviews from all over the world.
Google Reviews widgets are recommended for widget lovers.
Taqyeem
Taqyeem is a premium plugin that comes with multiple customization options. With this review plugin, you can embed a review box to any page or post, custom post types, and the website's sidebar. In this sidebar, you can showcase random reviews as well as the best or the recent ones.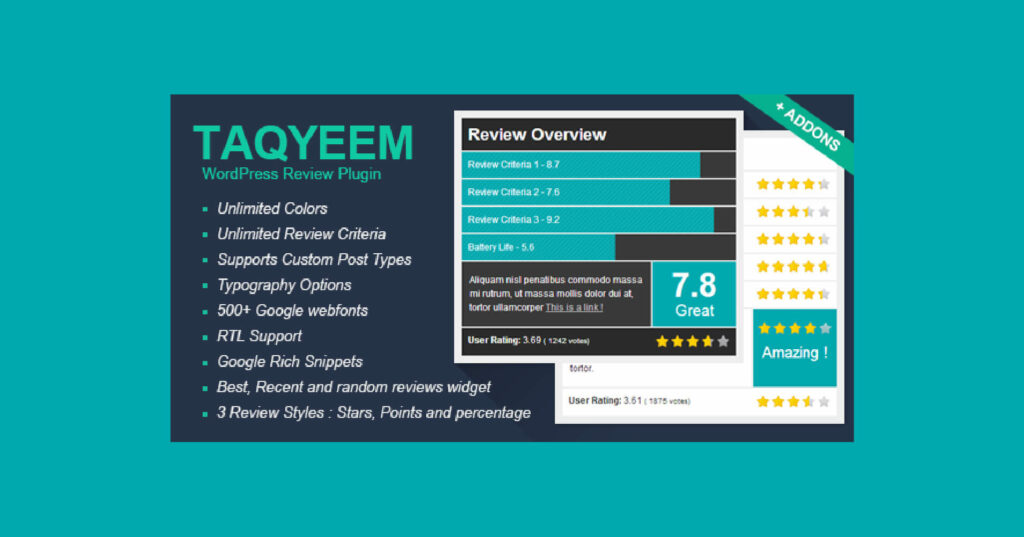 Why is Taqyeem one of the best WordPress review plugins?
Taqyeem has unlimited color and review criteria. With three types of review design; stars, points, and percentages, you can pick multiple review styles.
This tool allows you to integrate with Schema-rich snippets to appear on Google search results along with 500+ Google web fonts and typography.
If you want your brand to stand out with various colors and customization, then Taqyeem is the Best WordPress review plugin.
All In One Schema Rich Snippets
Schema Rich Snippets is a high-quality snippet for your products that helps you to rank higher in search engines. So if you are in search of a typical review plugin, then this is not might the best tool for you. This plugin is free for all users and doesn't require any upgrades so you don't need to worry about it.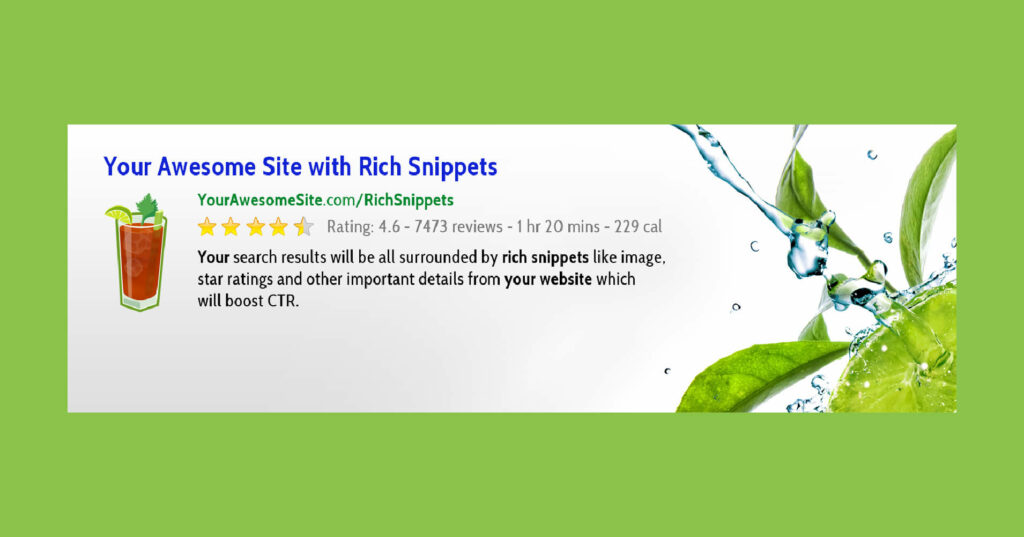 Why is All In One Schema Rich Snippets one of the best WordPress review plugins?
Schema ensures a high volume of SEO optimization with a rich snippet. It can display your reviews with detailed information with images and stars.
Schema claims to provide the snippet with the accurate search results that users look for. Moreover, it lets users share the information on their Facebook pages.
The all-in-one Schema Rich Snippets helps to get more audiences by adding cooking recipes, events, and people along with reviews.
If you need to rank higher in search results and want something different like videos or recipes, then get Schema.
Which is the best WordPress review plugin for you?
So the final question, is what is the best review plugin for WordPress? Here's a quick recap for you-
There you go! If you want to share your thoughts about the best WordPress review plugins, reach out to us in the comment section below.
Our suggestions
Congratulations! You've completed the research on the best WordPress review plugins for business. Picking up the perfect WordPress testimonials plugin is not an easy job at all, especially when there are great WordPress plugins available.
However, if you want to place your valuable reviews and ratings in an organized way and decorate them to create a brand aura, we suggest you get the all-in-one social tool, WP Social Ninja. It is a lightweight tool that offers multiple social media platforms with top-notch features.