Why Are Social Media Handles Important for Your Business? (Pro Tips)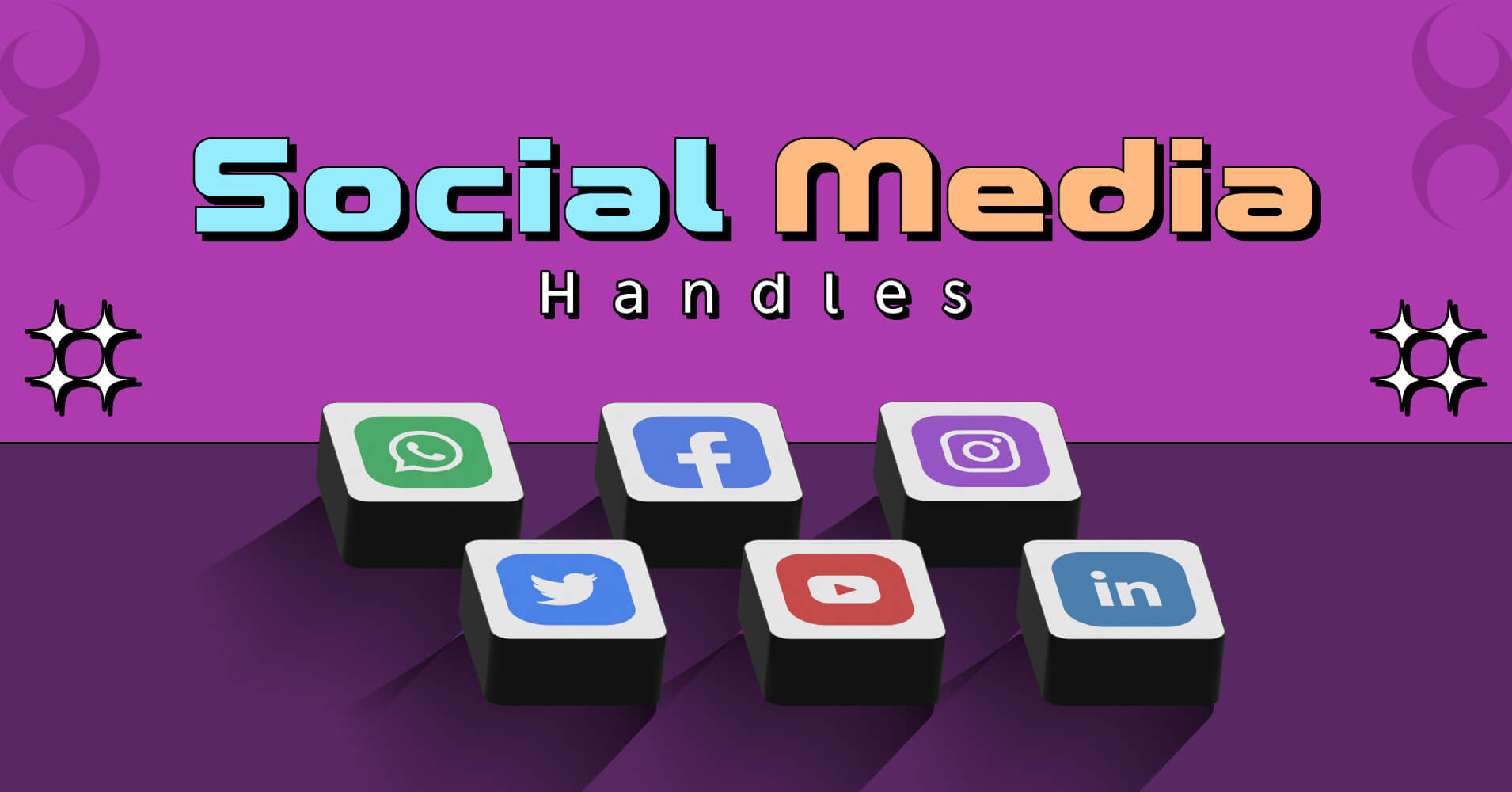 Does your business have social media handles? Or if it doesn't, you're at the right place where you'll know what your business is missing out!
Running a business isn't like a walk in the park. It's something that will need you to place the right piece of the cube in the right edge. And social media handles for business are one of those pieces!
So how will you win the race if you deprive your business of one of the proper marketing strategies?
No worries, you are never out of time if you finally catch the right line. If you ask about marketing strategy, social media handle is one of the crucial ones you cannot ignore. And this article is all about social handles how your business should run and what it should include.
Let's walk through;
What are social media handles?
Social media handles are the usernames that a company or organization owns, that have social media account on different social media platforms. Facebook, Twitter, Instagram & LinkedIn are popular social handles.
Usually, to define social media handles meaning, they are assorted in many ways, but one thing is common that includes a username; that carries the identity of a brand.
A single username is yet the most effective element by which you can grab your visitor's attention from social media platforms letting them easily find and remember you.
Why your business needs social media handles?
Want to represent your brand besides connecting your users? Then social media handles would be the best option for you.
People find you online through social media, but you can send your message to them with your social media profiles. As your posts are public, everyone can find you through your social media posts & can tag you in their posts.
Read: How Social Media Has Changed Marketing (Is It The Future?)
Nevertheless, the advantages are more. Let's see some of the importance of having social media handles;
Visibility & brand awareness
Social media is the place that allows businesses to reach a wider range of audience and increase their visibility online.
When you have a social media profile, you can showcase your products or services and engage with your potential customers.
Customer service
Having social media handles will help your business communicate with your customers in real-time and provide timely support. And this way, you can build trust and loyalty among your customers.
Marketing & advertising
Again, nothing can be better than having social handles if you want a better medium for marketing and advertising your business products.
With your social media profile, you can apply all your marketing strategies to reach your target audience. As you know the importance of word-of-marketing, you can make it better with social media marketing; you just need social media handles.
Competitive advantage
About beating the competition, having social media profile keeps you up-to-date with the industry trends and connects you with your competitors. This will help you stay in front of the competition and serve the best to the customers!
Feedback & insights
The advantages of keeping social media handles don't end here; it also helps you grow your brand by getting your customer's feedback and insights from social media.
It's a better way to gather valuable opinions and reviews from your customers, which you can apply to improve your products and services.
Overall, having social media accounts will help your company connect with your consumers and expand its online presence perfectly.
How to pick one for your business?
To have an active presence on the majority of social media sites for your business, you must create a social media handle.
Regardless of what you initially believed, social handles are more common across platforms. Here is a quick list of well-known social media handles examples:
Facebook handle
All Facebook page accounts have usernames, also referred to as handles. This name will show up in your customized Facebook URL.
If you're going to create a Facebook username, make sure it's brief, to the point, and simple to remember. The same name may appear on the profiles of multiple Facebook businesses, making them the same for relevant searches.
However, your Facebook page's username makes it stand out. You shouldn't be concerned; keep publishing and expanding your page. It will take place quite soon.
Want to boost your Facebook handle through your website? You can find it here how:
Twitter handle
Unlike Facebook, each handle is different and usually used for direct interaction. When using Twitter, you must include @ before the username of the person you are going to address to or tweet about.
Nevertheless, using handles that accurately represent your company name and endure over time becomes crucial.
Furthermore, a handle that could be helpful to you should always be claimed as soon as possible!
Instagram handle
Instagram is another well-liked social media account. This one resembles a Twitter username a lot. On Instagram, a profile and its content are identified by a unique username.
It can be used to send a message to the user, upload content that mentions them, or as a technique to promote the username. It is typically expressed after the "@" symbol.
Most businesses will simultaneously claim both social media handles Instagram and Twitter usernames while mentioning their social media profiles, which is a smart move. This establishes consistency, which is crucial for social media handles.
YouTube handle
Just like other social media channels, YouTube handles work similarly. Your channel handle names will appear on both YouTube videos and shorts.
Previously YouTube videos were found only by the video URLs, and that too when a channel had at least 100 subscribers. But after the YouTube handle launched, the username containing @name make this easier for people to find a specific YouTube channel's video.
And finally, when you create a YouTube handle, you will get a matching URL for your channel that includes your handle name. To get traffic from outside YouTube to your content, this one will help you the most.
P.S: Along with concerning for your social media handles, we hope you're keeping your business profiles up-to-date with Google My Business, Yelp, Airbnb and Amazon reviews.
Pro tips: Make your social media handles better
Be consistent
Maintaining consistency with your social media handles is crucial. You need them to be simple to recall.
Here again, if you couldn't have made the same username for your social media channels. But don't be upset. The next best thing is to find a fairly comparable handle.
Anyway, it's always crucial to keep in mind to reserve your desired handle for your company as soon as new social media sites are launched. Even though you might not use it, you have created it in case it does turn out to be important.
Simplicity is the key
A concise social media handle is essential because the majority of platforms will have character limits. However, keeping your social handles short and easy to remember will make it simpler for users to find your account.
Avoid using long usernames on social media at all costs. They are hard to remember and spell.
But you should still try to limit the number of characters you use as much as possible. Use acronyms instead of long, complex terms whenever possible.
Showcase your social media feed on website
Finally, display your social media handles on your website to give them more credibility.
You simply need to position your social media feeds where you can reap the most benefits to make this strategy effective. Your business website would be the best one for this.
Your website gets new visitors regularly, without a doubt. However, if your social media handles are integrated with your website, you can easily introduce your website visitors to your social media profiles as well!
Install WP Social Ninja, an all-in-one social media solution, on your WordPress website to embed your social media feeds. Additionally, you can include social chat widgets and social review templates with that single social media plugin.
Final take
In the overall picture of your marketing strategy, social media handles may seem like a minor consideration, but they can significantly affect your outcomes.
We realize how difficult it might be to come up with the ideal handle while guaranteeing it will be available. But we hope that after reading this article, you now have a basic understanding of social media handles.
You're already headed in the correct direction to find it out if you keep this in mind. Let us know in the comment box if you've found it useful or if anything else is important. And, on your search for the ideal handle, good luck!