Everything You Need to Know About How to Write Amazon Review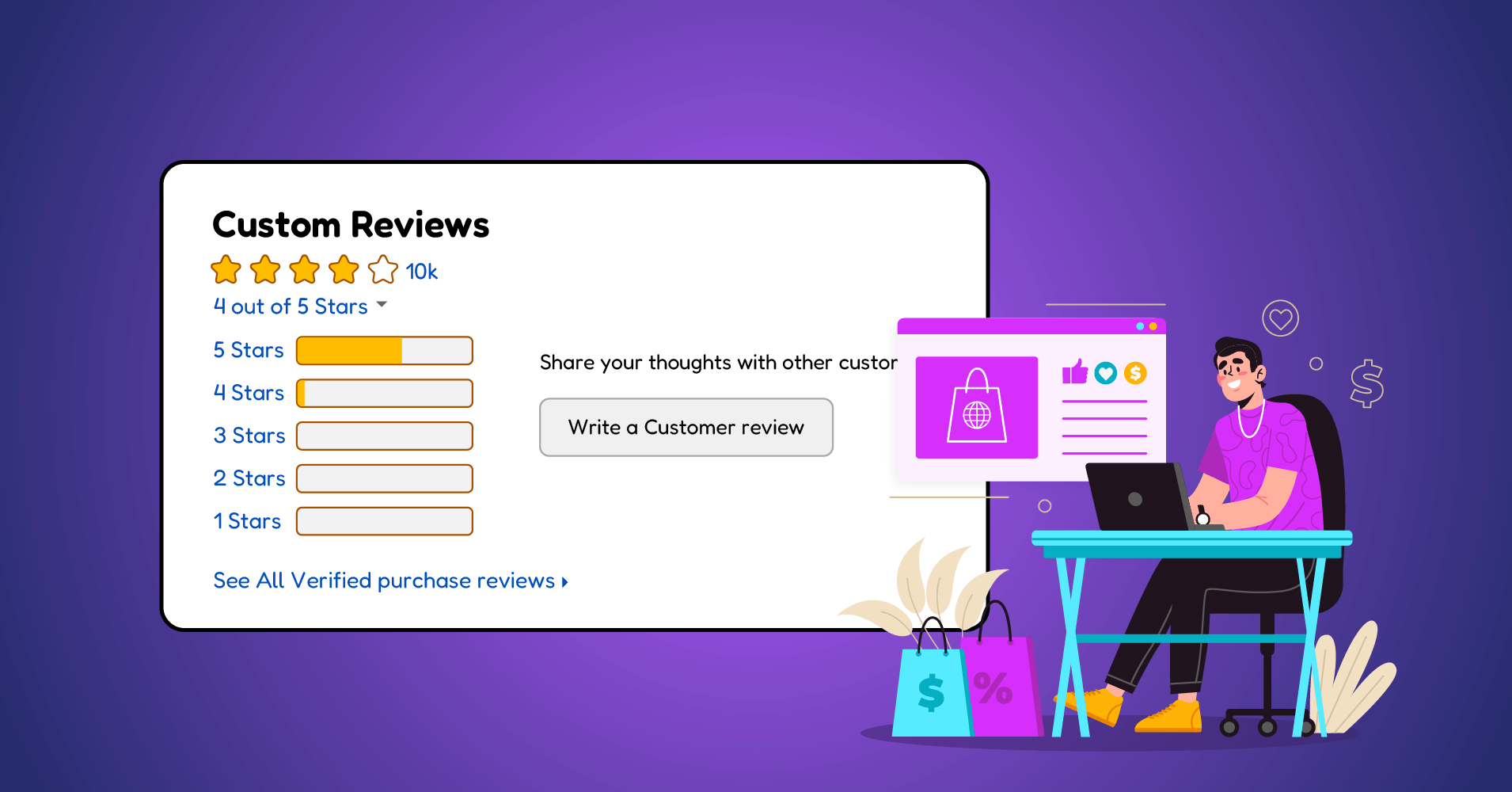 Looking for a simple yet effective method on how to write Amazon review? That might call for a quick read on this blog that takes around 4-5 minutes.
You know, there are tons of marketplaces on the marketing planet. Amazon is one of the biggest platforms among all of them. So undoubtedly it holds the importance of your opinion.
You may ask why. Well, Amazon review is not only an e-commerce marketplace, also one of the largest online communities. You also may wonder if your only online review adds value when people around the world leave their feedback almost every day.
But it's important; because when you buy a product from Amazon based on a customer's review and rating, same, you're influencing others too for buying that product. So the time you're taking on writing a review, don't think it's for nothing or a waste of time.
Still, you need to know a few things about how to write your review more accurately. Keep reading, and get ready to write a perfect Amazon review!
How do you write a review on Amazon?
First, you need to know where to start. If you want to write a customer review on Amazon, you can choose any one from desktop or mobile.
Let's see both steps on how to write a review on Amazon;
Write Amazon review on desktop
For desktop, sign in to your Amazon account and visit your product page to select the product you want to review.
Now find the Customer reviews option. Choose to Write a Customer review under the Review this product headline.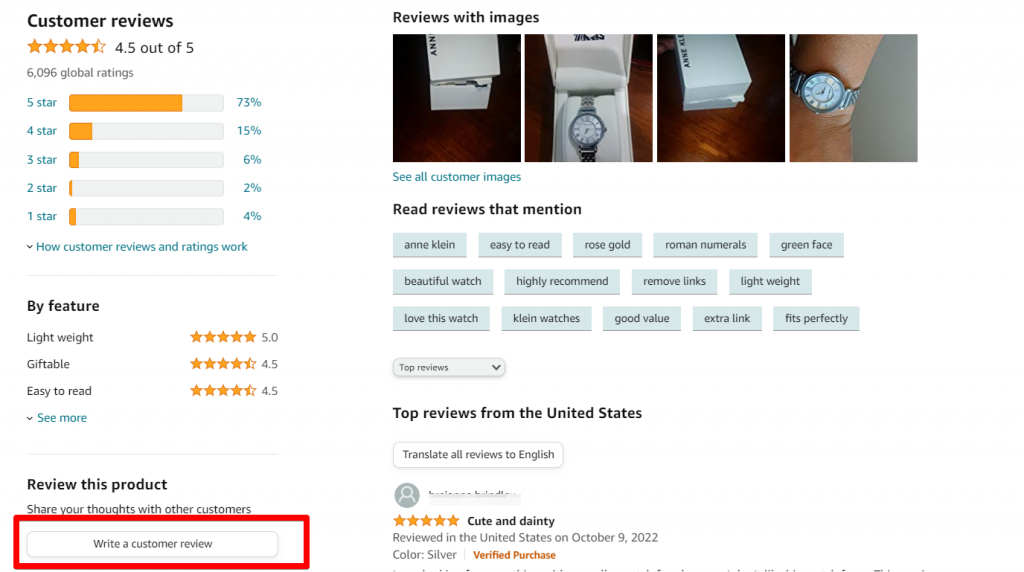 You will be redirected to a page where you can leave your overall product rating by rating the product feature. Then write a review with a headline, and add any image or video as you wish.
Click the Submit button when you're done writing your Amazon product review.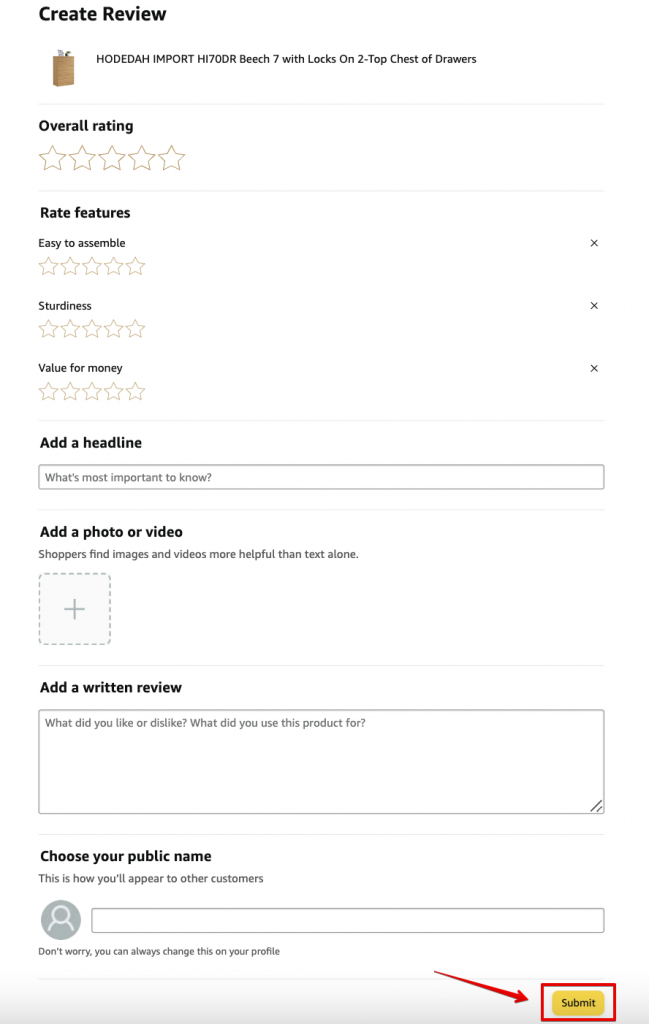 Again, you may make a few mistakes while writing Review, or forget to put any important image you wanted to attach with your product review; or you may want to modify or delete it. For this, you can check the steps:
Go to Amazon account>Accounts & lists> Ordering & shopping preferences> Your Amazon profile; then from the three-dot from the right corner of the Review and choose Edit review/Delete Review or Hide on my public profile.
Write Amazon review on mobile
If you want to write an Amazon review from your mobile, you can do it using the Amazon shopping app on Android or iPhone, whatever you have.
Second, search for your product, and find the button Customer review.
Now, click on Submit review.
After writing your review, click on Submit to post your review.
Like you can make changes to your review on a desktop, you can do the same from your mobile app. Follow the steps:
Open the app> Click on the profile icon> Select Your Account> Personalized content> Profile; then, from the three-dot from the right corner of the review> Edit review/Delete review or Hide on my public profile.
How to write a good review on Amazon
Well, as you've got to know, how do you write a product review, yet there a question remains, how do you write a good amazon review?
In short, a good review means how honestly you express your thoughts in your review. It could be positive or negative review; but the element of good depends on how perfectly you share it that sounds compelling and interesting.
We've listed some important points that you should mention in your words when you write a review on Amazon:
When you write a customer review, make it simple and write like you're explaining it to someone close to you; Make it simple as possible and sound like your review tells them why they should buy it.
Make sure you've clearly mentioned whatever you wanted to express in your review, that people don't find it difficult to understand.
Stay focused on the topic; if you want to write a good review, the review doesn't necessarily need to include the technical difficulties or internal faults but how it impacts you and why.
While writing review on Amazon, you have the option for mentioning a headline. So make a compelling headline that the reader finds interesting at first glance.
Lastly, Amazon has a strict security policy against nepotism. You're restricted from writing any unbiased customer review, and if you do something like this, your review may be removed without any warning. So stay focused on your product review, not on an author or a seller.
Final thought
And that was the laziest step of writing a review about the products you've perceived from Amazon.
But one more thing to remember if you're selling products on Amazon and want to get more revenues from your products through some amazing hack, ask us HOW!
Because we have the best social media plugin, which will allow you to take your business one way ahead, along with your social media reviews, you can boost your conversion as well as sales with Amazon reviews by showcasing them on your website.
For this, all you just need to do is make sure your website does have WP Social Ninja, the all-in-one social media plugin, empowering thousands of small businesses.
WP Social Ninja
Try WP Social Ninja today and see for yourself!
Also, let your customers know about the queries and confusions they might have;
FAQ
How to write review on Amazon without purchasing
First, if you want to write a review on an Amazon product without buying it, you can. If you've ordered something and are willing to put your review for it;
Visit the site and find the order detail page from your order page list.
Go to the customer review, and write your review.
Now put your opinions in star ratings.
You can add a photo/video with your text; after that, click on the submit button.
What is a review on Amazon?
A customer review of a product defines the usage and quality of a product. Same as reviews on Amazon, people will get to know more about the product and decide whether take that product or not. Hence, Amazon review gives real details about a product from fellow buyers.
What is a good star rating on Amazon?
A good star rating on Amazon starts from 3.5 to 4.5; the average rating of 3 means "It's okay," 4 says "I like it," and if you rate five that means you love the product.
Why can't I see my book reviews on Amazon?
Stay calm; it's normal to give time to your Amazon review show-up. Though it's frustrating but there's nothing to worry about. Because until your reviews have been processed, they won't be visible. So it's better to wait for a while.
Does Amazon notify you when your review is posted?
No, Amazon doesn't have any kind of policy that allows you to get any notifications after you post any review on amazon. The same rule also applied for the seller; Amazon won't notify you when you get any feedback from the seller.
You may also like to read: