WP Social Ninja Review: Features, Functions, Price, and More (WordPress)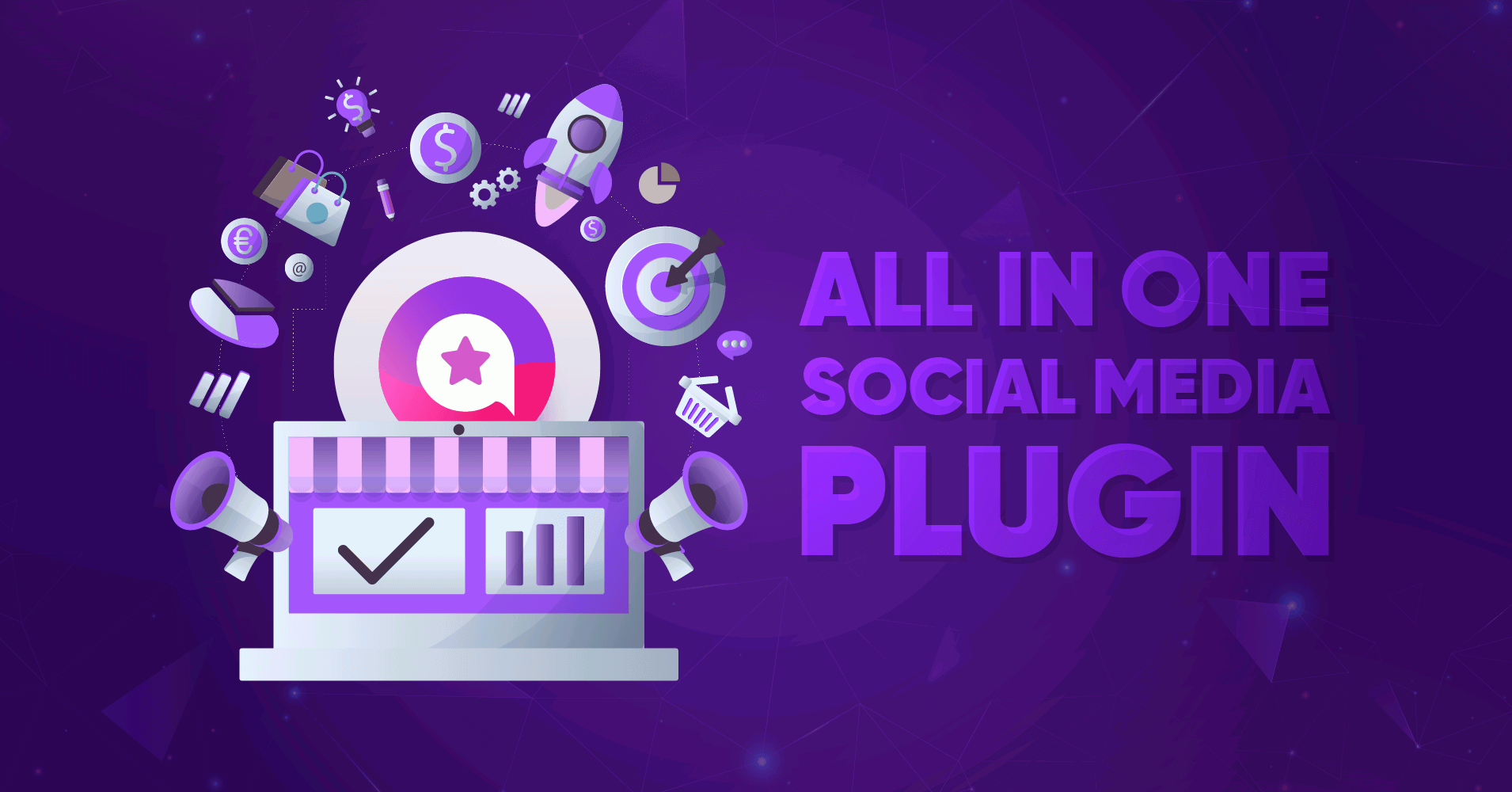 Social media strategy without keeping a social media plugin for your WordPress website; do you think it makes a sound business plan?
If you're not concerned about this, let us remind you what you're missing. As a business owner, you must not avoid the things that your business demands. And we suggest you have the best social media plugin for your brand.
Well then, here you go with WP Social Ninja, the best social media solution, which does not come with only one offering; rather, it comes with a package of solutions that a business has ever thought of.
Don't you want to know how we can claim that? No worries, if you really want to know more about this and bounce up the success rate of your business, you are at the right place!
Buckle up, and get prepared to know the best social media plugin for your WordPress website; we have rounded up everything here in WP Social Ninja review.
Shall we?
Background & timeline
WP Social Ninja, from the very beginning, aimed to serve all social media purposes that a business website needs to promote its products or services. To make it successful, the team Ninjas went through many work circles that could give this plugin a complete package functionality and made its place in the market.
At a glance at how we developed WP Social Ninja:
Inception ( November 09, 2019 )
First release ( January 01, 2020 )
Release Twitter Feed (January 28, 2020)
Rename from WP Social Review – WP Social Ninja (July 06, 2020)
Release YouTube Feed (October 29, 2020)
Release Instagram Feed (February 13, 2021)
Code refactor(March 16, 2021)
Chats widgets release ( September 10, 2021 )
Pro version release ( September 22, 2021 )
Release notification popups and reviews badge templates ( November 08, 2021 )
Release Facebook Feed (January 24, 2022 )
Release Testimonial Module, Reviews Import & Export( May 30, 2022 )
Release Instagram Shoppable Feed module, Responsive slider, YouTube feed custom banner upload (November 16, 2022)
Dashboard
So far, WP Social Ninja has made it easy for any business owner or marketer; let's take a look at the dashboard.
With an easy integration, you can unlock the door of this package. What you can see 1st is what the dashboard contains. You can't forget about the developers who are doing their best by providing unlimited features in social media plugins just to provide the best quality services for marketers and general users. Still, most of them do not have a user-friendly or easygoing UI that seems easy to use.
Imagine you've just installed a plugin on your WordPress, but after the integration, you're unsure where to start. Even though it may provide you with a user manual, will you honestly find it easy to explore further inside the plugin?
We know you won't (from the very general point of view). Representation is crucial, may whatever the service is.
Keeping that in mind about the user convenience, you can see how nicely each item of the elements is found in the dashboard of WP Social Ninja. This plugin organizes numerous features most efficiently; it combines all platforms in the dashboard so that it does not create a complicated outlook that could confuse a user.
Let's look at the interface;
A Social feeds option, reviews, and chat widget with the associated platforms; anyone can say that at a glance. And that's how it simple as that!
The left side of the dashboard and header section gives a short intro and easy access to the inside functionalities, including Platforms, Reviews, Testimonials, Notification Popups, Chat Widgets, Settings, and Support options.
Speed optimization and integrations
Well, so far, we have had a good introductory session on WP Social Ninja. But when it's about planning about implementing something on a website through a plugin or add-ons, it's always a matter of concern if the external element is causing any trouble.
So why would you compromise your site health to get help from multiple tools?
Yes, we know you may need different tools for different purposes of your website. But you can't ignore the fact that each plugin contains individual characteristics that could have complex configurations, which purposely cause your website down or might make it difficult to utilize the feature of your products, harming the user experience and SEO.
So, technically it's not wise to install multiple plugins.
WP Social Ninja, the way it's called an all-in-one package for a website, also serves the same. When you have this plugin on your website, you don't have to think about any other plugin for social media solutions. Its versatile features won't make you feel the necessity for any other tool; at the same time, it won't affect your website speed health.
We experimented on how good it is at speed optimization. We installed the plugin on one of our websites and ran it on a website speed meter PageSpeed Insight.
Here's what we got:
WP Social Ninja doesn't affect the speed of any website. This optimization result says it all;
Again, if you're worried about how the integration works, that's also a piece of cake. Without any technical knowledge, anyone can go with the integration of the WP Social Ninja tool.
Platforms list
The main functions start with the social media platforms you use to market your products. Importantly, to advertise your business products, you need to choose the right place where you can place your products at the right place to the right audience.
That's all about choosing the platforms. Don't you want to know what we are offering in this aspect?
Well, WP Social Ninja comes with amazing features by which you can control your social media platforms by showcasing on your business website that helps you boost your SEO strategy and all your marketing plan successfully!
To do that, this plugin is associated with the platforms most essential for any business. It does not focus only on one platform. You have options to choose from the multiple social media platforms you use for your brand; instead, you can get all the platforms you can use for social feeds, reviews, and chat on your WordPress website.
Every individual platform for individual purposes. Let's see what it provides precisely;
Social feeds
The social feed is one of the marketing elements you can use to exhibit the social media posts that will come directly from your social media platforms. Your social media wall is proof of how you are active on social media and how well you promote your services.
Below are the lists of platforms that WP Social Ninja allows creating social feeds from.
Twitter
You probably have a Twitter account for marketing your product as a business owner. Since Twitter has been used from the beginning for a professional purpose, marketers get better results using Twitter for their business.
And you must not lag behind on this. We hope you have Twitter and use it like other successful business owners. Anyway, whatever products and informative posts you share on your Twitter profile, you can embed the Twitter feeds on your Website.
WP Social Ninja features this unique platform along with others. The features and detailed information will be disclosed later.
YouTube
When we have to find something for any product or business review, we prefer to find the content on YouTube after Google. Moreover, the audience is more fond of video content than reading a long article or blog.
So, that's about audience preference. And you will definitely prioritize your audience choice in your business strategy. Whether you have a business channel on YouTube or planning to make videos to broadcast from your social media profiles, you can make it more worthy when you let people find your videos right from your website.
And if you're wondering how you will make it possible, then know that WP Social Ninja got you there!
You're free to add your YouTube feeds with our plugin and get your audience to find your business videos on your website.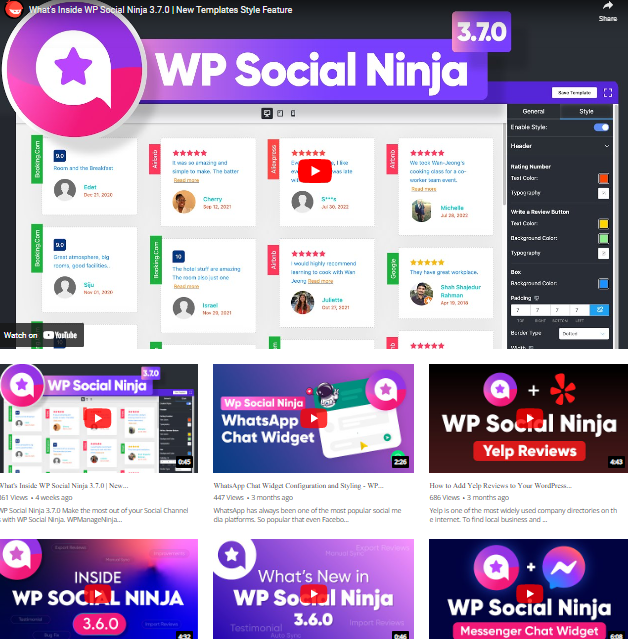 Instagram
Instagram is the most popular social media platform worldwide. Whether for personal or professional use, this platform has a top-fan base for its usefulness and compelling visualization. And you think WP Social Ninja will miss adding this special platform?
Definitely no! The way you keep engaging your audience with Instagram posts, you can do the same by embedding your most important exciting Instagram feed to your website.
Also, as we know, Instagram is popular for getting the trending news by its hashtags; WP Social Ninja allows you to utilize your hashtags and keywords by sorting your feeds accordingly.
And this is as simple as it sounds!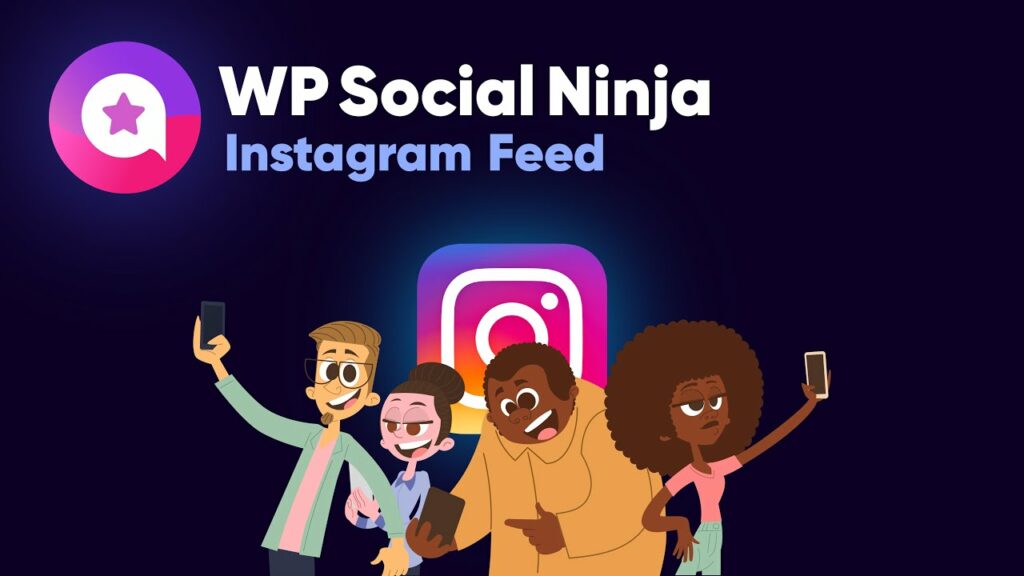 For details, watch : How to fetch Instagram Feeds on your website to engage website visitors | WP Social Ninja
Facebook
And here you go, the most demanding and popular business tool. Audiences are not only from one corner and generation use this; rather, its network has been spread over like a spider builds its network!
And we all are familiar with that fact.
But have you ever thought that the popularity and response you get from your Facebook business profile, you can get the same from the people who are new to your website? Fortunately, keeping other social media feeds, you can display your Facebook feeds by integrating with WP Social Ninja.
The way Facebook is growing its popularity day by day has made it businesses easy to make a profit a hundred times better than before. And our plugin is here with you to make it possible that you never think of getting in that easily.
Social reviews
After showcasing your social feeds, the next thing you need to show on your website is social reviews. The importance of online reviews is more or less we all are familiar with the term. The reason behind this is we all are almost dependent on social media, and when we need to buy something, we first search on the internet and choose to buy the only products with positive reviews.
No matter it's positive or negative reviews, social reviews matter. And when you are opening up this to your website visitors that your potential clients generate, you know how your products and brand get valued.
So, besides having social feeds on your website, WP Social Ninja lets you display the reviews that you own from your social media profiles.
Platforms from which you can take the reviews to your website:
Google My Business
Whatever business you run, whether small or large, you should have a Google My Business profile. To reach all your customers, an online presence is a must, and Google is the first thing where people come to find you.
Don't you want to know the use of WP Social Ninja here?
You may have reviews on Google that people left when they got satisfied with your product. WP Social Ninja fetches those reviews and directly takes them to your business website.
Having a Google Business Profile is one of your business's most important marketing strategies. Nothing can make this strategy more powerful than presenting your Google reviews on your business website.
In this case, WP Social Ninja is the best tool to help you with that.
Airbnb
WP Social Ninja privileges the business owners, not only those who want to embed their Google reviews on the website, it also provides the opportunity to add reviews from the other platforms of business sites.
Airbnb is one of them. This business model aims to serve the property owners to get revenues by showing their wellness and through their guests or clients who leave their reviews towards the brand.
Furthermore, Airbnb reviews will help you to grow in this business aspect by making people more influenced. Showing the reviews along with your other social media reviews, or if you want to show your audience how good your service at Airbnb is, you can do that simply by integrating your website with the WP Social Ninja plugin.
Yelp
While running a restaurant business, you need to hear back from your customer and the same time, show positive feedback to others.
And chances are high here to get reviews from your customers online. Yelp is the best place for this.
And what WP Social Ninja brings for those business owners is to collect the reviews from your Yelp account and place them on your website. This social media tool will be your best pick if you're thinking about your restaurant business growth.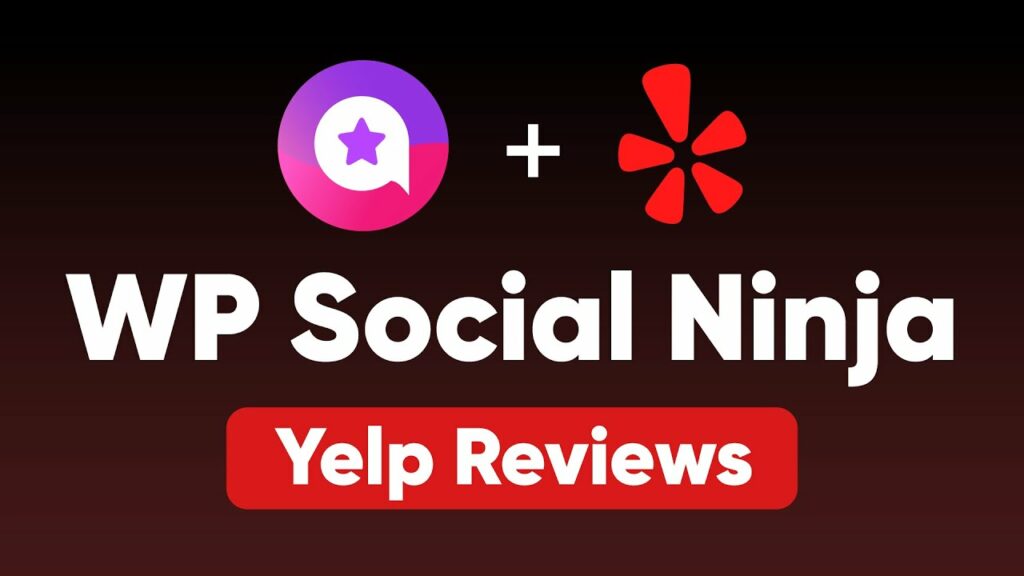 Watch on YouTube: How to Add Yelp Reviews to Your WordPress Website | WP Social Ninja
Tripadvisor
Next, you have Tripadvisor. To double your profit in traveling business, the WP Social Ninja plugin also allows you to show your customers your business reviews by adding them to your WordPress website.
Adding TripAdvisor reviews to website always has the benefits you will need if you run any traveler agency or website. People normally want to find you online, and when they find you getting better reviews than others, that's a win!
You must be aware of having a TripAdvisor profile to organize your business profile properly. But placing the reviews in the right place is what you need to do professionally. And for this, it may require you to use a social media tool.
But when you have WP Social Ninja, you don't need to think of any other tool.
Amazon
Another popular and trustworthy eCommerce marketplace you have is Amazon. When it's about shopping from an online marketplace, we all know how Amazon is holding its popularity up.
Using social media to put their business first is the best thing anyone can do. You know what people actually look for when they need to buy online. Apart from collecting reviews for your specific products, we can show them on your website.
While storing your online reviews from your social media platforms, displaying Amazon reviews with the best social media plugin is a plus!
AliExpress
When talking about the most popular eCommerce platforms, you cannot skip the name of a few communities; AliExpress is one of them.
Along with your other online platforms reviews, embedding AliExpress on website will not only make it perfectly presentable, also it will open a way of getting more sales and revenues from your business products.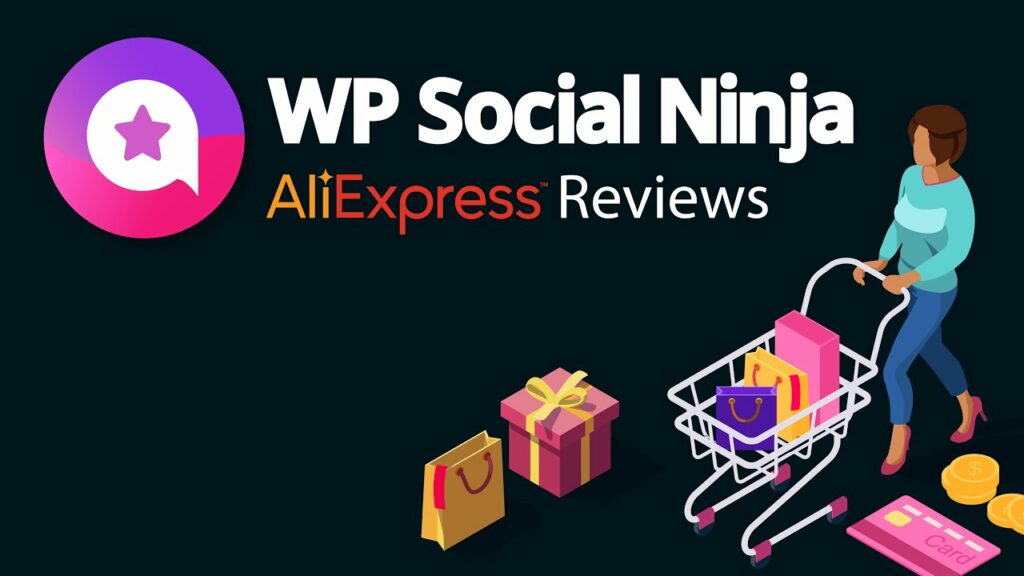 As WP Social Ninja gives its customers all control over aggregate social media reviews, you are able to do that as well with your Aliexpress reviews.
Watch details on: Power of Adding AliExpress Reviews on Your Website | WP Social Ninja
Booking.com
Are you planning to have Booking.com reviews on your website? Or, while having multiple businesses you want to keep reviews of your traveling agency also?
It would be great news for you as you can do that too with our all-in-one plugin.
While having a traveling agency, your Booking.com site may gather several reviews from your customers. With the help of WP Social Ninja, you can directly bring those reviews and show your audiences who are new to your website and acknowledge the good services people get from your agency.
Facebook
So far, you have known about all the social platforms that are most important for business owners who want to get profited from with the help of a social media plugin. But don't you think we have skipped one of their most important?
And that's right; we are talking about Facebook. Almost all business categories use this social media platform. And the benefits of utilizing Facebook for businesses are not a new topic that is unknown.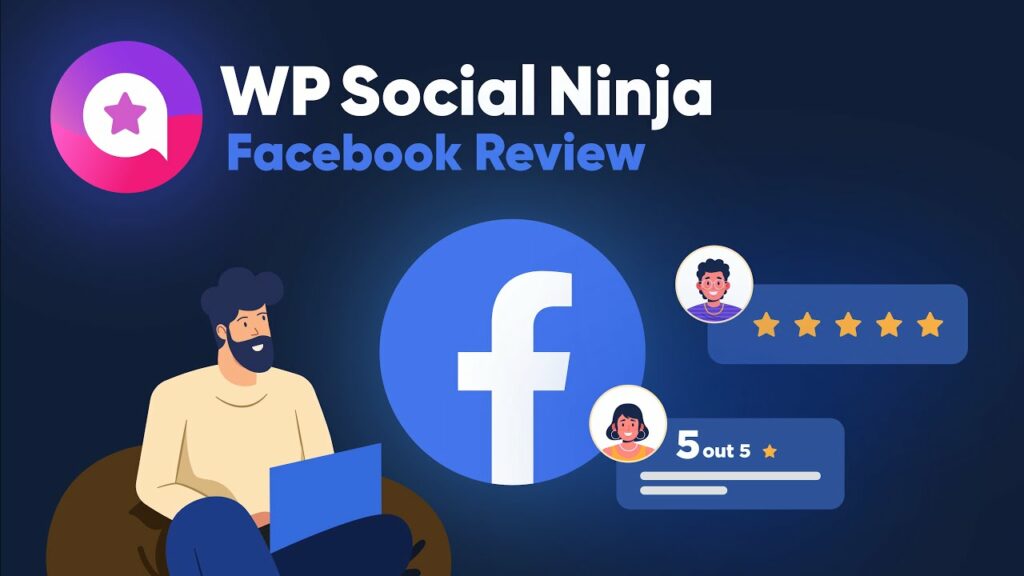 So, this social media is a must that is included in the WP Social Ninja plugin. Besides displaying Facebook feeds, you are free to share the Facebook reviews on your website.
If you want to know more, click on How To Add Facebook Reviews To Your WordPress Website | WP Social Ninja
Social chats
When you want to reach your customer, catch their attention at the right moment, and care about your customer's demands is your priority, customer support comes first, which you need to consider.
We have many social media chat options that allow us to resolve problems as quickly as possible. It allows contacting each of your valuable customers and helping them with more priority.
You have seen how WP Social Ninja helps you with exhibiting your social media feeds and social reviews. But with its advanced feature, you can easily interact with your customers and give them the opportunity the same at a time by adding chat options.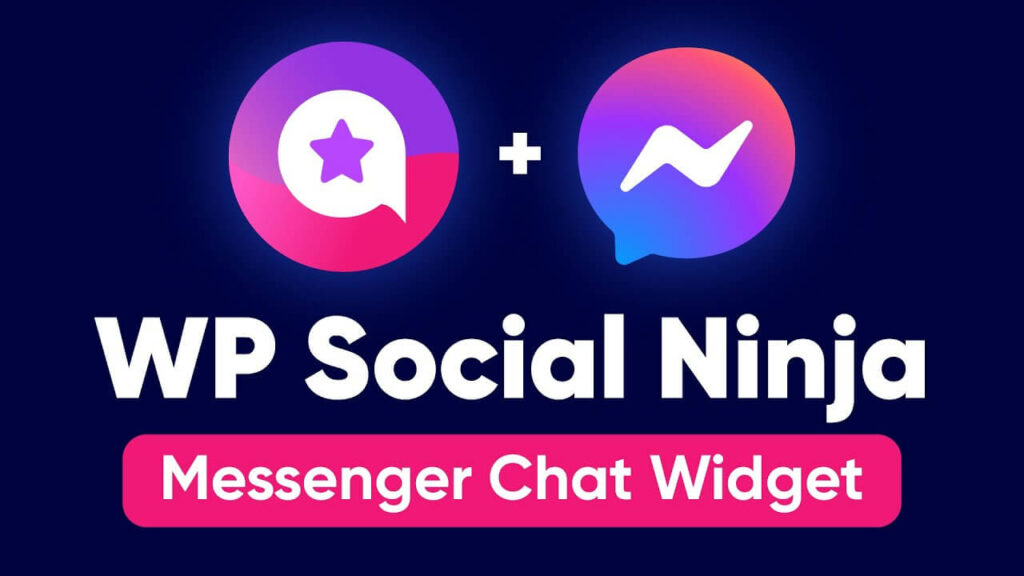 Social chat widgets that you can add anywhere on your web pages with WP Social Ninja-
Messenger
WhatsApp
Telegram
Instagram, and more.
For details: How to Embed Messenger Chat Widget to WordPress Websites | WP Social Ninja
WP Social Ninja review: Function
WP Social Ninja, in the beginning, started with giving all-in-one solutions to run social media platforms successfully for any business; by the time it has come up with different features and more upgraded versions.
We have detailed and specific features for each function of our plugin, which makes it a unique and powerful tool that is enough to compete with our competitors.
In a short summary, let's have a look at what it's offering that are the main attractive points you will get in this WP Social Ninja review;
Social Feeds
With the benefits of social media, businesses are doing much better in collecting leads and making them potential customers. Also, we can see the bright sides of social media in many aspects of marketing business products.
Utilizing the social feeds from those social media gives you a bonus to your business. When you integrate WP Social Ninja to fetch your feeds wall from social media profiles, you are a way ahead of boosting your marketing strategy than others.
Social Reviews
After exhibiting social media feeds, next, in the WP Social Ninja review, let us introduce you to social reviews. You have reviews that are achieved as social proof and customers' positive feedback.
Placing them in the right place is the thing you can do to better style your marketing plans. Not only will you attract customers by showing your social reviews when they visit your website, but you are giving a professional outlook also to your business profile.
WP Social Ninja will help you collect all your reviews from the platforms you want to pick from and place them at the right place on your website accordingly.
Social Chats
When you are way enough to set up your website with social media reviews and social feeds, the next most important thing you'll need is customer support.
And for helping your customer and responding to them at the right time, having chat heads are the most useful element for both parties. You will find our social media tool here with plenty of features that will enable your website with chat support on your website.
Notification Popup
As you give your website functioning something extra than your business competitors, don't you want to give it a more professional interface?
Let's hope that you have already provided your website with previously mentioned features, but how about adding Notification Popup on your website?
You can quickly connect with people through its Notification Popup function, which catches their attention. To highlight the reviews and recommendations, it features distinctive custom choices.
Testimonials
As people are more trusting on others' recommendations and feedback that they express about any product of a business, nothing can work here better than showing the customer's opinions on your website.
Probably you are thinking about the reviews on your website; that's right, but besides that, you can showcase your customer's feedback more specifically by adding testimonials on your web pages.
WP Social Ninja facilitates you to edit your social reviews and write lovely testimonials as social proof. Additionally, you will have the choice of customizing your testimonials.
Export/Import Custom Reviews
Again, you have Export/Import options for the custom reviews.
Through CSV files, it allows exporting and importing customer reviews. Your website's capabilities for exporting and importing customized business reviews can make this process simple.
Custom CSS
Modification in existing templates is normal. But for this, you may need to reopen your CSS files and add/delete coding lines. Or, you might choose any other theme builder.
But, you don't need to do that while having WP Social Ninja in your WordPress website. Rather this job will be easier for you because it has in-depth template styling options, which will let you custom your CSS.
Shoppable Instagram feed
To smooth your e-commerce business activity, Shoppable functionality in your website is a bonus. This functionality works as a powerful upgrade for any kind of e-commerce website.
For instance, you want to take your customers to the product pages or any popular sites like Amazon, eBay or Airbnb where you're selling your products/services, right from your website, you can do with the Shoppable feed.
WP Social Ninja review: Features
To get the complete WP Social Ninja review, you need to know all the features this plugin offers in every section of social feeds, social reviews, and social chat widget.
Social feeds feature
Template Layout
You'll get various template types to retrieve the relevant social posts for your website. Moreover, you can display your social media updates with beautiful template layouts to give your website a beautiful and professional appearance.
From its various layout types, you can organize your social feed using the Carousel options to give a different interface to your website.
Filters Settings
You can use an advanced filter to manage your social media feeds as you wish. Especially you can display or hide your posts, videos, tweets, and other content using certain terms or hashtags on your website.
Feed settings
From here, you can decorate your social feed on how you want to show or hide the elements like author name, logo, image, and more. Particularly, turning on the Popup settings button allows you to display a structured website with different settings for your brand.
Hence, you can open your social media feeds directly from the platform post or through a popup window on your website. You can showcase your buttons on your website to increase reach and gain likes and shares. Again, it lets you display or hide descriptions and comments on your website to give it a stylish presentation.
For the Twitter feed, this will allow you to showcase the Twitter tweets Summary card or Player Card on your website. Simply turn the button on to do that.
Similarly, for YouTube, you have Play Mode, by which you can show the YouTube feed exactly how you want it on your site, use our Play Mode function with a variety of themes. If you don't want the entire caption or title to appear on your website, you can shorten the words in your YouTube title.
Custom Header section
You'll have a variety of options for how your feed header/profile information feed header/profile information with the page name, cover/profile photo, bio content, etc. will be displayed. In addition, you can personalize and embellish your website to look just like your business by using Custom Profile Photo & Bio Text.
Follow Button option
To reach a wider audience, you will get to show off your Twitter follow button and allow visitors to follow you there.
However, just simply turning on the button, you can allow your visitors to your website to subscribe to or follow you.
Styling feed
This is the advanced feature of customizing the social feed. In the general editor panel, you could customize the templates. But with this style editor, you have access to custom style CSS, including each and every element of your feed template without doing CSS code or installing a page builder.
Social reviews feature
Template variations
From here, you can utilize the most trendy and personalized settings panel from the WP Social Ninja dashboard to display your testimonials. To make your website even more appealing, display your online reviews using a number of layouts.
Filter reviews feed
With WP Social Ninja, you can control your website. You can choose the specific amount of reviews you want to display using this option.
In this section, you can create your own ratings and choose the finest ones to show to your users as all reviews are not given 5 stars. Moreover, your company wants the best social media rating out of thousands. But there might be some reviews that you want to be displayed. You can control them from here; you can show or hide any.
Besides, you can manage everything with this plugin from your dashboard; you can now hide your testimonials without texts. The advanced feature of WP Social Ninja offers a variety of customization choices that help you manage reviews and ratings using this powerful filter.
Review widget setting
You have control of the identity of your reviewers' visibility, whether to display or hide the reviewer's name on your website. According to the layout of your website, WP Social Ninja offers the opportunity to change the text height of your reviews.
To display the social media reviews on the web pages with precise alignment, you can adjust the content length.
Header Settings
This feature is from the pro version, where you will get a variety of options for how to show the name of your company, customer reviews, and site ratings on the first page of your website. Besides, you can set your custom title text, 'Number of Reviews Text', and custom 'Write a Review' text by selecting the header options.
Call to Action button
CTA button undoubtedly, inspires website visitors to submit a review quickly. In the reviews widget, you will have a custom CTA button, where you can customize how you want to place it.
Not only these, also it has a Manual syncing option; and has more advanced features that will offer features like Auto syncing & export/Import Custom Reviews.
Again, this social media tool has one of the most premium features- Notification Popup, by which you can add a Notification Popup to any of your website pages to attract users' attention and boost your brand's value.
Styling reviews widget
With the style editor, you can modify anything you have on your review template. For example, this editor panel allows you to customize the style of the Header, Reviewer Name, Author position, Review date, Title & Content.
Also, the other things like the texts on your page Read More/Less, Platform Name, Badge, Notification, even Pagination, and Review Box.
Social chat widget feature
Template setting & chat widget style
With WP Social Ninja, customize your social chat widget with a variety of cool template types that go with your brand.
WP Social Ninja lets you instantly connect with your viewers on any page or a specific page of your website. There is an exclude option provided by this social plugin. As a result, you can hide certain pages to hide the social chat widget on certain pages.
Chat widget customization
WP Social Ninja's premium version offers multiple chat widgets and custom options that enable you to engage with a bigger community and improve conversion rates.
To fully represent your business, WP Social Ninja enables you to customize your chat widget box. Moreover, you won't get tired of all the customization options.
Popup chat window setting
Let website visitors know you are only a click away. Activate your personalized pop-up social chat widget box to display it on any website.
You can set the duration of the chat box popup using WP Social Ninja. As a result, your chat widget will appear when the current time expires. Keep your customers from wondering when your team will be unavailable.
You will be able to schedule a time and can inform your visitors when you will be back online and that you are currently offline.
Display/hide chat header
WP Social Ninja's Chat Header option allows you to change the logo, profile/page name, picture, and caption. For the chat window to appear on a certain page or post, connect your chat widget to both or any page/post.
Also, WP Social Ninja gives you full control of your social chat on desktop or mobile and to hide it.
Offline service
Even while you are not online, WP Social Ninja welcomes visitors to your website with pre-written caption content. To add a personal touch and stay in touch, choose your own unique greeting messages for website visitors with the Welcome Message option.
Styling option for chat Box, Text & Icon
WP Social Ninja offers a number of styling choices that you can use to customize your chat box so that it goes well with your brand. Create your own customized bubble text from the editor settings box and select a suitable bubble icon.
The custom button for chat widget functionality from WP Social Ninja allows you to activate a button as a chat window anywhere on your website.
Add a Contact Form:
To gather user information for communication and to take the lead from your website, add a contact form using Fluent Forms.
Above mentioned features describe the overall feature of WP Social Ninja. But according to how they are available in free and pro versions, it was not possible to explain in this single WP Social Ninja Review. We have a specific article written detailed on this. Which you can find it on: WP Social Ninja Free vs. Pro: Which is The Best for You?
Comparison with competitors
Though you got introduced to the best social media plugin, you still need to know to determine why this is the finest social networking plugin for WordPress;
Additionally, you will be able to identify their crucial qualities as we introduce you to the plugins that have been rated the best social networking tools. We hope you will have a clear understanding of what each one is about.
Let's move on to the list;
Smash Balloon vs. WP Social Ninja
One of the top social media plugins is Smash Balloon. This social media tool includes a number of potent plugins that let you bring all social media networks into your WordPress website and integrate them.
However, comparing this plugin, you can see why you should choose WP Social Ninja over Smash Balloon:
| | | |
| --- | --- | --- |
| Features | Smash Balloon | WP Social Ninja |
| Display social feed on a single wall | 1 | 1 |
| Connect Instagram photo album | 1 | 1 |
| Filter Instagram feed with trending hashtag | 0 | 1 |
| Link up with Instagram stories & Instagram shop | 1 | 0 |
| Embed, custom social reviews template | 0 | 1 |
| Embed Twitter feed | 1 | 1 |
| Facebook feed | 1 | 1 |
| YouTube feed | 1 | 1 |
| Notification Popup | 0 | 1 |
| Chat widget | 0 | 1 |
| Add, customize testimonial | 0 | 0 |
Elfsight vs. WP Social Ninja
Another fantastic social media plugin for WordPress is Elfsight, which makes it simple to add social media feed widgets to your website. Displaying your social media feeds on the website is Elfsight's primary objective. And to help with this, they included sophisticated editing capabilities to their customizing area.
Again, WP Social Ninja beats this plugin, and keeps its place at first place.
| | | |
| --- | --- | --- |
| Features | Elfsight | WP Social Ninja |
| Add social feed (Instagram, Facebook, YouTube) | 1 | 1 |
| Social feed (Tiktok, Pinterest, Tumblr) | 1 | 0 |
| Multiple layout types for social feed | 1 | 1 |
| Filter feed setting | 0 | 1 |
| Embed social reviews | 0 | 1 |
| Display popup | 1 | 0 |
| Notification Popup | 0 | 1 |
| Chat support | 0 | 1 |
| Export/Import reviews | 0 | 1 |
| Customize feed widgets | 1 | 1 |
TrustIndex vs. WP Social Ninja
One of the social media plugins that business owners use the most often is TrustIndex. Because of its specialties, it has been included in the top best WordPress social media plugins for previewing social media feeds. Also, this plugin is associated with multiple review platforms.
On the other side, WP Social Ninja has all of those features that are provided in TrustIndex. At a glacne the comparison- TrustIndex vs. WP Social Ninja:
| | | |
| --- | --- | --- |
| Feature | TrustIndex | WP Social Ninja |
| Customize widgets | 1 | 1 |
| Add/customize testimonials | 1 | 1 |
| Multiple patforms | 1 | 1 |
| Collect reviews | 1 | 1 |
| Chat widget | 0 | 1 |
| Notification | Email Notification | Notification Popup |
| Export/Impor Reviews | 0 | 1 |
| Auto, Manual Syncing | 0 | 1 |
Takeaway
As you can see, each of the plugins we've highlighted here is powerful in its own capabilities. And, to be quite honest, we cannot deny the value of their products and services.
Additionally, if you search, there are a ton more WordPress social media plugins available. For instance, even though we've mentioned only three competitors of WP Social Ninja: Smash Balloon, Elfsight & TrustIndex; your search results may likely return more.
However, the ideal WordPress plugin for your social media will depend on what you hope to achieve. WP Social Ninja is at the top of the list because it can accomplish all the abovementioned plugins and even more.
Furthermore, If someone wants to use social media seriously as a component of their marketing plan, whether they are an individual or an organization, WP Social Ninja will not offer you the opportunity to complain about anything you would anticipate from an all-in-one social media tool.
Thus it will still be highly recommended.
WP Social Ninja review: Pricing
Since we have demonstrated the application and the overall guideline in WP Social Ninja review, you may get the free or pro version from the WordPress source if you think it's enough for you and your business demand.
More platforms and customizing opportunities are included in the pro version. If you want the premium version, the cost for WP Social Ninja is as follows:
Free vs. Pro
There are two distinct packs of WP Social Ninja: free and pro. Don't worry it's not a matter that will take your sleep away!
As we are discussing the WP Social Ninja review, let us help you decide what's the best suit for you. We will definitely advise you to try out the free version if you aren't quite ready to pay for the premium option just yet. Following that, you may decide whether a pro is required and whether you wish to upgrade.
| | | |
| --- | --- | --- |
| Features | WP Social Ninja (Free) | WP Social Ninja (Pro) |
| Social feeds | 3 | 4 |
| Social reviews | 2 | 9 |
| Social chat | 1 | 14 |
| Notification Popup | No | Yes |
| Testimonial | No | Yes |
| Export/Import reviews | No | Yes |
The end
Although WP Social Ninja is a new plugin, if you go through this WP Social Ninja plugin review once and compare it with other plugins in the market, you can see it is a fully functional social media plugin for a WordPress website. It creates one solid plugin by combining the finest features of other plugins.
To sum up, It is the unique method available for various tasks, including showing social feeds, social reviews, and adding chat buttons to your WordPress website. And the plethora of functionalities you receive for the lowest price with WP Social Ninja is its finest feature.
In the end, if you want to build user trust through social reviews, present social postings aesthetically, and enable discussions between users and you, we suggest purchasing WP Social Ninja today!