Why Do You Need Social Feeds on Your WordPress Website
What can social feeds do on your website? The answer is pretty simple. Half of the world's population is on social media. And most of the businesses are fetching social media content on their WordPress website. Integrating social media feeds on your website gives you the strength to grow your business way better.
So why not show off your social proof by embedding your social feeds directly to your website?
We would like to remind you that your website visitors are not so hard to crack if you utilize your assets properly. Aggregating social posts and user-generated content on your site will boost the site's credibility. Moreover, your users can see real-time social proof to compare with other brands. It will definitely help them to make a concrete decision and create fast word of mouth marketing.
However, embedding social feeds on your site is quite a hectic task to do manually. The good news is, brands can take help from social media tools. The digital world is extremely huge today, and social platforms like Twitter, YouTube, and Instagram have so much to offer. So for multiple sites, you need separate tools. But too many plugins can slow down your site too!
To fix this major hiccup you need an all-in-one social media tool that has multiple social platforms. We think WP Social Ninja is the most trusted social tool for you that will offer more than what you expect.
Why are social feeds important for your site?
According to statistics, more than 252,000 new websites are created around the world every day. The competition to maintain a website gets a little more challenging. Moreover, amidst the competitive trend, you need to have an updated online presence. Your WordPress website should contain something extra to hook your website visitors.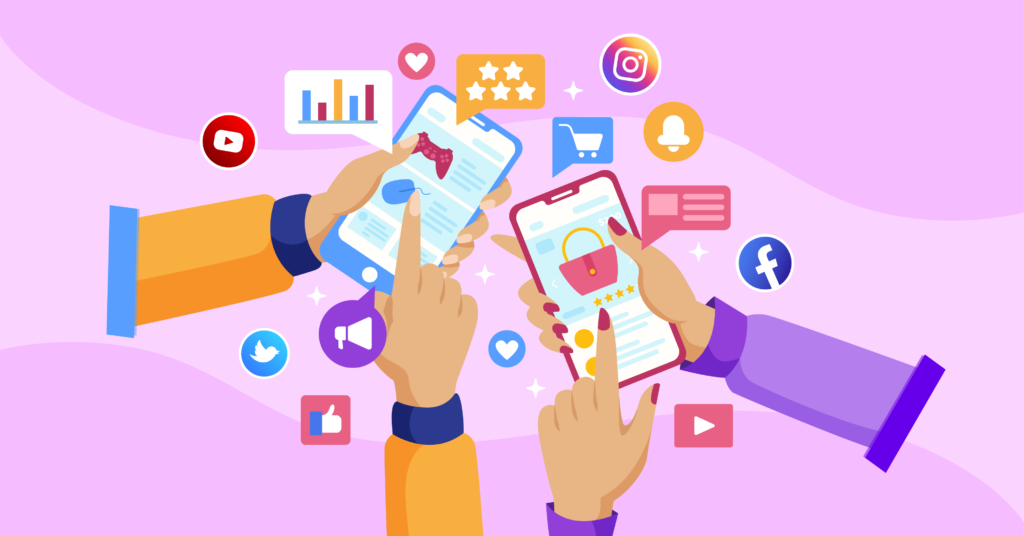 Furthermore, you need to provide something extra that none of the competitors have come up with. So if you integrate with WP Social Ninja, you are allowed to fetch your social feeds along with social reviews and communication mediums. But before we explore WP Social Ninja, let's see some points why we need social media feeds on your site-
Aggregates Your Various Social Media Profiles in One Place
Improves Your Website's Presentation
Displays User-Generated Content
Engages Your Visitors
Increases Your Visitor's Dwell-Time
Reduces Bounce Rate
Enhances Conversion Rates
Builds Social Trust
Moreover, adding social feeds to your website gives you so many robust features to make your website look stunning and engaging. Let's see-
Feed type
WP Social Ninja social feeds have the three most popular social platforms currently; Twitter, YouTube, and Instagram. Each feed type has different features and options. For example, if you select the Twitter feed, WP Social Ninja has four feed types; User Timeline, Home Timeline, Hashtag, and Mentions. You can select any option that can complement your brand.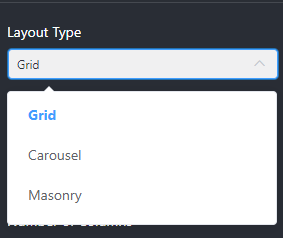 For YouTube you have five feed type options; Channel, Playlist, Search, Specific Videos, and Live Streams. Next is the Instagram feed with two feed types; User Account and Hashtag. These powerful moderation panels will help you sync with the look that your website demands to attract visitors.
Built-in templates
Our social tool WP Social Ninja has several pre-built templates for each platform. These beautiful templates will give your website an aesthetic look to attract website visitors. We offer Masonry, and Carousel layout types for Twitter feeds.
Next is the YouTube feed. YouTube has three template types right now with Grid and Carousel layout types. So brands can give a new look for better website performance. Moreover, the Instagram feed also has some templates and layouts. WP Social Ninja Instagram has three layout types with two types of templates.
Filters
WP Social Ninja has an amazing settings panel with some sturdy features. The filter is one of them. Social feed platforms have almost similar filter settings. The first filter is adjusting the number of tweets/videos/posts to display on your website. In this part, you can increase or decrease the number according to your wish.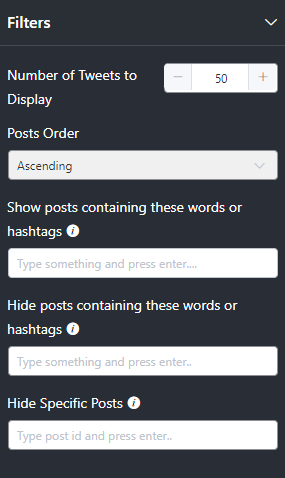 Next is Posts Order. The social feed has five types of Posts order; Ascending, Descending, Most Popular, Least Popular, and Random. In your website feed, sometimes you don't want to show everything. So in this section, you can show or hide content by words or hashtags. Moreover, by post ID you can hide a particular post.
Feed settings
WP Social Ninja Twitter platform has in-depth feed settings. It comes up with customized settings like Display Avatar Image, Name, Username. Moreover, you can also take control of your date, Twitter logo, and text. If you don't want to display the images or videos on the website, you can turn off the button to hide them.
Next, take full command of the Twitter reply, retweet, and like actions on your website. You can also change the photos and video pop-up button and turn it on/off along with the Twitter card and Twitter player card.
Video settings
We have four options for WP Social Ninja video settings: Inline, Gallery, Popup, and Redirect to YouTube. If you select Popup, separate settings will come up. However, for other options, the settings panel has multiple options. You can take control of the video title and trim the words.

Moreover, the settings panel allows you to play with the icons, duration, description, date, channel name, views, likes, and comments.
Post
For the Instagram feed, we have Post settings. You can open the post either on Instagram or Popup Box.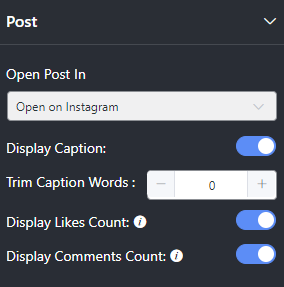 Here you can adjust the Instagram captions and increase or decrease the Caption Words. Moreover, you are allowed to take control of the likes and comments of Instagram.
Header
WP Social Ninja allows you to take control of the full Header for the social feeds header settings. Here, you have the authority to show or hide the header options.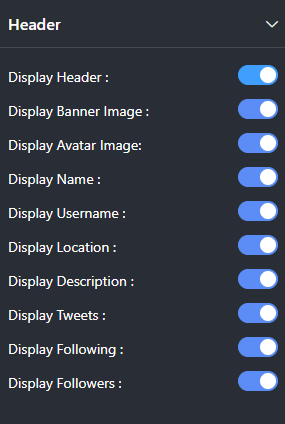 For example, you can turn on/off the Display Header along with the banner image and avatar image. Moreover, adjust the name, username, location, description, tweets, following, and followers by just turning on/off the button.
Follow button
Social feeds have the Follow button feature. And in this part, our social media tool has a Follow button position and a Button text feature. If you want to change your button position, you have three options; Header, Footer, or select both!
Moreover, you can customize your button text that suits your brand's aura.
Last words
When you decorate your social feeds that can match your brand perfectly it will also enhance your brand recognition. Moreover, you can improve your brand credibility. For example, if you focus on Twitter marketing it will give your brand a strong push to outreach bigger audiences.
We hope now you understand better how to keep your social feeds top-notch with WP Social Ninja. For more information check out our resources and social sites- Twitter and Facebook.