How to Embed Twitter Feed on Your Website in 5 Minutes (Part 1)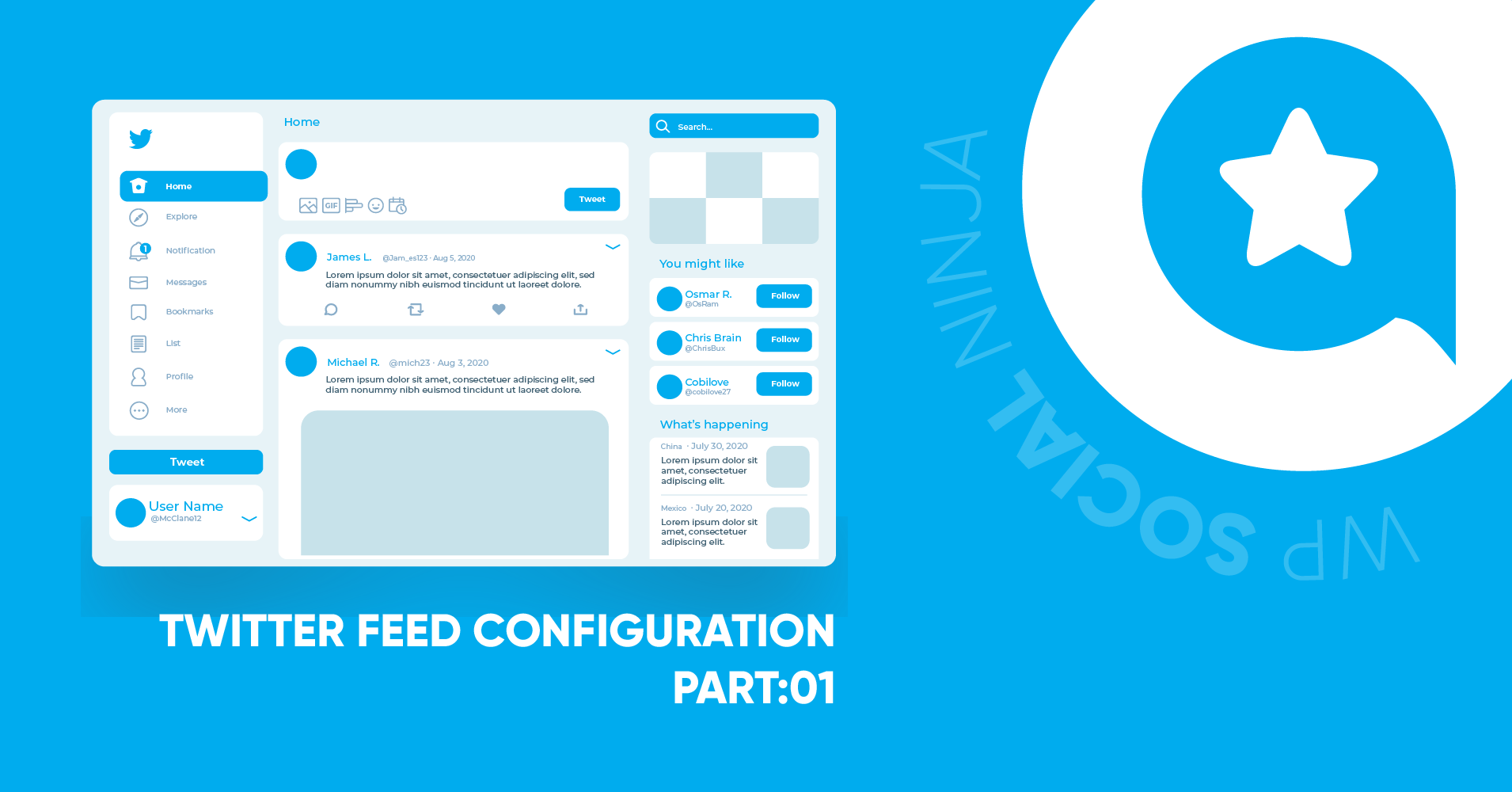 For many of you, Twitter feed is probably the first place where you get to know what's happening worldwide today. Your website Twitter feed will continuously update when someone you follow tweets something. Moreover, a Twitter user has the privilege to get all the insights starting from entertainment to sports to business.
If we talk about one specific field that has benefited greatly from social media, it undoubtedly is the merchandising sector. Furthermore, social media feeds have a powerful impact on brands and businesses that want to be updated not only from the feeds but also from social reviews and social chats.
In this article, you will learn the easiest way to show how to add a Twitter feed on WordPress. We will go with the all-inclusive social media plugin WP Social Ninja for demonstration purposes.
What is Twitter
Twitter is a microblogging and social networking service launched on March 21, 2006. Today Twitter has approximately 400 million monthly active users and 206 million daily users. Moreover, it has a unique interface, and the timeline shows short posts called tweets.
Tweets are usually up to 280 characters long, and you can embed images, videos, GIFs, memes, and links to your tweets.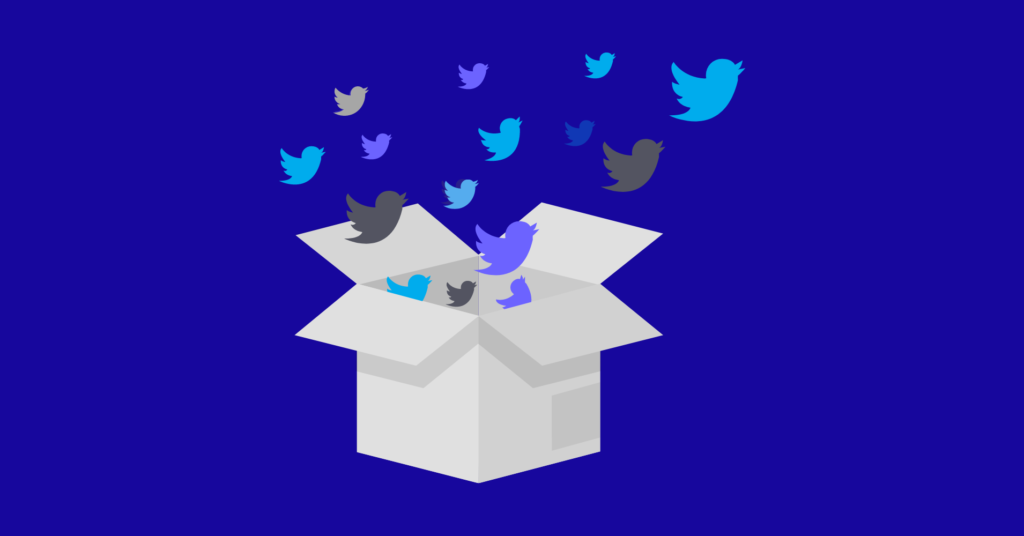 Twitter has some other intriguing features, like hashtag feeds. A hashtag will increase tweet engagement and gather people to follow a particular topic. Moreover, Twitter followers can-
Reply
Retweet
Like
Message
Embedding website Twitter feed allows you to fetch the Twitter feeds and display all the tweets on the website.
How to add a Twitter feed to your website
Your customers connect with your brands through social media, and Twitter is the most robust digital platform.
Twitter feeds on website Configuration is a simple process. Even if you are not a tech-savvy person, you can effortlessly do this like a professional.
Twitter Configuration
You can configure your Twitter in two ways; Default and Manual options.
Step 1
To start the default configuration process, you will have to log in to your Twitter Account to get your Access Token and Secret Key. Login to Twitter and click on the Get my Access & Secret Key button.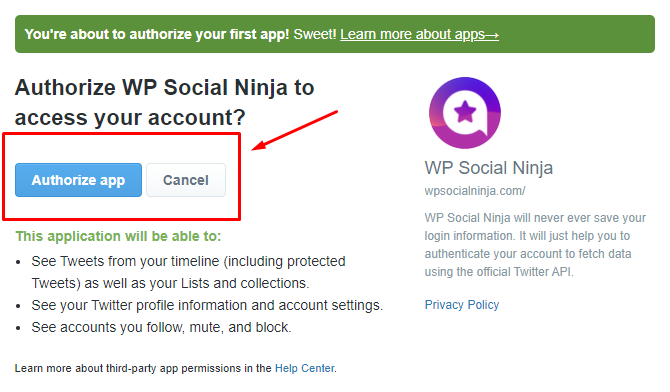 Click on the Authorize App button. This will take you to the WP Social Ninja website to authorize Access Token and Secret Key.
Step 2
In order to configure, manually tick on the Manually enter your Twitter App information.
Ensure you got the Success Message along with the Access Token and Secret Key. To move further, click on the Add New Template button to create a new Template.
Twitter Feed Layout
Already got the Access Token and Secret Key? Next, you need to adjust your Feed Type with WP Social Ninja. It has a diverse Social feed with multiple options.
Let's check it out.
Source
To change the Layout, click on the Source button. A drop-down menu will appear.
Feed Type
At the moment, we have four Feed Types; User Timeline, Home Timeline, Hashtag, and Mentions. You can change the Feed Type; for example, if you select Home Timeline, your Home Timeline Twitter feed will appear automatically on your website.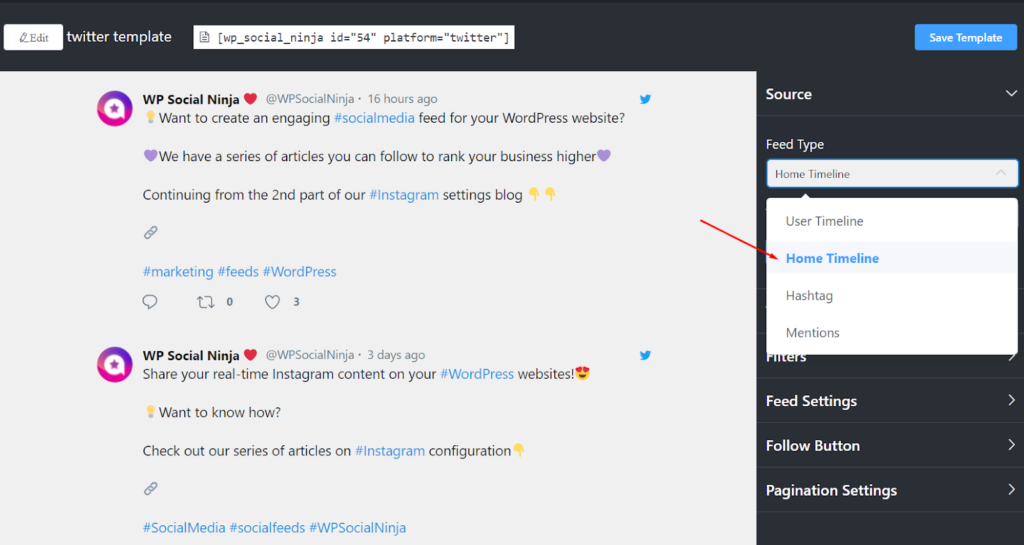 Similarly, you may also choose any Feed Type to display Tweets.
Number of Tweets to Display
Next, you can change the Number of Tweets to Display on your website.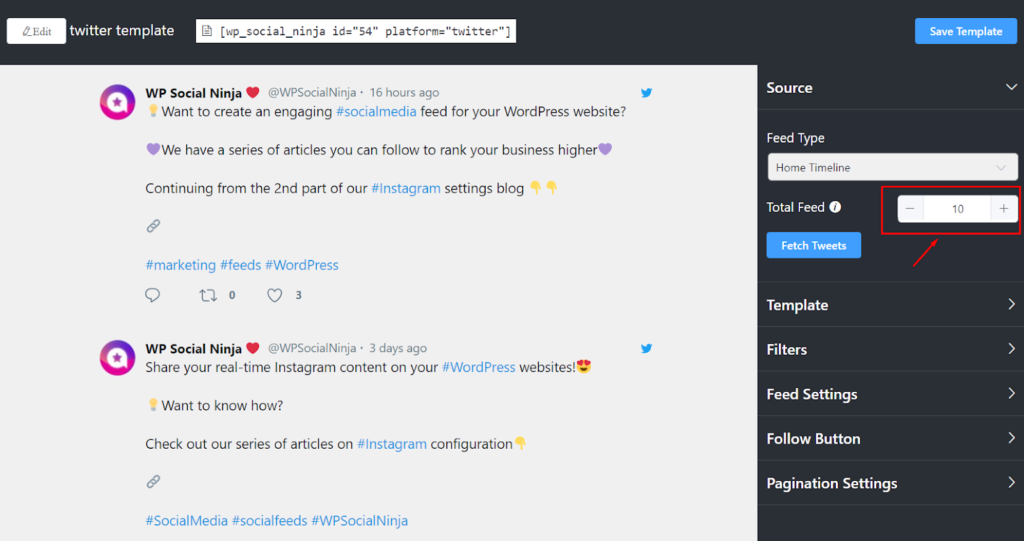 Here, you will be able to select the number of Tweets that you would like to display on your website. You can adjust the number of Tweets starting from 1 to unlimited. Once you are done click on Fetch Tweets to display.
Template
On the right side, Templates have Layout Type options to change your Twitter feed for website. If you click the drop-down menu, you can see a few options. Currently, we have Standard, Masonry, and Carousel.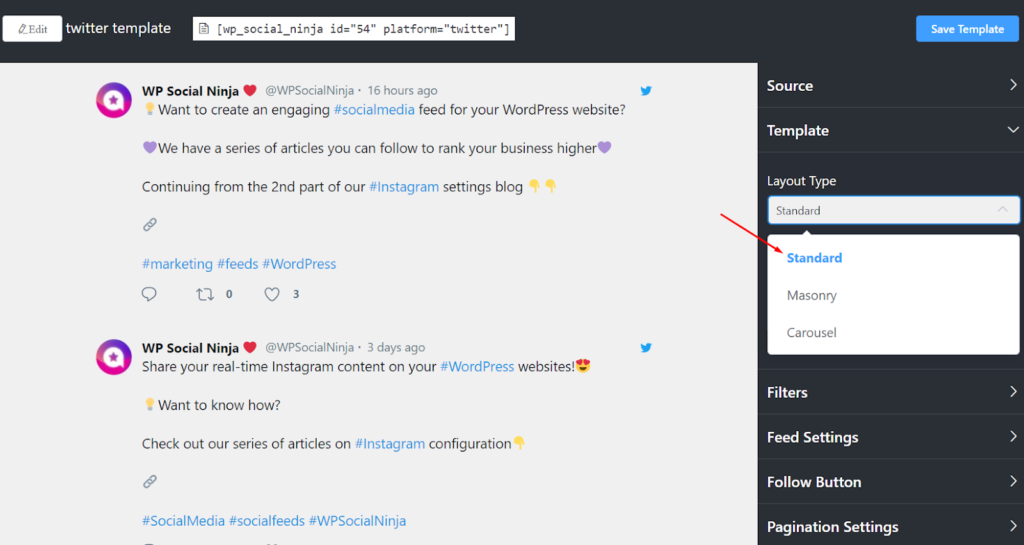 Select any Layout Type that suits your business.
Don't forget to click on the Save Template button to preserve your changes.
For further settings, check out our Twitter settings part 2.
Last words
No matter what type of products or business you have, everyone wants social media exposure and brand recognition at the end of the day. Besides, Twitter has updated itself and emerged to be an ideal marketing place for brands to promote.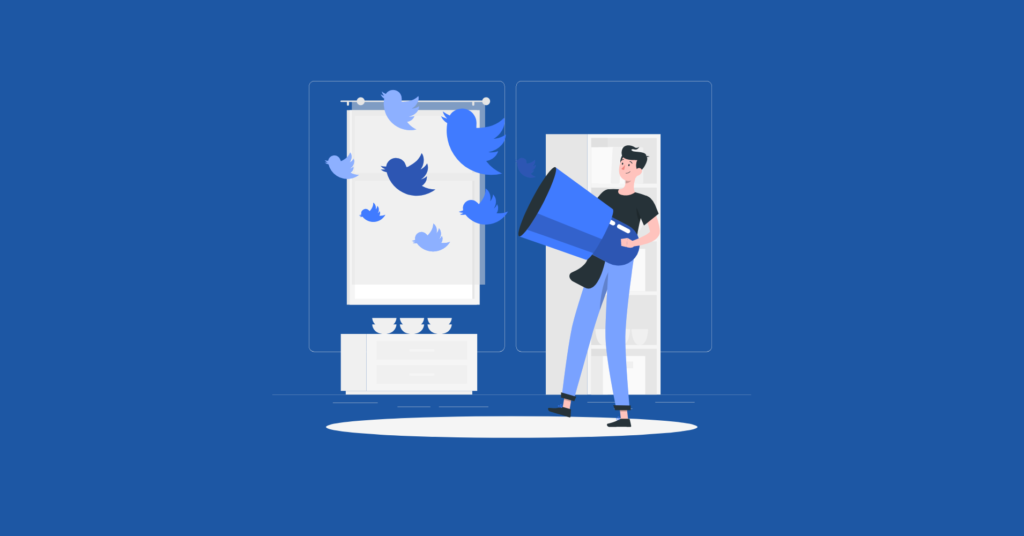 Moreover, adding Twitter feeds to your website lets you connect with a large audience without stressing about anything. We hope this article helped you learn how to embed Twitter feed for website. Share your experience with us in the comments below.
We hope you enjoyed this article. Feel free to follow us on Twitter to connect more with WP Social Ninja.