How to Display Social Media Hashtag Feeds on WordPress Website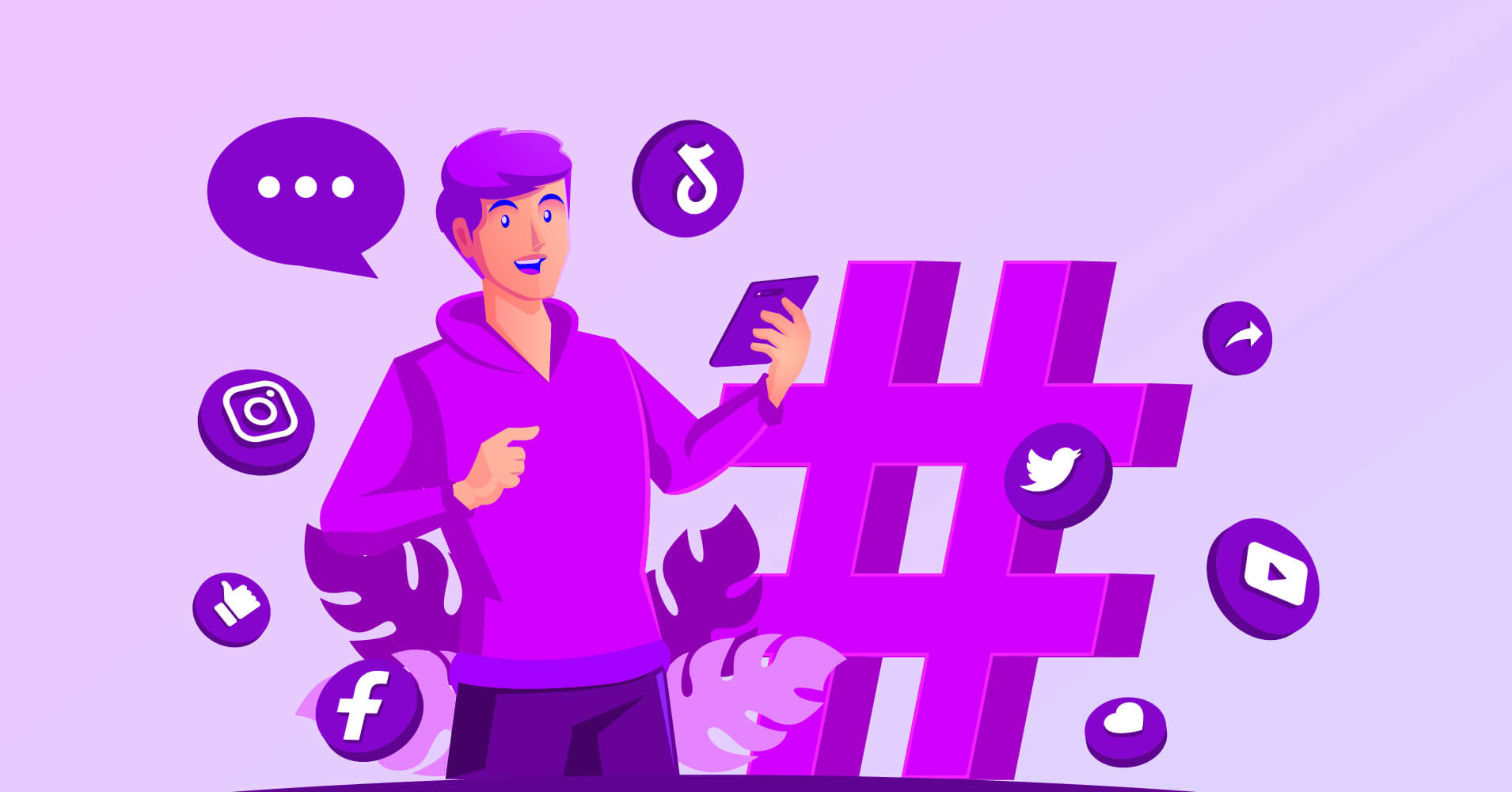 If you're a business owner or a marketer who always is in search of something new (Displaying social media hashtag feeds on the website can be one of them), and trying to bring something different to presenting your brand nicely, you're not alone.  
There are many people on this list who are already doing something for this in their own way. But the question is, what are your ways to showcase your social media profile on your business website?
In this blog, we have gathered information about why you need to display your social media hashtag feeds; whether you want to embed Instagram hashtag feeds or Facebook hashtag feeds, or from YouTube/Twitter, and how to order them by the most recent with the best social media tool. 
So, whatever you're thinking, let's move to the read and see what it says about how to display social media hashtag feeds on the website.
Why display hashtag feeds on a website?
When you work on social media for marketing, you definitely use hashtags according to your product or service. The website hashtags you're using clearly express the current situation, the facts about the product, and anything regarding this. 
A hashtag feed is when you select a hashtag and then get a stream of your social media content with that hashtag. This allows sorting the contents (images/videos) by the event or topic you want to see. Isn't it cool to get the same feature for your social media platforms?
Hashtag feeds on the website are a great feature of your marketing plan that allows you to boost your brand's reach and engagement through social media.
Not only on your brand's social media platforms, also when you use those hashtag feeds on your website, more importantly, you get more chances to increase your online visibility and higher conversion rate.
Best WordPress plugin to display hashtag feeds
When it's about showing social media hashtag feeds on your website, you need to think about a few things.
Picking a plugin for a website is sometimes time and cost-consuming; also, using multiple plugins can slow down your site. Again, all plugins do not support every social media channel. When you are giving a lot of effort to social media marketing, why not think twice while choosing the best plugin?
If you haven't heard before about WP Social Ninja, your WordPress website is missing out on its unique features. To display and filter hashtag feeds, you don't need to install any other plugin on your WordPress website. WPSN can single-handedly manage everything.
No worries, we have made a gist of this in this blog. Let's see how this all-in-one tool can amaze you with its incredible features and exhibit your necessary social media hashtag feeds.
How to show social media hashtag feeds in WordPress (Example)
Now that you've learned enough about hashtag feeds, let's move to the part about how to show hashtag feeds on WordPress with WP Social Ninja.
YouTube
If you use hashtags for YouTube, you would know that hashtags are a popular approach to making your products more discoverable on YouTube and other social media sites.
They assist you in connecting your content, such as YouTube videos, shorts, and channels, to related tagged content and web searches.
Just pick the top trending hashtags on YouTube. Then you can efficiently utilize them to boost your chances of receiving more views if the topic is relevant to your video with some easy steps of the WP Social Ninja plugin.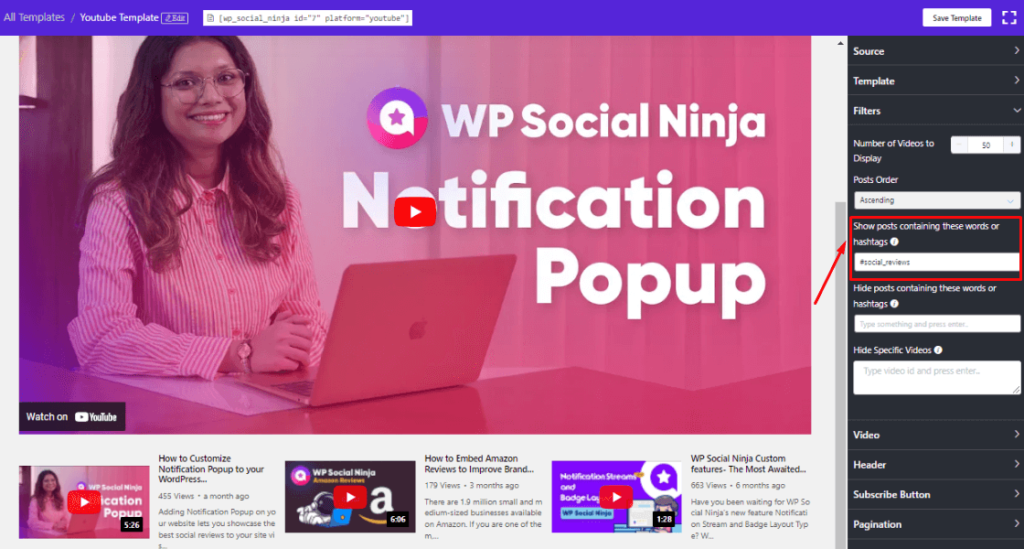 For instance, above, you can see, under the filter section in the "show containing posts box, we have put a website hashtag #social_review, and it showed precisely all the videos containing that hashtag.
Now have a look at how the frontend looks like.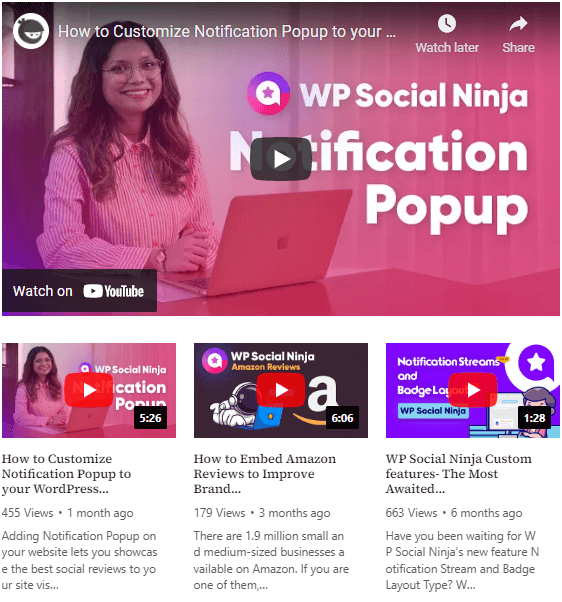 Same way, you can also hide the feeds by choosing the exact hashtag. See the example below:
We chose the same hashtag "#social_review" in the hide section.
And then we got this feed with the list of videos containing all the videos of WP Social Ninja, except the social_media hashtag.
You can also read:
How to Embed YouTube Playlist on WordPress Websites
Facebook
Along with customizing your social feeds on the website, you will get hashtag feeds in the filter section.
WP Social Ninja will allow you to show or hide any post based on the hashtag you select. Let's explore how you will do it and showcase the best social media content with the help of this plugin.
After integrating your Facebook page with WP Social Ninja, create your Facebook hashtag feeds with the create template section, then place your hashtag in the hashtag box that you want to focus in your feed, then see the outcome: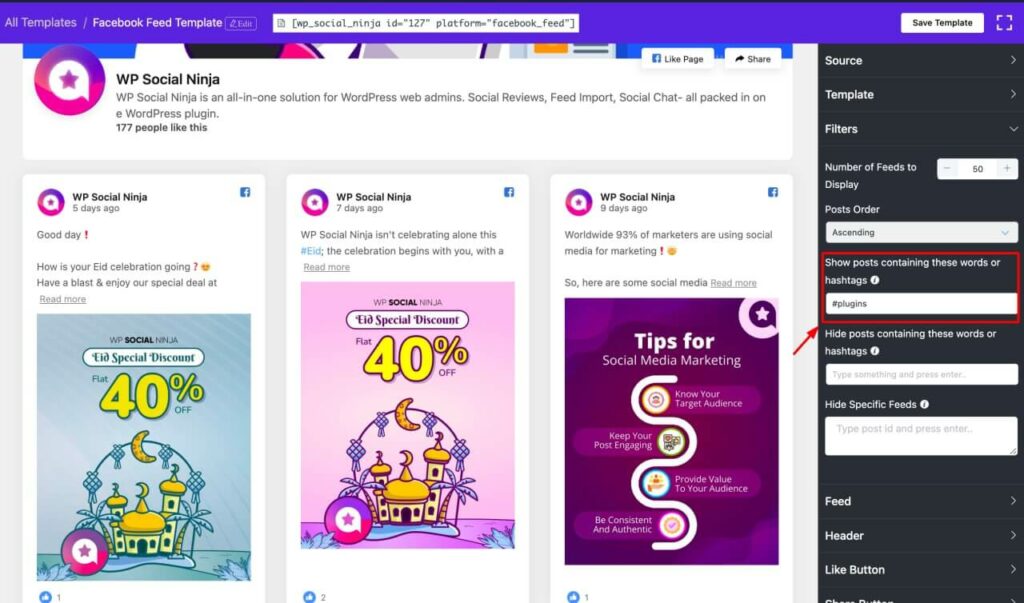 Well, that's how you set the backend up. Don't you want to check the interface you have just created?
Take a look-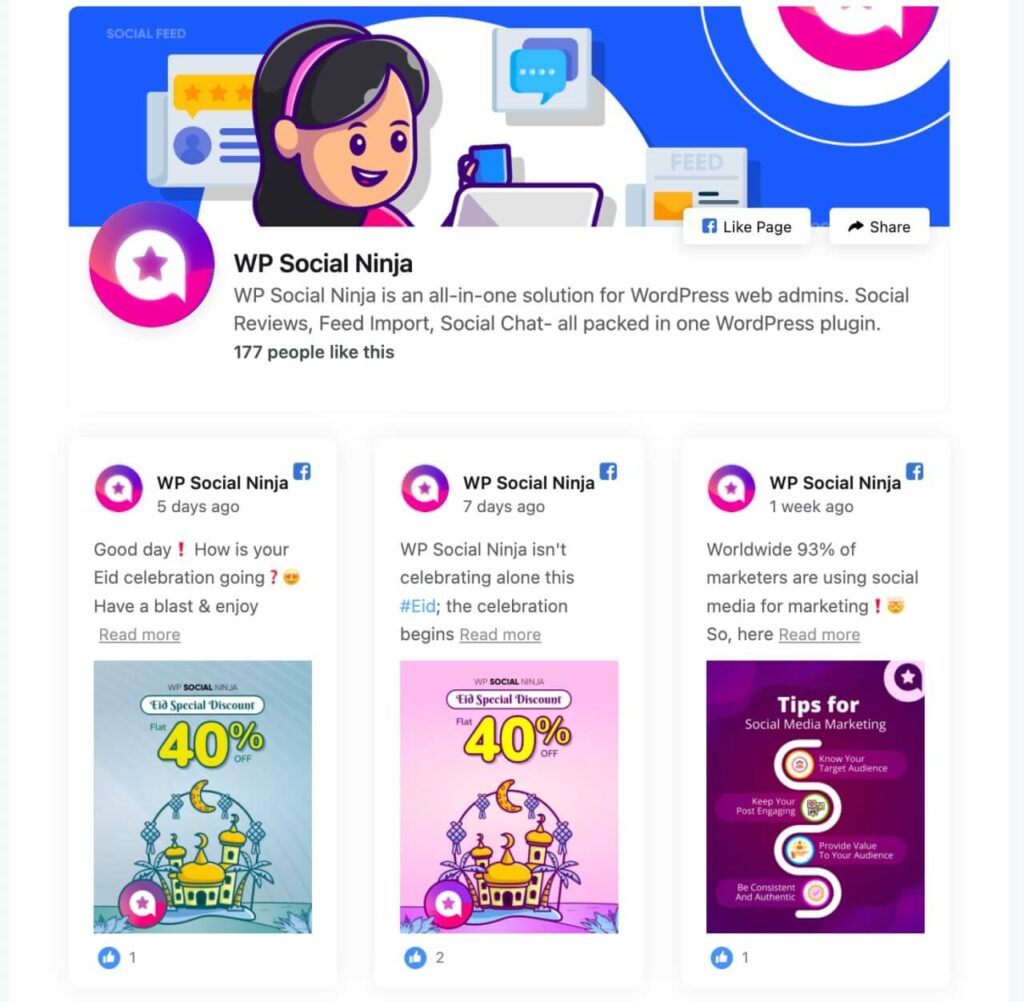 You can also check out the blogs for promoting your Facebook posts:
Twitter
Twitter is one of the most popular social media platforms for professionals, which you may use for your business to increase your social media engagement and sales.
While embedding your Twitter feed easily with the WP Social Ninja plugin, you can see the customization options and set up the feeds according to the hashtags.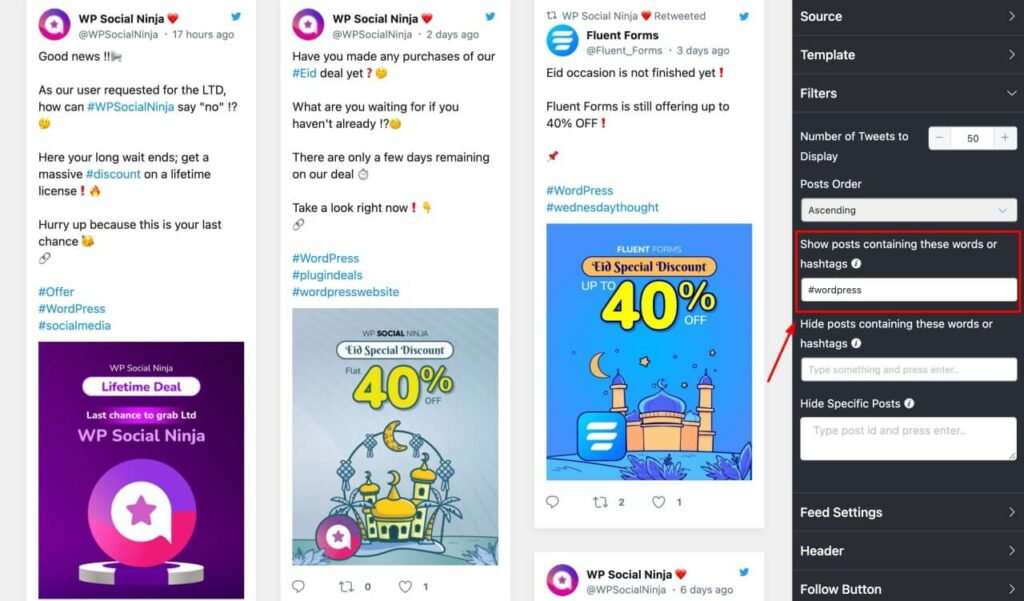 Same as before, you can see we have placed the hashtag "#wordpress", and we got a whole hashtag feed that only contains "#wordpress."
And this is the final result.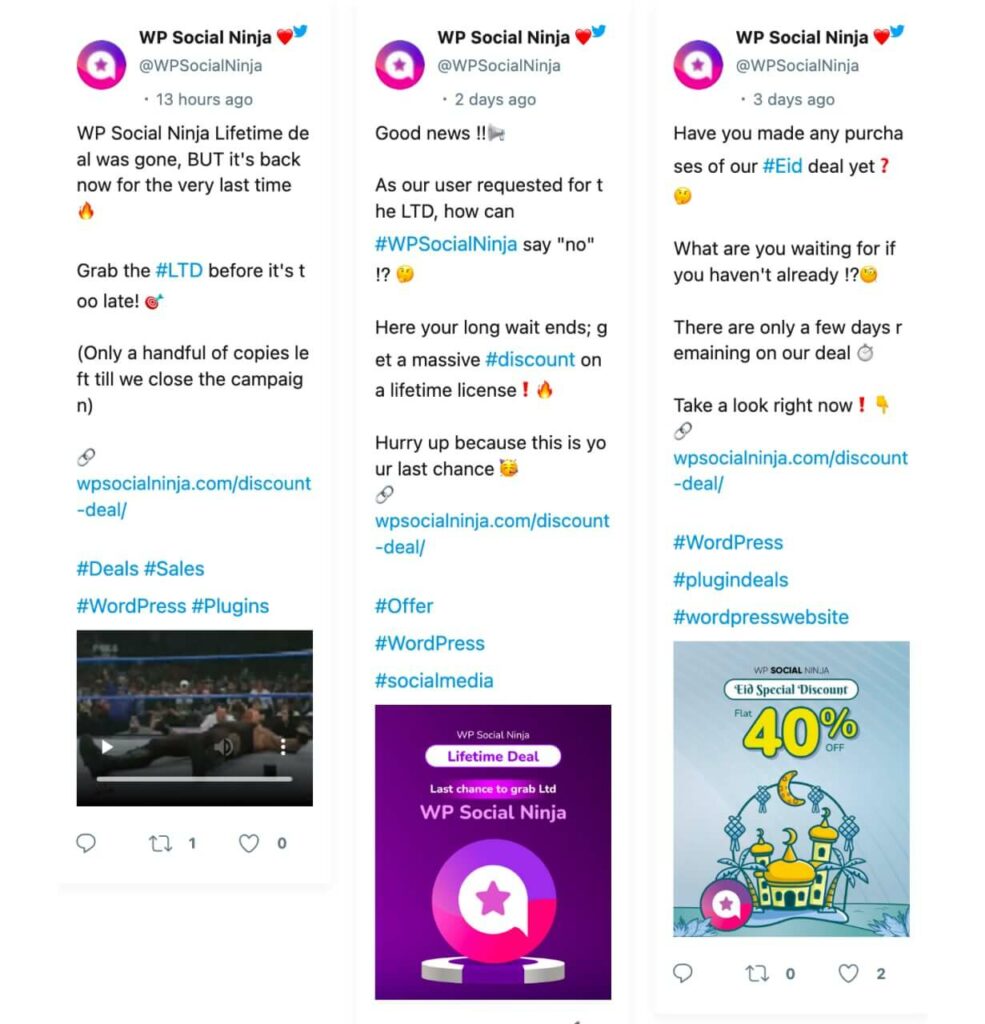 For more Twitter feed settings, you can check out this blog:
18 Features of Twitter Feed Settings That Everyone will Love
Instagram
You can also customize your Instagram hashtag feed as well as other social sites. Once you have integrated your Instagram account into WP Social Ninja, you are ready to embed Instagram hashtag feed on your website.
Sort your Instagram feed using trending hashtags from the editor settings panel you want to display on your website.
To do that, go to the filter section first. Choose what trending hashtag you want to show, or hide the feeds you don't want to display.
Besides, you can add Instagram Shoppable feed on your website with WP Social Ninja to run your e-commerce business more effectively. Read the full blog to learn more:
Double Your Sales with Shoppable Instagram Feed (Set Up & More)
Sums up
Wasn't it easy to keep your website up to date with WP Social Ninja's simple procedures?
That's how you can easily ensure the right content is presented on the right page at the right time with the website hashtags. Do that by using trending hashtags, manual tagging, and assigning the displaying rules.
Moreover, each page where you've embedded WP Social Ninja with a hashtag filter will be powered with relevant content. That too with no additional expenditures or effort!
We hope this article helped you learn how to showcase your social media hashtag feeds on your website. Share your thoughts with us in the comment section.
Follow us on Twitter and Facebook, LinkedIn, and join our Facebook community to learn more like this.