How to Embed YouTube Video on WordPress (Easy Steps)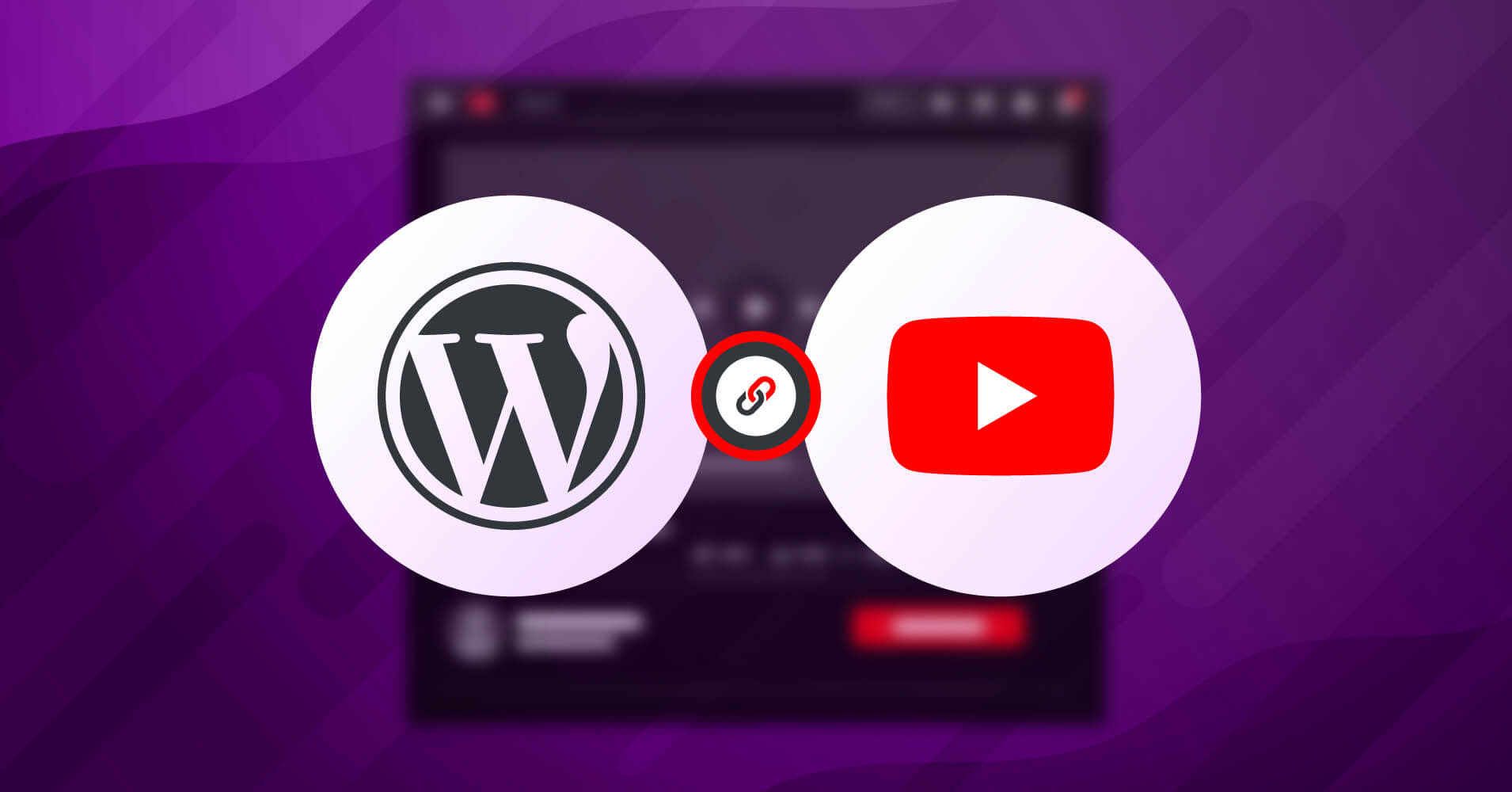 What do you do after making a YouTube video for your business? Of Course, you have some goals before making a YouTube video. As you and your team have made a tireless effort after the video production process, it's time to show off!
Embedding YouTube videos on WordPress is one of the most effective ways to maximize your visitor's engagement with your website. But when you decide to make this possible, there are already several ways to embed YouTube videos on WordPress.
And yet you might find it challenging to choose one of them. Many of them aren't as helpful as you'd want, and implementing them can be difficult.
However, you'll get over it with our social media plugin, and in this article, you'll find why you need this for your WordPress. And the easy steps that you can do with the best plugin WP Social Ninja to know how to embed YouTube videos on WordPress.
Why you should not directly upload videos to WordPress
Adding a video means you are adding benefits to your website. And you have options on how you want to upload it, directly or indirectly.
But we are not recommending direct uploading. As it causes more harm to your site than doing good, like adding extra hosting cost, storage and bandwidth also can end up in giving a bad customer experience.
Obviously, this is not what you want. And we got the solution for you. Before that, have a look at why you should not directly upload videos to wordpress.
Bandwidth
When you upload a video, your website will cost you bandwidth. The more videos uploaded, the more the bandwidth is.
Again, if you want your visitors to embed your videos to their website, it causes a multiplication of the bandwidth every time it will be viewed. That might lead you to add plugins to manage your videos and display them. And don't forget if you don't optimize them well, it will affect your server load time.    
Easy sharing
Nowadays, sharing videos has become a trend, and you can say as a common thing that most people do when they are online.
So, by adding a video, you can let your visitors share your content and get you viral. It's an easy option for you to share and promote your youtube channel. But if you directly upload the video to your website, you are mixing your video with other parts of content, including images and all other media library content.
Slow loading videos
If your videos are located on a specific server with limited bandwidth, people will face unwanted video playback pauses, which is very disappointing.
And, obviously, you don't want that. This problem not only annoys your users but also has chances to take them away from staying on your site.
Why you should embed YouTube videos on your website
What do you prefer between blog and video? In most cases, readers find it most interesting when they see videos with the writing part.
Most importantly, it adds extra value to your blog. When you attach some documentary video or something relevant to your article, it keeps your readers much longer. Even some people like watching videos more than reading texts.
But what does embedding a video mean?
Suppose you've uploaded video content on your YouTube channel. And now you want your visitors to see that video on your website. So, here is what you can do while uploading a video, either you can add a video directly on your website or send your visitor's other page to view it.
Indeed, you won't want visitors to leave your page, so here what you can do is embed youtube videos on your website.
Before moving to the procedures, remember the key points why you should embed YouTube video on WordPress website.
Improves SEO
While creating content, your priority is to optimize SEO to rank on Google. Adding a video means allowing your visitors to stay longer on your website, which is important to show Google that your website contains valuable content.
Also, your embedded video includes a title, description, caption, thumbnail image, and keywords, which improves your site's SEO and pushes your article to have a better rank on Google.
Drive traffic and visibility
What do you do first to search for any information in your head? Definitely, you prefer the search engine that gives you the best result. And YouTube is the second-largest search engine.
So, when it comes to promoting your business profile, adding videos, to your website gives a chance to get more traffic build brand awareness, and increase visibility online.
Boost conversion
If you're thinking of grabbing your user's attention, adding videos to your website can be the smartest way.
Making a video for your brand benefits you by sending your viewers to your website and vice versa when you embed a video on your website. With this, you're easily boosting the conversion rate of your website.
Higher quality video
Uploading a video on WordPress makes you think about so many things like size restrictions, quality limitations, etc.
So if you want to upload your YouTube video with its original high quality and format without any conversion, embedding is the best choice. With WP Social Ninja, you can easily embed YouTube videos and ensure your visitors view high-quality videos.
Saves storage
Your website always has a storage limit. So every time you upload any video, it takes up space. Similarly, you upload multiple videos, which eats more space on your server.
Again, when your videos are viewed multiple times, that will also cause slow down your site. That's why you should never upload videos to WordPress directly. Only embedding video will help you in this, and without even compressing your files, you can save your storage.
5 Easiest steps to embed YouTube videos on WordPress (WP Social Ninja)
Now that you know about video embedding and its benefits, it's time to implement it on your website.
But how to start with? There are thousands of people like you who look for the answers to that questions and the solutions to the problems they face. If you search on Google you can find people looking for the solutions like Why can't I embed YouTube video WordPress?, WordPress youtube embed not working, and so on.
So keeping that in mind, we have come to a solution that we put up on our WP Social Ninja plugin. Follow the simplest steps below to embed YouTube videos and show your youtube feeds on your WordPress website.
Step 1: Configuration with WP Social Ninja
In the first step, start configuring your account with WP Social Ninja; Go to the Dashboard, and choose "YouTube."
A pop-up screen will appear on your screen, where you have to connect your account with any of the two credential types: OAuth 2.0 and API Key. Another credential type is being processed where you can manually add your primary account.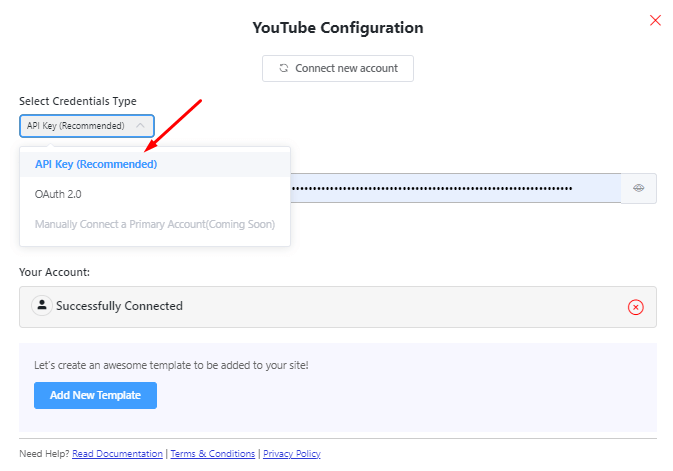 OAuth 2.0
Say you chose OAuth 2.0, now get the Access Code signing in with your Google Account.
After choosing your account, you will get the Authorization code. Copy that.
Now, paste it to the Access code box, and click Save.
You'll get a success message pop-up; And here you are Successfully connected! Now let's see how to configure with another credential, API Key.
API Key
To get a API Key, first you have to visit console.developers.google.com. Here, from Google APIs create a New Project
Now, select a project or create a new one.
You have the option to search your project or folder. Or you can create a new one by clicking on New Project. Put your project name and click on Create.
Next, to generate your API Key, Create credentials from APIs & Services.
Now, you create your API Key here,
Congratulations, you got your YouTube API Key! Copy it for the further steps.
To configure your YouTube feed, there's one more step. It needs to Enable the YouTube Data API v3 button. Without it, the API key won't work. Goto Library and Enable YouTube Data API v3
Here are the steps:
Now, insert the API key to complete the configuration part.
Click Save, and you're done!
Step 2: Create a template
To create a new template for your website, simply just click on Add New Template.
Here you can see all videos from your YouTube channel. You have multiple setting options to choose how you want to display your youtube feeds.
Step 3: YouTube feed
So this is how you can embed video easily on your WordPress website. Moreover, you can also showcase your YouTube videos on your website and customize them with WP Social Ninja.
After setting up, click on Save Template and get the shortcode. Paste it on your page and get your beautiful interface of YouTube feed!
While decorating the feed you can customize it according to your choice, and choosing the right hashtag feeds you used in your videos display them accordingly to create a YouTube hashtag feed.
Concluding
So it's pretty sure that you've acknowledged everything about embedding YouTube videos. And so far, we hope that you found it useful and easy to implement on your site.
People love and appreciate how you make their reads easy and effective, interesting and valuable. All you have to do is ensure your content quality with the proper methods and follow the smart steps.
The social media tool WP Social Ninja is here for that to solve your social media problems and make everyting more meaningful and effortless.
Enjoyed this article? Feel free to follow us on Twitter and Facebook to stay updated with WP Social Ninja. Also, join our Facebook community.
You may give a read to these articles too –