How to Embed YouTube Playlist on WordPress Websites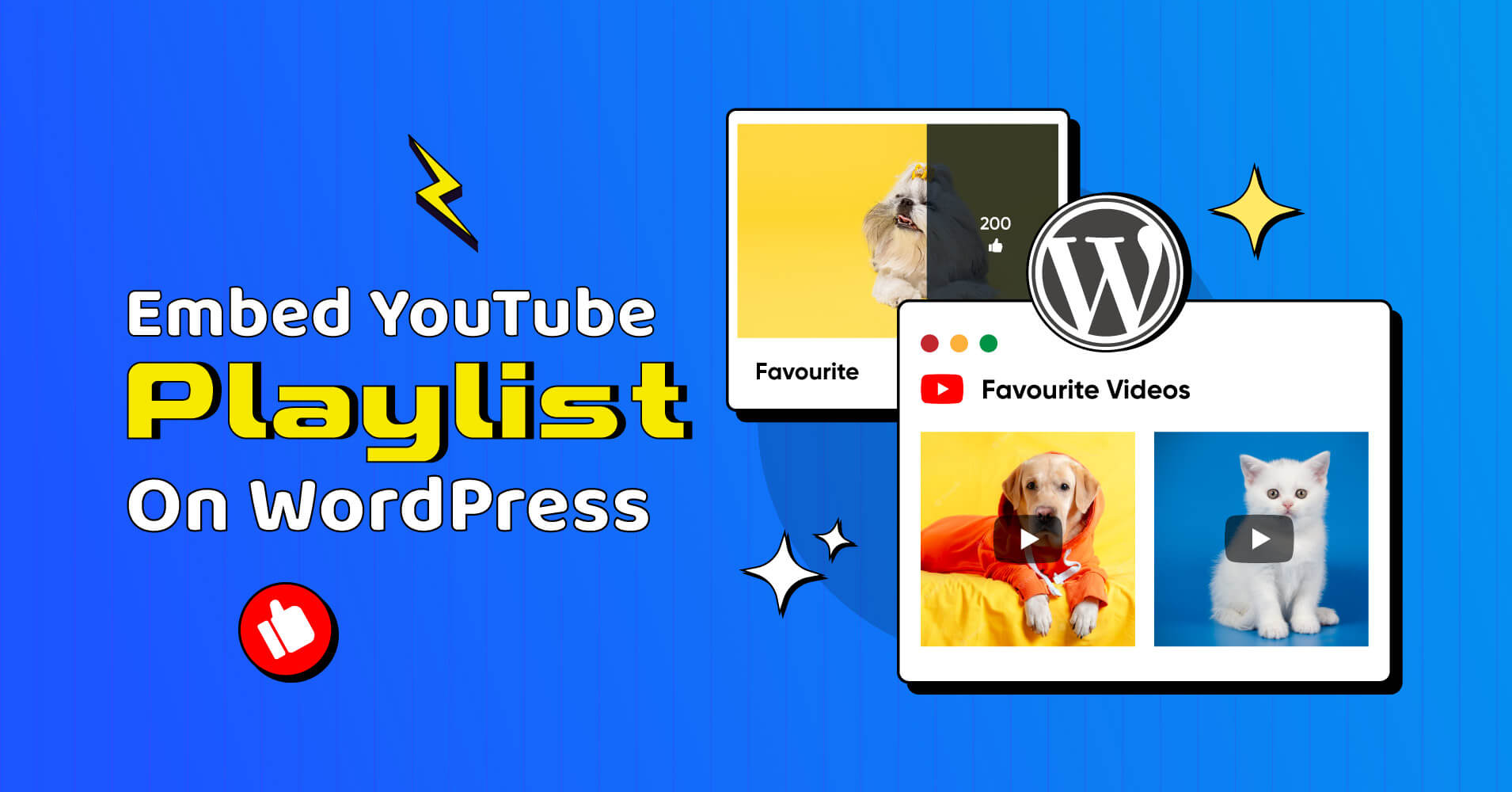 Do you want to know how to embed YouTube playlist on your WordPress website?
Embedding a YouTube playlist is helpful if you have a WordPress website and expect to highlight your favourite playlist.
YouTube playlists on your website can increase user engagement. It can give the visitors a better user experience. Even Sharing a playlist is simple without overcrowding your website.
To help you with playlist embedding, we'd like to share some techniques and WordPress plugins with you. We believe this will benefit every aspect of people, from creators to publishers, small business owners to big corporations, and many others. Let's know the process of how to embed YouTube playlist!
Why embed a YouTube playlist on WordPress websites?
You can bring several benefits to your business by displaying YouTube playlists on your website. That's why we have figured out a few benefits of embedding a YouTube playlist. Here we listed the following benefits:
Provide a smooth watch hour
When you embed a playlist on your WordPress website, your visitors will have a seamless and easy-to-use watching experience. You can present all your videos on your website instead of diverting your visitors to YouTube's homepage or requiring them to search for your video.
By integrating a playlist, you can also ensure that your viewers see your videos in the sequence you planned. It is especially beneficial for instructional or informative video content, where viewers must watch videos in a specific way to understand the topic thoroughly.
Boost website engagement and time spent
A YouTube playlist embedded into your website can significantly improve traffic and reduce bounce rates. Visitors have a greater tendency to watch countless videos and stay on your website longer when they are offered a playlist. This will improve conversion rate and boost page views, benefitting your website's growth.
Improve SEO
Including a YouTube playlist on your WordPress site can also help you rank higher in search engines. When ranking websites, Google and other search engines analyze engagement indicators such as time on site and bounce rate. You can help enhance these metrics and raise your SEO by keeping visitors engaged with your content with embedded videos.
Furthermore, YouTube is controlled by Google, so embedding a playlist on your site effectively links to a Google-owned domain. This can also aid your SEO by showcasing the relevance and authority of your site.
Increase social shares
Putting a YouTube playlist on your WordPress site can boost social sharing. YouTube is a vast social media platform that encourages connection and engagement through features such as comments, likes, and shares.
You can make it simple for site users to share your material with their friends and followers on social media by embedding a playlist on your page.
How to embed YouTube playlist with WP Social Ninja?
YouTube is one of the most prominent video-sharing platforms. If you create YouTube video content and have a website, you should integrate your YouTube playlists. Now go through with our content and enable the YouTube playlist on WordPress websites.
You can follow our simple instructions to learn how to embed YouTube playlist in a WordPress website for free.
Step 1: Install and configure WP Social Ninja
First of all, you need to install and activate the WP Social Ninja before enabling the YouTube playlist on your WordPress website. The plugin lets you quickly add feed types like YouTube playlists, channels, specific videos, searches, and Live Streams to your website. Even you can display 4+ social feed widgets, 9+ social review widgets, and 15+ chat widgets on your websites with the WordPress YouTube playlist plugin.
Follow the following instructions to install the plugin:
Log in to the dashboard of your WordPress website
Choose Plugins from the left sidebar menu
Very top of the screen, click the Add New button
Type Social Media Plugin into the search bar and press Enter
Check WP Social Ninja for a YouTube playlist and click Install Now
When the installation is finished, click the Activate link to activate the plugin
Now your plugin is active for use
Step 2: Create an API key for the YouTube playlist
Now you have to collect the YouTube API key to use the YouTube playlist. It allows the plugin to access your YouTube account.
We made a video tutorial to simplify the process and notify you how to embed YouTube playlist. You can watch our video content or follow the written steps. Here are the simple steps and instructions to generate an API key.
Select the credential type (API key Recommended)
Get over to Google Developers Console
Select New Project and provide it with a title
To start the project, click the Create button
Click APIs & Services on the left sidebar menu, then click on Enable APIS and Services
Search for YouTube Data API v3 under Enable APIS and Services section
To enable the API, hit the Enable button
Select Credentials on the left side menu, then Create credentials
Choose the API key from the dropdown list
Keep a copy of the API key and take it to the WP Social Ninja dashboard
Step 3: Configure the WP Social Ninja YouTube feed widget
If you've already installed the plugin and generated an API key, you must configure it to add your YouTube playlist to your website.
Go to the Social Feeds section in your WordPress dashboard's top menu
Tap on the YouTube widget and enter your API key in the API Key section
Select Save button
Now your account is connected, and you are ready to Add New Template
Step 4: Promote your YouTube playlist on your webpage
After adding the API key, you can now display your YouTube playlist on your WordPress website. To do this, you must include a shortcode in your WordPress page or post to show the playlist.
For now, if you want to display the playlist, you can follow the following steps:
Now select the Source option from the right sidebar menu
Under the source, hit the Feed Type and select Playlist
Now enter your playlist Id to display YouTube videos from a playlist
Find the ID of your YouTube playlist from the URL
Copy the ID after List=, and the ID will look like [PLXpD0vT4thWHVa4bv-ruCMCZ0AzigJHKx&ab_channel=WPManageNinja]
Next, place the ID and fetch your playlist
Now time to press the Fetch Videos and Save Template button and click to copy the youtube embed playlist code
Now you are ready to display your YouTube playlist on a specific page of your website
Step 5: Customize your YouTube video playlist
You already know how to embed YouTube playlist in WordPress websites. But for the design and customization, you need to do something more. WP Social Ninja lets you modify your YouTube video playlist in many ways. For instance, you may alter the template style, layout, customize the thumbnail for each video and rearrange the list.
Also, you can decide whether or not to display the video's title, description, and other specific information on your website. You can set the YouTube playlist with thumbnails.
To get the diversified customization features for the YouTube feed widget, you need to buy the WP Social Ninja Pro version.
This will let you customize your feed in more dynamic and vibrant ways like:
Check the responsive issue
Select a different layout type
Set the number of columns
Diverse filter setting options
Set the video play mood
Customize the display header options
Customize the subscribe button position and text
Set the Pagination type and others
By the way, now you have already installed and activated the free YouTube widget to display your playlist on your WordPress website. This playlist is now accessible for users and ready for website visitors.
Embed YouTube playlist using <iframe>
The second method is <iframe>. With the <iframe> HTML tag, you can quickly embed a YouTube playlist on a WordPress website. This lets you instantly display a video playlist on your website, an easy way to engage your visitors and advertise your YouTube channel.
To integrate a YouTube playlist into your WordPress website, follow these instructions:
Step 1: Go through YouTube and select the playlist you wish to embed. To access the playlist, click on it
Step 2: Next, choose the Share option, and a pop-up menu will show once you click the Share button
Step 3: Hit the Embed button from the left side of the menu box
Step 4: After clicking the Copy button take a copy of the embed code
Step 5: Activate the WordPress editor. Open the page or post editor on your WordPress website and select the Custom HTML option

Step 6: Now paste the iframe embed code you copied from the YouTube playlist at the Write HTML section
Step 7: When you've finished pasting the embed code, click to the preview mode and test the post or page to ensure the playlist displays as expected.
Once everything appears in order, publish the page or post to have the playlist available on your website.
Embed YouTube playlist using oEmbeds
The other simplest method for embedding a YouTube playlist on a WordPress website is to use oEmbeds. oEmbeds allow websites to effortlessly embed content from elsewhere websites, such as YouTube, by quickly copying and pasting the URL into the post editor.
You can use oEmbeds to embed a YouTube playlist on a WordPress website by following these steps:
Step 1: Select the YouTube playlist that you want to embed
Step 2: Copy the playlist's URL from your browser's address bar
Step 3: Go to the WordPress editor and add the playlist there
Step 4: Paste the playlist URL into a new line, ensuring it is not part of a paragraph or other text
Step 5: After adding the URL, WordPress will automatically fetch your content and display it on your website, taking the help of OEmbed. Here is how your playlist URL will have to appear:
[https://youtube.com/playlist?list=PLXpD0vT4thWHVa4bv-ruCMCZ0AzigJHKx]
Step 6: To view the playlist preview, you need to press the Preview tab
Now, you can save or publish your YouTube playlist. To do this, WordPress will automatically use oEmbeds method to embed your playlist. That's it; your playlist is ready for your page visitors.
Final Words
It's just that simple to use WP Social Ninja, <iframe>, or oEmbeds to display YouTube playlists on your WordPress website. To make sure that your embedded playlist functions correctly and looks impressive, bear in mind a few more suggestions:
Make the YouTube playlist public so that it can be embedded on your website
Try resizing the embedded playlist to fit your website's style. You can achieve this by altering the width and height variables
Make sure your embedded playlist looks and functions smoothly for all of your visitors by testing it on various browsers and devices. You can do this by using WP Social Ninja's responsive checker option from the dashboard
Ultimately, using any option to embed a YouTube playlist is a simple and practical approach to adding a video playlist to your website. You can quickly set up a playlist with a branding appearance by following these easy steps. Now you know how to embed YouTube playlist on WordPress websites.
WP Social Ninja
Try WP Social Ninja today and see for yourself!
For a better YouTube marketing approach, you can also read our other blog posts and execute the ideas on your business to get maximum outreach. Happy learning!