Best Ways to Promote YouTube Videos (Effective Strategies)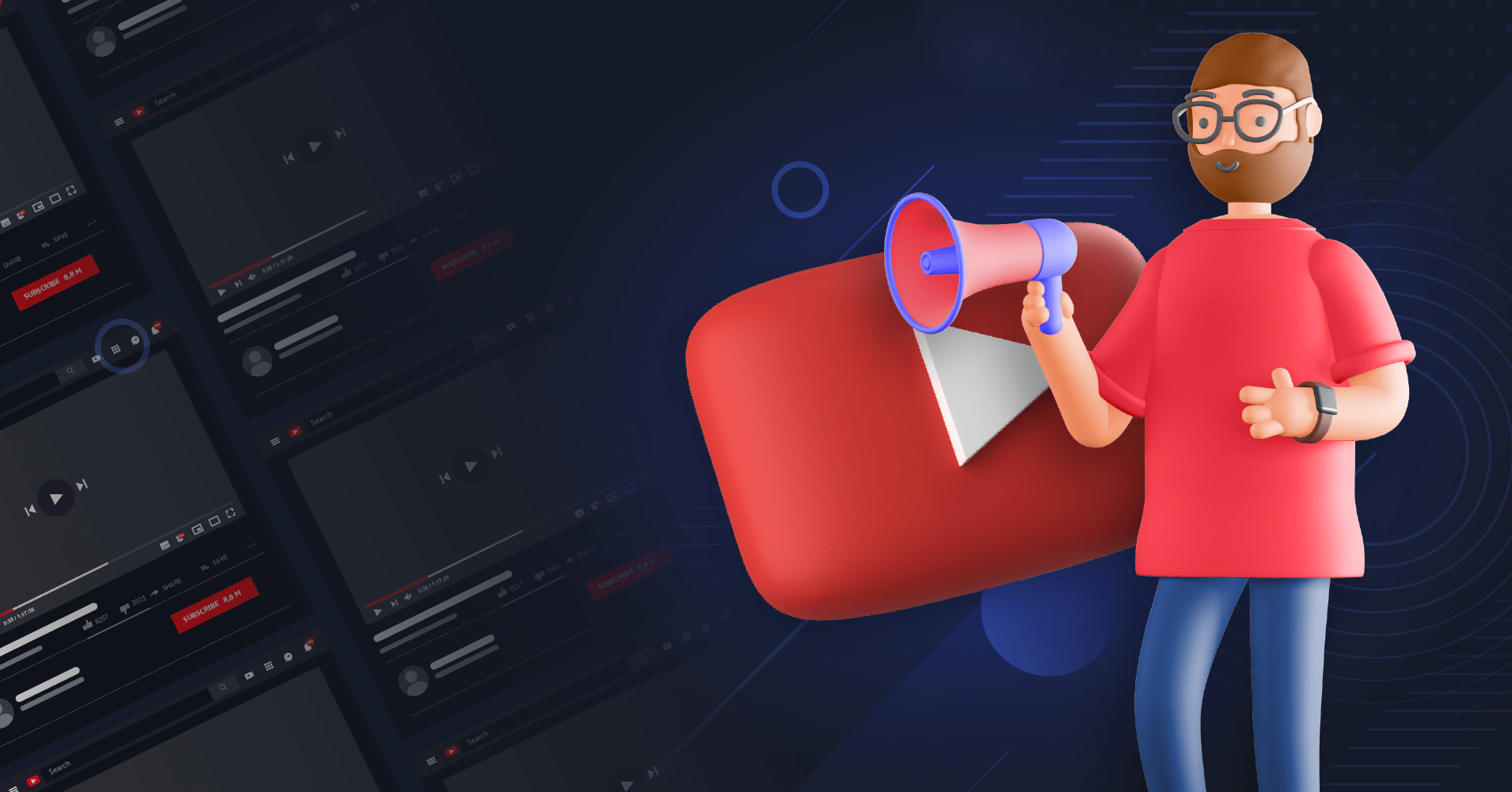 Want to know how to promote YouTube videos free on your WordPress websites?
YouTube videos will be successful only when you can implement the right strategies in the right place. It's nothing exceptional for any other brand or personal project. Using the appropriate strategy, you can take your YouTube channel to the next level.
Implementing different strategies is always part of A/B testing. We have also implemented it on our YouTube channel and received a major response within a few months.
In the next section, we have gathered 17 key secrets to implement on your YouTube channel. Let's dig in and find out how to boost your YouTube content with these best practices.
17 secrets to promote YouTube videos
70% of the audience believes that they influence by YouTube videos before buying any product or service. It indicates that if you can make a great video, chances are higher to reach the right audience base and grab their attention.
Make videos from user intents
User intent represents the audience's search query for a specific product. If the result can fulfill the demand, users can change the intent from informational to transactional.
It's an auto-generated process, meaning if your video fulfills all the search intent, it will automatically be promoted by the audience or viewers. Three types of content always drive the audience. So remember that your audience must fit with the following search intent.
Informational intent: People want to grab knowledge on a specific topic
Navigational intent: The users are looking for a specific source, page, or website
Transactional intent: The users are looking to buy a product and service
User intent marketing strategy is used for your informational needs, ranking on the search engine, and generating revenue for your business. So this could be a game-changing plan to promote your Youtube videos.
Use Google-friendly keywords and engaging titles
Keywords can change your video's overall performance; if you pick the right keyword, your half task is done because a keyword with a huge search volume can generate better traffic flow and promote your video more organically.
You can find those keywords from different free and paid tools; to double-check your findings, you can use Ahrefs, Semrush, Moz, and other tools. The ultimate goal is to find the high search volume keyword with low or medium competition.
Did you know that more than 500 hours of video content are uploaded to YouTube every minute? With so much different and challenging content, it's very difficult to stand out.
Moreover, you need to write an engaging title for your videos so people can get an overall idea about your video. Use your focus keyword on your title so that your title can get extra attention.
Because stunning video titles can attract viewers, even if something looks too good to be true, viewers will investigate just to be sure.
Create evergreen and high-quality video
Creating evergreen and high-quality video series can be the most efficient tool for every business owner and marketer to build brand awareness, attract customers and convert leads to sales. It has the power to connect with viewers, influencers, and their feelings.
Best evergreen content ideas:
Testimonials
Educational content
Customer experience or feedback video
Animation or infographics
Case studies
About us stories
Short promo clips
Live streams with experts about any special event or topic
Moreover, video content with high-quality graphics and series can significantly impact promoting YouTube videos. There are different ways to make video quality high so use one of the effective ways.
Optimize videos and descriptions for more engagement
85% of people want to see even more video content from their favorite brands. Even this kinds of content especially provide the most of the traffic.
The probability is very high to lose the battle for your brand's authority, target audience, rankings, and conversions if you utilize video content but don't organize and optimize it adequately.
Moreover, a video description is a type of metadata that supports YouTube in interpreting a video's content. Well-optimized descriptions may lead to higher rankings in YouTube searches.
Following are some of our top pointers for optimizing your YouTube description.
Description
The description area is beneficial for supporting viewers in finding, understanding, and choosing whether or not they would like to see your videos.
Keywords
To make your video better visual to viewers looking for a certain topic on YouTube, add trending keywords (#) in the title and description of your video.
Hashtags
Creators may instantly connect their content to other YouTube videos that utilize the same hashtags.
Tags
You may add tags (Descriptive keywords) to your video to facilitate the process for visitors to find your content.
Categories
Channels and videos on YouTube are categorized by YouTube video content. The audience can search for videos more quickly by using the best-applied category.
Mention product page links
Linking product and service pages effectively on YouTube can enhance your company's search engine optimization, visitors, click-through rates, and conversions.
Use an attractive and bright thumbnail
An attractive and bright thumbnail can increase your click-through rate. If you want to promote your YouTube videos, this strategy could be a game-changing factor for your marketing strategy.
We always recommend customizing your content before finalizing your video. That's why your thumbnail should focus on a few basic guidelines or should include the following:
Clear image
A basic and short text
Smooth and attractive color gride
Use faces for presentation
Utilize human curiosity
Implementing mix strategies like graphics, keywords, faces, and other attention-grabbing factors will enhance your video's performance and growth rate.
Maintain regular interaction with the community
Are you regularly managing your YouTube community? If not, we suggest you invest your time regularly and ensure good interaction with the community. Because views, watch time, and shares don't happen by accident. Only a practical guideline can create a stable relationship with the community. Even for better community interaction, brands can share business case studies to understand the problem and solution in detail.
In short, regular interaction with the community means interacting, promoting, and growing your audience. Community interaction includes various activities, such as
Responding to comments
Gathering feedback
Asking questions
Building relationships with viewers
Run the cross-promotion activities
Cross-promotion activities are usually when two brands do something to boost one another's YouTube videos. Even many YouTube creators participate in cross-promotion and brand collaboration to share and extend one another's audiences.
YouTubers can also operate with brands for support, though these are usually saved for larger channels or creators utilizing influencer marketing platforms. Various kinds of cross-promotional activities you can run from your end like:
Host each other contents
Use a playlist for cross-promotion
Promote each other on social media
Spread the words in each other's videos and descriptions
Embed your YouTube videos on your website
After video production and uploading on the YouTube channel, we think our job is done. But if you want to promote YouTube videos or content, your main task will start here. You can follow various methods to accomplish your purpose, but the major strategy is to embed your YouTube feed on your website.
Like WP Social Ninja, you will find different social media plugins, and using those plugins, you can easily embed your content on your WordPress websites. Even you can embed your video content on the blog post. You require to copy the video link and paste it on your website to promote your YouTube video.
Embed videos on your Email Marketing
Email is a great marketing channel, and the term of user engagement than interaction is cooperatively higher. In this case, we can convey that the video in the email campaign could be a powerful combo to supply the information more creatively.
That is why email marketing is such an effective way to promote YouTube videos and gain huge responses. You can accomplish this by building effective relationships, promoting the product, and generating leads.
Arrange giveaways and contest
Increasing YouTube video views is one of the most challenging tasks for all content creators. You may create exciting and hyped video content for your channel. But all your efforts may go in vain when your targeted audience does not interact with your content.
In that case, most YouTube creators buy viewers, but it's not an effective method or sustainable process for the long-term effect. To solve this issue permanently, we suggest the creators promote the video content in the long run.
Running YouTube giveaways and contests is one of the effective ways to promote YouTube videos and boost your YouTube channel. But before that, you need to know how to run an effective giveaway campaign.
Create a playlist to organize all YouTube videos
Making a playlist is a flexible way to group all the same category content. Playlists, like individual videos, are easy to create and can be optimized for the search engine. Adding YouTube videos to a playlist is very easy and simple.
The main benefit is promotion; when one video content finishes, the next one in the row comes on the screen without any further action. YouTube playlists arrive in all shapes and sizes. If you enjoy investing some time in how it works and looks, then you can search playlist for the WP Social Ninja from WP Manage Ninja's YouTube channel.
After you have finished all the YouTube content from this specific playlist than you could watch a playlist on the internet's most hyped WordPress plugin-related videos.
Run live streaming
To create interesting and memorable live streaming that would make people enthusiastic about waiting for the new and existing content series. Even this kind of streaming can prepare people for a specific event or problem.
Usually, live video streaming is a great way to create a recognizable brand image or value for your content. To do this, you must create a recognizable brand asset before and after the streaming. For successful live streaming, you can follow the following steps:
Schedule your live video streaming
Create awareness on social media
Post in the community
Create teaser videos
Write a blog post
Set up an event
Share content on social media
Promoting your video content outside of YouTube is smart, but you need to be more strategic before that. Because each social platform is different, you should require specific plans and platforms to attract viewers. That is why we always love sharing our YouTube content on social media platforms like Twitter and Facebook.
If your content is good enough, it will influence people to click on your link. But before this, ensure you are using the content preview option. Because especially this feature can create a huge impact on the click-through rate.
Post a short teaser on TikTok
TikTok is an amazing platform to promote YouTube videos by posting different types of content, including short teaser videos; the first 15-30 seconds are the ideal time frame to attract TikTok's audience base.
If your video's first impression can impact their buyer persona, they will head to your YouTube channel and finish the rest of the video. But posting your YouTube video teaser doesn't enough. That's why you must make your video's first part more appealing and informative.
Another important thing is never to forget to add the YouTube channel link to your TikTok video. Because this way, potential viewers can easily come to your channel and watch this specific video.
Make collaboration with other brands or creators
Brand collaboration is the most popular if you are a YouTube content creator. Here collaboration is the concept that represents when two or more people collaborate for the same or different benefits.
They can work together and share skills or concepts with their audience. Here every creator has the opportunity to gain new subscribers.
Video collaboration is one of the most hyped and effective collaboration formats nowadays. That's why multiple factors are necessary to build an effective marketing strategy; among them, the most essentials are
Communication skills
Proper mindset for collaboration
Emotional intelligence
Transfer the effective marketing strategy
Open mindset and respect for diversity
Run paid ad campaign
YouTube's organic reach has reduced. If you want to reach more people and promote your video content, then paid ad campaign is one of the key strategies. But when promoting your video content across different paid marketing platforms, you should take a solid marketing strategy in advance.
Moreover, your targeted audience and, most importantly, your ultimate goal and budget should be pre-defined. With this goal and budget strategy, Google will deliver your video content to the maximum audience who match your maximum audience criteria.
Respond to viewers' comments
Responding to the viewers' comments is of the essential tasks. Following these strategies, you can directly increase the interaction with your audience and get feedback and request for the future.
Replying to your post's comments also creates a conversation with your audience. You can select a comment and pin it at the top for more promotional activities to make it more visible to your audience. Moreover, you can use the heart sign to appreciate a viewer's comment more.
Promote YouTube videos free with WP Social Ninja
Videos are an essential part of the online world. Spending a day without watching a single video on a website or social media platform is difficult. Sometimes visitors may click, and sometimes not. But for sure, those videos spark the user's interest from a different angle.
That's why it's necessary to embed your business YouTube channels on your websites and show the YouTube feed dynamically. It doesn't only boost your sales but also promotes your YouTube channel too.
There are several ways to embed your YouTube videos on your WordPress websites. WP Social Ninja, the all-in-one social media plugin, is the best and easiest way to embed your video feed.
Download the super fancy and customizable plugin from the WordPress repository and display your YouTube video for free. Simple, right?
Final words
Brands and creators run diversified activities to promote YouTube videos. But often, they fail to do it the right way. The above tips can guide you to boost your YouTube videos and channels using different techniques.
All you need to do is to build a marketing strategy by following the overhead steps. Follow them properly and get the result. If you have executed any other effective strategy and think it's worked, please share it in the comment section to help others.
Oh, and if you liked this article, you might also appreciate our 14 Steps to Get More Instagram Views, too.