How to Embed Social Media Feeds on Your Website in One Minute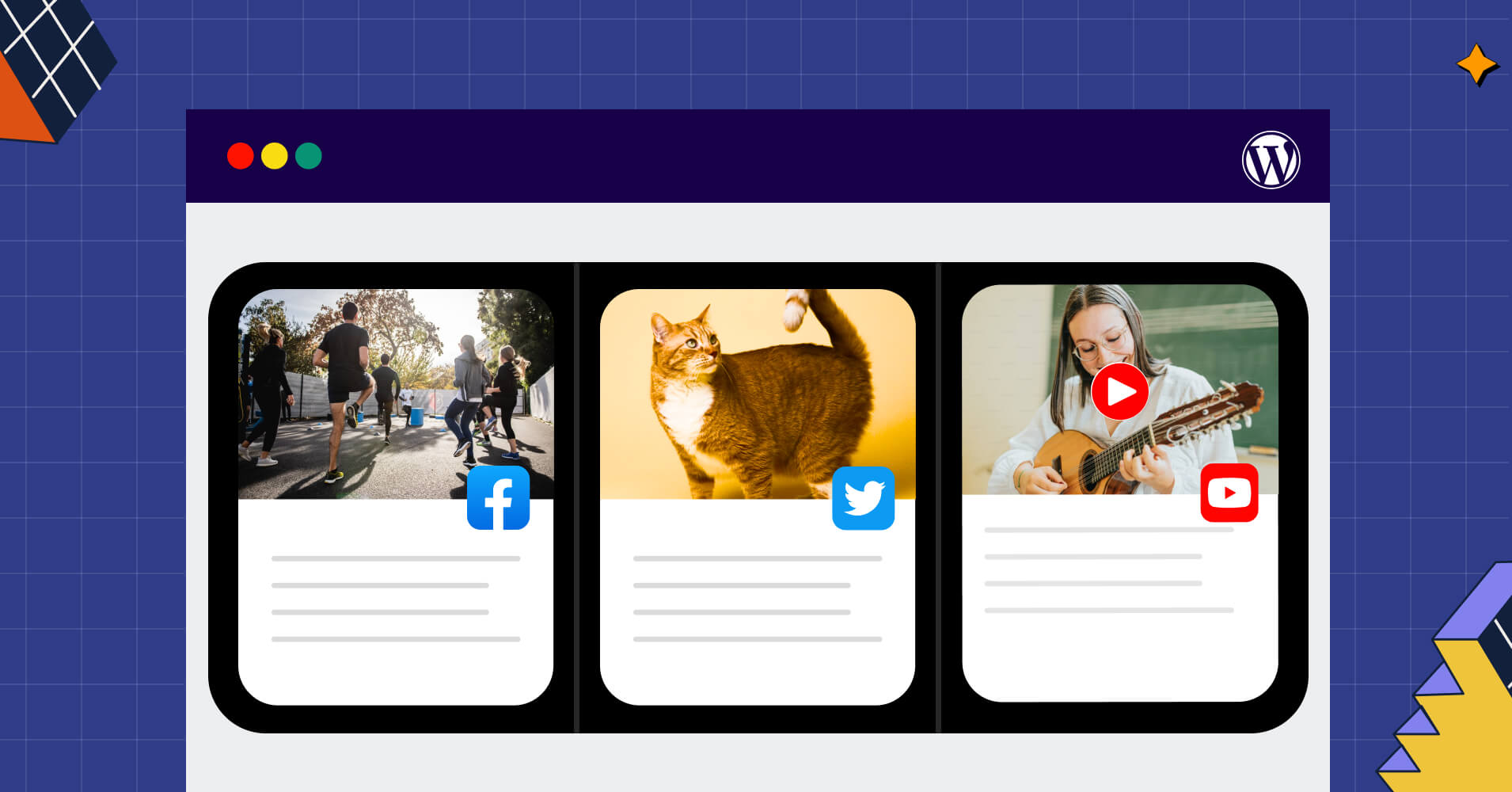 Looking for the easiest solution to embed social media feeds on your WordPress website?
In 2023, people love to hear a story, including you, isn't it? Similarly, your users like to see social proof and hear real-life stories before they purchase something. It helps them to make a perfect decision instantly. And it's a no-brainer that social media feeds are the best platform to tell about your brand's stories.
"Right now, with social networks and other tools on the Internet, all of these 500 million people have a way to say what they're thinking and have their voice be heard."

– Mark Zuckerberg, Co-founder, and CEO of Facebook

In this article, we'll show you how to embed social media feeds within a few clicks!
Why your website needs social media feeds
Whether it's a small business or a giant one, these days, every business knows social media feeds are unavoidable. Here are some fun facts about social feeds that clearly indicate their potential-
A Facebook post will get more clicks on average if it's posted after 7 pm and gets the highest conversion rates during mid-week in the afternoon between 1-3
Tweets posted with 1-2 hashtag gets around 21% more engagement on average
YouTube has better reach in the US than any other network for audiences aged 18 to 34 years old
Social media feeds also increase brand visibility, customer engagement, and, most importantly, customer trust
Source: fanbooster.
In 202,3, social platforms are on the rise, and marketers need to look at the graph.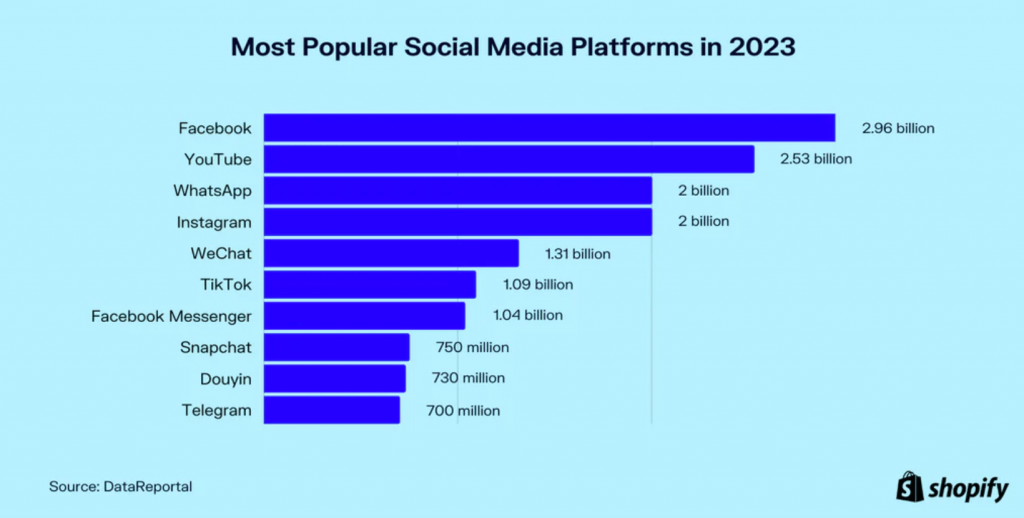 So back to the question: Why does your website need social media feeds?
Well, digital platforms increase social media followers and boost social engagements. Moreover, it automatically converts the leads into sales and expands the business.
Like what you are reading? Subscribe to our newsletter for interesting reads like this.
How to embed social media feeds on your website
Well, when you have a compact social tool for your website, you get a solid advantage here. And what if your plugin takes care of not only your social media feeds but also social reviews and social chat too?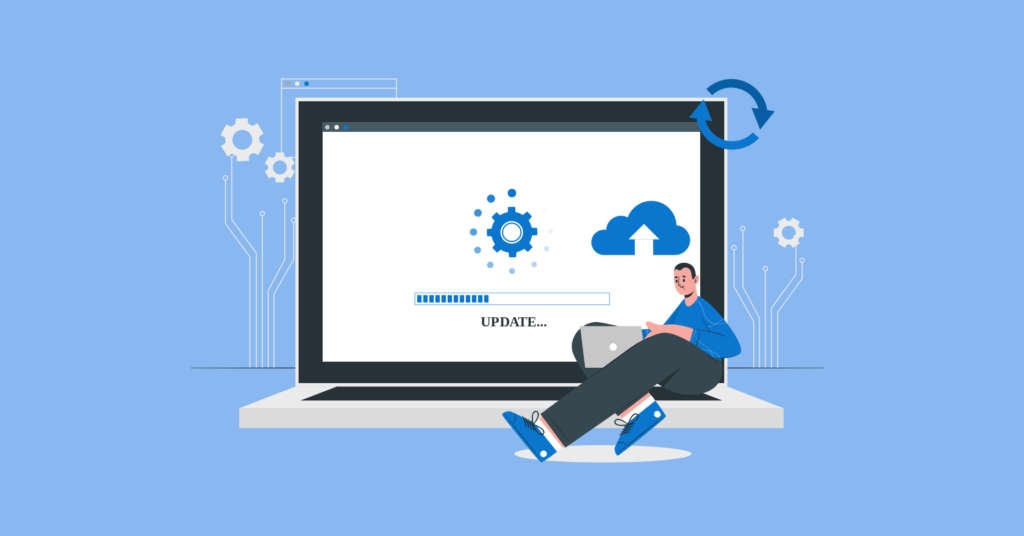 Not just that, with WP Social Ninja, you can also add social reviews from 10+ platforms and 15+ chat widgets to maximize your business. Let's take a look at the setup process.
Social media feeds installation and activation process
Anyone can pick up WP Social Ninja without even being a tech-savvy person. You have two options for installation and activation-
Option 1
Navigate to the WordPress Admin panel. From the WordPress Dashboard, go to Plugins > Add New >
Next, on the search input field, type WP Social Ninja, and wait for a few seconds for it to come up
Now, search for WP Social Ninja, and Click on Install
Now Activate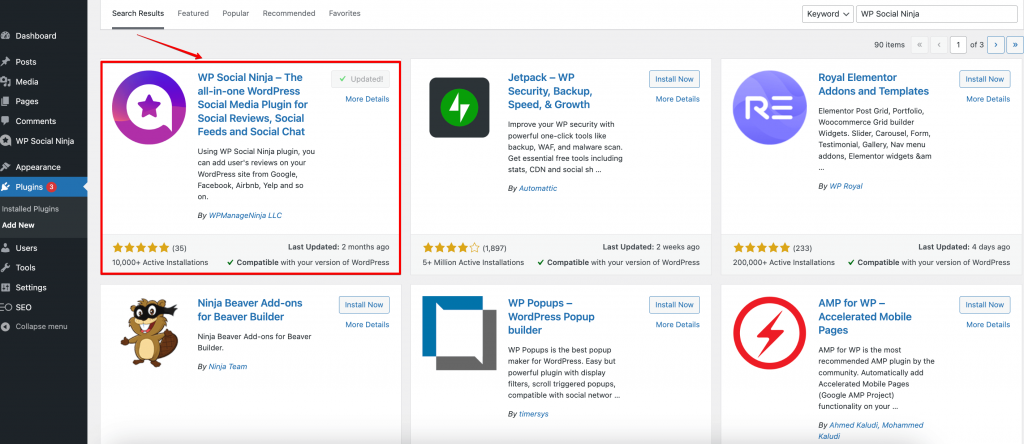 Option 2
Download WP Social Ninja from the WordPress directory
Go to Plugins > Add New > Upload Plugin > Choose the zip file > Install Now > Activate
Pick any option that is easy for you!
Social media feeds configuration
Social proofs say a lot about your business and boost your brand's credibility. Moreover, WP Social Ninja is a full package with the most popular social media feeds.
Twitter
YouTube
Instagram
Facebook
In fact, WP Social Ninja is coming up with even more social media platforms for their users!
Twitter Configuration
If you want to grow your website, what better way than Twitter feeds? In 2023, Twitter has the most significant age demographics, 24-34 years old, with 28.9% of users.
To configure Twitter, you don't have to do much. You can set up your Twitter feeds in Default and Manual. Let's discuss both options below.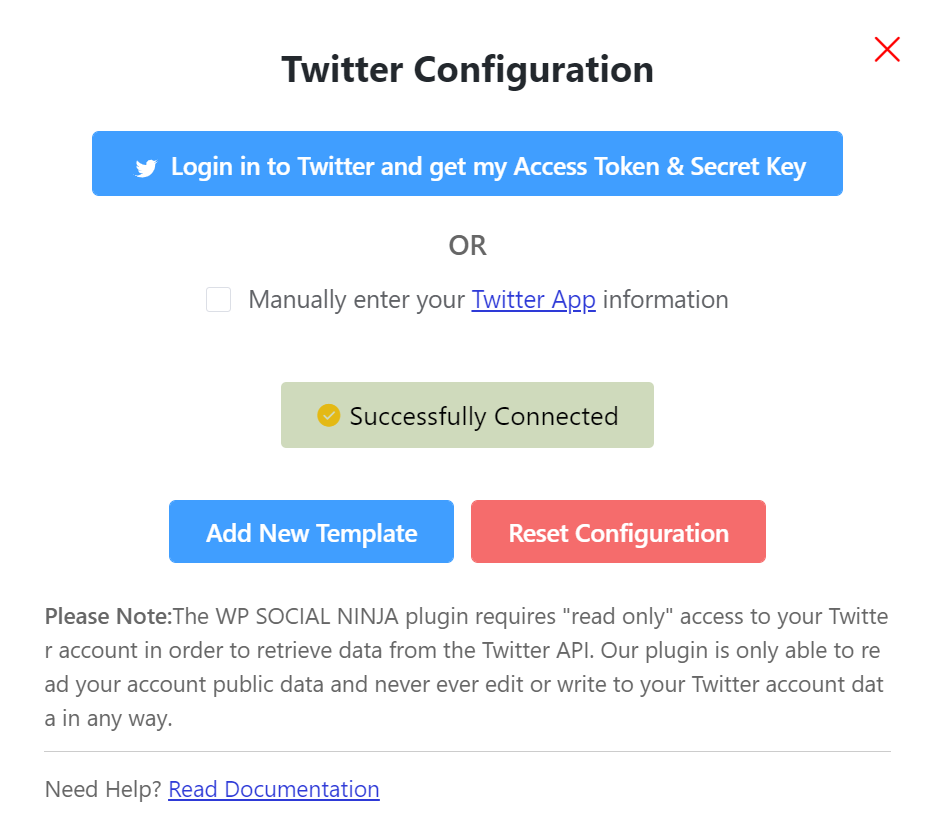 1. Default
Twitter's default configuration is simple.
Log in to your Twitter Account to get your Access Token and Secret Key
Click on the Login into Twitter and Get my Access & Secret Key button
Next, click on the Authorize App button. It will take you to the WP Social Ninja website to authorize Access Token and Secret Key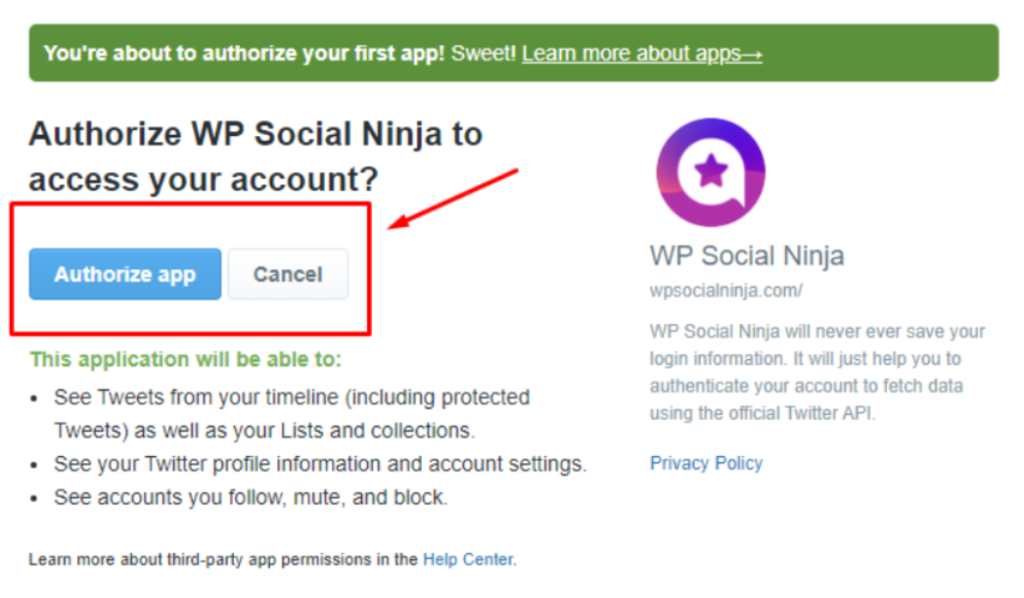 2. Manual
For Manual configuration-
Click on the Manually enter your Twitter App information
A Success notification along with the Access Token and Secret Key will come up
Now, click on the Add New Template button to create a new Template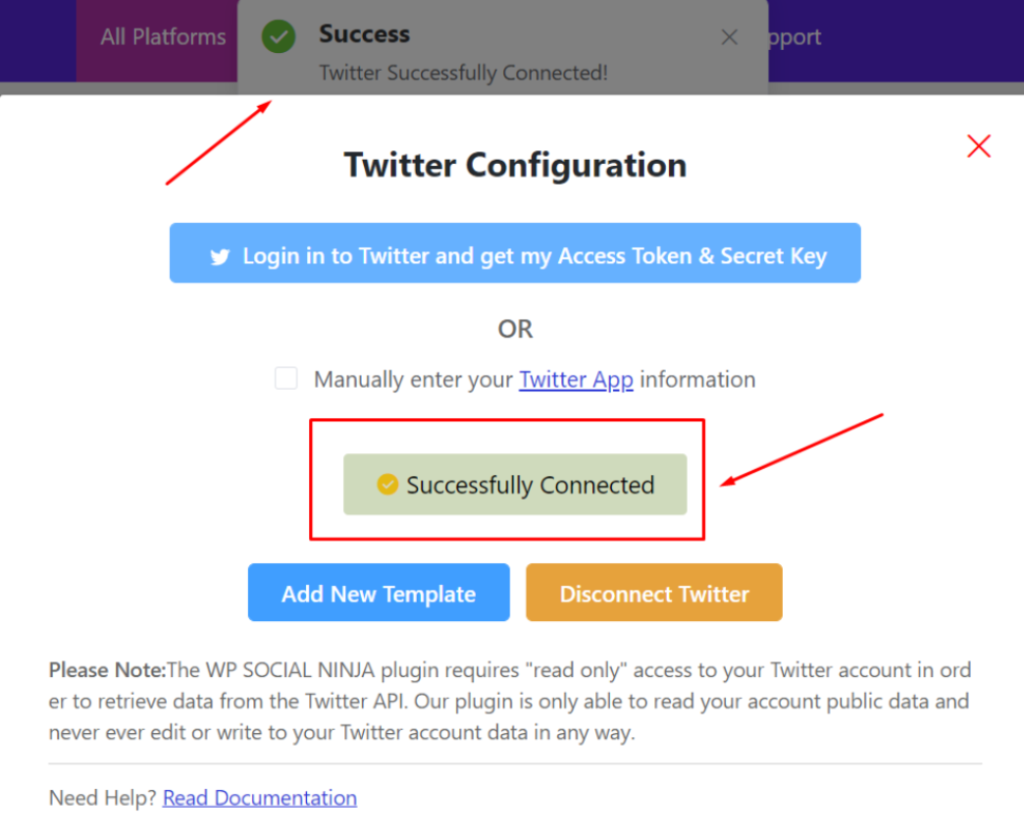 Don't forget to click the Save button to preserve all your settings.
YouTube configuration
In the US, 74% of adults use YouTube. After Google, YouTube is the second-largest visited website.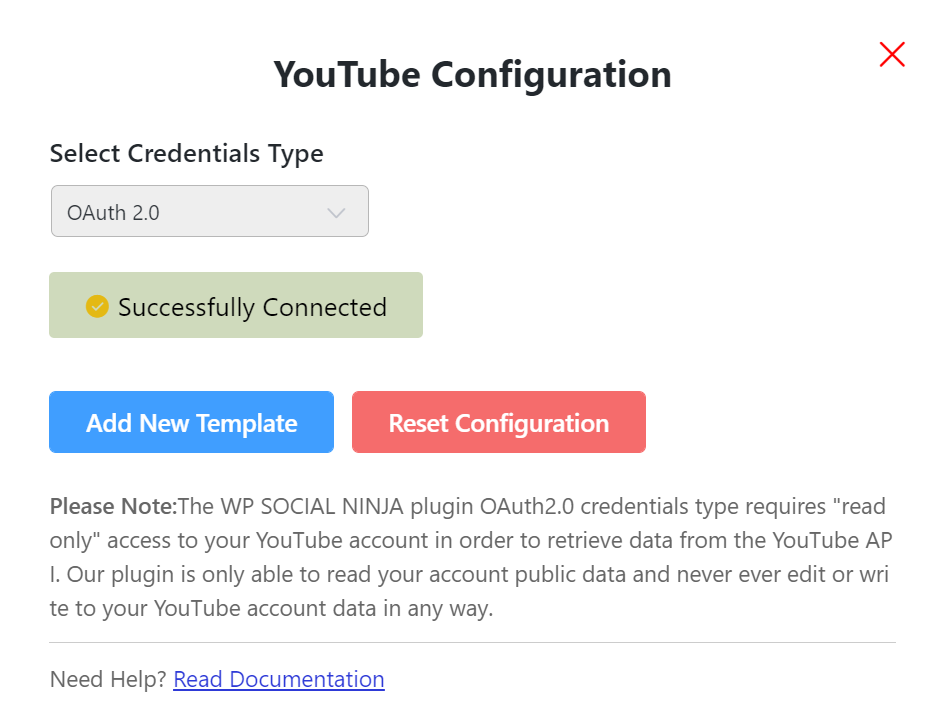 Let's check out how to configure YouTube feeds to embed social media feeds. You can set up YouTube in three credentials types-
OAuth 2.0,
API Key
Manually Connect a Primary Account
1. OAuth 2.0
Select the OAuth2.0 credential type to start the configuration.
Click on the Sign In And Get Google Access Code to get the Access Code
Now select the Email associated with your Google My Business account
Continue with your business account
Choose your email account to continue with WP Social Ninja
In the next step, click on the Allow button to grant access permission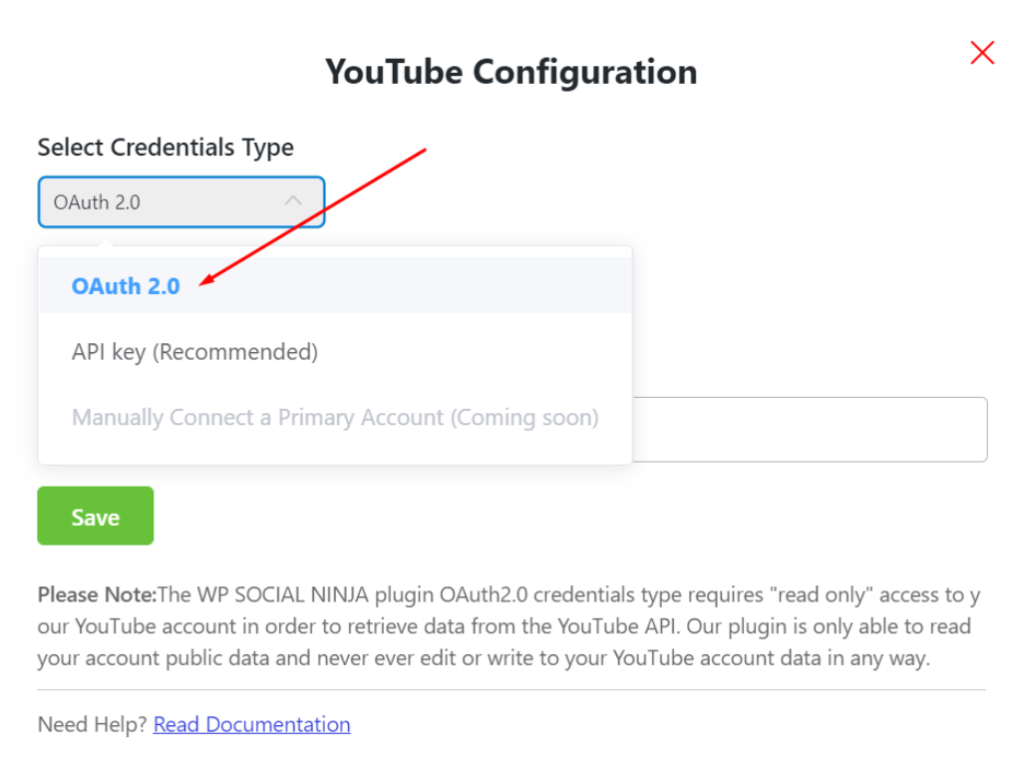 Copy the Access Code and paste it into the Google Configuration page to configure Google My Business
Now, click on the Save button to complete the configuration process
And you've successfully configured YouTube OAuth2.0
2. API Key
Click on the API Key to obtain the YouTube API Key.
Go to console.developers.google.com oauth to acquire the API Key from the Google APIs
Click on the Credentials from APIs & Services to get the API Key
Click on the Create Credentials button to create API Key
Next, click on the API Key button
Congratulations! You have got your YouTube API Key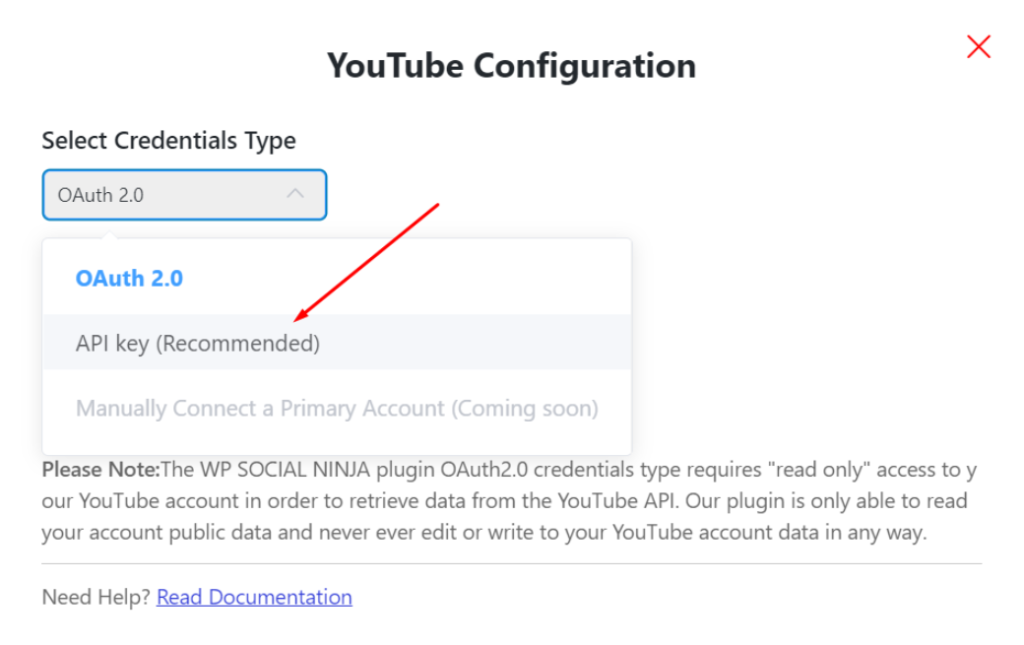 Now to configure the YouTube Feed, you need to Enable the YouTube Data API v3 button; otherwise, the API Key will not work
Click on the Library to enable the YouTube Data API v3
From the API Library, scroll down and select the YouTube Data API v3
Now Enable the button
In this step, copy and paste it to insert the API Key to configure YouTube Feeds
Now Click on the Save button to verify YouTube Social Feed
Voila! You have successfully managed to fetch the YouTube social media feeds
3. Manually Connect a Primary Account
To Manually Connect a Primary Account, you'll need the Access Token. However, if you already have the Access Token, you can connect with your YouTube Channel.
Instagram configuration
According to Instagram, 70% of shopping maniacs turn to Instagram to get to know a product better. Moreover, 87% of people stated that an influencer has directly influenced them to purchase a product from Instagram.
You have 3 ways to add your Instagram feeds to your WordPress website. We'll take you through them.
1. Connect your Personal Account
Connecting your personal account with WP Social Ninja is pretty straightforward. Want to know how?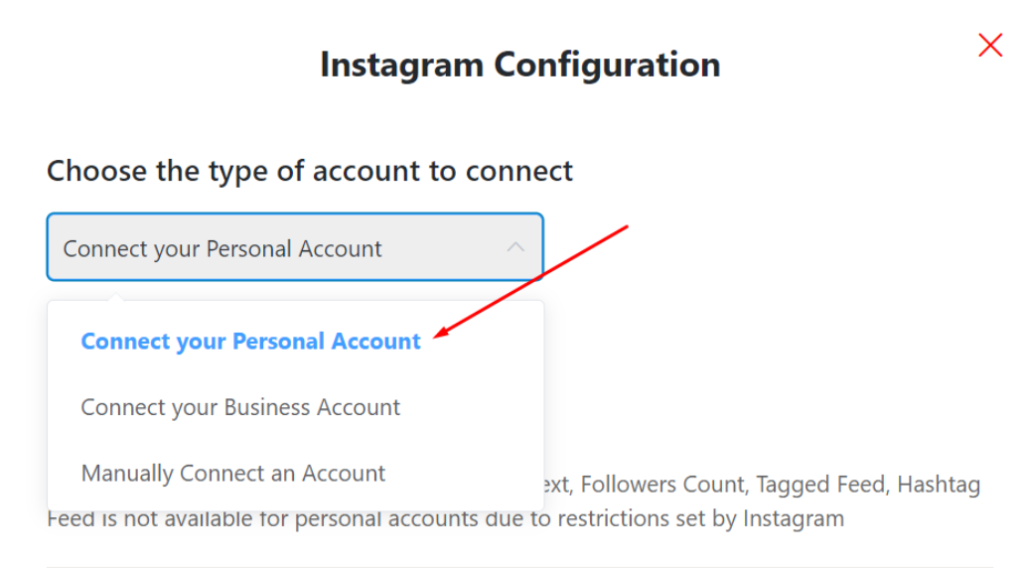 To begin with, select the Connect your Personal Account type.
Next, click on Connect your Personal Account and then click on Continue with Instagram
Next, click on the Allow button to connect the personal account
And congratulations! You've successfully connected to your Instagram Personal Account
2. Connect your Business Account
To Connect your Business Account select the account type and follow the steps below.
Once you've selected the Business Account, click on the Continue with Facebook button
In the next step, click on the Continue as (Your Account Name) button to connect the business account
Select the Instagram Business account and click on the Next button to continue
Now select the page you would like to use with WP Social Ninja
Keep all permissions as they are (these are required for WP Social Ninja to work) and click on the Done button
You have linked with WP Social Ninja! Click OK to go further
You've successfully connected to your Instagram Business Account. Congratulations!
3. Manually Connect an Account
To start the configuration process, you need the Instagram Access Token.
Insert the Instagram Access Token
Click on the Connect this Account button to configure instagram
And your Instagram Account is connected!
Note that WP Social Ninja lets you connect with multiple Instagram accounts on your website!
Once you're pleased with your social media feeds configuration process, it's time to go to the next step to create a Template.
Facebook Configuration
Facebook currently has 2.89 billion monthly active users, and its monthly active users have increased year over year. Being the most considerable of all social media networks, Facebook has the consent evaluation of sensations, algorithms, and demographics. So be active on social media like Facebook and display on your WordPress websites; always leverage the business growth of your small business and even help you encourage word-of-mouth marketing. To connect the Facebook feeds on your website, you can follow the following steps.
Step 1:
You first need to authorize your account to connect the Facebook feed to your website.

You can authorize the process just by clicking on Continue with Facebook button.
Step 2:
In this section, it will be redirected to a new page where you have to click on "Continue as Username"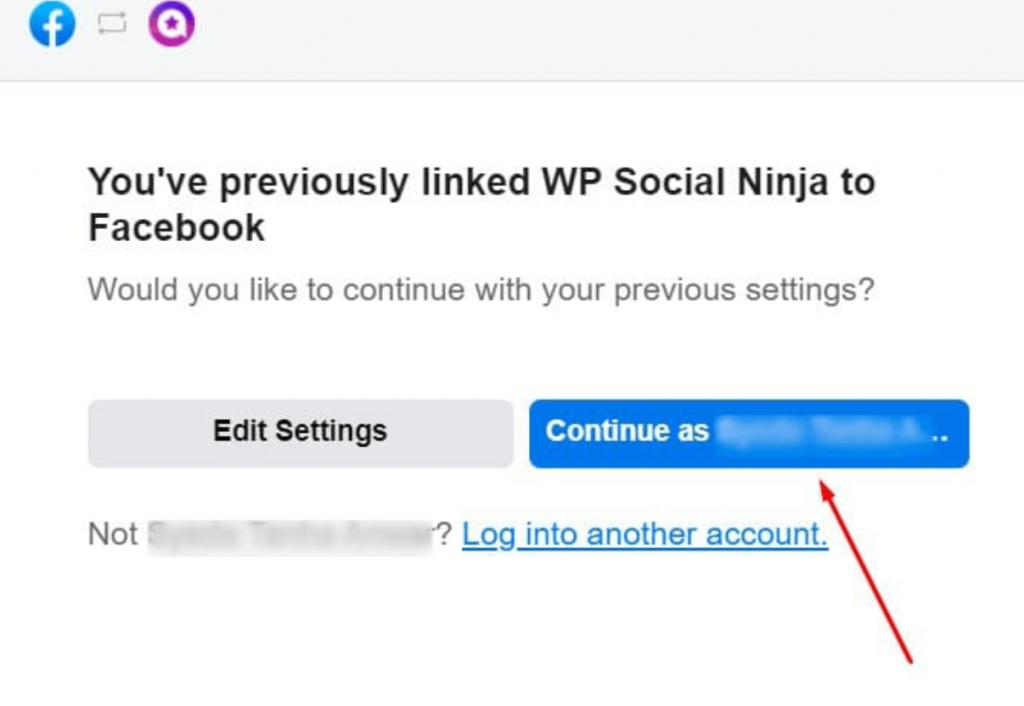 You must log in to your account if you want to connect to your Facebook business account. Now you must select the specific pages and click the Next button to go further.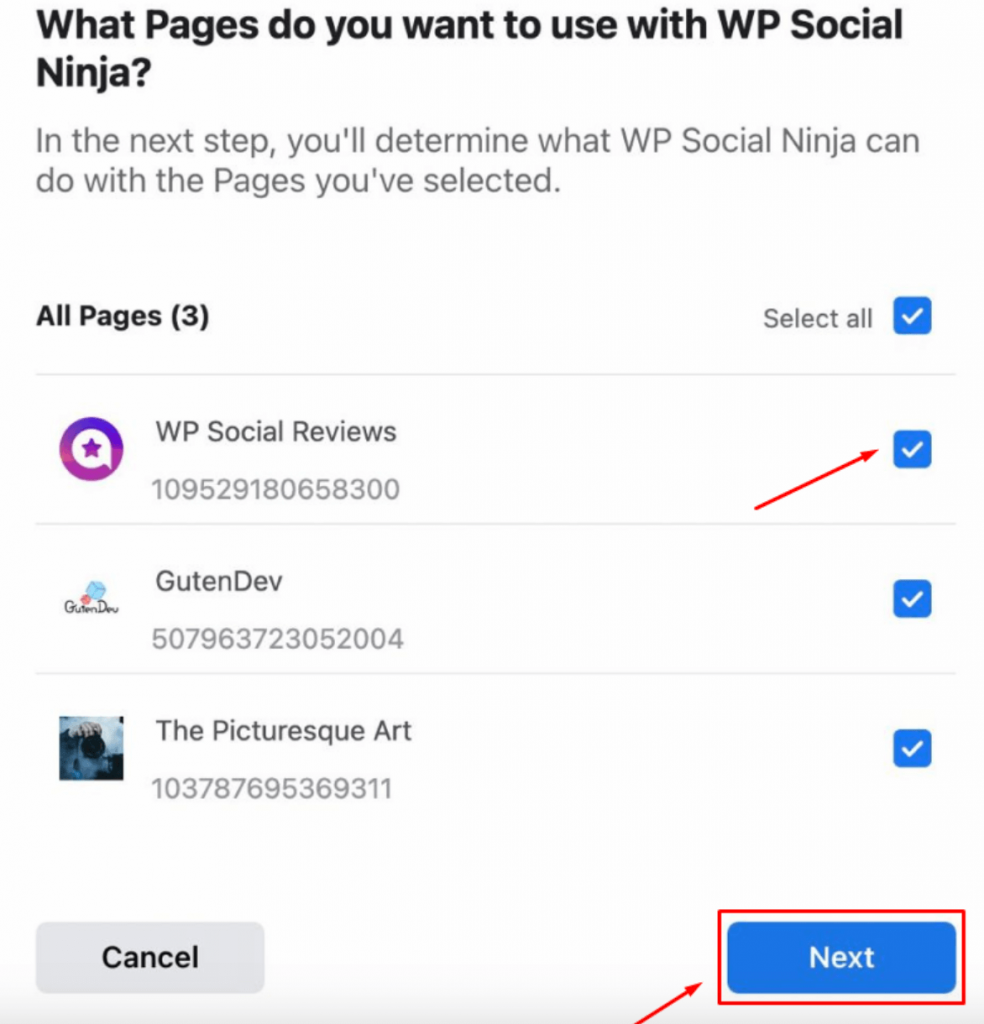 Step 3:
Now you must enable all the options to run WP Social Ninja properly with all the functionality. After this, you have to click on the Done button to execute this.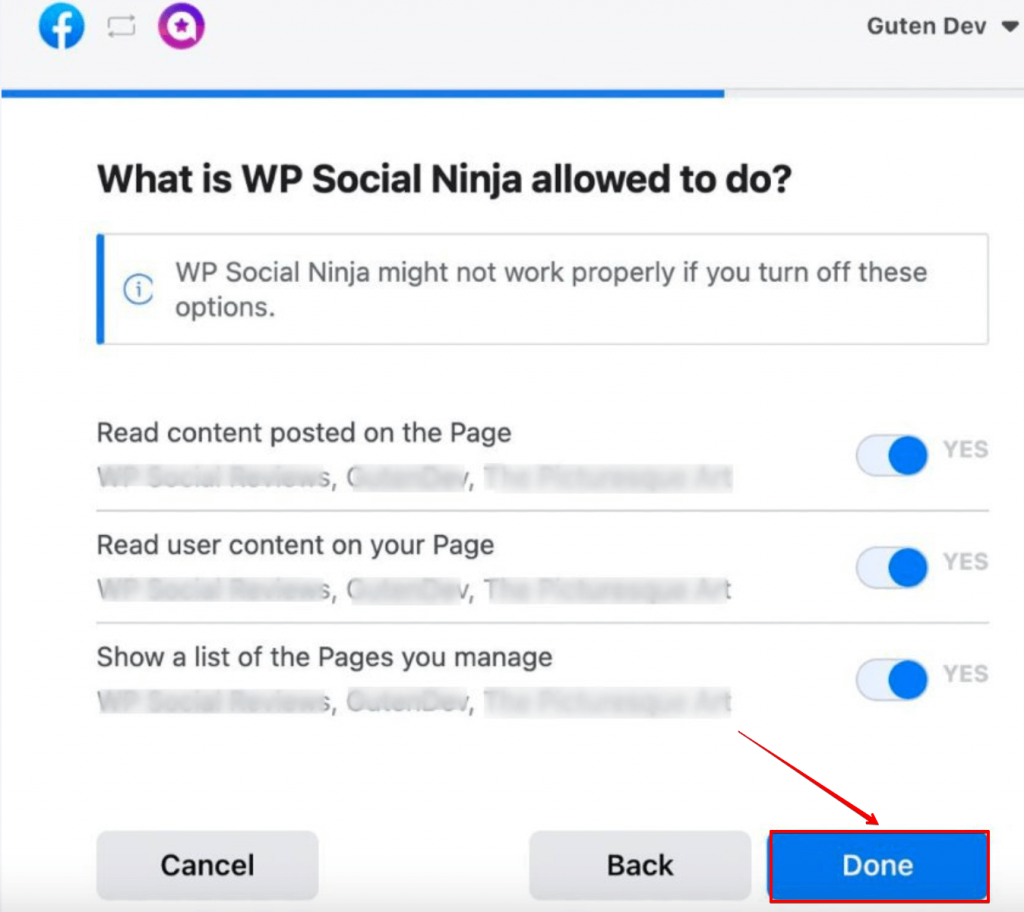 This permission must be required to run WP Social Ninja and display the Facebook feeds. Now you are successfully linked to WP Social Ninja. To complete the authorization process, you need to click on the Ok Button. This process will redirect you to the dashboard.
Step 4:
Now you must select again the page/pages you want to connect or display on your WordPress websites. At the same time, you can connect multiple pages just by clicking Add More Accounts.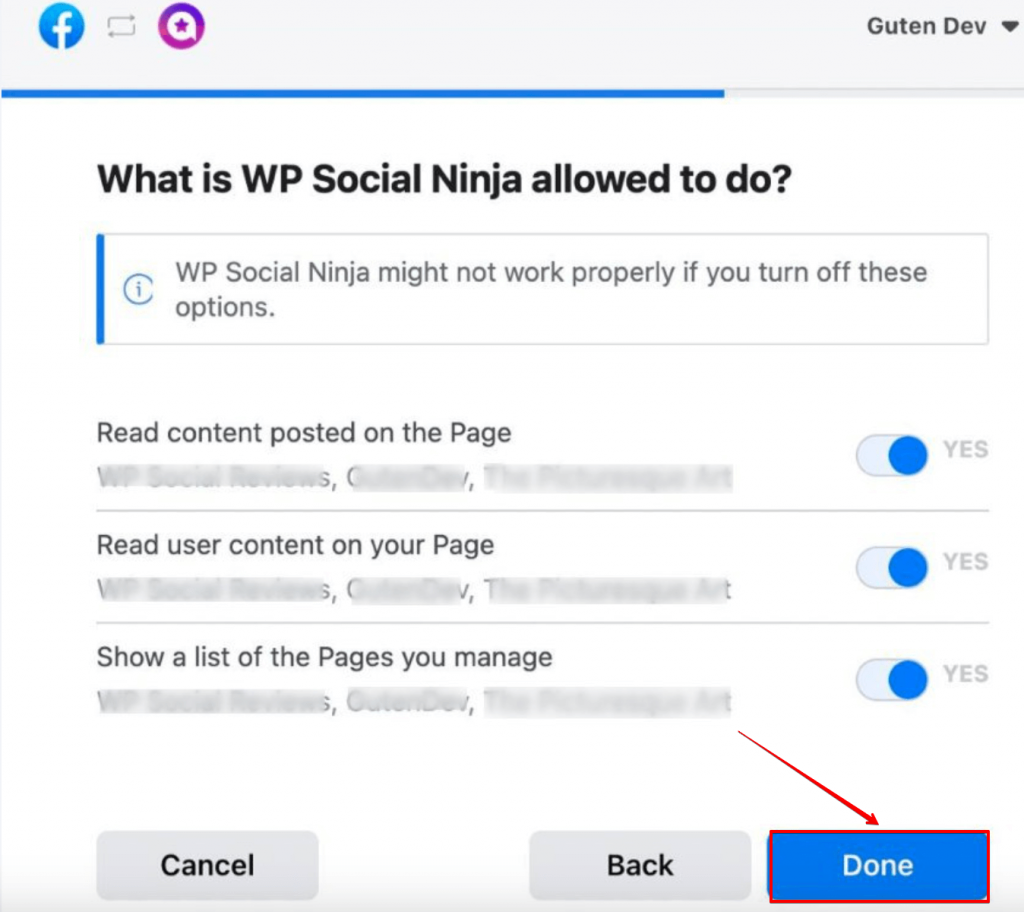 Here you can also connect another account. In that case, you need to follow the above-mentioned steps. Now you can start customizing Facebook and displaying it on your website.
Final words
At present, social media is irreplaceable. And in the realm of business, your brand needs it the most!
In this article, I tried to give you a general idea about how easily you can fetch social media feeds on your website with WP Social Ninja. The intention was to direct you in the right direction with the finest social media plugin.
I hope you found this helpful article. If you did, you might also take a look at the following resources-