TikTok vs. Instagram: Major Differences in 2023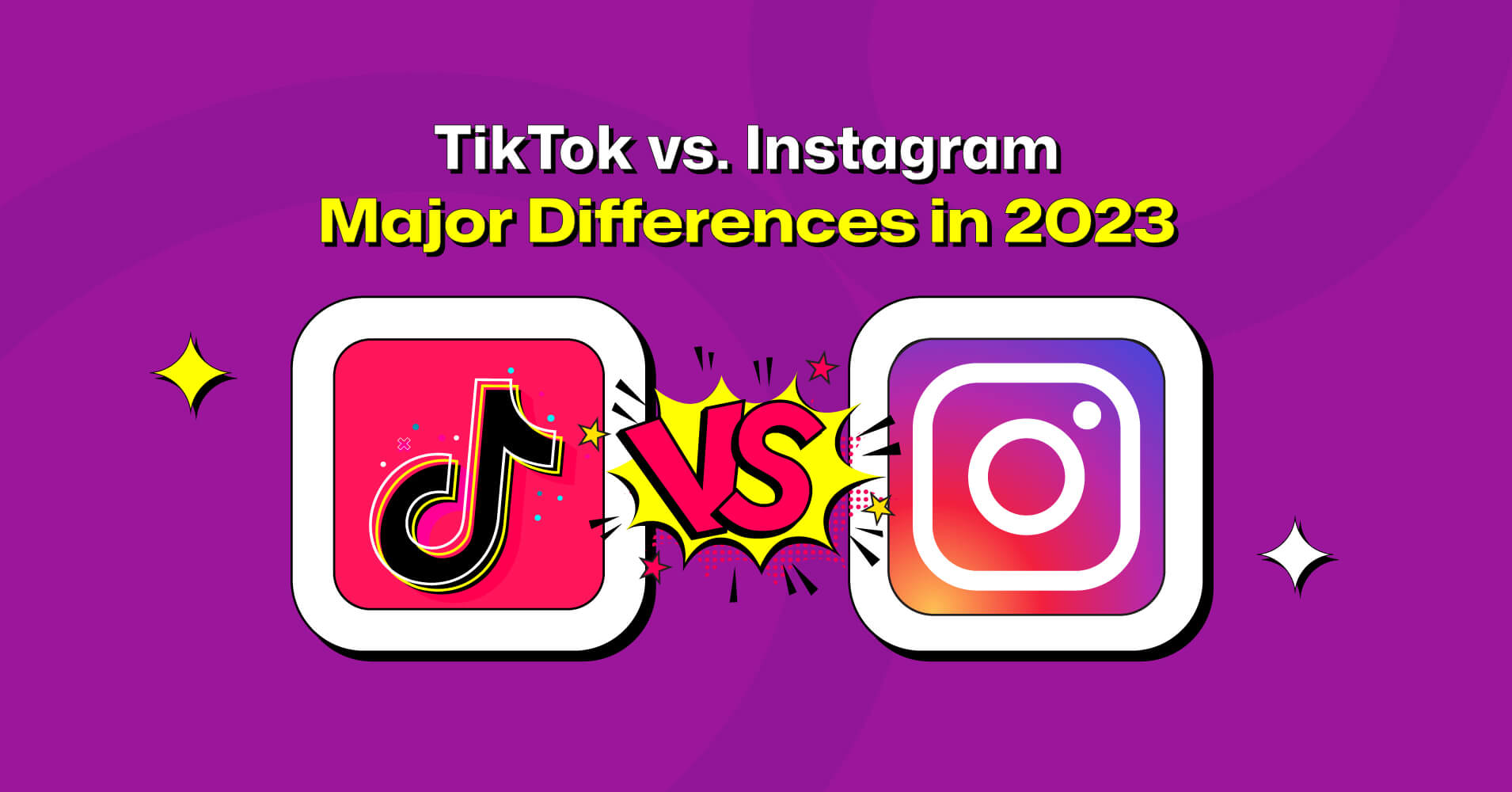 What is marketing to you?
Let's keep the theoretical explanations apart! The answer should be creating brand awareness, increasing sales, and attracting new people, right?! In short, reaching out and engaging people.
When the focus point is to reach and engage with people, what can be a better option than social media platforms?!
Let me justify my words! 4.48 billion out of 7.87 billion people are social media users! That's 56.8% of the total global population! With a 3.2% growth rate, 4.7 people join social media every second!!
Ever since the inception of social media, marketers are always trying to make the best out of them for their brands! And this 2020 pandemic showed how social media platforms can be powerful tools for business!
With billions of active users TikTok and Instagram are two popular platforms! And they have opened the door to reach potential customers, generate leads, and create brand awareness all over the world with their features!
TikTok and Instagram, both have billions of active users and somewhat similar features. And so the debate regarding TikTok vs. Instagram goes on and on!
In this article, we will compare TikTok and Instagram from different points of view and show what they have to offer your business!
Let's go and see where this TikTok vs. Instagram battle goes!
Key stats of TikTok and Instagram
Before going through the TikTok vs. Instagram battle, let's review some quick stats!
TikTok
Here are some TikTok stats according to The Social Shepherd:
TikTok has been downloaded 3.5 billion times worldwide
TikTok grew among the 15-25 age group by 180%
It has been valued at 50 billion dollars by investors
TikTok has 30.8 million active users on its iOS version and 14.43 million active users on the Android version
The TikTok app is opened 19 times per day by the users
25% of its users are Gen Z
38% of users are ready to tolerate ads in exchange for access to certain features
TikTok earns 1.56 billion dollars in revenue from ads during the 3rd quarter of 2022
Instagram
Some Instagram facts as per Sprout Social:
Instagram is the 4th most-used social media platform right after Facebook, TouTube, and WhatsApp
Instagram has 2 billion monthly active users
Adult users spend 30.1 minutes per day on this platform
Instagram is more popular among millennials(39.1%) followed by Gen Z
50% of Instagram users become interested in a brand after seeing an ad
90% of its users follow at least one business
Instagram reels boost an average engagement rate of 1.95%
Instagram has the highest CTR (Click-through Rate) and CPC (Cost Per Click)
Now, we can see, Instagram vs. TikTok battle is going to be a decisive one! Let's go for the details.
Why TikTok vs. Instagram
During the pandemic, we all were forced to stay at home. That's when many people discovered TikTok.
TikTok is a Chinese video-sharing platform with a 9:16 aspect ratio. Which is quite mobile-friendly and spread among young people like wildfire!
From that perspective, Instagram is on the market for quite a long time! Started as a photo and video-sharing platform, and grew in huge popularity among millennials for its generic features to present and curate an individual in an aesthetic way! It has not been long since they launched Reels, a TikTok-like feature with the same aspect ratio!
Both TikTok and Instagram Reels come with basic editing tools and similar screen time. That's where the game changed!
With available tools, people started to make funny and humorous videos, lip-syncing, and duets, and people started to find them entertaining and engaging! And spending more and more time on these platforms!
There came the term 'video marketing'. Videos encompass more than 80% of total global mobile traffic! TikTok and Instagram became the ideal platform for brands, marketers, and businesses! And TikTok vs. Instagram battle started to brew!
With the launch of "TikTok Business Account" and "Instagram Professional Account", it is an all-out battle now!
Points of comparison
Till now, we got an overview of the TikTok vs. Instagram battle and a basic idea of the opportunities they provide! From here, we will go through them point by point! We will elaborate on what these platforms hold and how they can benefit small businesses!
Audience demography
You should have a clear idea of your target marketplace before you go for social media marketing. Let's take a look at TikTok vs. Instagram user demography as per Statista:
There we can see some similarities in the user base:
Both platforms have younger demographics
Both platforms have ready-to-buy audiences
Both platforms are popular worldwide
Similarities apart, there are some significant differences! You should have a clear idea of where your target marketplace might be!
TikTok
TikTok is heavily preferred by Gen Z! Millennials come second in order. And almost everybody is young! As per gender, the majority, 57% of the users are female.
TikTok users are more ad responsive than other platforms. That being said users usually respond to brands that aim to sell products favored by younguns, like
Low-priced jewelry, clothes, cosmetics
Home decor products
Budget-friendly online products
TikTok is more responsive toward influencer marketing. And ads that are liked, do not look like ads. Blending in is the key!
Instagram
Instagram is more popular among millennials, followed by Gen Z. It can be said that Instagram users are a bit older generation! Gender distribution is more even on Instagram, with 48.4% of the users identifying as female and 51.6% as male.
Though not as ad responsive as TikTok, Instagram has a conversion rate ranging from 0.3%-2.6%, which is quite good! Users are more responsive to unisex products for older millennials, like
Informative services for professionals
Furniture and luxury brands
Expensive jewelry, cosmetics, home decor, and mid-range artifacts
Premium e-commerce products
Instagram is welcoming to influencer marketing. But the presentation should have higher aesthetic essence!
Content features
Here we will get a close look at TikTok vs. Instagram content features. We will get to know what types of content are preferred on which platform! Let's see!
TikTok
Content creators of TikTok are more subject-focused! TikTok videos are basically people filming themselves dancing, lip-syncing, doing challenges, responding to hashtags, and flowing with the trends!
Looks and compositional senses do matter here, but not dominant. Most of the videos are taken within a short time and uploaded instantly.
The main essence of TikTok is raw content! Whenever you visit a TikTok profile it's quite hard to get a rough idea of the overall aesthetics of a creator, may it be an influencer! Rather you will directly get into the topic or trend! Let the actions speak seems to be the motto!
From a business perspective, TikTok can be a better platform for
Influencer-focused marketing
Informal and native-looking ads
Self-branding, especially if you don't have a dedicated team.
Instagram
Instagram content ideas are usually highly edited, filtered, carefully curated, and visually appealing! Users actually care a lot about their appearance and presentation on Instagram, whether about their photos or reels!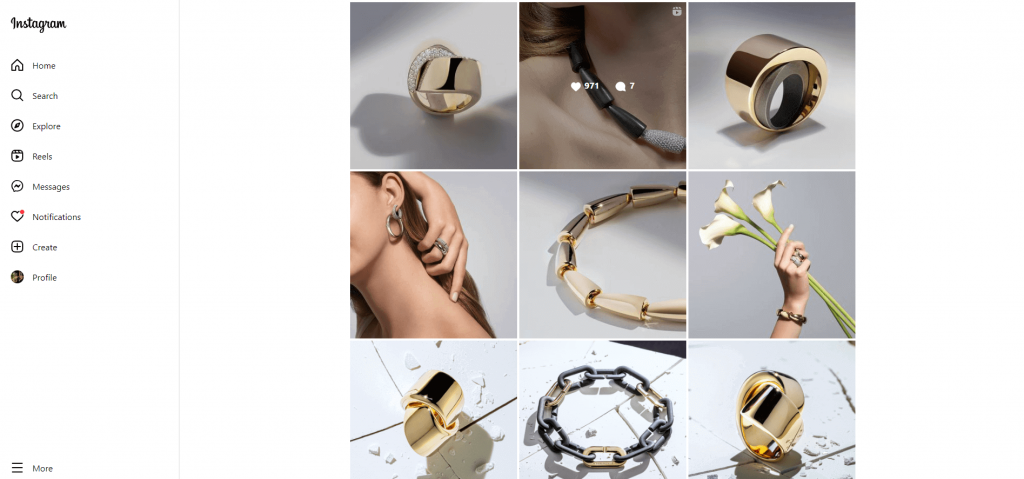 Most users curate their photos and videos to make them look more aesthetic and show their taste! Usually, photos and videos are not instantly uploaded here, rather users like to take up their sweet time to edit their content, and are more cautious about the visual appearance of the content! If you visit any of their profile you will get a quick idea about their sense of aesthetics and styles!
And this situation makes Instagram a better choice for
Carefully curated ads
Visually appealing ads
Businesses with a dedicated content-making team
Formats
In this section of TikTok vs. Instagram duel, we will talk about their formats! We will go through what these platforms offer for their user!
TikTok
TikToks lets its users create and upload vertical videos! That's it!
But yes, TikTok provides some editing tools, features like adding royalty-free music or voice-overs, and some really interesting filters!
The main essence of TikTok content is its simplicity! And with a 16:9 aspect ratio, it is quite a mobile-friendly platform! Instead of scrolling, you have to move up, and this will lead you to the next video!
As long as you are not spoiling the fun, people are quite engaged with your content. And for its content format, users spend watching the whole thing, including ads! TikTok has an attractive Return on Ad Spend (ROAS) over other platforms! Additionally, it is quite easy to use!
Instagram
Instagram has a lot to offer to its users
Photos
Short feed videos
Reels
Stories
Live streaming
IGTV (For long videos)
The Instagram feed looks more like other social media platforms! You can scroll through your way and pay no attention to the content creator!
Instagram comes with filters for photos and short-feed videos! And as for reels, comes with a music library and basic editing tools! Instagram reels are like TikTok videos! And the stories you upload last for 24 hours, and have the most reach than the other features!
Instagram has a lot more features to offer, that sounds good. But when you are running an ad campaign, things might get tangled up! But with proper execution of the campaign across stories, feeds, and reels you can do wonder!
Exposure
We are looking forward to this TikTok vs. Instagram comparison basically to know, from where you can reach out to the maximum amount of people! So this section will discuss the exposures you can get from these platforms!
TikTok
TikTok is a good choice if you are up for making more content without spending much! If you are up for trends and challenges, it can provide a higher probability of organic exposure to your content! The more you make content, the more exposure you can get! TikTok success stories can vouch for that!
The TikTok home button is known as the "For You" page. This feature shows you the content from creators you don't even follow! The content type is decided by the TikTok algorithm which builds an idea of your liking based on what you watch more.
For example, if you search and look for fitness content, you will likely get more fitness-associated content on the For You page!
90% of TikTok users login to their id more than once a day, and spend an average of 52 minutes on this app per day!
But the nature of TikTok has a downside as well!
As the 'For You' page shows content from people you don't even follow, your content might get viral and all that, but you might not gain followers on that proportion! Let me explain!
People find your content, they see it, they hit the react button, and they move forward without clicking the follow button! Your content may get viral but your profile may not gain followers! Even if you gain some followers, they may not see other content and scroll away through the 'For You' page!
Instagram
Instagram is a better choice if you go all out with quality! If you can afford to make rich content with appealing visuals, Instagram is your Pandora's box! The more connections a content makes, the more exposure you get! And it is a better choice for B2B brands!
Instagram has a large community! But it is a bit complicated to maintain! You can not just post more and get exposure! You need to build a connection with your niche audience and enlarge your engagement! You must have a solid Instagram marketing strategy.
Once your community is built and you create engagement you can make the most out of the Instagram shopping feature 'Checkout' and hit big with your social selling. Instagram has a dedicated shoppable feed to buy and sell!
But there are some downsides here as well!
Only 62% of users log in to Instagram per day and spend an average of 28 minutes a day! This is lower than TikTok. And you need to invest more time and effort to get the exposure you are aiming for!
Promotional campaign
This part of the TikTok vs. Instagram comparison will dwell in the advertisement facilities provided by these platforms! Let's dive!
TikTok
TikTok offers a specialized Business Account. This account comes with facilities like analytics, a commercial music library, and some other business features! TikTok for small businesses is quite the facility to get recognition and reaching to a broader audience!
TikTok allows brands to add promotional content up to 60 seconds long between other videos and looks like native content!
Instagram
With Instagram Professional Account you can place ads on photos and videos, and put them on stories as well!
But the game changer is Instagram reels! Reels are Instagram's answer to TikTok and you can place ads which is quite similar to TikTok!
As per Word Stream, Instagram reels ads beat TikTok ads in every segment like clicks, costs, and conversions!
Which platform to choose for your small business
If you are planning to ace your social media marketing, chances are higher that you might end up building your presence on both platforms! And that's pretty normal!
Most businesses having the bare minimum of virtual presence are on Instagram! But with intense popularity among younger generations, every business is on its way to TikTok!
If you are a small business owner, it is normal to be flustered in such a situation! But do not let all these rush get in your way!
Your success entirely depends on your social media strategy! Here, understanding your business is the key.
If your business is more service-oriented, like photography, traveling, online food business, small restaurant, event management, etc. Instagram might be a better option for you.
If you run small or micro businesses like inexpensive jewelry, clothes, designed products, home-made crafts, etc TikTok may be your answer!
Final take
It is actually quite hard to declare a verdict on TikTok vs. Instagram battle! Both platforms have their unique offerings!
It will be better if you can make your presence on both of them! But do not forget the iron rule, your market strategy!
Whichever platform you choose, be organized! Consistency and sincerity are the basics!
Wish you all the best!
Frequently Asked Questions(FAQs)
Q1:Why is TikTok more popular than Instagram?
Answer: The statement is not that correct! Though TikTok is extremely popular among Gen Z, Instagram still has a larger user base!
Q2: Why is TikTok better than Instagram reels?
Answer: Well TikTok features duets, where you can reply to someone's content and make a collaborated video. Reels provide a similar feature called "Remix", but TikTok was the first to arrive and easy to use and more organic.
Q3: Is TikTok taking over instagram?
Answer: TikTok is more downloaded in 2021 than Instagram! And progressing at lightning speed! But Instagram is older and has a loyal user base. So, taking over is not going to happen anytime soon!
Q4: Who pays better Instagram or TikTok?
Answer: Instagram checks are bigger! Insta influencers are likely to earn 200% more through brand collaboration!
Q5: How long a TikTok video can be?
Answer: You can make TikTok up to 10 minutes, whereas reels can be only 90 seconds long! But remember, the shorter the better!
Articles you may find useful:
Sources: Hootsuite, Sprout Social, Statista, The Social Shepherd.