TikTok Success Stories: 5 Small Businesses That Hit Big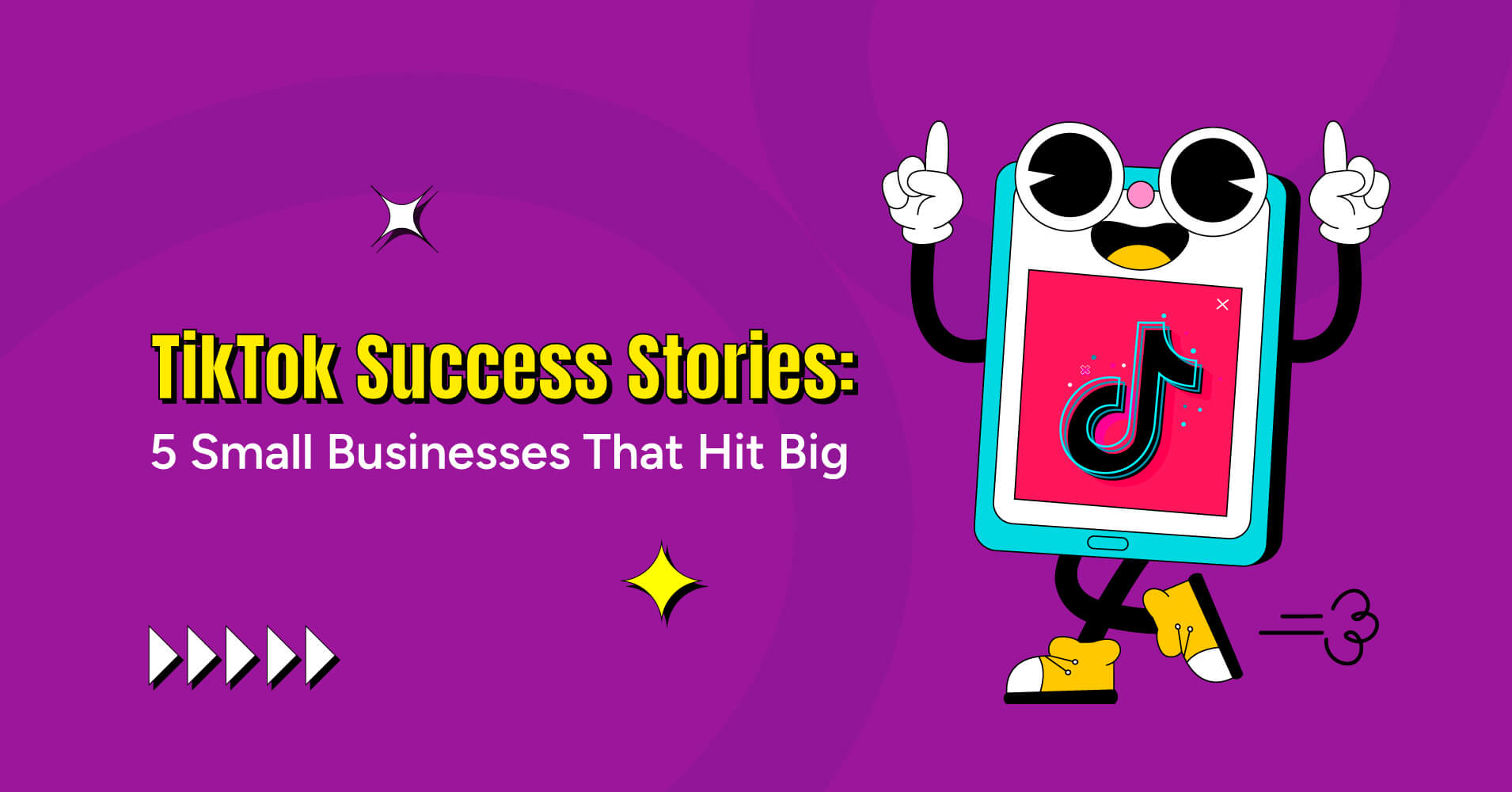 TikTok is the fastest-growing social media platform with 2.5 billion active monthly users and more than 3 billion installs. This insane growth does not seem to stop anytime soon!
With an everlasting stream of trendy music, hashtag challenges, dance covers, and duets more and more people are joining the carnival. And the impact is so huge that other social media giants like YouTube, Facebook, and Instagram launched look-alike features like shorts and reels!
TikTok has a unique algorithm that shows users content they might take a liking to. Even if it is not enough tempting to promote business on this platform, TikTok provides a dedicated business account!
Now as a small business owner, you might wonder, "Is this for real? Can TikTok marketing be good for my business? Is anyone out there hitting big?"
In this article, we will try to tell some case studies of some small businesses that took what this platform had to offer, and in the end, you will probably get your answers!
Let's dive in!
How TikTok helps small business
TikTok for small businesses is quite the opportunity with this "Business Account" that comes with some handy promotional features like Analytics, Workspace, Activity & Support, Commercial Music Library(CML), and whatnot, all to provide TikTok eCommerce facilities!
If you can get wind of this platform, you can surely fly with your selling and boost your social media marketing. TikTok success stories show how efficient this platform can be.
TikTok success stories
We have done TikTok case studies on some small businesses that succeeded with their promotional campaign. This article will present the TikTok success stories of 6 small business owners and how they brought out the full potential of TikTok eCommerce.
Popflex
Popflex is an apparel brand that sells gym clothing and accessories like yoga mats, gym outfits, and accessories like bags for women. If we are talking about TikTok success stories we must know about them!
This brand was created by Cassey Ho, an influencer and content creator. She started her journey by sharing fitness instructions, workout tips, and tricks, and grew popular with her easy-to-understand content.
But she did not just stop with popularity, she eventually launched her apparel brand POPFLEX and she really pulled off the best of social media strategy, and guess which platform gave her brand the ultimate boost?
Yes, it is TikTok. She really has what it takes to reach out to her customers and present her products creatively and engagingly. Eventually her TikTok account 'popflexactive' earned 156.3k followers and 3.6 million likes!!
So, what is the secret?!
The secret is to flow with the trend and blend with her products!
She made loads of content on her products, about what the product is, how to use them, and what is the specialty, and her presentation is far from boring! She presented her products with trendy music and a few dance moves that made things quite interesting!
She often shares videos of designing her product. Sharing the working procedures have made her product more authentic and resolved questions regarding trust issues.
As her business grew, she expanded her team. And she introduced her team members to her audiences with trendy dance, which got quite a lot of views. And knowing the team who was behind making the product creates engagement with potential customers.
POPFLEX prioritizes its audience! They are always responding to the comments and often making duets with their clients!
But above all, consistency was maintained. And she got responses that were needed for her brand promotion!
Bobbie Goods
Bobbie Goods shows you do not necessarily need to make dynamic content always to get successful! Understanding your product is basic! During our TikTok case study, Bobbie Goods amazed us with its simple and peaceful content.
Bobbie Goods sell products like colored books with handmade drawings. Sometimes only figures are drawn and you can color them up by yourselves! And trust me, these drawings are charming and eye-pleasing! And the added music and sounds match the vibe!
Bobbie Goods started as a drawing account of an artist. She simply draw things in calm and serene places and showed them to the viewers.
But it is quite the journey how this account shifted to a business promotion platform and Bobbie Goods became a brand!
The sole strategy of Bobbie Goods is 'simplicity'! This account is full of content of the artist's drawing with calm music behind it and it feels like a breeze on a summer day!
Sometimes this brand shares videos of packing and always responds to the comments! And everything in a simple way!
So, the trick here is to understand your business. To set the mood, catching the vibe is what made Bobbie Goods a successful business. So, simplicity is not bad if you know how to express it. An artist and her simplicity can be a part of TikTok success stories.
Brand Pierre
Brand Pierre can be an ideal example of a TikTok success story! "One spoon changed his life" sums up his success story!
Pierce Woodward can make rings from old spoons and TikTok has made him a brand! During quarantine, this guy started making rings from old spoons and shared his content on TikTok for fun!
Soon his contents caught the attention of influencers and they really liked his rings! Soon he got more followers on TikTok and his creations became a brand! And TikTok is his main marketing platform, and this guy has built his own shop!
TikTok skyrocketed his popularity and his first batch of rings got sold out in two days and now he sells by minutes!!
This man always makes content about his rings and he really knows how not to bore his audiences! This guy hardly misses trends! And always responsive to the comments of his followers! He made several videos responding to his comment section!
His contents are quite engaging, sometimes he asks random people if he could get a spoon and make a ring out of it! This kind of content caught the attention of many viewers! He always makes content on his working procedures making his product more authentic!
To make things more interesting, he sometimes introduces different challenges! He makes contests like hiding his ring in a spot and challenges people to find it! This type of content creates more engagement with his audiences!
With proper execution of using what TikTok has to offer, Brand Pierre is a million-dollar business now! Brand Pierre has 36.3k followers and 1.1 million likes on TikTok!
Metrotap
Metrotap sells contactless business cards. And they used TikTok to drive more traffic to their website! Ken Walker is the founder and developer of Metrotap and this guy is making the most out of TikTok! This guy shows TikTok success stories can include web-based business!
During our TikTok case study, Metrotap caught our attention due to its unique promotion! Ken Walker is killing two birds with one stone! He is promoting his product on TikTok, reaching out to other small businesses, and generating more traffic to his website!
Metrotaps makes mainly user-based content. His videos are mostly about how its product can be used!
This card when tapped with a phone, leads to a webpage account of the car holder! There you can find options like their social media profile links! And this includes payment options too!
Currently, Metrotap has 62.1k followers and 433.8k likes! Whenever a Metrotap card is tapped it goes to the webpage and with each tap, more traffics are generated!
Metrotap is an example of how you can integrate your website-based business with TikTok and bring out maximum promotion if you know how to show your product.
Cafe Emporos
Cafe Emporos started as a hand-drip coffee business and went viral on TikTok and grew into a unique business. The owner, Ruben sells a customized coffee bag that comes with a sachet, ground coffee beans, and a custom packet as per consumer demand. He also sells different tea leaves with customized sachets for occasions! Ruben is a perfect example that shows TikTok success stories are not always about clothing and jewelry brands!
He started as a small business with the motto "Make the world your cafe". And went viral on TikTok with his content. During our TikTok case study, we found his video along with his 38.1k TikTok followers!
His strategy is simple, make content on how to use his product with ambient music! He maintained the basic, consistency!
Ruben focused on engagement. His TikTok id is full of videos in which idea was generated from the comment section. He truly prioritizes his audience.
And most importantly, this guy doesn't get angry when bad comments come! He calmly reply to the bad comments with a video that shows the comment was not right!
He is always responding to the comments regarding issues his customers face regarding product, and make content on how to solve them.
And more importantly, he shares content from his special orders which are really charming!
With proper engagement, Ruben built a connection with his consumers and told them a beautiful story about his business. Engagement and presentation are the keys to his success.
Bottom line
The purpose of the article is to inspire you if you are a small business owner. It's quite normal to get worried about your selling. But remember, never be afraid to take your marketing to social media, and do not forget TikTok. Our TikTok case study has shown you some successful small businesses that hit big with TikTok marketing.
So what to take? Know your product, show your story, be consistent with your content, and stay up to date with trends. Happy selling!
Articles you might take interest in:
Sources: TikTok, Sensor Tower.