Top 5 Social Media Lead Generation Techniques You Should Know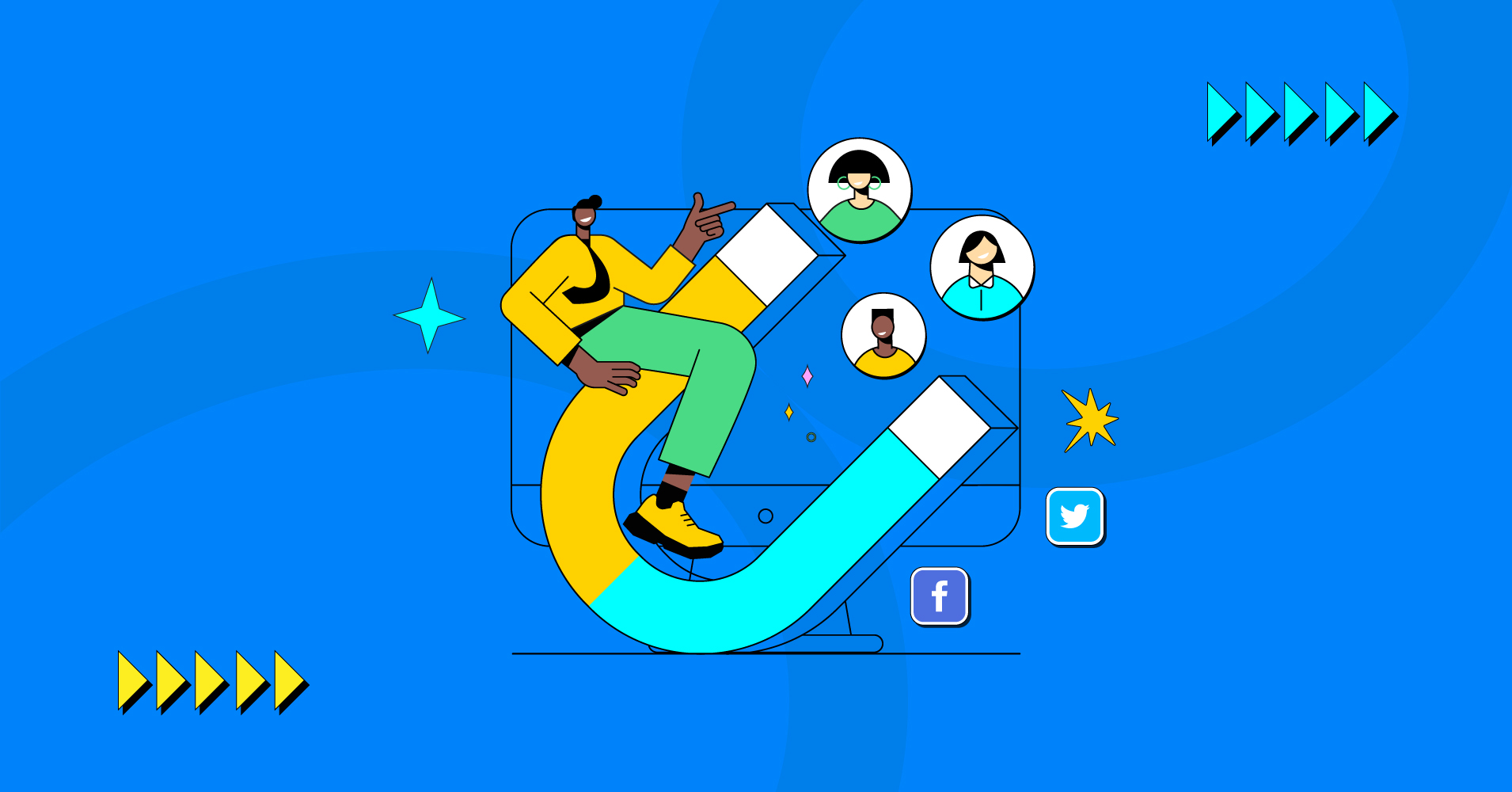 Do you know that 8 out of 10 people's purchase decisions gets directly influenced by social media? Yes, it is certainly a fact that social media can make people do things.
Currently, the use of social media is not limited to socializing with people. Social media platforms have become a reliable place for people to discuss their thoughts, feelings, and experiences. Therefore, the buying behaviour of people gets influenced by social media.
Businesses now emphasize social media platforms for their promotions because it is the most cost-effective and efficient way to attract and influence the target audience. Especially, small businesses are greatly boosting their growth with the advantages of social media.
So, if you don't want to miss the chance to step into the most effective genre of gaining leads and achieving sales conversion, this article is for you.
This article will provide in-depth knowledge about social media lead generation. You will get to know about some game-changing techniques with which your social media lead generation can touch an unparalleled milestone. You will also get an idea about different social media platforms and their usage for lead generation.
Social media lead generation
Have you ever stopped while scrolling through your social media account and seen something which you find so attractive? Didn't it create an impact on your psychology and give you an adrenaline rush to think about it over and over? Well, this is how the social media lead generation process works.
Think about your favourite musician who's gonna perform in your town. You could not manage the tickets to that concert, which led you to a terrible mood. Suddenly, you saw a video on social media stating that if you purchase five pairs of shoes from an unknown brand, you will get the tickets to the concert and access backstage.
However, what you might have missed in all that excitement is that the video already had 25,000+ views in just a few hours and there are many fans like you who would die to have a backstage ticket of the world-famous musician even if they need to buy something worth $200 dollars.
Now, take a deep breath and think, how a simple video on social media triggered thousands in purchasing something from a normal shoe store! Yes, it is true that the sales would go high next week because of the idea that the store came up with, but was it possible without social media? This is exactly social media lead generation works.
Key strategies for social media lead generation
Using social media for generating leads is not something rare. Every organization at the current time is aware of this process. Therefore, using this method will never distinguish your business nor can assure any kind of competitive edge for you. Lead generation strategies you develop for going to this path will be game-changing factors.
Key strategies are the main steps that any business can follow to implement social media lead generation. Only planning is not enough if any business wants success in its social media lead generation. They need to integrate and implement plans as per the current trend.
Also, they need to invest effort into building a strong marketing team or outsource a professional digital marketing agency that will take social media strategies to the next level.
Here, the focus is on trends. Trends are contemporary things on different social media, which become viral within a short period of time regardless of country, gender, or any kind of particular focus. Following the trend is very important while thinking of social media lead generation.
Below are some of the important strategies for social media lead generation which will be highlighted in the form of stores.
Create value, capture value
Value creation is the best way to attract a large audience and make them loyal. Nobody wants to see advertisements and listen to typical self-appreciation of their own products. So, you must contribute some value to your audience's life before expecting anything from them.
Let's think of a person named Michiko who is health enthusiastic and discovers a new exercise firm on Facebook one day. She finds a lot of information on their page to help others like her stay healthy and active. She can find workout regimens, healthy foods, and motivational tips on the brand's homepage. These are valuable for her and connect her to the brand.
Similarly, we all want something valuable for us to feel connected with a brand or business. It could be blog posts, videos, guidance, and many more. The traditional way of capturing loyal customers through just some regular promotions and advertisement is not effective anymore. Customers require to have a journey with the brand where they can get value for their presence to become loyal towards that brand.
There are several ways to create value for the audiences. Businesses must consider the demands of their target audiences and create value according to that. It might seem a non-cashable investment but in the longer run, this value creation always pays off and enables the opportunity to capture value from the audiences.
Engaging the audiences
Ensuring the engagement of audiences can significantly help to get leads. Social media platforms contain huge chunks of content, materials, promotions, and many other things for users. Therefore, engaging audiences with the business is essential for social media lead generation. Let's go through the effectiveness of engagement and see how it works with the example of Sarah.
Sarah is a young college student who always tries different makeup and clothes. She finds a beauty brand on Instagram that engage with its fans on different occasions. Sarah gets different lessons about makeup and invites her friends to those. When the brand announces a referral competition Sarah participates in that and sells more than 50 products which make her win the competition.
The company was able to forge a bond of confidence and commitment with Sarah by doing more than just advertising their goods—they actively interacted with their fans and fostered a feeling of neighbourhood. She eventually became a customer as a result of this, and she even took home a prize from the company. This is just one illustration of how involvement can be a potent tactic for generating leads on social media.
We all prefer to play the role of the main character in all the stories. When brands are able to allow illustrate such an engaging story where we get to option to play an important role like Sarah, we become highly motivated to take action. Therefore, engagement of the audience is very important to achieve social media leads.
Target marketing
Targeting a specific group of people who are closely aligned with the products offered by a business and customizing promotions and values according to that group is the gist of target marketing. This can make the audiences feel a personal approach and connect with the brand easily. The story of John is relevant here to dive into this tactic.
John wants his first car after college. Social networking and car dealership websites inspire him. A car manufacturer ad appears on Facebook. He finds a vehicle company that suits him. The brand's website includes finance, car-buying advice, security, and user feedback.
Android users, this one's for you!
For the first time, the BMW Digital Key Plus is now available for compatible Samsung and Google Smartphones! 🎉

With it, selected up to extended functions of your car key can be replaced by your smartphone.
Learn more: https://t.co/y2SZXR257f pic.twitter.com/Cr5WcHkCQc

— BMW (@BMW) April 24, 2023
The manufacturer's understanding of John's automotive needs surprises him. He frequently visits their site. Due to the company's specialized products and focus on his needs, he grew loyal. The company unveils John's dream car. He buys from the company because of his connection with the company.
This illustration demonstrates how target marketing may be a potent tactic for generating leads on social media. The automobile company was successful in attracting and keeping John as a potential customer by creating content that catered to his preferences and demands. In the end, John decided to buy something from the company as a result.
Presenting appealing visuals
The name of this strategy explains the role itself. Statistics suggest that more than 60% of potential customers enter a business's official page through how well they can present their product or service. This is the lead generation strategy where businesses can get creative and attract buyers regardless of demographic traits.
It is true that some brands like Adidas, and Louise Vuitton do not need appealing visuals to attract customers as they are already very well established. Yet, they try their best to present appealing visuals.
The photo of Messi and Ronaldo posing at a chess table for one of the most successful campaigns of Louise Vuitton, "Luxury is a state of mind" almost broke the internet. The photo is the highest-liked photo in any business brand campaign with 8.4 million likes.
This visual was so much appealing to the mass audience because it contained an evergreen debate of G.O.A.T between Messi and Ronaldo. The visual also highlighted the clutching scenario of a great chess game between two debatable G.O.A.T of the chess world Hikaru Nakamura and Magnus Carlson that attracted the audience.
Not only football and chess fans but also a large number of people who were never into sports got attracted to this story-based visual. There was a huge discussion about this photo on different social media platforms from which a great number of leads were generated. This is how an appealing visual can ensure social media lead generation for a business.
Lead magnets
Capturing a large audience in social media for business is very tough due to the competitive environment and the very short attention span of people. Lead magnets represent the staff which are distributed among the audience in exchange for their contact details such as e-mail, phone number, and so on. Those lead magnets can ensure social media lead generation for a business. The customer journey of Jane can help you to understand how the lead magnet works.
Jane, a working parent, looks for simple meal recipes and sees a Facebook ad from a restaurant planning to provide a free cookbook with 30 easy dinner ideas. The restaurant was selling that book at a minimum price but Jane can also access it by just providing her email. Therefore, she grabs it by giving her email.
💵 #Email Subscriber Campaign

Hey Cloftees, https://t.co/KM2M14XTs7 will be running an experimental email #giveaway. 15x lucky #winners stand a chance to win $10 #USDT each by simply following the instructions stated:

1️⃣ Subscribe* to our #newsletter by visiting… pic.twitter.com/Uxqv890fYK

— Cloft (@cloftofficial) April 27, 2023
This is how a brand can get its audience's details with lead magnets. After collecting emails, brands can engage with their target audiences and offer different values to them. The offerings of values can make audiences connect with the brand and eventually loyal towards that. This is how lead generation can happen with lead magnets.
In essence, lead magnets are freebies provided by prospective clients as a substitute for the information they provide, such as a mailing address. You can draw and keep prospective consumers, cultivate a sense of confidence with their final days, and subsequently turn them into paying customers by developing a lead magnet that provides value to the audience you are targeting and is in line with their hobbies and requirements.
Social media platforms for lead generation
Now, let us dive a bit deeper into some of the most common social media platforms used for lead generation. It is very important for us to know the proper use of these media.
Facebook lead generation
It is a social networking giant with more than 2.8 billion active users per month! It makes sense that organizations and marketers are constantly searching for clever ways to create prospects on this website given the huge number of users. A potent tool that enables organizations to gather lead data directly from the social network is Facebook Lead Ads.
Users can complete a lead form using Lead Ads without returning to Facebook, which makes it simpler for them to convert. Everyone enjoys a good contest or challenge, and Facebook is the ideal venue for hosting them.
You can encourage users to interact with your business and offer you their email addresses as a reward for a chance to win by holding a competition or promotion. An excellent option to automate the process of generating leads and further investigation is with Facebook Messenger bots. You can interact with prospective consumers, respond to their inquiries, and gather their email addresses all in one location with a Messenger bot.
A strong technique for creating prospects and increasing brand recognition is Facebook Live. You may interact with people in attendance in real time, respond to their inquiries, and give them beneficial knowledge by holding a live event.
Twitter lead generation
When someone visits your profile on Twitter, they will first view your bio. Provide a succinct and straightforward summary of your company's identity along with a link to your online store or landing page so that visitors can find out more and perhaps make a purchase. Targeting prospective customers and raising business recognition are both easy with Twitter ads.
Spring is about freshness & happiness🌻🌼💐

And to celebrate the season, all the WPManageNinja #plugins are now available at up to 50% off👇

📌https://t.co/fASyqPWWez

Grab the deal now, and spread #springtime happiness💁‍♀️#WordPress #Spring2023 pic.twitter.com/oXjXOIx3Q7

— WPManageNinja (@WPManageNinja) March 27, 2023
Reaching the proper audience is made simpler with Twitter Ads since you can select individuals based on their preferences, population trends, and habits. Twitter Conversations are a fantastic method to interact with your target market and educate potential customers.
You can establish connections among users who could be fascinated by your company's products by hosting a discussion forum where you can respond to queries, provide information, and do all of the above. An excellent method to draw potential customers and position yourself as a thought leader in your field is to share useful and educational information.
Share only information that is valuable to the people you are targeting as well as pertinent to them. With the help of Twitter Lead Acquisition Cards, customers may easily include their email addresses in a tweet. You may simplify the conversion and information-giving process for users through the utilization of Lead Generation Postcards.
LinkedIn lead generation
LinkedIn offers many useful features that will benefit your company. It's the ultimate social media platform where sales managers can find the most suitable prospects to turn leads into customers.
To get leads on LinkedIn, you have several ways: Through content creation, by searching through personal messages or by using the GetProspect email finder extension, which will help you collect a customer base with all the necessary data in minutes without even leaving LinkedIn.
However, it's worth remembering that before you start your LinkedIn prospecting strategy, you need to go through the most important step: take care of your LinkedIn profile to increase the effectiveness of your lead generation marketing.
An optimized LinkedIn profile is very important. Without it, forget about sales. Why? Because you won't be able to utilize all 3 elements of trust building at the same time: Caring, honesty, and demonstrating your capabilities.
LinkedIn is a gold mine for businesses that allows you to generate leads. If you're in the B2B sector, now is the time to determine how to attract LinkedIn leads and optimize your marketing strategy.
Instagram lead generation
Boasting over one billion active users each month and a focus on pictures and videos, Instagram is a fantastic platform for generating leads for the business you represent. For maximum lead generation, tweak your Instagram profile bio. Include a concise summary of your brand and a hyperlink to your online presence or landing page so that users are able to discover more and make a purchase.
With the use of Instagram advertisements, you can target prospective clients according to their preferences, population demographics, and habits. You can make a variety of ads, featuring story ads, rotating ads, photographic ads, and video ads. An excellent method to encourage individuals on Instagram to interact with your brand and perhaps convert is by holding a contest or giveaway.
Consumers may be required to follow the account you have, like a piece of content, or tag a friend in order to enter the competition. The very engaging feature of Instagram Stories can be used to create leads on Instagram. You may use Storytelling to emphasize user-generated content, promote your goods or services, and draw visitors to your website or landing site.
On Instagram, influencer outreach is a well-liked tactic that can increase your reach and provide leads. You can use the followers of superstars who support your company to market the products or services you produce by collaborating with them.
The bottom line
Ah, social media lead generation – a crafty and creative process of attracting and converting potential customers through various social media platforms. The traditional "bait and hook" approach is effective when companies produce good information, such as blog posts or information graphics, and publish it on social media to draw in potential customers.
Win your customers' hearts with exceptional features
Discover how WP Social Ninja can assist you design outstanding customer experiences.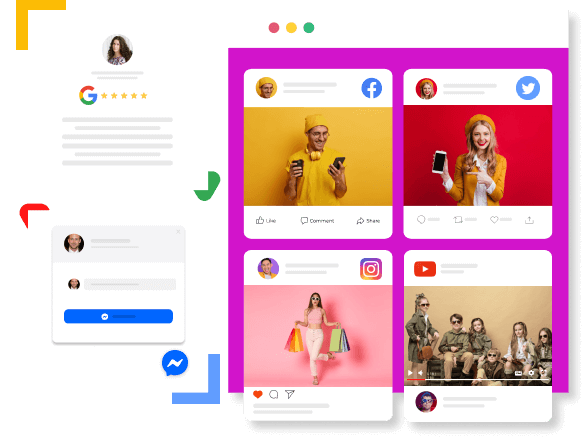 Once they select the message and fall for the bait, they become enamoured with your company and may turn into leads. The lead development forms are the most crucial advantage of social media. With the help of these clever tiny forms, companies can get data on prospects right away from social media, making it simpler for leads to turn into customers and for companies to monitor their success.
If you find this article interesting and looking for more useful content, you can join us on Facebook, Twitter, Community, LinkedIn, and YouTube.
Some useful recommendations only for you-