Selling Products on Social Media: Best Practice in 2023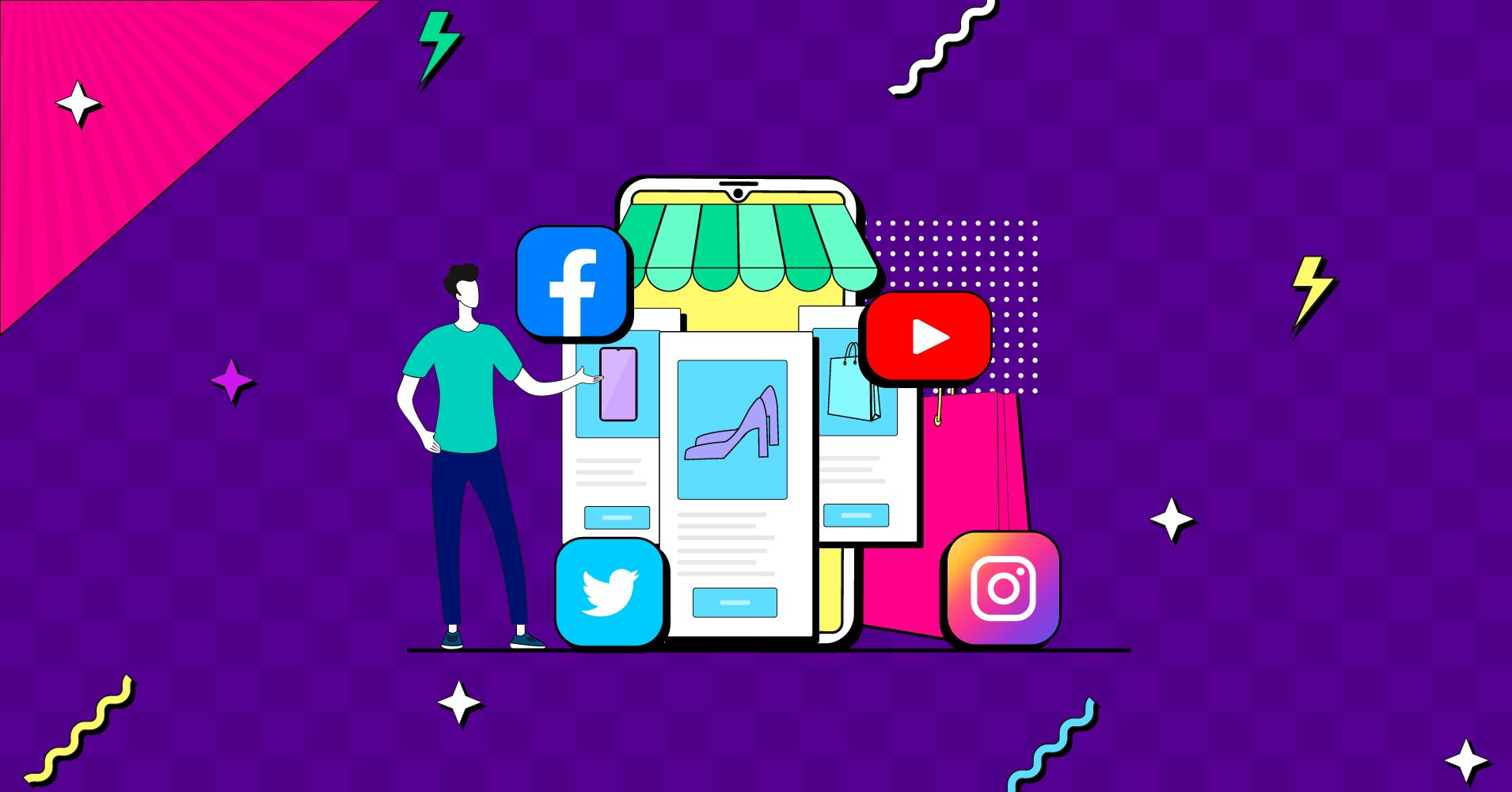 The era of the digitalized market has made it so convenient for people that people want to shop online whenever they discover something. This is why it's a call for marketers for selling products on social media too!
Social media, the way it captured the whole internet, it has conquered a big community of customers too. So whether you're a marketer, entrepreneur or any kind of business owner, you must be seeking how to sell on social media?
If you ask about the social media users worldwide, more than half of the population uses social media and 83.36% are active out of the 4.57 billion internet users. So, clearly selling on social media has become a norm nowadays; and its the demand as well.
Well, in this article you'll know about selling products on social media and how social shopping works on different platforms. In the end, you'll also get to know where you should focus on to boost your eCommerce business.
What we'll take you through:
Let's begin;
What is social media selling?
Social media platforms such as Facebook, Instagram, Twitter, TikTok, and Pinterest, have become an integral part of the e-commerce landscape.
And social media selling is the process of using various social media platforms to promote and sell products or services. This can include creating and sharing product listings, hosting virtual events and webinars, and engaging with customers through social media messaging and comments.
In a nutshell, selling products on social media determines reaching your targeted audience in highest possible ways that you could ever do in the past decades with your word-of-mouth marketing.
In other words, you can say this is the best medium if you want to boost your eCommerce business sales and generate more leads.
Selling products on social media: Why your brand needs it?
What's the point of selling your products on social media if you don't know the actual purpose and value of it?
In order to know how to sell on social media and get the best out of it, let's have a clear conception of the advantages you'll get. 
Availability
Selling products on social media is becoming increasingly popular as more and more consumers are turning to platforms like Instagram, Facebook, and TikTok to discover new brands and products.
By having a presence on these platforms, you make your brand more available that can reach a wider audience; which increases the chances of making more sales.
Increased conversion rate
One of the biggest advantages of selling products on social media is the ability to target specific demographics. For example, if your brand specializes in clothing for women, you can target your ads to reach women within a certain age range or with specific interests.
This helps to ensure that your ads are reaching the right audience, which can lead to higher conversion rates.
Real-time interaction
Your customers always seek new updates. Only with the right channels you can make the best selling online through the real-time interaction with your customer.
This can be done through comments, direct messages, and live videos. This will allow your business to build a personal connection with your customers, which can lead to increased trust and loyalty!
E-Commerce Business
Additionally, social media platforms offer a variety of tools to help your eCommerce businesses with the reach and engage your audience, such as Instagram shopping and Facebook marketplace.
With this you're allowing your customers to purchase products directly from the platform, making the buying process faster and more convenient for them.
Greater competitive advantage
Let's go right to the point: your competitors are using strategies for social media, and if you don't put in the same effort, they'll grow their market share and push you out of the running.
It's important to keep in mind that 77% of customers say they have been loyal to a single brand for at least ten years. If your competitors manage to win them over, it will be quite difficult to win them back. Keeping a good internet presence active is the best way to stay competitive.
How social shopping works on different platform
The most challenging aspect of social selling is getting started. You'll forget how daunting everything was at first as you become adapted to social media platforms and start to notice their effect on revenue generation. In addition, you can use a variety of social selling best practices and ideas to accelerate your outcomes.
For a better understanding on how to sell products on social media, here are the four social shopping platforms we advise using, along with our best sales suggestions for each:
Facebook shop
A feature of Facebook's platform for online shopping is called Facebook Shopping. Selling products on social media is made possible for both businesses and creators. Given that Meta controls both platforms- Facebook and Instagram, so it's not surprising that it's similar to Instagram Shopping.
Facebook Shops basically give you the opportunity to show your products and advertise them to an audience that already exists: their social media following. Plus, it's exceedingly simple to advertise products since, when you utilize Facebook's integrated ad management system, Facebook will immediately retrieve information from your Facebook Shop.
You're good to go as long as you have a business account and a Facebook Page that you wish to sell things from. You can easily set up your Facebook shop and update your product inventory; also can personalize your Facebook shop from there.
Instagram shop
Just like Facebook, Instagram has always come in first place when it's about popularity.
This platform isn't gaining a large community only for its availability and popularity; also it keeps a huge impact on the social marketplace. Businesses from small to large uses Instagram shop to make their eCommerce businesses more productive and easy.
If you're planning to set up Instagram shop for your business or already using its feature; let's make it more worthy!
WP Social Ninja, the best social media marketing tool that has an Instagram shop feed, which will allow you to make your eCommerce business journey easier with this feature through your business website. You can add a boost to your sales by letting your followers/website visitors shop your products anytime right from your website.
Even if you have multiple social selling platforms you can link them all with the Instagram shop feed of WP Social Ninja and make the best practice of selling products on social media!
TikTok
The social media platform with the most interaction is TikTok. Users of TikTok open the app eight times daily and spend roughly 45 minutes looking through the content.
TikTok advertising is a fantastic way to promote your company. You don't have to invest a lot of effort in audience development while using TikTok advertising. You may usually reach your target audience within 24 hours of setting up your ad campaign.
The Creator Marketplace, a platform that TikTok has created for its own influencer marketing, allows marketers to build marketing campaigns, access influencer data, and collaborate with the app's most prominent influencers.
Pinterest shop
Setting up your Pinterest shop account requires signing up for the verified Business Plan. The next steps involve uploading your products, configuring your Product Pins, and personalizing your shop.
Check out the available countries for Pinterest shop.
However, Pinterest is recognized for more than just being a platform for product discovery. With 45% of US households earning over $100,000 utilizing the network, its users also have significant economic output. Because of this, Pinterest is a logical choice for product discovery and curation, and the platform has a number of features you can use to promote product sales.
Last words
It's obvious that the benefits of selling products on social media are limitless, so if your company doesn't already have the right profiles, make them now!
There are almost no good excuses for not integrating social media into your marketing plan. There really isn't much to lose because it is so economical! 
So, don't allow your competitors steal your potential clients because they are likely already active on social media. You'll notice growth in your business more quickly the earlier you start.
Articles you might like to read: