7 Best Game-Changing Social Media Wall Plugins for WordPress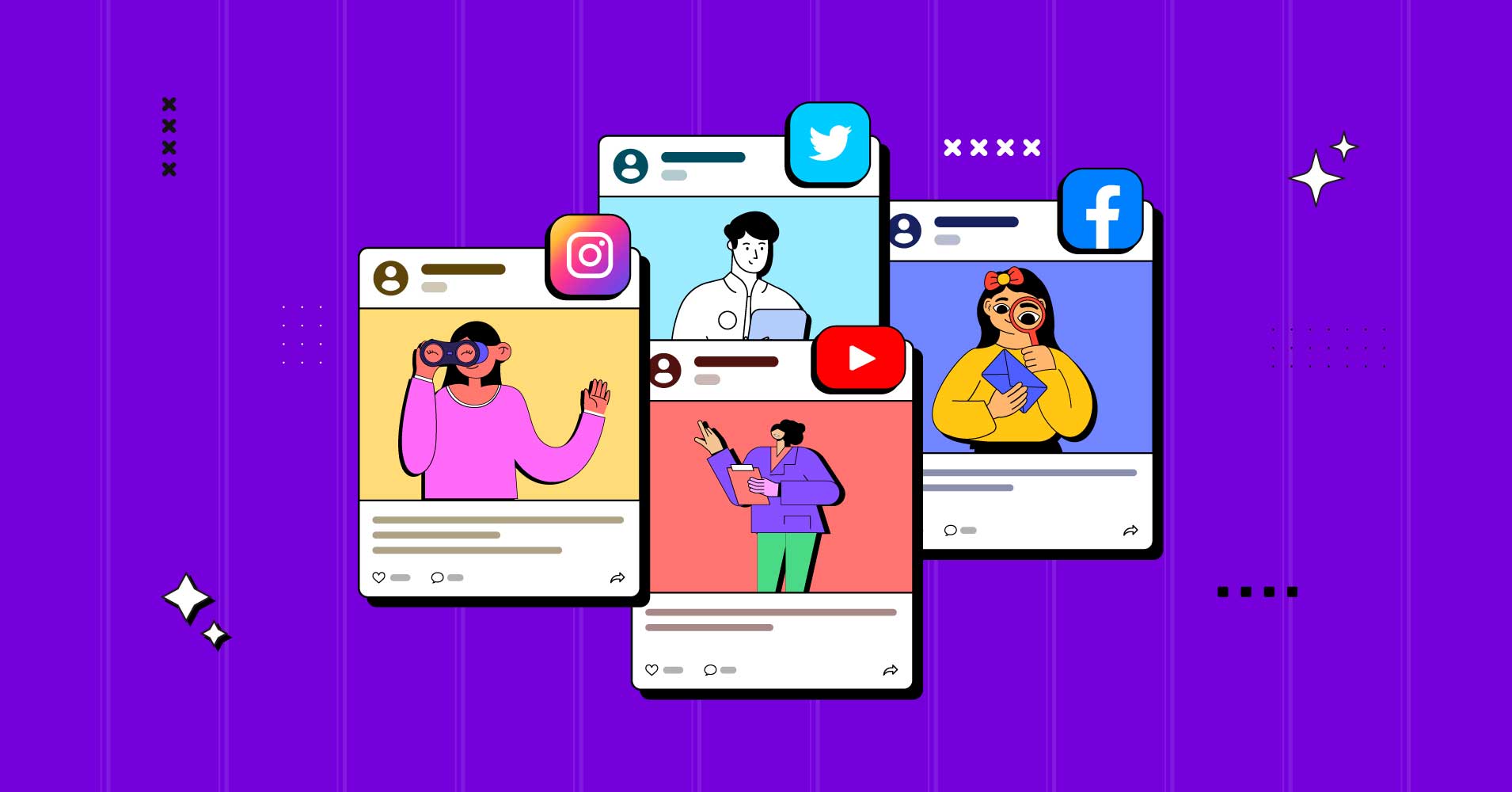 Are you feeling overwhelmed by the infinite social media wall plugin options for displaying multiple social media content on your WordPress websites?
You are not alone, dude! Thousand of small and medium-sized enterprises have been facing the same issues. This article doesn't list all the social media wall plugins under the same sun. Instead, we list the 7 best market-leading social media aggregator tools that maximum users keep on their wish list.
These are the supper tools that help your marketing strategy one step ahead or more than 73% revenue growth from your competitors. In other words, they are these tools proven to work! Let's get started!
What is social media wall plugin?
A social media wall plugin is a tool that collects and combines existing social media posts from multiple social networks into a single feed. The website can then show this social media feed in a more vibrant way.
A social feed aggregator only uses content from your social media accounts, unlike other media aggregators that pull from numerous brands and sources. There are different free and paid social media aggregators available in the market.
7 game-changing social media wall plugins
While there's no specific one, we have narrowed the process down to seven game-changing lists so that anyone can choose the specific one and manage their social media wall for businesses. Ready to get started? Let's dive directly into the checklist!
Smash Balloon is one of WordPress's most diversified social media plugins, with more than 70000+ active installations. It has powerful features like a social media feed and aggregator facility with other cool features that make this plugin more vibrant.
Using this plugin, you don't just get the opportunity to display social feeds like Facebook, Instagram, Twitter, and YouTube in multiple places simultaneously; anyone can collect all the feed contents from multiple social platforms and share them on a single wall.
Smash Balloon social wall can create a beautiful yet simple, deeply customizable plugin for WordPress, which allow anyone, no matter how tech or design savvy, to seamlessly add their social media wall onto their website in minutes.
Advantages of Smash Balloon wall plugins:
Super easy to setup
Multiple feed layouts
Multiple feeds with no limitation
Display your content on your way
Super responsive
Page speed optimized
International language support
Disadvantages of Smash Balloon wall plugins:
Offer very limited features on the free version
Major formats are available only on the pro version
No option is available to display all social feeds together; you will need to install three different plugins separately
Taggbox is a UGC platform that facilitates collecting, storing, and publishing users' content. With Taggbox's WordPress plugin, you can publish content on your WordPress website without coding expertise.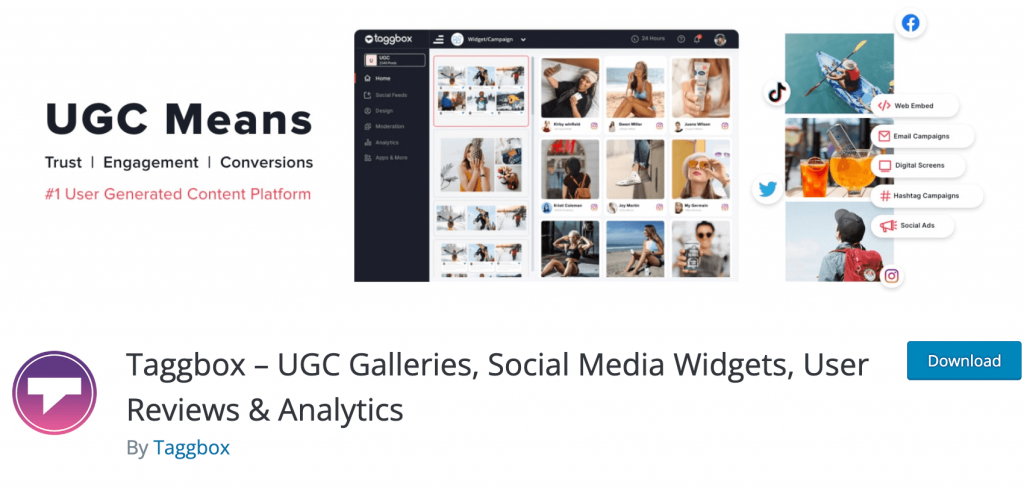 Take your social media visuals and customize them to fit your touchpoint perfectly. Use colors that match your website vibrancy, add a CTA that completes your campaigns, or give visitors the required attention by featuring their social media photos on website. Everything is possible with Taggbox.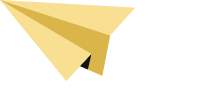 Subscribe to Our Newsletter
Get exclusive social media marketing tips and tutorials in your inbox!
Advantages of the Taggbox social wall plugin:
As social media content is fairly raw and unfiltered, Taggbox offers powerful moderation features that help eliminate insensitive or irrelevant content to only display premium visuals on your marketing channels.
Taggbox allows users to customize their social media feeds by selecting the content they want to show, changing the design and theme, and adding branding elements such as logos and banners.
Taggbox provides real-time social media content updates, ensuring that the displayed content is always fresh and up-to-date.
Since the brand does not own UGC, this platform has a UGC Rights Management Feature to help you repurpose UGC ethically.
Most Importantly, the Advanced analytics feature delivers detailed insight into how users interact with your content on every channel.
Taggbox's customer support team is known for being responsive and helpful, which sets it apart from other social media aggregator tools.
Disadvantages of the Taggbox social wall plugin:
Limited free plan: Taggbox offers a limited free plan, which only allows users to display a certain amount of content and limits the customization options.
Reliance on third-party platforms: Taggbox depends on social media platforms for its content. If the social media platform experiences downtime or changes its API, it can affect Taggbox's functionality.
Taggbox does not include LinkedIn API, so users cannot integrate LinkedIn feeds on their channels.
Are you looking for social media solution to showcase your social media posts from various platforms right on your websites? With Juicer.io, you can collect social media posts, videos, photos, and other types of content from multiple social media sites in one place and embed them into your single wall on WordPress websites.
Unlike other social walls, Juicer.io goes beyond all the social media wall plugins, allowing visitors to upload content directly to the wall. When you post to your social media accounts, Juicer will update these feeds automatically. You can also easily curate these feeds within Juicer if you wish.
Advantages of Juicer.io:
Endless aggregation
Highly customizable
Gain in-depth insights
SEO contents
Disadvantages of Juicer.io:
The free version offers very limited features
A limited number of customer reviews
Flow-Flow Social Feed Stream is a multipurpose social media wall plugin that allows you to exhibit a blend of social media feeds in beautiful responsive galleries and widgets. Suppose you want to display your Facebook, Instagram, Twitter, and other social media content in a single place, then Flow-Flow Social Feed Stream is one of the best options.
Embedding user-generated content (UGC) from multiple sources is a great way to establish the brand or social media presence on your WordPress websites. It can also increase conversion and user engagement.
Advantages of Flow-Flow:
4 major social networks
User-friendly admin
Optimize for any screen size
Rich design settings
Smart loading assets
Responsive layouts
Disadvantages of Flow-Flow:
Not up-to-date with WordPress
Poor customer support
No proper responses from the dev team related to the feature request
Curator.io is another social media wall plugin or social media curator for your WordPress website. It allows you to specify your content sources, such as Twitter usernames or Instagram tags. Using this feature, you can easily gather and display it as a social feed to your website.
Using Curator.io, you will get full control over how you want to stream the social content and how it looks for the end users. It also allows you to customize your design according to your branding code.
They support Facebook, Twitter, Instagram, YouTube, Tumbler, Slack, and many more. If you want to integrate your social media sites into a single platform, then Curstor.io is another competitive plugin that you can consider for your sites.
Advantages of Curator.io social wall plugin:
The plugin offers an essay option to connect
Diversified feed features for users
Good customer support facility
Disadvantages of Curator.io social wall plugin:
Very limited review widget options
Responsive issues in some cases
No global language translation option
With Walls.io, you can gather articles, images, and videos from various social media platforms in one location and display them in a social media feed. In contrast to other social media walls, Walls.io heads above social media by also allowing you to let visitors upload content directly to the wall using direct posts.
Using the free plan, you can add one source to the four most popular social media sites, Facebook, Twitter, Instagram, and YouTube, and easily display it on your WordPress website.
Advantages of Walls.io social wall plugin:
Collect and display content from multiple platforms
Easy to customize
Offer advance moderation options
Spam detection algorithm
Disadvantages of Walls.io social wall plugin:
Limited settings option
No proper option to adjust the positioning
7. Embed Social
Embed social is another customized and user-friendly social wall plugin that automatically syncs all your social posts with your WordPress websites. This plugin can collect and curates all your social media content from multiple platforms and allow you to embed social media wall on your website in seconds.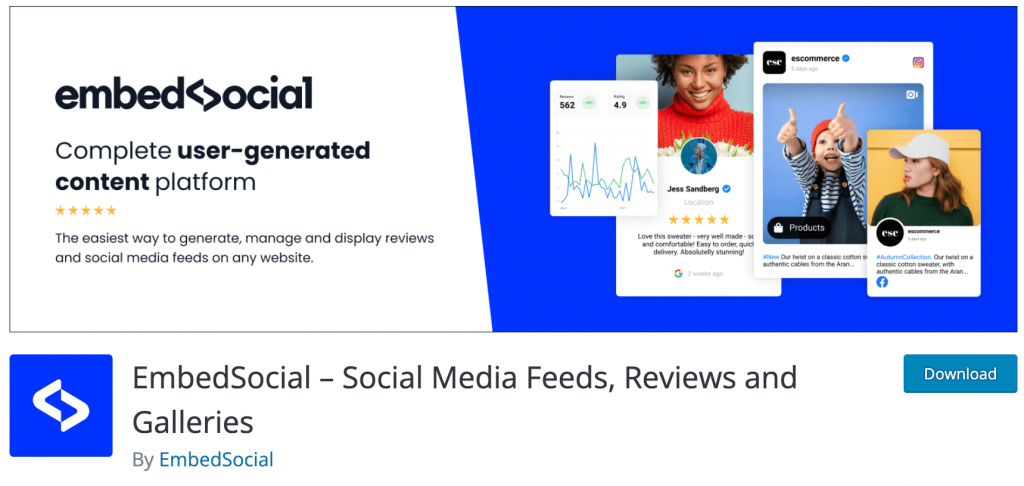 Embed Social is incredibly popular for embedding many widgets with lots of content from multiple social media platforms and displaying them on the same platform. So without manual editing, you can easily add and display your social wall.
This WordPress social media wall plugin also allows you to populate your social media album feed on your website. You can even share your social media post using a specific hashtag feed. Using this feature, you can even share your Facebook stories too.
Advantages of EmbedSocial's wall plugin:
The plugin has lots of features
Clean and intuitive interface
The plugin is really easy to setup
Disadvantages of the EmbedSocial's wall plugin:
The free version is very limited
Have to buy all the widgets individually
The plugin is relatively new
A limited number of customer reviews
WP Social Ninja (Bonus Tips)
WP Social Ninja is a social media plugin that blends with 29+ social platforms and has allowed small businesses and individuals to maintain and highlight their social media activity. This supper plugin works with 4+ social feeds, 9+ review platforms, and 15+ chat widgets. It is structured with user experience in mind. It's a popular social media feed plugin for WordPress websites.
WP Social Ninja is an ultra-light and versatile social media plugin that will assist you in generating more leads and followers by displaying your social reviews and feeds and maintaining chat support on your WordPress websites. It has several solutions for your websites, including Testimonials, Notification Popups, and a Shoppable Instagram feed.
The layouts and styling options for all social feeds and reviews have been carefully considered and allow for complete customization. These options make it simple to create layouts without worrying about custom coding.
Win your customers' hearts with exceptional features
Discover how WP Social Ninja can assist you design outstanding customer experiences.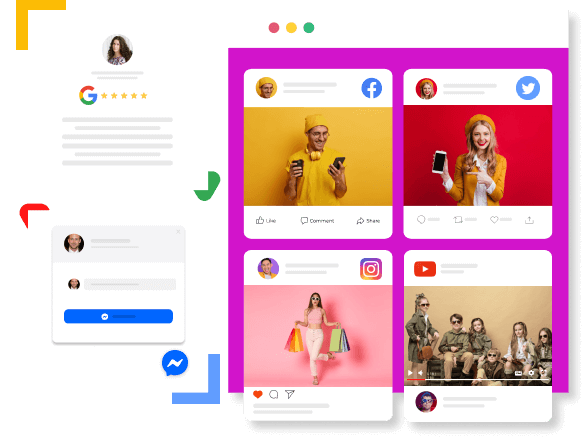 Beyond everything, WP Social Ninja will simplify the process for you to advertise your goods and services! This time, we are also planning to onboard the feature of social media aggregator or social media wall plugin facility for our users.
Advantages of WP Social Ninja:
29+ social widgets
Notification Popup
Testimonial feature
Shoppable Instagram feed
In-depth template style
100% SEO friendly for all devices
Responsive checker option
Translation option
24/7 customer support
Disadvantages of WP Social Ninja:
The free version gives you limited styling and settings options
Closing note
You now have detailed information about 7 major social media wall plugins. Even you have the options like WP Social Ninja, the all-in-one social media plugin for your WordPress website. Using any of them can help your business and scale up your brand visibility.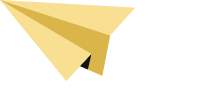 Subscribe to Our Newsletter
Get exclusive social media marketing tips and tutorials in your inbox!
These social media wall plugins WordPress can also increase your social media traffic, conversions, followers, consumer engagement, trust, and loyalty. Don't forget to share the name in the comment section if you have any other better option.