Top 10 Effective Twitter Marketing Tips to Increase Engagement Rate
Twitter, one of the top 3 social networking apps in the world, currently has over 350 million, active users. As a business, this is important, as you get access to millions of people through this platform! So marketing through Twitter can be a very smart idea.
But, you might not be able to reach your target audience. There are lots of people who are looking for thousands of things through tweets. Yet, you cannot reach them as the lifespan of tweets is also pretty less. So, how can you reach a larger set of people? What can you do to increase your engagement rate?
Well, we have the answers to all these questions. In this article, you will get to know some Twitter marketing tips that will boost your engagement rate, resulting in higher conversion rates.
However, before going into that, let's quickly explore what this article will cover.
Benefits of Twitter Marketing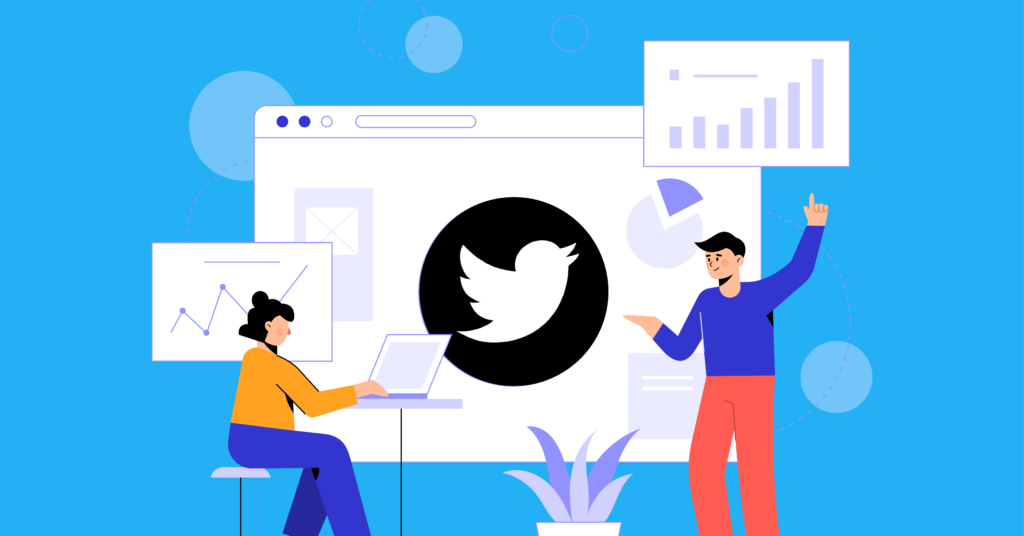 Twitter is always a great way to connect with people who share the same interest as you. A lot of companies were able to attract new customers, increase their sales through Twitter.
Mashii, a footwear brand, uses Twitter to draw the attention of potential customers mostly from Saudi Arabia, UAE, Bahrain, Kuwait, and Oman. The founder of Mashii, Mr. Ahmed Alireza said,
"Twitter offers a wide variety of targeting options that help us attract new, hard-to-reach customers, and Twitter offers a wide range of creative options to help us communicate our message."

Mr. Ahmed Alireza, Founder of Mashii
Let's have a look at some benefits of using Twitter for marketing-
Create or Improve brand awareness
Build Brand identity
Get in touch with a wide range of audience
Help customers with their queries
Collect feedback from your customers
Build strong community for your brands
Drop tips, GIFs, questions, or fun facts for engagement
Now that you know the benefits of using this amazing social media for marketing, let's go through some Twitter marketing tips that will help you to design a more effective marketing strategy.
Effective Twitter Marketing Tips to drive more engagement
We all know what an incredible social media platform Twitter is in terms of business. But, it is pretty hard to get your audience's attention all the time. This is because the average lifespan of one tweet is only 18 minutes! So, it's harder to make an impact through Twitter.
But, worry not! We have the perfect and most effective tips that will help you drive more engagement to your tweets.
Let's navigate through the list of Twitter marketing tips:
Select the perfect handle, profile photo, and header image
Optimize the bio of your account according to your brand personality
Know your potential customers
Pick the perfect time to tweet
Use hashtags & CTAs
Add video and images to optimize your engagement
Create polls to increase interactions
Try to make conversations as humanly as possible
Promote through different influencers
Be consistent with your strategies
Select the perfect handle, profile photo, and header image
It's very important for your account handle to have a recognizable name so that people can find you in the search.
Moreover, having a short and easy-to-remember handle will give you the chance to get tagged in different tweets. Again, having a simple logo in the profile photo and the same name on the handle will give you the chance to get found during the search.
You should always try to be consistent across all other social platforms. Don't use different names for different social media to avoid creating confusion.
For example, look at the screenshot. The brand is recognizable because it has the logo of the brand in the profile photo and the handle is also short and the same as the brand.
Pretty sure people will know what company it is even if they only used the logo. And that's on branding!
Optimize the bio of your account according to your brand personality
Your account name and profile photo help people find you from searches on different networking platforms. But an optimized bio actually lets your audience know who you are, what you do, and how useful you can be for them
Your bio doesn't have to be complicated or elaborate. Just make sure, it sums up your brand, your company, and its personality correctly in 160 characters.
Know your potential customers
It's always a good idea to do research on your potential customers. This gives you an overview of what they might want from you. You can then design what you can deliver to them. This will help you in designing your content plan.
Now, the question is, how can you do the research, especially on Twitter? That's easy. You just have to run an advanced search. You'll know what your potential customers might search for and see how many tweets there are related to that.
Pick the perfect time to tweet
We already know how hard it is to get the attention of your desired audience on Twitter. There are 500 million tweets per day. You can already imagine how hard it will be to get noticed. But, you can still get that by just posting at the right time.
In a study, it is found that the peak hours are: Wednesday 9 a.m.– 3 p.m.; Tuesday through Thursday 9–11 a.m. The worst day to post is Saturday. Another study says that good times to tweet average around 8 to 10 a.m., as well as 6 – 9 p.m.
Now, let's have a look at the graph to see the best time to tweet in a day for the whole week.
Use hashtags & CTA's
CTAs or call-to-action buttons can increase your engagement rate a lot. People get intrigued by the small and yet informative CTAs and as a result, the engagement increases.
On the other hand, hashtags are a great way too. Your posts are supposed to get 33% more retweets if you use hashtags.
But that doesn't mean you should use multiple hashtags in a single post. We found that a single hashtag gets 69% more retweets than posts with multiple hashtags. Also, if your hashtag has 11 or more characters then it will have 117% more chances to get retweeted than with 6-10 characters.
Add video and images to optimize your engagement
Did you know, your tweets can get 35% more retweets on an average if it has a picture attached to it? In fact, pictures can increase your engagement rate three times!
Again, videos added to your tweets can earn 9 times more retweets.
GIFs are another popular media that can help your engagement. Tweets with GIFs can increase your retweets by 55% compared to the ones without any GIF.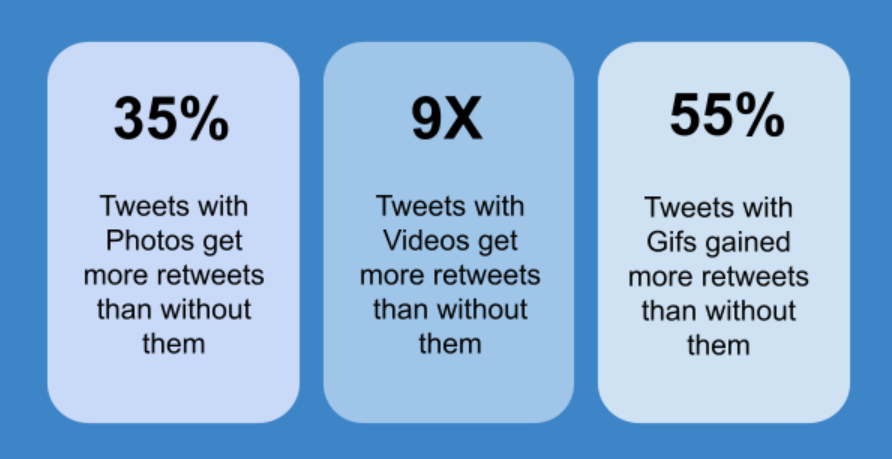 Create polls to increase interactions
Polls can be a great opportunity to increase interactions. This is an interesting feature that helps you communicate with your customers and at the same time, increase their interest in your brand.
You can use polls to ask about their opinion on certain topics. If they see you are listening to your audience's opinion, they will feel connected to your brand.
Almost 65% of people think they feel a stronger connection with any brand if they value their opinion. So, a poll can be useful to increase your customer loyalty.
Try to make conversations as humanly as possible
The best way to increase engagement is through interactions. Now, think of a situation where you want to start a thread and you get all automated responses. Would you feel good about it? The same goes for your audiences.
Always start your conversation in a friendly way and try to keep it smooth. Your followers will be happy to know that you are actually thinking about them. This will eventually help you to increase your engagement rate.
Promote through different influencers
Now, you might be thinking, how can you convince David Beckham to promote your brand?
It's not always necessary to bring in big influencers to get promotions. A micro-influencer can also help you generate engagement rates, initiate conversation, and set brand personality.
Your hardest job will be finding the perfect influencer, who can help you relate your brand with your desired audience. For that, you need to do research and approach that person.
Lays India did a campaign with the help of different Indian influencers & they were able to earn 8.2 million engagements which are 75% of the influencer outreach.
Be consistent with your strategies
No matter how many experiments you do with your Twitter marketing strategy, try to be consistent with each one. You might see a lot of bigger brands not being consistent with their content. It's because their brand names speak for themselves! If you're just starting off, this might not be the case for you.
Posting multiple tweets might give you the chance to get noticed by your audience, but tweeting irrelevant things on your account might not work for you. That's why try to be consistent with your content and plan your strategy accordingly.
Conclusion
Twitter is one of the most amazing platforms to interact with your customers. The most incredible part is, you can do a lot on this networking site without paying any money.
That's why you need to know how to plan and execute your social media ideas on this platform perfectly.
Our list mentioned 10 Twitter marketing tips for you. We hope these will help you to design your strategy efficiently and you will be able to grow your business on Twitter.
That's all from us for today. If you like this article, feel free to check out our article on social media marketing strategy.