Best Social Media Aggregator Tools to Display Your Social Proofs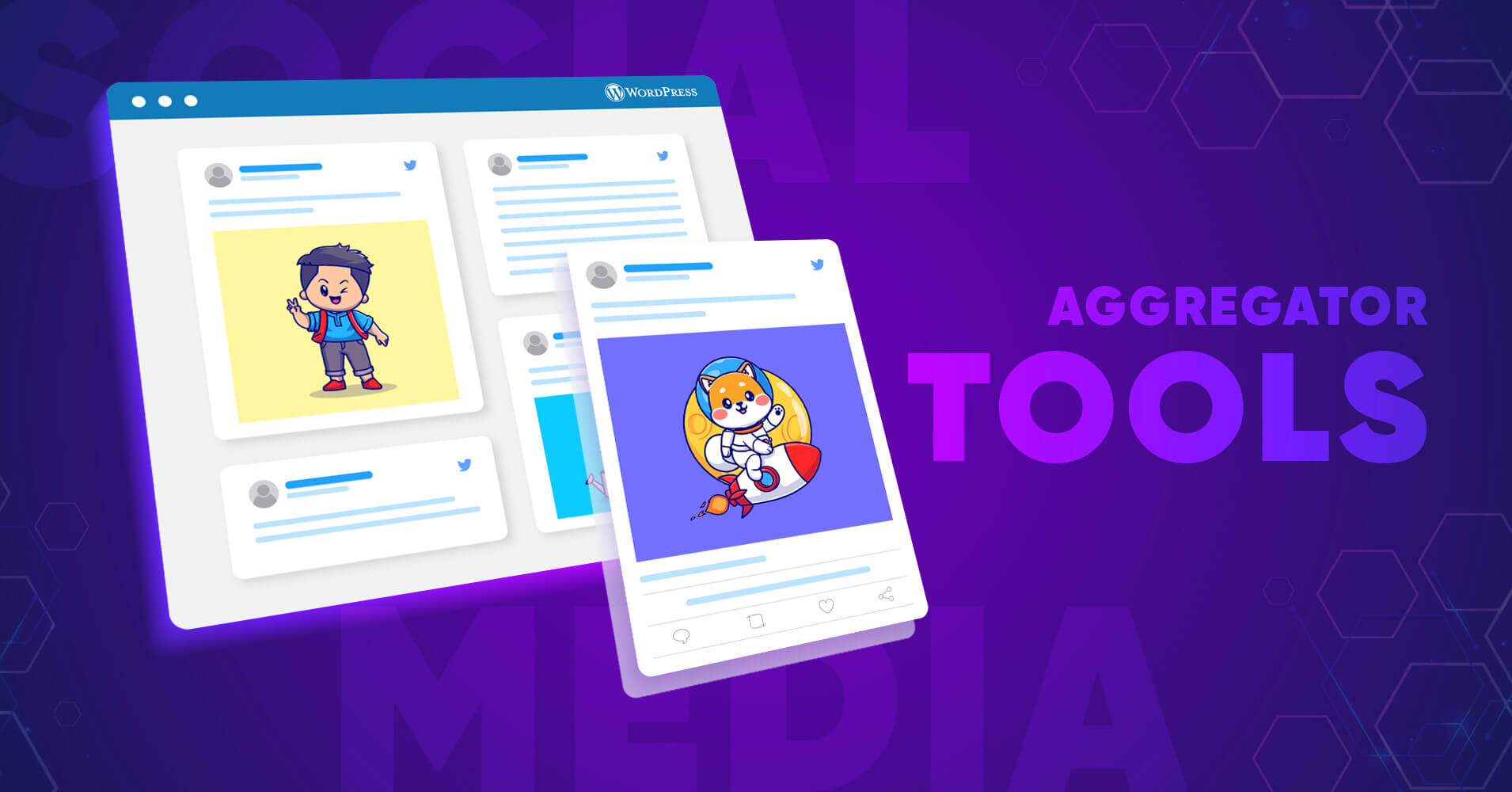 Social media aggregator tools may make things really simple for your social media marketing. You can increase your following on social media, share engaging material, and attract clients.
Because brand establishment and improvement are the primary responsibility of every business. Significantly, different countries and their companies have been using social media aggregator tools for a long time to improve their business presence.
Therefore, most of the customers from the United States around (61.95%), the United Kingdom with (10.58%), and Australia (6.04%) of customers are using social media aggregator tools, respectively, for their businesses.
Let's learn to pick the best social media aggregator for websites or events.
What is a social media aggregator?
A social media aggregator tool is a method that will help you to collect and display your business's social media wall and feed from different social media channels.
It creates an organized view of social posts from social media feeds like Twitter, Facebook, Instagram, YouTube, and many other platforms. Moreover, social media aggregator tools are often utilized to display user-generated content on live social media walls.
Why use social media aggregator tools for your WordPress websites?
More users have seemed to prioritize social media when deciding on purchases and other issues. In this case, having a social feed on your WordPress website is always beneficial.
Here the social feed can always be by your side, whether updating your consumers or site visitors about special discounts or promoting your business's activities.
The following are the major advantages of utilizing the social media aggregator tool for your WordPress websites.
Increase sales and brand value
Social media aggregator tools' fundamental objective is still to attract customers to your company and generate more sales. According to recent research, more than 4.65 billion people use social media worldwide; therefore, social media promotion will always be useful when targeting a large audience or specific niche.
Beyond national boundaries, social media may efficiently increase brand awareness. You can establish an online connection by sharing your most recent entries, ideas, and observations. As a result, your website may draw more visitors, and your brand may develop over time.
Build trust among users
Most efficiently and creatively possible, the social media aggregation process support trust-building. It facilitates the development of a relationship between the audience and the brand. As a result, brands may now interact with customers in entirely new ways. This tactic definitely works.
Moreover, it generates engagement and trust at events and promotions; businesses might use a social media aggregator tool to build a social wall.
Increase social proof
Having user-generated content on your website has another advantage in that it gives potential clients a sense of social proof.
Customers may be more satisfied with your goods and services if they see user reviews on Twitter, Facebook, Instagram, YouTube, and other feed or review sites.
Boost SEO
Your social media strategy needs to be improved because it helps SEO. However, intense competition makes ranking on search results challenging, especially considering the major factor in different social media content.
Although social media aggregator tools do not directly affect SEO rankings, the social feed you distribute on many social sites increases brand exposure. They combine and have distinct outcomes on search engine optimization.
Compete with competitors
One can genuinely compete with the industry by using social media aggregator tools. The people who use such found that having are far better at business promotion. The business world teaches how to grow in a competitive environment because competition is its foundation.
Moreover, one can set the strategy against competitors and contemporary networking methods. So you can hold an eye on the social media posts made by your competitors, analyze which ones are popular with them, and adjust your strategy as necessary.
Improve engagement
The ability of social media aggregator tools to generate and boost engagement is one of their main benefits. This feature can hold users' attention for a long time while also making them feel interconnected. For clarity, let's use a live event as an example.
In a live event, it is impossible to involve everyone at once. However, social media aggregator tools can present a similar event in real-time to all users and give them the feeling that they are there.
To make the event more engaging for social media users, attendees can submit their feeds, funny images, or videos of themselves interacting with one another. In a sense, leveraging the social feed can improve engagement.
How to choose the best social media aggregator tools?
Social media aggregator tools have considerable abilities to help you develop your business. We have tied a list of the necessary markers to check before financing in a social media aggregator to aid your firm.
Support multiple social media networks
Nowadays, many social media platforms are used all over the world. Facebook, Twitter, YouTube, Instagram, and many more are just a few of them.
Nearly 58.4% of the world's population now uses social media, and the average daily usages are 2 hours 27 minutes (January 2022) to these platforms' exponential increase in popularity. It is getting more integrated into our daily lives and offers countless opportunities for marketers to connect with more people.
As a result, the aggregator tool should connect as many social media platforms as possible, giving brands access to all networking sites and the ability to market their content globally.
Customizable design
Make sure your live social feed attracts your audience's attention, whether you display it on your website.
But for this, you'll need a stunning social media wall, which you can only have by using excellent design and layout, scenes, and more.
So, before choosing a social network aggregation tool, you must first and foremost consider the responsive design and endless display features.
On this factor, however, not all social networking aggregators do better. Therefore, it is preferable to conduct studies before choosing the best equipment for your company.
Real-time updates
Ever visited a website with a live social wall? Real-time content is automatically updated, which increases audience pleasure and engagement.
Furthermore, as interaction is the key component of social media, organizations should search for social media aggregators that provide real-time updates. These are essential if you're running a social media campaign, for instance, because you want people to utilize your hashtag.
Real-time changes can increase social media customer engagement by enabling you to have live exchanges about your business. It also promotes your brand more extensively than just your existing fan following.
Mobile friendly
The mobile phone was used for 79% of social media site visits in the United States alone. As technology has advanced, more people are using smartphones because everything is now more quickly accessible online.
Maximize your audience's exposure to your aggregated feeds, reviews, and chat. An effective social media aggregator must support responsive design on mobile devices.
Best pricing
Pricing is another crucial fact when you select the tool for your business. Because there are different tools available in the market, some are free, and some are more than 600 dollars.
But the main fact is all are not equal; their functionalities are not the same. You must consider all the features against the price before purchasing.
Look at the billing options of the best social media aggregator tools because they will help you make the right decision for your firm. Some company offers a good discount on the annual purchasing plan.
So if you take those plans, this will be a more affordable social media marketing method. Before doing it, make sure you use it personally as a form of a free trial. While you are satisfied with their services, then make the purchasing decision.
Two best social media aggregator tools
You already know about all the benefits of social media aggregator tools and how to choose these specific aggregator tools to embed your social networks. Now the question is, what are the best possible social media aggregator tools available in the market?
So it's high time to know the best social media aggregator tools for your WordPress websites. That will save you time and money; it will provide you with real-time benefits and fulfill all the requirements you want to achieve.
WP Social Ninja: Key features
WP Social Ninja is the fastest growing social media aggregator tool, But it's more user-friendly and cost-effective than any other social media plugin. This social tool is one of the most popular social media aggregators to manage your social media feeds conveniently.
It has a user-friendly and simple dashboard from where you can set up all the general settings and customization for your social walls. Even it can gather all the social media content from different social media platforms and display it on a single platform. Moreover, you can even add and monitor certain hashtag feeds.
Social Feed
Social feed does for its users by diving into the various social feeds and coming out with huge social content from different platforms. WP Social Ninja offers its users four different social media aggregator feed tools. Using this social media feed, you can easily display your feed more customized way.
Twitter aggregator
Twitter has a huge family of 229 million daily active users. So why not invest your time and money in the Twitter aggregator? Using a Twitter feed for your business really adds value to your business.
Even the markets prefer and rely on this special tool to sell their products and services. We think this is the best marketing approach to uprise your business growth with your Twitter business account.
Facebook aggregator
Facebook feed aggregator is another most awaited feature of WP Social Ninja's social feed section. It also has a vast customer base, so small to large business owners run and maintain Facebook business pages.
Many create a Facebook feed to display on digital screens during business events, conferences, seminars, and other events to engage and interact more with the audience or customers. It's easy to use and customizable. Using this robust feature, you can easily handle your business feed in your own way and display it in front of your audience base.
Instagram aggregator
Over 2 million businesses connect with people on Instagram. That's why Instagram is another most visited platform where people love to share user-generated content for different purposes. Among them, fulfilling the business need is one of the most necessary purposes.
Do you want to grow your business with Instagram, then Instagram aggregator tools would be the other best tools to show your business excellence in a more diversified way.
YouTube aggregator
Businesses and individuals can monitor, manage, optimize, and use YouTube content efficiently using a YouTube aggregator. Basically, an aggregator aids you in collecting content and updates from YouTube platforms and showing them in a handy location.
Using WP Social Ninja's YouTube aggregator, you can easily fulfill your task and make your YouTube feed useful for getting real updates.
Social reviews
Social reviews influence thousands of customers who want a second opinion before purchasing. This feature is pretty essential if you're an online customer.
It integrates reliable online sites like Google Business Profile, Airbnb, Tripadvisor, Amazon, AliExpress, Booking.com, Yelp, and more.
As a result, WP Social Ninja doesn't just gather the reviews from social media but also sufficiently impacts the conversion.
Social Chats
Giving your audience several contacts or live support options in the social chat is a great feature of WP Social Ninja. WP Social Ninja's social chat feature can also include 15+ social chat widgets like Twitter, Instagram, Messenger, WhatsApp, and many more.
Beyond those platforms, your visitors can select different platforms too. Enabling you to connect instantly with your customers and support is very supportive for any business.
Cost analysis
It comes with three different plans– A single site license ($79/yearly), an Agency license ($249/yearly), and an Unlimited license ($399/ yearly).
EmbedSocial: Key features
EmbedSocial is quite similar to WP Social Ninja. This is another social media aggregator tool for social media management. If you want to display and manage your social feed, then it would be another possible way to show your social media feed in the best possible way. There are different possible ways.
EmbedFeed
Social media aggregators like EmbedSocial may collect and display feeds from different social media platforms. It allows you to embed your social media feed on your websites within seconds.
This feature can collect large social media content from different social sites and share it on your websites. You will improve your marketing efforts and gain a huge reach by attaching social media feeds to your websites.
EmbedReviews
EmbedReviews is another feature of EmbedSocial. There are different review widgets available to embed your business reviews. This feature can add reviews from different review sites and provide detailed feedback, which can help you generate reviews to understand your future customers better.
With EmbedSocial, there are five review platforms available to show their reviews. The main platforms are Facebook, Google, Email, Reviews forms, and Shopify. Embedding those platforms easily, you can fetch all of your reviews.
Before live the reviews, use advanced customization options as if your reviews can match the website layout. Moreover, you can also change the color, ordering, layout, and many more.
EmbedStories
EmbedSocial also offers embed stories from Instagram accounts. Using this robust feature, you can show your stories. Because of the auto-sync option, your stories will be auto-updated when you add a new story to your Instagram account.
The process can increase your website's engagement. It will provide your website visitors with new and unique content to connect with and stay more on your websites.
Cost analysis
It also comes with three paid plans- Pro ($348/yearly), Pro Plus ($588/ yearly), and Premium ($1188/yearly).
Final words
It makes sense to embed social media into your website, digital displays, and events to increase brand performance and audience reach.
It may take some time to choose the right tools to complete the task. But, here we can suggest you to consider WP Social Ninja for improving your marketing efforts. Because, It will help you collect social media content more easily.
You can also get Social Ninja's free plans, which have also many outstanding features like customization, moderation, filter, and others. Let's get started with a free trial!