Top 7 Examples of Social Proof That Boost Trust to Buy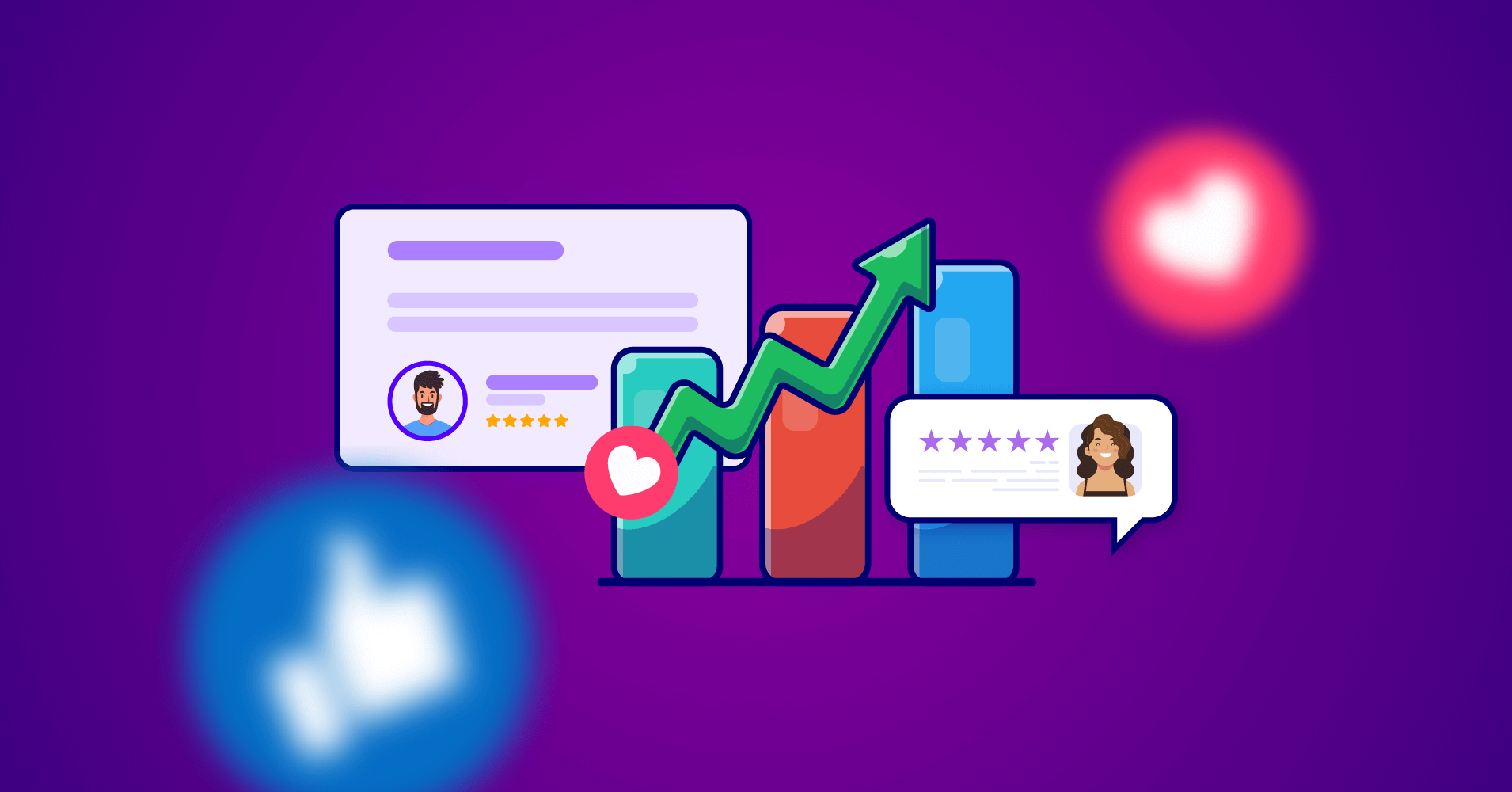 Embedding social proof or social media presence is always beneficial for business growth. Therefore businesses like WordPress, Amazon, AliExpress, and other businesses have been taking experiences from the examples of social proof. Even they display this on their business websites to accelerate their business growth.
Moreover, social proof also promotes brand growth by increasing indications of trust and loyalty, even though it doesn't always guarantee success. So how can brands leverage the influence of social proof? Where should they begin?
That's why we'll be covered social proof in this post, describe its importance, and provide examples of how you may utilize it to your benefit in sales and marketing techniques.
What is social proof?
Social proof, which includes reviews, testimonials, and social media shares, shows that others have decided or used a product or service. Even it also influences others to do the same. Social proof is a crucial component of conversion optimization since it gives online customers the confidence to purchase from an e-commerce store.
When online customers know that others have done so and had positive experiences, they feel considerably more at comfort purchasing from the site. A website's social media followers, product evaluations, blogs, and news articles that reference the firm are all examples of social proof. All of these are types of proof that give the company credibility in customers' eyes.
Importance of social proof
Have you ever bought any product after reading any online reviews? If you have, you may not have discovered it. But, you have been influenced by the benefits of social proof.
Here, social proof can play a vital role in your buying decision. It never develops over the night even though all the sites are not trustworthy to believe their products. Here are a few benefits of social proof we have described for our readers.
Improve authority
Improving authority through social evidence is a strategy used in marketing. For example, a testimony from a well-known expert in the related field is more trustworthy than a hundred reviews from regular individuals with unique items that require skill, such as electronics or software.
A great technique to provide social proof and increase authority is by including the logos of major clients or endorsements from reputable people on your website. A brand must be successful if it is associated with prominent companies and well-known individuals.
Boost sales
Social proof definitely helps upcoming customers to make the right decision. Social proof can indeed generate more sales when customers get to know previous customers' experiences. It can boost the confidence of your clients to buy more from your site.
Ultimately it increases the overall sales from your business and generates more revenue for your brand.
Increase social proof
Business waits a long time to develop their social proof. On the contrary, many businesses invest money to develop or increase their social proof. But, it will be effective when your previous customer spreads their experience through word-of-mouth marketing.
But the question is, how can you increase social proof of your business? The answer is simple: just deliver quality products and services from your sites, then your regular customer will control the rest of the things.
Certification for business
Certification only comes from users. When your users are happy with using your product, that moment, they may be certified about your product. Always remember that certification may be positive or negative.
A positive certification can generate more sales and lead to your business. On the other hand, a negative review may decrease the value of your company or share. That's why always try to use social proof for your business and make your brand more expressable in front of your customer base.
Types of social proofs
A proper type of social proof can bring a huge difference. Using social proof on your sites even can bring revolution to your business. But it depends on the overall business structure, types, customer base, and, most importantly, the environment.
We've outlined eight popular social proof strategies below that you may utilize to boost your business's sales and marketing strategies.
Social media sharing
According to a social media examiner, almost 96% of e-commerce businesses are joined on social media. You most likely assume that a social media page is simple and hugely popular when you notice that it has millions of followers.
The same happens after reading a blog post and noticing how frequently it has been shared. These types of social proof are known as social relationships.
People view an activity as more appropriate when others are performing it, which is part of what makes social proof so strong. Potential clients are more likely to follow the crowd if they notice how many people would follow you and share your content.
Customer reviews
The most general type of social proof is reviews. When was the last time you made an internet transaction for a brand without first reading some reviews? The answer is probably never unless you purchase all your white paper from Amazon.
However, it goes beyond only e-commerce. Most of us check reviews before selecting new electronics, experimenting with new video cameras, or buying a new gardening product.
The victory of your business depends on receiving favorable consumer feedback. Fortunately, getting them is not that difficult. Simply asking happy clients to leave reviews on Google, Facebook, Yelp, etc., is sufficient for most businesses.
Testimonials
It's simpler for potential buyers to believe in your company when they read favorable testimonials from existing ones, specifically those who share their beliefs. One of the finest methods to use social proof is through customer testimonials that go beyond ratings to highlight how your business has resolved a particular issue.
Make careful to include the customer's full name, occupation, and photo when using a testimonial as social proof on your website. Do not forget that you may also use video testimonials; you are not limited to text. Whatever style you choose, make sure your testimonials are in line with your buyer profiles.
Celebrity social proof
A celebrity's endorsement of a product by adding their name or face is quite similar to an expert witness. It must be a star that the public genuinely adores because the product takes on some of the celebrity's attractiveness.
It goes without saying that not all forms of social proof will apply to your business. Examine each, then consider where you might be able to get some of this evidence right away.
Make a plan, start directly approaching individuals for their success stories, and be ready to record positive feedback, references, posts on social media, and other forms of social proof as they appear.
Word-of-mouth
Word-of-mouth marketing is a process that depends on customers' experiences with certain brands and suggestions they share with their friends and family. It's a form of free publicity initiated by buyers' beliefs and emotions.
Because they already use the product and know every aspect's advantages and disadvantages. It is one of the best forms of marketing or social proof where you can market the product just by satisfying the users.
Affiliate promotion
Affiliate promotion involves partnering with bloggers, social media stars, and other content producers to insert affiliate links according to their own platforms. The links take people to your brand's webpage, where they can read further about your products and make purchases.
A specific affiliate receives a financial commission each time you make a sale via their link. Sometimes, a reputable affiliate's comments and recommendations can greatly inspire new clients to buy an item.
Number of product users
Products with low consumer demand are less likely to be purchased by consumers. For this reason, almost all eCommerce stores have a section devoted to their top-selling products. How many customers have you had so far?
Larger user numbers suggest that the product fulfills its promise very effectively, and the opposite is also true. Therefore, displaying the number of users who have purchased your goods is a potent type of social proof.
Business credentials
Brands can increase their consumer trust by displaying credentials. Companies can grab viewers' attention and convince them to utilize their products by making several clients, certifications, and awards.
This data will indicate that a brand is well-known, well-liked by reputable businesses, and possesses all the required expertise, technology, and knowledge.
Top 7 examples of social proof for your business
How do the most influential businesses and marketers promote social proof? We've compiled 7 of the best examples of social proof to motivate you.
You'll observe that some cases are considered examples of more than one sort of social evidence, strengthening their significance.
Macdonald's referral program
A referral program often pays users for actions encouraging other users to use a particular product or feature.
The "referrer" typically receives compensation for providing the recommendation, which is typically done via text or email.
For example, when the Golden State Warriors win on the road and a user downloads the app to place an order, McDonald's will give them a free side of fries.
Golden State Warriors and McDonald's brand promotion offers a free side of fries when the team wins on the road. Referral programs offer an infinite variety of options based on your product, use cases, and objectives.
Whatever arrangement you go with, a referral program will enable you to reward your own users and enable them to operate your app more, which will boost leads and sales.
Apple's hashtag campaign
Utilizing user-generated Instagram posts has been made easier by Apple's social site hashtag campaign #ShotoniPhone. With the help of this hashtag, users can display and distribute any photos or movies they take on an iPhone.
Content that unpaid individuals produce is referred to as user-generated content. These participants might be buyers, fans, or followers. It is a powerful method for finding excellent material, engaging your target audience, and utilizing the influence of others.
Currently, there are around a million posts in the #ShotoniPhone campaign. The interesting fact is Apple didn't even have to spend money to acquire this visibility for its brand. But the outcome was outstanding because they received more engagement than a normal post.
WP Social Ninja's testimonials
Testimonial advertising examples have finally come to the most influential format. Video brings major buzz to the content and digital marketing space. Why?
Probably because of its unique ability to produce a story in a concise and engaging layout that viewers enjoy. Look at a testimonial advertising example from WP Social Ninja.
WP Social Ninja is an all-in-one social media plugin solution for B2B and B2C sellers. Expect it; they also offer a feature like social feeds, social reviews, and social chats.
Overall, WP Social Ninja is incredible for social sharing, advertising, and supporting to boost business growth smoothly, which makes them the perfect candidate for testimonial advertisement.
Amazons affiliate program
Like their e-commerce business, Amazon also runs the world's one of the best affiliate programs. Amazon affiliate is the most renowned and reliable source of marketing platform where bloggers and social media activists love to gain attention for a wide variety of products. They even earn cash or different remuneration by advertising specific products.
If people follow Amazon affiliate links and buy anything equal to or more than your guide, the referrer also gets a commission. All you need to do is send customers to Amazon and get the benefits.
Ultimately, the affiliate program affects even more reviews and publicity for Amazon's overall sales. By the way, thousands of effective affiliate sites are available in the market, like BuzzFeed, where they share different affiliate products.
Share business milestone
Another important and effective strategy for social proof is sharing business milestones with your existing customers who want to plan to be your customer. By the way, reaching milestones is always an achievable occasion to celebrate, and high time to thank the people for achieving the milestone.
You can celebrate the milestone for different issues like achieving target social media followers, reaching customer base even for your company anniversary.
As an example, when WP Social Ninja turned 7000+ active installations, they honored the occasion and thanked their customers with this tweet:
Show brand icons
If you are working with some well-known brands, that means you have the capability to serve others like them. Most importantly, sharing that information with others is another excellent way to get people interested in your product or services.
The main fact is when brands like Shopify or Unicef use your product means you are on the right track. Let's look at a couple of examples of this in action. This example is from the business page of Sprout Social:
These are big organizations! Adding this information is a great form of social proof.
Final words
Examples of social proof are fantastic methods to raise brand awareness and widen your social media audience. Your brand might become an internet sensation with just one leading example or approach. What are you waiting for then?
Take some pointers from these admirable examples of social proof and share your success story with us. For more reading, you can also check out our posts on Google business profile and affordable social media marketing.