Visitors to Customers: The Power of Social Proof Widgets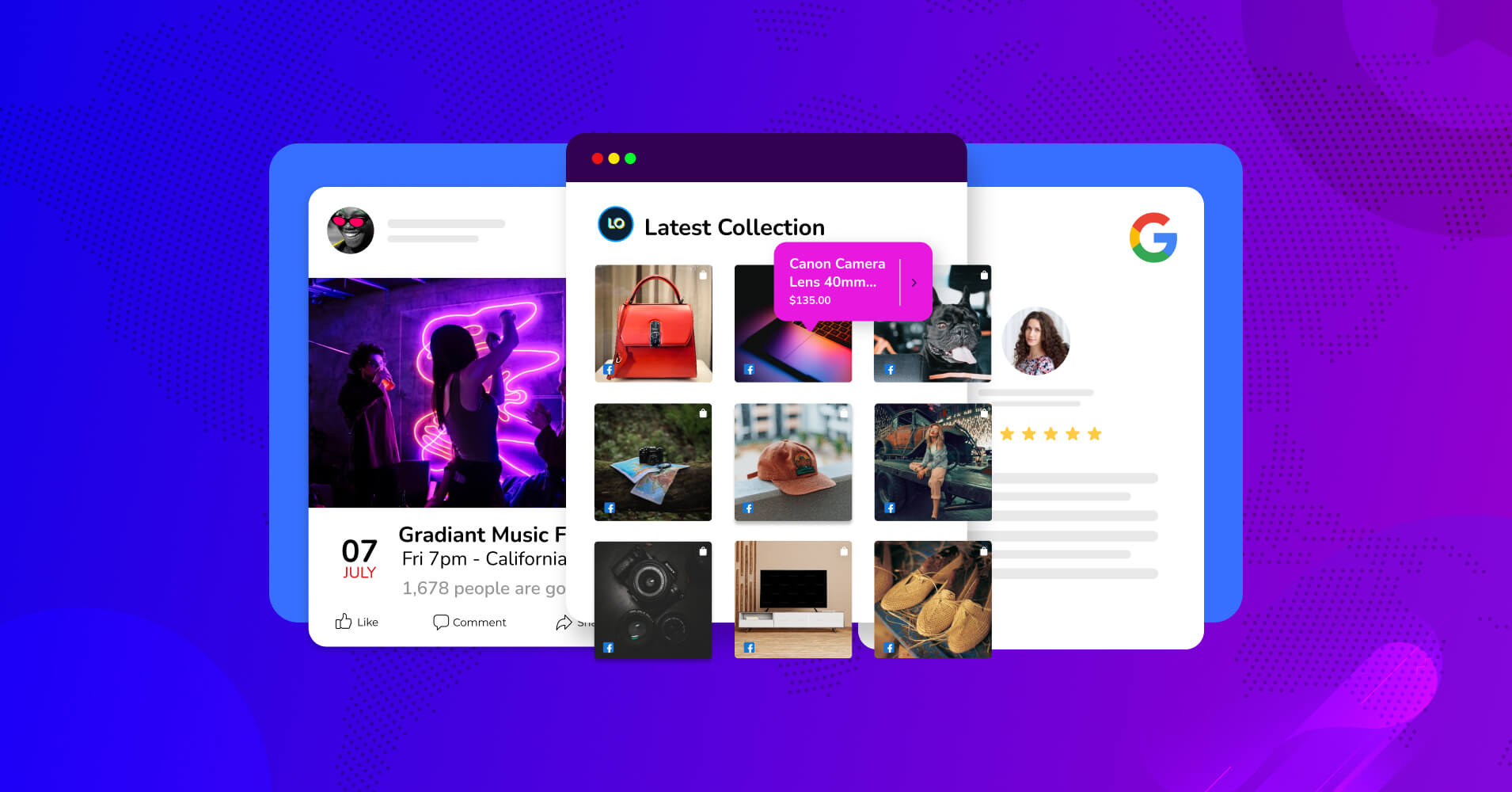 Think about the last time you bought something online! What did you do before buying? Chances are higher that you went through reviews and ratings before paying!
Why?
Because you wanted to assess the satisfaction level of the existing customers! We always trust the user experience more than we trust the brand! And whenever you look at the ratings and reviews, you are looking for proof and assurance.
The proofs we look for are termed as "Social Proof"! If you are a business owner and selling online, social proof is the magic lamp that can build customers' trust, boost sales, and build credibility!
But first, you have to integrate your social proofs into your e-commerce site, and Social Proof Widgets are tools that exist to carry out this mission!
In this article, we will unpack everything about social proof and social proof widgets, why, and how they are related to your business and can be leveraged for your social selling!
Let's go!
Key stats
So, why are we obsessively highlighting social proof? Let us show you some quick stats from Trustmary.
93% of consumers read online reviews before deciding whether to purchase.
58% of consumers would be ready to pay more or travel further to visit companies that have good customer reviews.
94% of consumers have avoided a company because it has negative reviews.
62% of consumers are more likely to make a purchase if they see photos and videos from other customers.
2 out of 3 consumers are more likely to buy something after watching a testimonial video.
Replacing landing page reviews with video testimonials can increase the conversion rate by 80%.
80% would purchase more likely if brands showcased UGC on the website.
We guess these stats validate our obsession! Hopefully, we are on the same page now. Let's go for more details!
What is social proof?
So what is this social proof? Simply put, social proof is a psychological phenomenon influencing the decision-making process!
Let's think of a scenario. You go to a restaurant and see a few people. Then you notice another adjacent restaurant filled with a huge crowd. What thought would cross your mind?
It's pretty normal to think that the first restaurant might not serve good food. And you would feel inclined to go to the second one because such a huge crowd can not be wrong, right? Social proof works that way.
The concept of social proof is as old as marketing itself but the rise of social media has molded the scale, accessibility, and effectiveness of social proof. Think of the previous example and replace the huge crowd with the content reach of your social media posts. Got the vibe?!
Your social handles activities are your social proof. If you are running an e-commerce website and looking for the right way to build trust and credibility, bring your social feeds to the site. That should do the trick and social proof widgets come to the scene.
Social proof and e-commerce
Till now, we have learned some key stats. To be honest, those might seem like just mere numbers. But let's see what happens when these numbers are put into action.
That's right! This section will show how your e-commerce site can leverage social proof. Have a look at what power social proof widgets can hold.
Build trust
A seller-consumer relationship starts with trust. While you are selling online, your potential customers can not directly check the quality of your products. So, when will they buy from you?
They will buy when they can believe you. Social proof is your greatest ally in this venture. Whenever your visitors see a strong social media presence on your site, they will believe you.
Increase credibility
Can you remember the last time you bought something from a brand that you never heard of?
Maybe you can not!
Because every purchase is an investment. We all want to ensure value for money. So when will people start to believe you?
The answer is only when your brand pops up while they look for your associated business sector. Every online interaction requires commitment and faith.
And you can be accepted as a trusted partner only when you can showcase solid social proof. Proofs are the horsemen of trust, faith, and credibility. Make yourself credible and people will be financially committed to you.
Enhance reach
If your business is good, your customers will speak for you. Social media exist for interpersonal interactions. When your customers are satisfied, they will tend to recommend your business whenever someone asks them about your associated sector, or they might simply leave a good review.
Word-of-mouth marketing is an effective way to attract new leads. And we tend to trust more when other people recommend a business.
Social proof is just the right tool to ignite your brand's glory. Display social proof on your site, and new visitors will psychologically feel a sense of trust.
Improve customer experience
In this era, customers are cautious of online purchases. They doubt the company's claims and the functionality of their product.
And the social proof comes to the rescue. You can ask your satisfied customers to leave a review or for testimonials. Show them on your site. Their experiences are certainly gonna influence new people and initiate interactions.
Types of social proof
Before you look into social proof widgets, you should be well aware of different types of proofs. There can be numerous types and not necessarily all of them will be suitable for your business.
But here we are. We have summed up some most effective social proofs that are proven to enhance your conversion rate. Let's have a look at them.
Reviews: Reviews are opinions of your actual customers after using your product or service. It is a form of a written statement of your customers about how good your product was or any sort of dissatisfaction.
Ratings: Ratings are measurements of satisfaction. It's usually a numerical marking of your service. This numerical marking can either be a number scale or a certain number of geometrical figures. For example, Facebook reviews, Google reviews, Yelp reviews, Amazon reviews, etc.
Testimonials: Testimonials are statements from someone famous from your field. Sounds like reviews? But there are differences. Testimonials are positive feedback and hold immense power to boost your credibility.
Social feeds: If you are into online selling you should have social handles already! Your social feeds are the showcase of your products and a medium for direct interactions with your existing and potential customers. For example, Instagram feed, Facebook Page, Twitter feed, etc.
User-generated content: User-generated content (UGC) is developed by consumers for your brand. The concept of UGC is your consumers are branding for you, they are making content, talking about your product, and sharing on social media platforms.
Social proof widgets
So far, we should have a clear view of the importance, impacts, and necessity of social proof. All of this will come into reality when you bring your proofs to your site. This section will talk about how you can do that. Buckle up, from now on we will be a little bit technical!
If you have a WordPress website, social media plugins are there to make your work easier! A social media plugin is a third-party service that will bring social handles, and proofs to your site!
Now this is a little bit of a situation. WordPress repository has many social media plugins, but what to choose, where to invest your money, who to trust, and which plugin to rely on! But we have got your back!
We like to draw your attention to WP Social Ninja, an all-in-one social media plugin! Let's look at the features of this plugin:
Display social media feeds
Fetch reviews and customize
Social chat widgets
Shoppable Instagram feed
Notification popup
Testimonials
Custom CSS
Export/Import custom reviews and more
This 'plug-and-play plugin might be the right tool for your business and one of the best social proof widgets in there!
Conclusion
Facts speak louder than words and stats show the effectiveness of social proof in marketing. You can build your social proof in the forms of reviews, ratings, testimonials, social feeds, social chats, and whatever means you find most suitable.
But don't keep them to your social handles. Bring them to your site. Take help from social proof widgets. The right social proof widgets can your business from an ordinary store to a reliable and prominent figure in your industry. 
Be wise, build trust, and be consistent. We are cheering for your business. Adios!
If you are up for more updates and informative articles for your business, subscribe to our newsletter. Don't worry, we will not send any spam!
For more updates, follow us on Facebook, Instagram, Twitter and YouTube.
FAQs
What is a social proof tool?
Social proof tools are third-party services that integrate social handles and your site. These tools are used to showcase proofs like reviews, ratings, testimonials, etc.
How do I show social proof on my website?
If you are running a WordPress website, the easiest way is to use a plugin. WP Social Ninja is a plugin like that. Of course, there are other plugins you will find in the WordPress repository.
What is an example of social proof?
User reviews, ratings, testimonials, and celebrity endorsements are some examples of social proof.