5 Best Facebook Reviews Plugin for WordPress Websites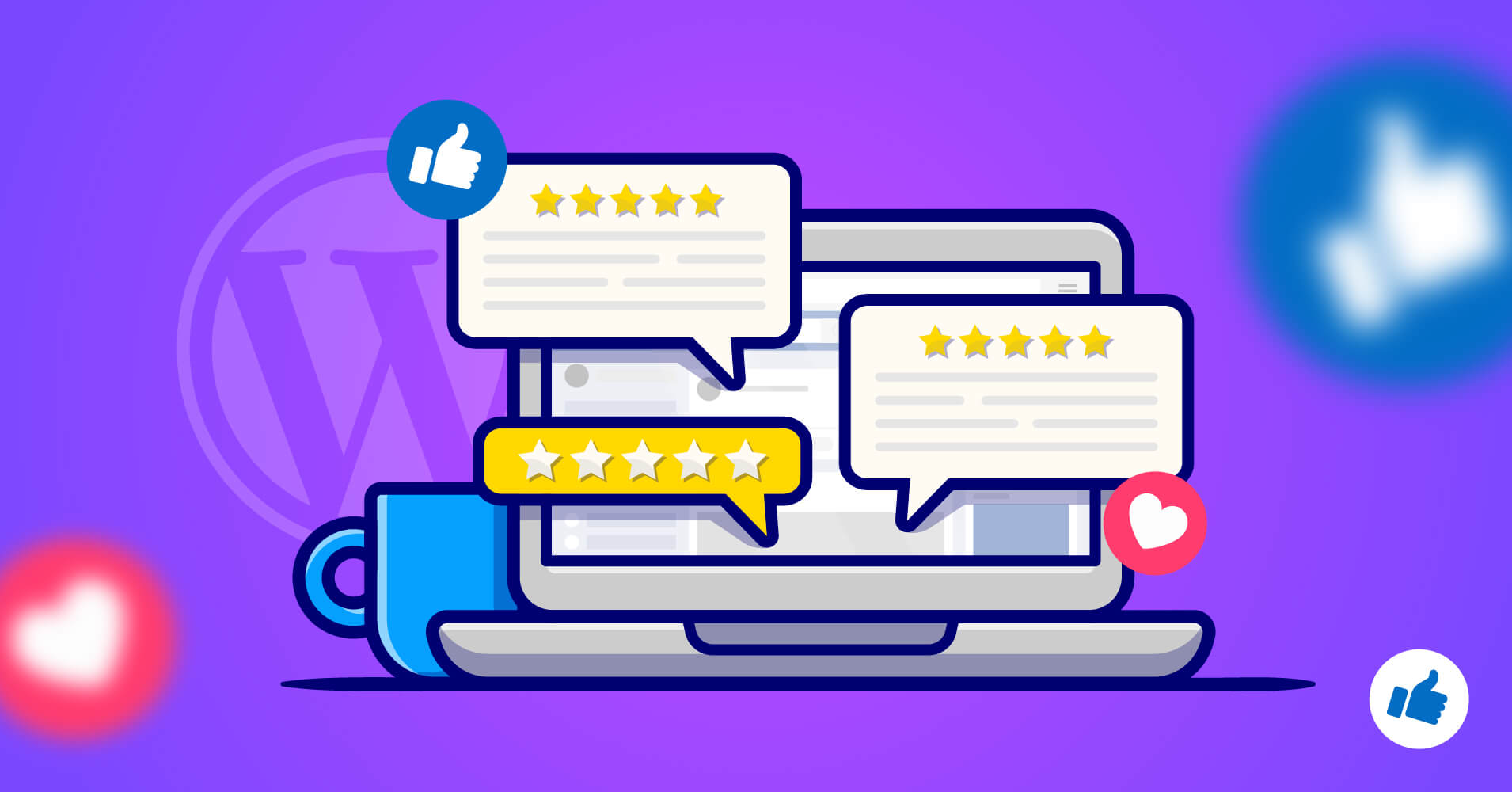 The Facebook review plugin for WordPress is essential to any company's success. This is because many users frequently consult online reviews before considering where to go and where to buy.
That's why generating and interacting with online reviews is integral to taking control of your brand's digital presence.
In general, 19% of all consumers consider Facebook reviews before buying something online. On the list of review sites, customers check before visiting a business. That's why Facebook is in the fourth position, just behind Google, Yelp, and Tripadvisor for check reviews.
Key benefits of including Facebook reviews plugin for WordPress
Every day, social media and commercial activity become lighter. Businesses must link social media to their digital business portals, such as websites, to increase reach, awareness, engagement, and sales.
When it comes to integrating and marketing your website, Facebook reviews plugin for WordPress should be your first concern. We've also highlighted why it's essential to do so and how it will benefit your business.
Social proof
While purchasing something new, consumers rely on others' opinions. The most convenient and trusted types of social proof are Facebook reviews and Testimonials. It's a place where potential customers may learn about a product or service from authentic individuals who have used it previously.
Please don't take our word for it. It would be best to read the statistic about reviews and testimonials. In fact, 95% of people say that reviews, positive or negative, impact their purchasing decisions.
Show authenticity
Showing brand authenticity may be accomplished by using honest customer reviews.
Your brand authenticity will aid in directing potential customers through your website's engagement and purchase funnels, as well as a stronger desire to become a customer of your product.
Boost your search engine ranking
You may significantly boost your search engine ranking by displaying Facebook reviews on your website. Further, visitors' time on your website grows as they read customer evaluations. Increased visitor dwell time also helps your business's website rank better.
In fact, a higher search engine ranking can allow you to expand your company's reach and lead generation.
Free advertisement
We all apprehend how challenging it is to properly advertise your business on digital channels, mainly when there are low engagement and conversion rates.
By all means, Facebook reviews WordPress plugins are an ideal way to drive advertisements. Moreover, every customer review mentions your business and its positive aspects, resulting in free promotion and marketing by customers.
Improves brand trust and reliability
While doing business online, gaining brand trust isn't easy. It's critical to demonstrate originality, reliability, and credibility in gaining the trust of your market.
Users are more likely to rely on a person than a brand without a face. In fact, they rely on the brand's existing users' ratings, experiences, and opinions to determine whether the brand is worthy of their trust and investment.
Furthermore, brand engagement and devotion are driven by user trust. Users who trust your brand are more likely to stick with you on your journey.
Increase brand-positive word of mouth (WOM)
When you combine authenticity, trust, and reliability, you'll be able to see how current customers are talking about your brand and their real-life experiences.
Existing customers will promote the brand, and positive word of mouth about the brand will grow. It will significantly assist your brand in attracting new customers, increasing conversion rates, and, most importantly, increasing brand credibility. That's the actual power of word of mouth.
Boost conversion and revenue through the website
Instead of leaving product or service reviews on the company's website, most individuals post them on its Facebook page. In an era when many consumers value social validation. Your Facebook page could potentially boost conversions and revenue.
People are more likely to buy something if they know someone else who uses it. When you incorporate a Facebook feed into your website, you can share good feedback from your social media page.
Former customers can leave reviews on your page, and these user reviews can also appear on your website as additional proof of how excellent your product or service is.
5 best Facebook reviews plugins for WordPress websites
Online reviews are one of the most powerful indicators of a company's or service's credibility. Whether your company is entirely online or has a conventional presence, that is true. As a result, many people want to integrate Facebook reviews into their WordPress websites.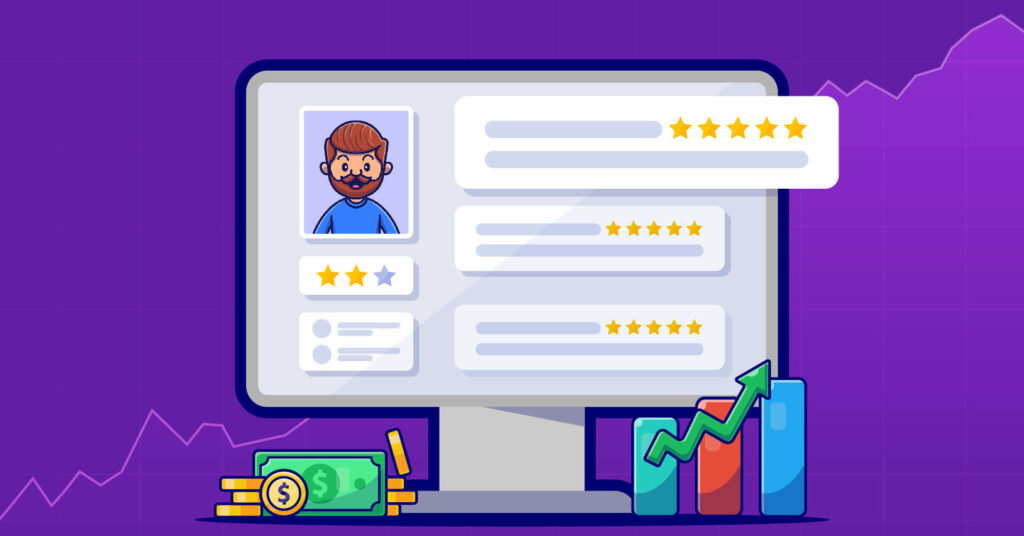 However, this tutorial will reveal the best robust Facebook Review widgets for WordPress to easily display your best Facebook reviews.
WP Social Ninja is your "all-in-one" social media marketing solution. Significantly, this plugin allows you to connect your social media accounts, display customer reviews on your website, contact consumers, and much more. Additionally, the best thing is that no coding is required.
WP Social Ninja can collect all of your website's social suggestions and evaluations from various social media networks. In addition, it collects reviews and recommendations from social media sites like Facebook, Instagram, YouTube, Google Business Profile, Yelp, and others.
It brings together all of your company's social media accounts under one platform. It's easy to keep track of all your social network reviews in one spot. Moreover, It also allows you to import social feeds from Facebook, Instagram, Twitter, and other social media profiles.
Again, you can use this plugin to communicate directly on your website utilizing your company's social media accounts because it's also suitable for a social chat. This Facebook review widget allows you to communicate on Facebook, WhatsApp, Telegram, and other platforms.
Check out the Facebook reviews demo to see how WordPress review widgets appear.
Key features
Comparatively, WP Social Ninja has many key features that make it an excellent choice for promoting your business and double interest. Let's look at some of the fantastic qualities it might have for its Facebook review plugin for WordPress websites.
Social feeds for Facebook, YouTube, Twitter, and Instagram
Reviews from 10+ platforms
Instant communication with 15+ chat widgets
Testimonial feature
Notification popup
Shoppable Instagram feed
Responsive widgets
Translate option
Integration with Fluent Forms
Various templates available to display feeds
Customize the template according to your needs
Each item has separate settings
Styling options
Custom reviews
Export-import custom reviews
Price and other information
| Price (Starts From) | Rating | Active Installations | Version |
| --- | --- | --- | --- |
| $79 Yearly | 5 Stars | 10000+ | Free and Pro |
WP Social Ninja Price Table
Using Elfsight Facebook review plugins, display your client reviews from social media on the site and showcase your authenticity. Together with a widget with a clean style and original Facebook features, site visitors will discover what consumers express about your business on Facebook.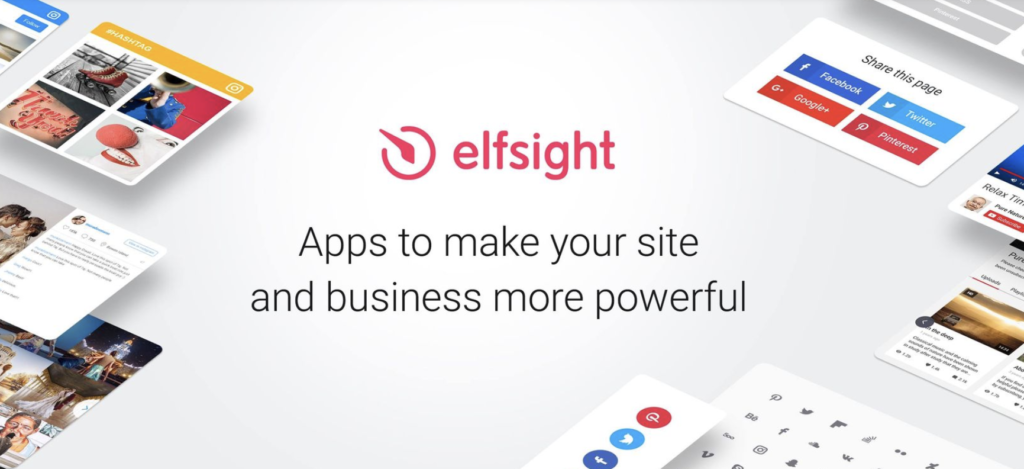 Moreover, the user interface can be customized and includes features like star ratings, author information, switchable elements, and ready-to-use layout and template options. You may reveal a button for bringing additional reviews and capturing customer feedback with the Elfsight Facebook plugin.
Key feature
By the same token, Elfsight has several parts that make it an ideal choice for marketing your business and double engagement. Let's have a look at some of the outstanding capabilities it would have.
Merge Facebook reviews into your website without effort
Show social trust with precise author info and ratings
Counts and ratings
Four predefined layouts
The widget's size can be adjusted
Ultimately, a responsive Facebook review widget
The editor is both intuitive and flexible
Price and other information
| Price (Starts From) | Rating | Active Installations | Version |
| --- | --- | --- | --- |
| $120 Yearly | 5 Stars | 4000+ | Free and Pro |
Elfsight price table
Embed Social is a reviews management platform that uses the power of online Facebook reviews and testimonials to help you establish trust around your brand and acquire new customers automatically.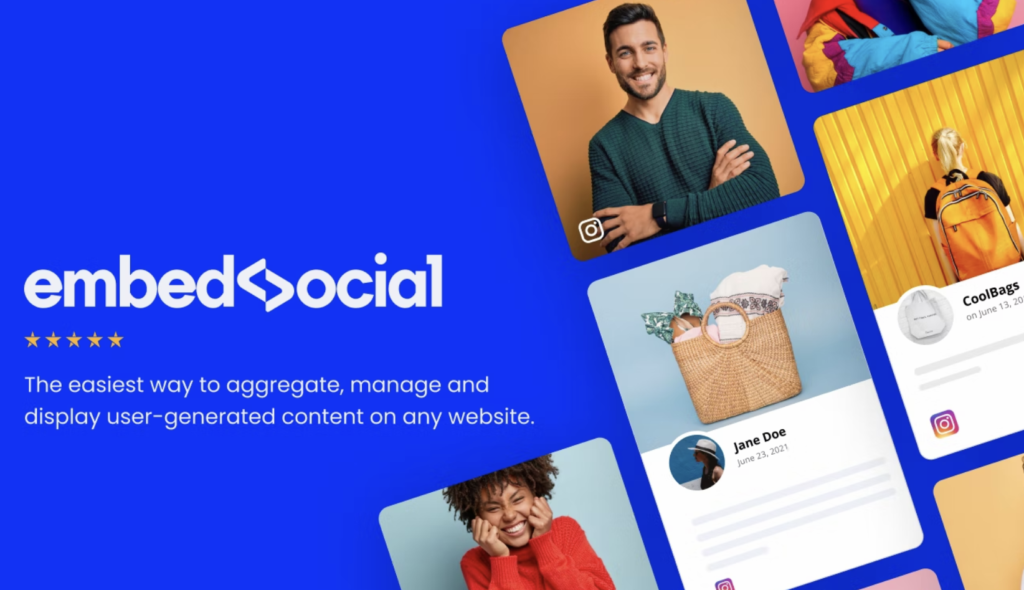 Moreover, you can quickly collect and exhibit clients' online reviews and testimonials on your WordPress website with Embed social plugin.
Their Facebook reviews plugin for WordPress is fully interactive and adjustable, allowing you complete control over both good and negative comments and the widget's design.
Create the ultimate website experience for your brand, and watch your traffic and revenues increase!
Key features
There are several key features available in this Facebook review widget. But we have highlighted only a few. The main key features of Embed Social, the Facebook review plugin for WordPress websites, are:
Fully mobile responsive WordPress reviews plugin
Ready-to-go review templates and layouts
Options to preview reviews in popups, carousel, or review sliders
Add multiple 'Leave a Review' buttons
Option to send a review request emails to customers
Set alerts on Slack or email for new customer reviews
Aggregated schema.org code to display a star snippet next to your website on the Google search results.
Price and other information
| Price (Starts From) | Rating | Active Installations | Version Free |
| --- | --- | --- | --- |
| $288 Yearly | 5 Star | 4000+ | Free and Pro |
Embed Social Price Table
One of the most responsive Facebook review plugins is called widgets for Social reviews & recommendations. It is really beneficial to your company. The Trustindex Facebook reviews plugin for WordPress displays your Facebook ratings and recommendations for free in two minutes.
This plugin can display all suggestions and reviews using pre-designed widgets. You may also make your own widgets, filter your reviews, and show only the ones you want to see.
Key features
Trustindex has several key features that make Facebook review plugins more stunning. Let's check the main key features.
The option of having 16 pre-designed widget styles
35 layouts
Review filtering support
Support for more than 40 Languages
Shortcode Integration Support
Dark mode style included
Price and other information
| Price (Starts From) | Rating | Active Installations | Version |
| --- | --- | --- | --- |
| $65 Yearly | 4.9 Star | 5000+ | Free and Pro |
Trustindex Price Table
Trust Reviews, the social review and feedback plugin, is one of the top WordPress Facebook review plugins. A powerful Facebook reviews widget is included in this strong and excellent plugin.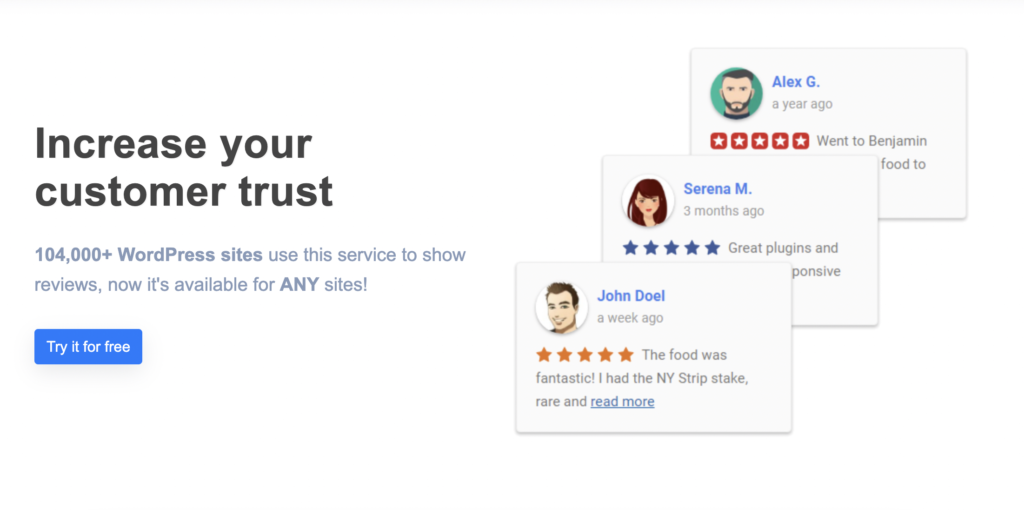 Your WordPress website shows Facebook reviews and suggestions. This is also one of the top Facebook review plugins for Elementor.
Moreover, other page builders can be supported, including Gutenberg, SiteOrigin, Beaver Builder, WPBakery, and Divi. You'll need admin permissions to interact with the Facebook page because this plugin leverages Facebook's APIs. Two versions are available: free Lite and paid Premium versions.
Key features
In the same way, Trust Reviews has several elements that make them a perfect option for marketing your business and double engagement. Let's look at some of the outstanding capabilities it would have.
Full support for using Shortcode
The option of an automatic refresh for reviews
Display all Facebook reviews for WordPress
SEO-friendly WordPress review plugin
Shows genuine reviews from Facebook users to increase user confidence
Easy to get to Facebook pages and show reviews
Price and other information
| Price (Starts From) | Rating | Active Installations | Version |
| --- | --- | --- | --- |
| $85 Yearly | 4.9 Star | 20000+ | Free and Pro |
Trust reviews price table
Final words
In summary, you can't afford to ignore social proof as a powerful marketing strategy. Overall, consumers rely on word-of-mouth recommendations to decide which brands to buy and which products to consume.
WP Social Ninja
Try WP Social Ninja today and see for yourself!
We highly urge you to adopt marketing strategies if your business does not already have one. Bear in mind that proof sells, whereas promises do not. That's why you should select the best Facebook reviews plugin for WordPress websites to display your best Facebook reviews for your small business.