How to Display Google Reviews on WordPress Websites (Easy Steps)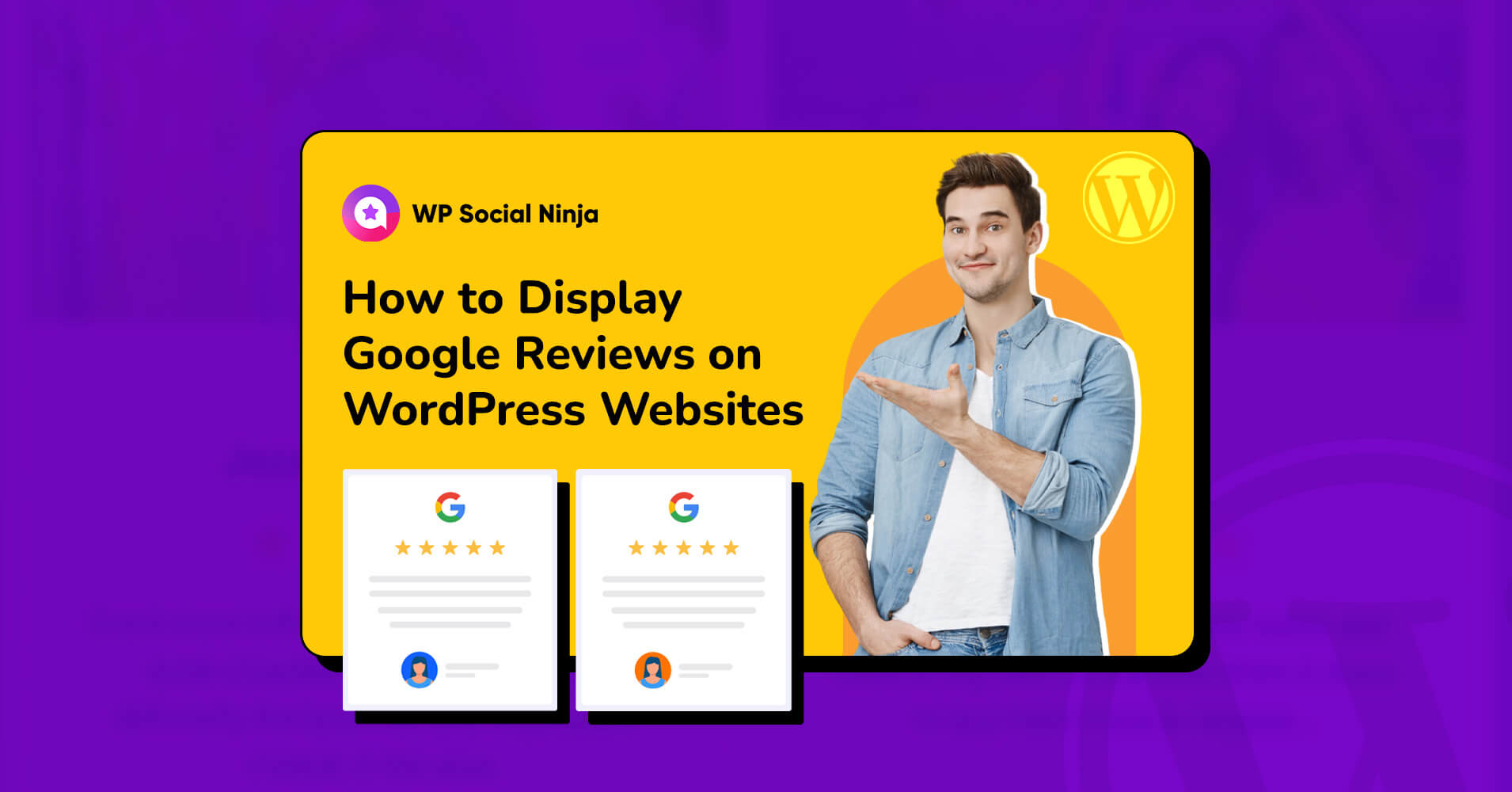 Suppose you want to display Google reviews on WordPress websites and need a Google reviews plugin, but you don't know which plugin is the most beneficial. What steps would you take initially?
Type the Google reviews plugin on Google's search engine to find the best option. You get multiple reviews. So what is your next move?
You will filter the review section and select the business with the most positive reviews. The question is, why? Because you value your time and resources too highly to waste either of them. Every user would do the same thing. Moreover, customer reviews work as genuine feedback. It's more relatable and trustworthy than paid marketing like Facebook or Google ads.
Overall, embedding Google reviews on your WordPress websites not only works as the social proof of your business but also builds trust and reliability. It also helps future customers make an instant decision to try your product and recommend it to others as a form of Word of mouth marketing.
But the common question is how can I display Google reviews on WordPress websites? Don't worry; we will cover everything in this blog post. So without any further ado, let's get started!
Why should you display Google reviews on WordPress?
One effective strategy to raise your online authority, enhance SEO, and increase brand awareness is to embed Google reviews on the WordPress website. Here are some of the primary advantages of displaying Google reviews or the Google review plugin WordPress:
Establish trust and reliability
In this online world, consumers trust brands less than they used to because they can easily measure the brand's performance or appearance through Google's online reviews.
Customer reviews will help you build the trust and reliability of your brand. Significantly, reviews are written by real customers based on their experiences and show your brand's real insights and images to others.
Improve SEO
SEO is becoming increasingly important if you want to market your small business online. Practically everyone uses Google to discover answers almost daily. That's why you must display something to get a higher ranking on search engines. The more trustworthy your brand is, the higher you rank.
One benefit of displaying Google reviews is that visitors will spend more time on this section when you show your business reviews on a specific page. This will improve your average session per page, ultimately indicating that your content is helpful to others and provides some positive value. Overall, it's a good indication of an SEO signal.
Increase brand awareness
There is a greater chance that someone will remember your business if they hear about it more frequently. They will first consider you when looking for products or services.
In addition, you do not need to implement costly advertising campaigns for this; Google reviews are a lifesaver. All you have to do is to display Google reviews on website with the WordPress customer review plugin. This will raise awareness and build trust in your brand.
Increase click-through rate
Business owners must know the importance of click-through rates. Your marketing efforts have been useless if you are not receiving proper click-through rates. Thank goodness, Google reviews and Google reviews plugins are here to help you.
When customers see Google reviews on your business website, they are more likely to consider purchasing a product or service and click on your business or selling page.
Where should you display Google reviews on WordPress websites?
There are a few places on a WordPress site where you can display Google reviews. Overall, where Google reviews show up on your WordPress site depends on your business needs and how your site is set up.
Try different placements to see what works best for your webpage and viewers. The most useable places are:
Home Page or the product page
Testimonials page
Popup or lightbox
Sidebar or footer
Any corner of the page using a notification popup
How to display Google reviews on WordPress website
You can embed Google reviews and display them on your website with the help of the Google reviews widget. Now time to put all your Google reviews on your website. Initially, we have described the benefits of embedding Google reviews and Google reviews plugin WordPress.
Here we have the solution not only for HTML websites but also for WordPress websites too. But now is the time to elaborate more with simple embedding steps. You can instantly display your business reviews on your websites using these easy steps.
Step 1: Install a WordPress social media plugin
First, you have to install a social media plugin or Google review widget on your WordPress website. Several plugins are available in the WordPress repository, including WP Social Ninja, Widgets for Google Reviews, Smash Balloon, and Plugin for Google Reviews. But among them, the most user-friendly and feature-rich plugin is WP Social Ninja.
We choose WP Social Ninja for the installation process, supporting Google Reviews with 28+ social widgets.
Win your customers' hearts with exceptional features
Discover how WP Social Ninja can assist you design outstanding customer experiences.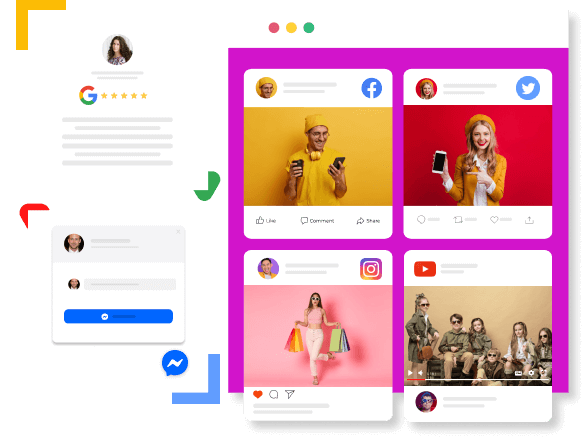 Step 2: Connect your Google My Business account
Once you've installed the plugin, connect your Google My Business account. To do this, navigate to the WP Social Ninja dashboard and select the Google Business Profile widget.
Click on that section and follow the instruction to authorize the plugin to access your Google My Business account. We have the complete documentation, a step-by-step instruction blog and a video tutorial about integrating Google reviews.
Moreover, you will need to provide your Google API Key, which you can generate by following the instructions in our above-mentioned documentation and blog posts.
Once you've entered your API Key and authorized the plugin to access your Google My Business account, you can configure the plugin and integrate reviews on your web page.
Step 3: Customize and display Google reviews on WordPress
Your account has connected, and now you can customize how your Google Reviews are displayed on your website. You can show reviews from specific locations or prefer a custom layout or templates. You can change the review text, font, and color to match your branding.
After completing your customization, you can display Google reviews on WordPress website. To do this, WP Social Ninja will provide you with a shortcode that you can use to display your Google reviews on specific pages or posts on your page. Simply copy and paste this shortcode into the allocated location, and your Google reviews will appear on a designated page. You are done!
Embed Google reviews with Javascript
Placing Google Business Reviews on your website is an excellent way of displaying good words about your business. In that case, Google is a popular spot to collect and show customer reviews. By displaying Google reviews on the website, visitors can see how satisfied your past customers were.
This section will demonstrate how to use JavaScript to embed Google reviews on your website.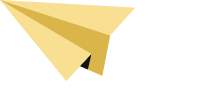 Subscribe to Our Newsletter
Get exclusive social media marketing tips and tutorials in your inbox!
Collect your Google places API Key
To embed Google reviews with the WordPress customer reviews plugin on website, you'll first require an API key to access the Google Places ID or API. Follow the basic steps to get your API key:
Enable the Google Places API by clicking the APIs & Services tab on the left-hand navigation menu. Find the Google Places API and click Enable
Create credentials by clicking Create Credentials on the APIs & Services dashboard, then select API Key
Now Copy your API key and Save it for further use
Retrieve your Google reviews
Once you have obtained your API key, you can retrieve your Google Reviews. The steps are as follows:
Open a text editor and make a new file with JavaScript
Please copy the following code and paste it into the file
Replace YOUR PLACE ID with the ID of your Google Business Profile page. Go to your Google My Business dashboard, click Info in the left-hand menu, and Copy the ID next to Google Maps ID
Add your API KEY with the API key you got at the very beginning
Save the JavaScript file now
Add embed code and display Google reviews on your website
It's time to add the embed code to your site. Now follow the last finishing steps:
Open the HTML file for the page you want to display your reviews
Now copy the code and paste where you would like the reviews to appear
Save the HTML file and then update it to your web server
And that's all. Your website should now include your Google reviews. This process is simple to display positive customer reviews and build trust among your potential customers.
Final words
Customer reviews are actual feelings about the business. It is the best form of user-generated content. Roughly 79% of people say UGC highly influences their purchasing decisions. That's why displaying Google reviews on your website can bring an insane amount of opportunity for your brand. In that case, WP Social Ninja can help you to show Google reviews on WordPress and encourage visitors to purchase your products or services.
Win your customers' hearts with exceptional features
Discover how WP Social Ninja can assist you design outstanding customer experiences.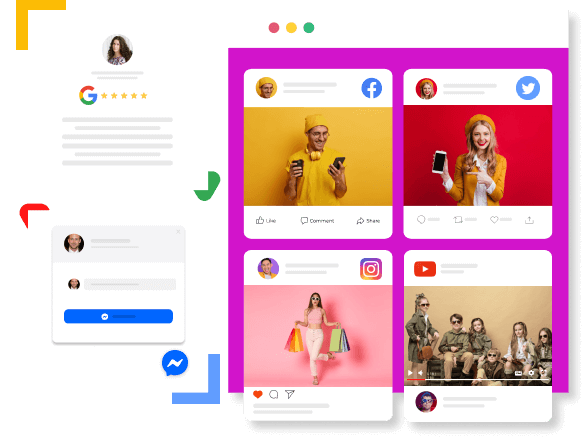 This super cool plugin also offers deep customization to help you set or customize your reviews own. Once you have gotten additional reviews thanks to WP Social Ninja, it can display the updated reviews on your business page to convert more customers and generate sales. The last call for everyone is that take advantage of this great chance to show the reviews of your business!