7 Clever Ways to Ask for Reviews: This Is What Professionals Do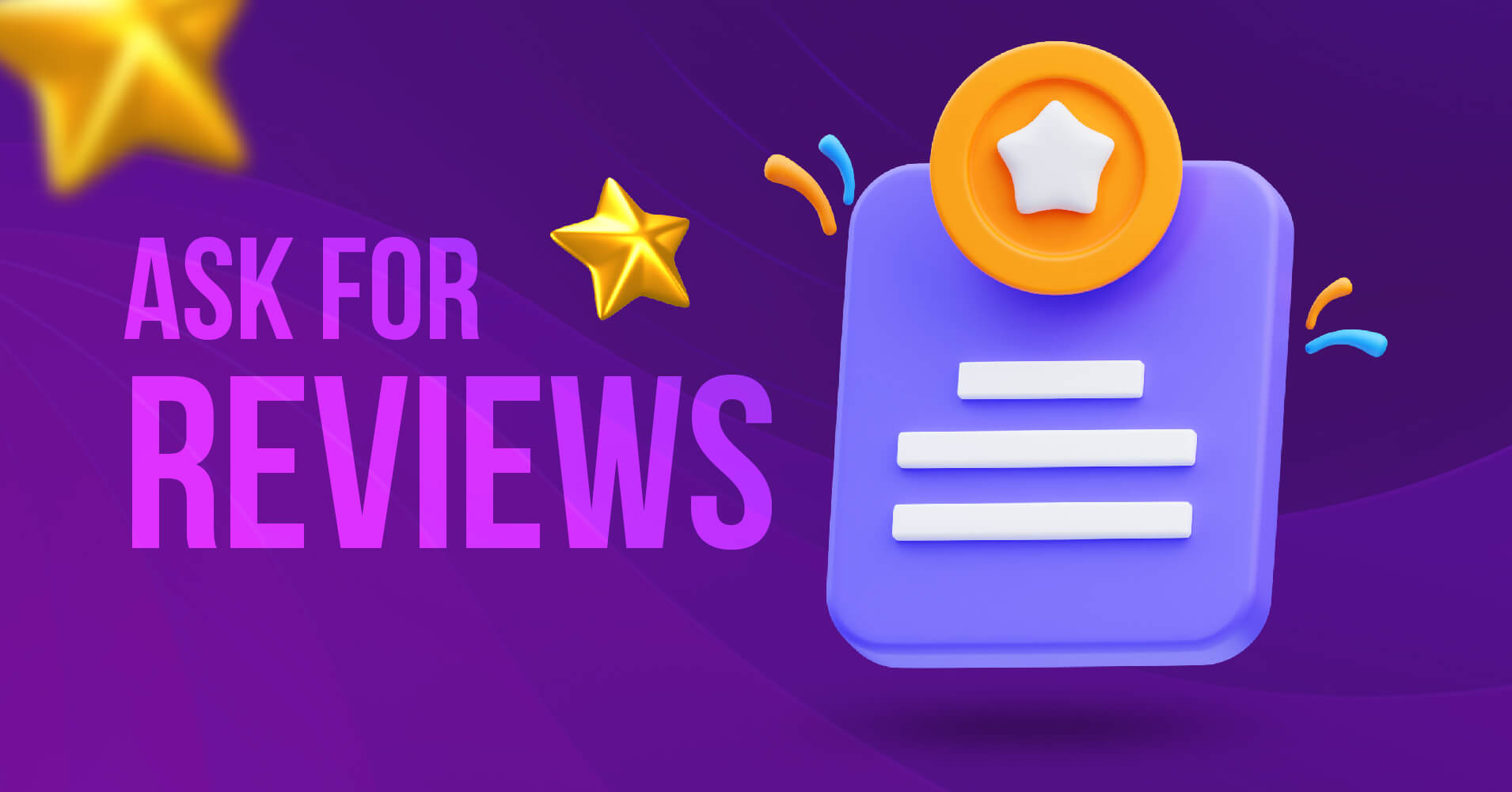 Looking for clever ways to ask for reviews? Consider yourself lucky because you'll get to know here how exactly professionals do it!
Getting online reviews is the most common thing in the marketplace yet the most powerful one that you cannot ignore. You might wonder why this topic needs extra attention when you're already getting reviews.
We'll have a detailed discussion about this later. But the thing is, in search of the proper way of getting reviews, you will get tons of suggestions. Yes, tons of suggestions and tips!
But don't worry, you'll get to know why you don't have to follow every single thing you find out on the internet. Rather this blog will help you how to collect reviews from your customers you must want to try!
Shall we?
Ask for reviews, but WHY?
Let's start with 'why'. Well, asking clients for reviews is a topic that will make you learn how smartly and effectively you learn about the tricks!
Whatever business you're running, on the other part of this game, makes it tough because the number of similar content and blogs you have is huge.
So what you can do is, get the maximum number of customer attention and reviews than others. To grow your reputation and keep it up, you need to know your business needs and customer demands. Online reviews from your customers are the only thing that can help you to make it successful.
But when asking about reviews, why ask? Can you remember when was the last time you shared your buying experience with a seller/online page, even if you're satisfied with their product/service?
Here's why you need to ask for reviews. And the most important thing about reviews is it doesn't matter how well you describe your service to your customers. People only tend to choose the things when others are saying this.
Related: Social Media Reviews: Everything You Need to Know (Complete Guide)
If you're still not convinced, you can check the stats:
Majority of customers trust online reviews as much as they got recommendations from friends and family. And the number is 84%. (Source)
Improving your review star rating by equal 13,000 more leads. (Source)
According to 80% of people, 4 and 5-star ratings are important. (Source)
Reviews are important, and so is how you write a review online. Check: How Do You Write A Review on Google (Easy Way)
Smartest ways to ask for reviews
Well, reviews are important. But how to ask customer to leave a review?
Asking for customer reviews might seem intimidating, but it depends on how you proceed. You have clever ways to ask for reviews. Snatch it!
1. Stay active on social media
The best and smartest way to get online reviews is through social media channels. Now don't tell me you don't have a social media profile!
While running a business, it's mandatory to stay active on social media platforms. Even if you're not active on all social media channels, you must have the least number of social handles where you show off your business profile and get customer feedback.
True or false? Asking for reviews is something you should never do in social media. What do you think?
To get the best out of the popular social platforms, whether its Facebook, Twitter or YouTube; do ask your customers. Asking customer feedback can be on how they love your product and what they expect from you, and asking to share their experience.
And when you're active on social media, share your feeds to your website too; so that when your audience visits your website, they can find it more worthy to leave reviews seeing your social media presence!
2. Ask for reviews via SMS, email and written note
When was the last time you got a written note or letter from someone?
Tough to recall, we know. The virtual world has made this so easy that we don't need to make any effort to show gratitude.
There's no better way to make your impression last long by writing for someone than do it online nowadays. And when it comes to the customer, taking time and for them is everything they expect from you more than anything!
If you're thinking about how to please your customers with both your service and words, send handwritten notes with the products when they buy from your shop. If it seems hard to do, go asking for reviews via sms & email.
Still, if you don't like to do it manually, you can choose any review automation tool for your WordPress website.
You can use SureTriggers. It enables organisations to create automatic triggers in response to specified events, such as the completion of a consumer transaction. SureTriggers may send an automatic SMS message to the consumer when this trigger event happens, inviting them to offer a review. The SMS content may be tailored to the needs of the company.
SureTriggers, on the other hand, allows organisations to submit automatic review requests through email. SureTriggers can automatically produce and deliver personalised emails to clients with a review request and a link to submit a review by establishing triggers depending on trigger events such as a completed purchase or service.
3. Ask for reviews when your customers are already satisfied
Want positive reviews? Go to your customers who are already satisfied with your products. This is one of the clever ways to ask for reviews!
Customers who love your products will definitely love to share their good experiences. And there's no hope of getting any disappointments. Even chances are high here to get the best reviews from these potential customers.
But when will you be sure that they love your products? Well, there are a few signs you must consider.
Your customers will ask for more. Yes, they'll shop more when they find your products/services useful and can trust you. Besides appreciating your business, people will be ready to share your social media channels with their family and friends if satisfied.
But if you get negative feedback, you don't need to worry about it. Read this blog you'll find helpful: Why Negative Reviews Are Good for Your Business?
Customers are your priority. The more you can make them happy, the more you make your business successful. So offer them the best, and get rewarded!
4. Motivate your customers to leave reviews
From the clever ways to ask for reviews from your customers, one is "motivation." When nothing works out better, convincing plays a powerful role!
This strategy is for the customers who are the first buyer and never left reviews before. Your customer will only leave a review when satisfied, which makes them convinced to leave their opinions.
We can never deny the importance of word-of-mouth marketing. Why not try this while discussing it with your customers?
Make them believe that their reviews do matter. Influence them by showing others review that they left, and make them sure that they don't need to pay for writing a review. Also, you can reward them for leaving good reviews with review competition.
In this way, even if a customer is not ready, will try to be one of your good reviewers!
5. Ask for reviews from other businesses too
In your business journey, you might have worked with other businesses too. If you think you can't get reviews from them, that's not true.
Well, it also gives the same value as you get from your customers. Rather it's a bonus if you get reviews from other businesses. Your profile looks more powerful when it shows any brand's and your customer's reviews.
In case you hesitate to ask for reviews from them; Do the same while asking customers for reviews. Leave a review about their product/service, and then ask. Simple!
And if you're thinking about how it will work, let us remind you this is a win-win situation because there's no point in getting refused when you're doing the same for them that too in the most professional and gentle way.
6. Regular follow up
If you're searching for the best ways to ask for reviews, you have to consider a few things along with asking for reviews from your customers.
Regular connectivity with your customers makes a good relationship between business and customers.
You can perceive thousands of ways to reach your target, but if you can't follow up with your customers who helped you in this, it's not what you should do. It would help if you kept the bond strong so they could keep their belief in you and continue shopping from your shop.
So, connect more with your customers, and serve them with good services. And remember to ask them what they want from you in the future and make them acknowledge all your updates!
7. Display the reviews and testimonials
Showcasing reviews and testimonials not only makes your website look professional and renowned, also it works to encourage your consumers to leave reviews!
Furthermore, those reviews and testimonials prove you're serving quality products, so when you ask for it, people will believe you more.
You might think about how to do it. Well, you have WP Social Ninja that will take over the job!
With this social media plugin, you can fetch all your reviews on your social media platforms and display them right on your website in the easiest way. Besides, you can decorate your website with the testimonials you get from your customers and customize the templates with the same plugin!
Pro tip: How to ask for reviews on Facebook
Now you know how to ask for reviews from your social media and social sites. But there are different platforms that demand to get your extra attention to get more from them.
If you're thinking about Facebook, you're right. You might have other social media handles, but Facebook is the second most popular review site out there.
So, to get the most out of your Facebook business profile, keeping the above-mentioned ways let's see what you can do more on how to ask for Facebook reviews.
Ask customers directly for reviews
Ask for Facebook reviews in-person after you hand over your product if possible.
Send messages to their inboxes or through email including a direct link to your Facebook page so that they can easily recommend and write reviews on your Facebook page.
Make sure to add a CTA button on your website. Add reviews on your website and motivate others to leave reviews.
You can also encourage them to leave reviews in return for some offerings or discounts on your products.
Besides, we have detailed notes on the importance of Facebook reviews, and how to leave reviews on Facebook. You can check this out:
How to Leave A Review on Facebook (Things You Need to Know)
Clever ways to ask for reviews examples: How do brands ask for reviews?
Asking review is never an underrated task. Still, many companies don't take this seriously.
But that's not a good practice that we should follow. Companies with a good reputation have never been careless in this; rather, they use brilliant strategies that help them go forward.
Let's see some clever ways to ask for reviews examples of how renowned companies implemented strategies to collect customer reviews.
Dell, one of the top-ranked computer brands, always prioritizes the review that gets a lot of comments and interactions. Also, they have a dedicated website just to collect reviews.
Nordstorm, a luxury retailer brand, collects reviews and customer feedback using different resources. They use a data collection strategy to do better. To collect user data, they use pop-up forms on their website.
Apple, the tech giant, prioritize their customer first. According to their client's demands and needs, they update their products. To collect testimonials, they use Net Promoter Score (NPS).
Things you should never do when asking for a review
Well, enough of how to ask for reviews, clever ways to ask for reviews, etc. You still need to know a few more things.
While doing any important task, there always is a chance to slip off the tiny things that we should not miss. Just like that, when we ask for reviews, there are rules we must strictly avoid.
For a reminder, remember these things when you ask for reviews:
Don't rush
It's a common mistake that maximum makes. Never ask for reviews in a hurry because only the fools do it!
Obviously, you don't want to harm your own reputation. When you ask for reviews from the customers just after they buy it, or they didn't even get to know your products, asking for reviews at that moment gives them a bad impression of your company.
So don't be desperate to collect reviews/ testimonials. Let your customers try out your product and then ask. Have patience.
Say no to fake reviews
Many businesses just want to have good reviews that make their reputation sound good. For this, they don't even hesitate to get fake and paid reviews!
But internet protocol is strict against this. There are third-party which keep checking on suspicious things. If they find out something, they remove the company profile. To recover the damage, the business may need to pay a huge amount which is never expected.
Also, you can get bad feedback if people get deceived by your fake reviews. So why take risks when you can get organic reviews?
Give the effort to develop good services and give your customers reasons to give good reviews!
Don't force
Remember, customers owe you nothing.
Even if your customer wants to refrain from giving reviews despite being your regular buyer, you cannot push them. This may lead you opposite to the beat!
You must exercise patience and view the entire process as a necessary aspect of your profession, no matter how slowly it proceeds. In this way, even if you don't get it, you'll still have a solid professional connection that you can use later.
Don't let negative reviews demotivate you
While running a business, you'll have both negative and positive reviews. And when you're willing to get positive reviews, you should have the strength to take the bad customers feedback too!
You'll get long lists of clever ways to ask for reviews, which will help you get reviews. But those reviews will not always be good or the way you expected. People might give you negative reviews if they don't get the product/service they expected.
So, what you need to do is, don't get demotivated, instead, reply to those reviews and try to resolve the issue, and then inform your customer about the update.
Don't make it complicated
If you want clever ways to ask for reviews, make it simple.
Simplicity always wins, and so does when you ask your customers to give you reviews. Nobody loves the complicated thing. If you write your customers complicated messages, they will ignore that at first glance.
Whatever you write, don't use any tough language; write it as it's easy to read and easy to understand. Your customer will find it interesting to read and give you feedback!
FAQ's on clever ways to ask for reviews
How can I get more Google reviews?
If you need customer feedback, you can ask them directly. Plus, you can add reviews and testimonials to the website to remind your customers to leave their feedback.
How long should I wait for Google reviews to appear online?
There's no fixed timespan for this. It may appear immediately or take more time. Still, you can wait for three days.
How do I ask for a review without sounding desperate?
Asking for a review may sound desperate, but, you can do a few things:
Create a survey and send it to your customers
Make it reciprocal
Run promotional campaigns
Be prompt in your words
What should a follow-up message say?
When you write, make it concise. Don't accuse or point out that they haven't checked yet; instead, ask politely if they've looked it over or not. Add value by giving any practical reason or context if there's any urgency. Also, you can call them afterward and tell them why it's important.
Can you ask for 5 star reviews?
Sure, you can! There's no loss if you ask them privately to rate your business. If they give you a 5-star rating, very good, ask them to write a few words. But if it happens the opposite, ask them why, also, ask what and how you could do better to make them happy.
Wrapping it up
You'll need to use several strategies if you want to grow your company and establish influence in the market. Getting client reviews online is one such tactic that has been highly effective.
Moreover, establishing and enhancing connections and relationships with both current and potential consumers is crucial if you want to receive customer feedback frequently. In that case, WP Social Ninja is always there to help you. It will make your social proof more worthy by showcasing them on your website. Also, you can handle your customer support by integrating your website with chat widgets.
WP Social Ninja
Try WP Social Ninja today and see for yourself!
Need more help? Join our Facebook group and drop your queries! Also, keep checking us on Facebook, Twitter, YouTube and LinkedIn for more updates.