Testimonial vs. Review: What's The Difference?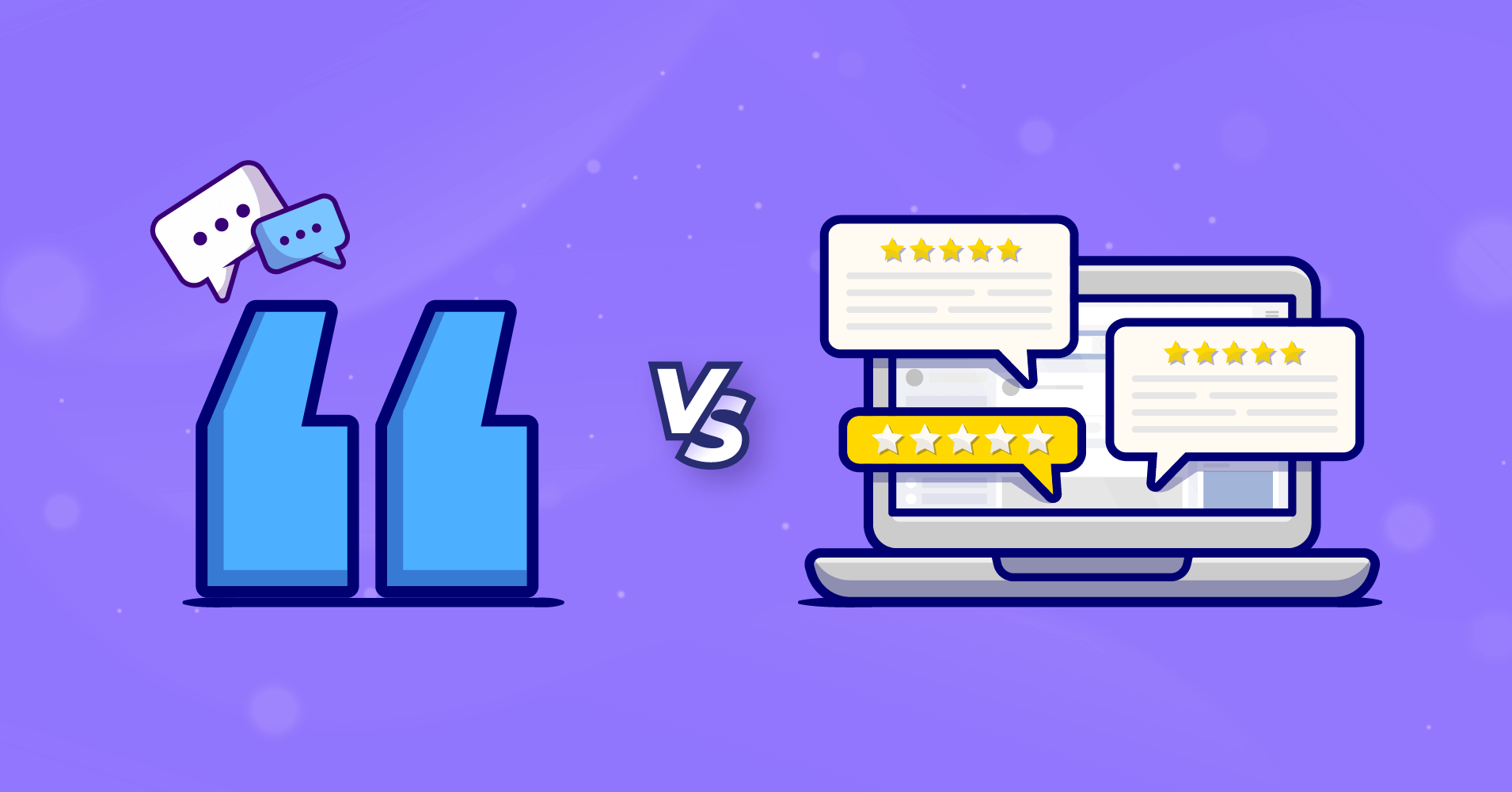 Testimonial vs. review; is probably the most used term in business websites that you heard about. But do you know exactly what are the things that make them different from each other?
Though you can say that it seems both are quite similar and have the almost same benefit on your business. Even if there's a comparison between testimonials vs. reviews, they have their own meaning of importance and have a huge impact on your business.
But to implement them properly, having proper knowledge of them and knowing the main difference is a must. When you know the facts, you won't get confused differentiating any of them and will know the best approach to represent your brand through testimonials and reviews.
Well then, let's begin;
Testimonial vs. review
| | |
| --- | --- |
| Testimonials | Reviews |
| Business owners collect and manage testimonials from their own platform. | Third-party needs to collect and manage the reviews. |
| Marketers are free to display testimonials on their own websites or social media platforms. | Third-party app or widget collects reviews to display them. |
| Mostly, testimonials are good because business asks for it from their potential customers. | Reviews can be good or bad, as people are free to give reviews spontaneously. |
| Business owners have the option to choose which testimonials to exhibit. | In most cases reviews cannot be chosen (Except using some plugin). |
| Testimonials are a good source for business retention. | For making a business presence online, reviews are crucial. |
Testimonial vs. review
What is Review?
Social media review is the opinion or suggestion of customers they leave on the business website or other business social media platforms. And 92% of people trust the reviews to make a decision to buy something from an online shop. This review option is open for everyone to express their experience.
To leave reviews, there are many online platforms such as Facebook, Instagram, Google, Yelp, Aliexpress, Booking.com, Trip Advisor, and so on.
Suppose you have a negative experience at a restaurant. So you want to let the restaurants and other people know about their bad service. You get their business profile and share your experience through the review option.
Similarly, you can have a good shopping experience from Amazon or a product you got from an online shop on Facebook; You will give your valuable review by sharing your good opinion or praising their products.
Marketing online and social reviews have a great impact on businesses. Whether it's a good or bad review, it affects your business. Getting good reviews will make your online presence popular with everyone and inspire you to give more quality service and get more good words from your customers.
And when you get bad reviews, it also gives you a chance to improve your service and influence you to get positive feedback back.
What is Testimonial?
Testimonial, when you heard about the word, a visualization of some positive reviews came into your mind just like us, didn't you?
And that's absolutely right; testimonials are written statements of a customer's positive experience. Mostly, business owners want to showcase those testimonials to represent their brand. Also, you have the chances to get you 62% more revenue from each of your customer through using testimonials on your website.
Unlike reviews, testimonials are always positive. This is because testimonials are only displayed on the website or social media platforms by the customers who are happy to show their gratitude towards your products or services.
Moreover, as a business owner or marketer, you have full control over displaying the testimonials you can gather from your potential customers who are satisfied with your services.
How to use Reviews
As you know how reviews add value to your marketing strategy, you also need to know how to use reviews on your business website and other social media platforms.
Here are some tips you can utilize;
Collecting your reviews and displaying them with the ratings is a great idea. To do that in a single go, you can simply take help from the WP Social Ninja plugin. With just a few steps of connecting your WordPress with WP Social Ninja, you can see your reviews and ratings are just in the right place on your website. And even if it's not organized according to you, you will get multiple options to do that from scratch and decorate your reviews template accordingly.
Show your appreciation to the customers who gave you good reviews by rewarding them with special offers and discounts. Also, you can ask for videos from them sharing their experience that you can post on your social media.
Also, don't forget the negative reviews you got from your clients. Reply and respond to their problem, acknowledge them about fixing or improvement. You can also share these on your social media.
How to use Testimonials
Though testimonials always hold positive feedback from your customers, using them properly with the right strategy in the right place, you can better advertise your brand.
Follow the suggestions on how to use testimonials;
Appreciate your clients who wrote testimonials for you. Show your appreciation to them by featuring them with their success stories on your website and social media platforms.
You can keep pictures with your satisfied customers and besides sharing them on your business profiles, print out the pictures to hang up in your office.
You can also collect testimonials, appreciation cards, and letters to make a customer portfolio. And to do that nicely, there's no better way than using WP Social Ninja.
Because this plugin facilitates such an easy and handy feature, you can create your happy customer's testimonial by following some easy steps and exhibiting it in the proper place you want.
Testimonial vs. Review: Which one is better for the business?
Testimonial vs. review, if you ask, which one is best depending on their importance? We suggest you use both on your website, which will be ideal too.
Whatever you do for marketing strategy, your main goal is to reach your customers and win their trust to make your potential clients. On that basis, both reviews and testimonials are crucial for your marketing strategy.
If you want to get your customer's attention, you'll need reviews to make your online presence 3x times better. And to convert your website visitors into your regular seller, you'll need testimonials.
Imagine you have a business website, and you are asked to identify the lackings of your site from a general customer preview; You see you have reviews on your website but no testimonials. Or suppose you have testimonials, but there are no reviews from anyone.
And that's true; in both cases, your website seems to lack something, which not only looks bad but also has a bad impact on your business. Think about utilizing both strategies; You'll be able to boost your conversion rate through testimonials and can increase the number of potential leads.
Best plugin for integrating Testimonial/Review on the website
Now that you know the importance of having reviews and testimonials on the website and the differences between testimonial vs. review. It's time to implement both strategies on your website.
But have you ever thought that using a social media tool can make this task easier for you?
You might have heard of many social media plugins that combine all your social media platforms and manage them according to your marketing plan. Let's introduce you to the best social media plugin in the market WP Social Ninja.
Along with all other amazing features, this plugin is best for fetching reviews from social media platforms and displaying them on your WordPress website.
You'll get every way of decorating your social reviews template on your website as you want. Similarly, you have options for adding testimonials here. You can manually add the reviewer's name and details with their valuable opinions and then showcase them on your website.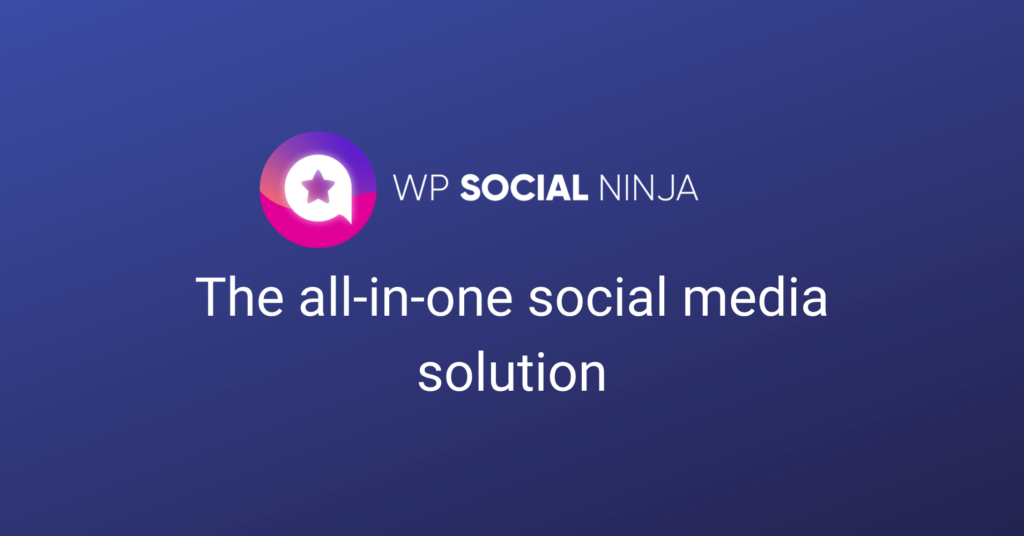 Let's say you need to add reviews on your website. WP Social Ninja will let you create your reviews template just as planned. And the best part is you won't need to use any other plugin to manage your template while you have WP Social Ninja. From customizing your ratings and reviews to placing them through organizing them completely in your way. Also you can custom your reviews by it's export/import feature.
And when it's about adding testimonials with the same plugin, you are just some clicks away from doing that. And honestly, it's as easy as it sounds because, with WP Social Ninja, you can create testimonials with multiple input fields that you might want to include. Afterward, you will get easy setting options to style your testimonials and set them on your website.
Final thoughts
In the end, testimonial vs. review- both work as social proof. Moreover, it makes anyone believe that why others are using your product. When you use these tricks on your business, you are one step ahead of improving your overall business offering.
From testimonial vs. review, both your website reviews and testimonials express the way you interact with your customer. So there's no better way to show your business potential than by getting honest reviews from your customers.
And when you need help managing your WordPress website's whole social media activities, you will find your best-helping hand WP Social Ninja.
If you've found this article helpful; You may like to check our other articles too: